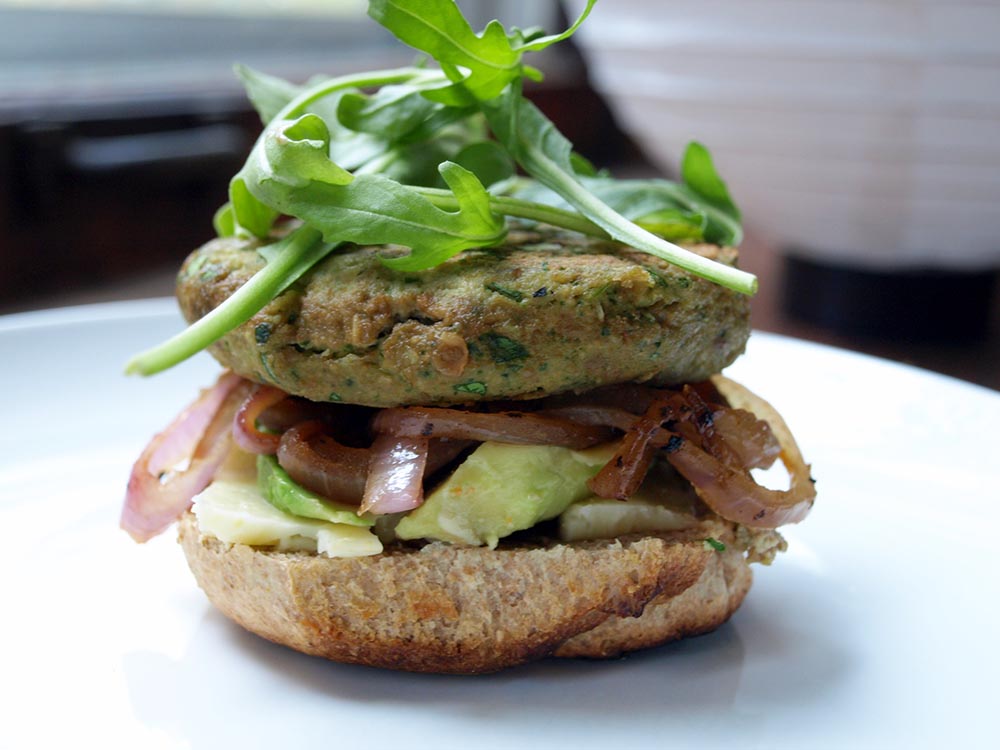 This week's Food Matters Project recipe was spinach tofu burgers, chosen by the adorable vegetarian food blogging couple, Matt and Claire of It's Not About the Recipe.  I love veggie burgers and welcome the opportunity to try a new version and this one was definitely new to me, having never made veggie burgers with tofu.  Bittman's version has asian inpired seasonings and being that I get a little bored with asian seasonings always accompanying tofu, I wanted to mix things up a little.  A while back I spotted some tofu burgers on 101 Cookbooks, a blog I have a major crush on.  I've been wanting to try her version so combined elements of both to create the tofu nut spinach burgers you see here.
Having now tried them, the verdict is that these were quite good but really rely heavily on the seasonings.  While I was happy with them, there was an umami element that I felt was missing and I kept thinking that next time, I'm going to add a bunch of sauteed onions to the mix along with some crumbled feta and that will take it to exactly where these need to be for me in terms of flavor.  The texture was great and a welcome change and these were easy, peasy, pumpkin pie to make.  Just throw everything into the food processor, give it a whirl, make patties, cook 'em up.  Done.  Easy.
I served mine open-faced with havarti, tomato pesto (store-bought), avocado, sauteed red onion, arugula and a little slather of my tofu mayo from last week.  Experiment with whatever toppings you like and enjoy adding this new burger to your repertoire…it's worth keeping around.
Tofu Nut Spinach Burgers; modified mostly from 101 Cookbooks and a little bit from Mark Bittman's Food Matters Project Cookbook
Makes 10
5 oz of baby spinach or frozen spinach (if you use frozen, drain and pat)
1 pound / 16 oz extra-firm tofu, drained and patted dry, then sliced
2 large eggs
1/2 cup fine dried bread crumbs or panko
1/2 cup cashew nuts
1/2 cup sunflower seeds
1/2 cup sliced mushrooms
1 tablespoon Dijon mustard
1 tablespoon shoyu or soy sauce
1 teaspoon ground cumin
1/4 teaspoon ground cayenne
1/4 teaspoon fine grain sea salt
1 tablespoon extra virgin olive oil
extras: whatever buns & condiments you like. I had mine open faced with grilled onions, tomato pesto (from a fancy food store), havarti, avocado, and arugula.
Give the spinach a few whirls in the food processor until chopped up.  Put spinach in a bowl and set aside.
Place all the remaining ingredients except the olive oil in a food processor. Pulse until the mixture comes together and is free of most chunks, stopping to scrape down the sides of the food processor once or twice if needed. If it seems a bit thin to you, add more bread crumbs a small handful at a time until everything comes together.  Mix spinach back in with a spoon (I do this so the mix doesn't become green but rather has flecks of spinach in it).
Divide the mixture into eight equal portions and use your hands to (really) press and form into round but flat-ish patties.
Pour the olive oil into your largest skillet over medium-high heat, and arrange as many patties as you can without crowding. Cover, and cook turning once, until deeply browned on both sides. Roughly ten minutes. You want to make sure the middle of the patties cook through. If the pan is too hot you'll burn the outsides before the middle cooks up, so be mindful of that.
Serve with your favorite burger fixings.
Makes ten tofu burgers.