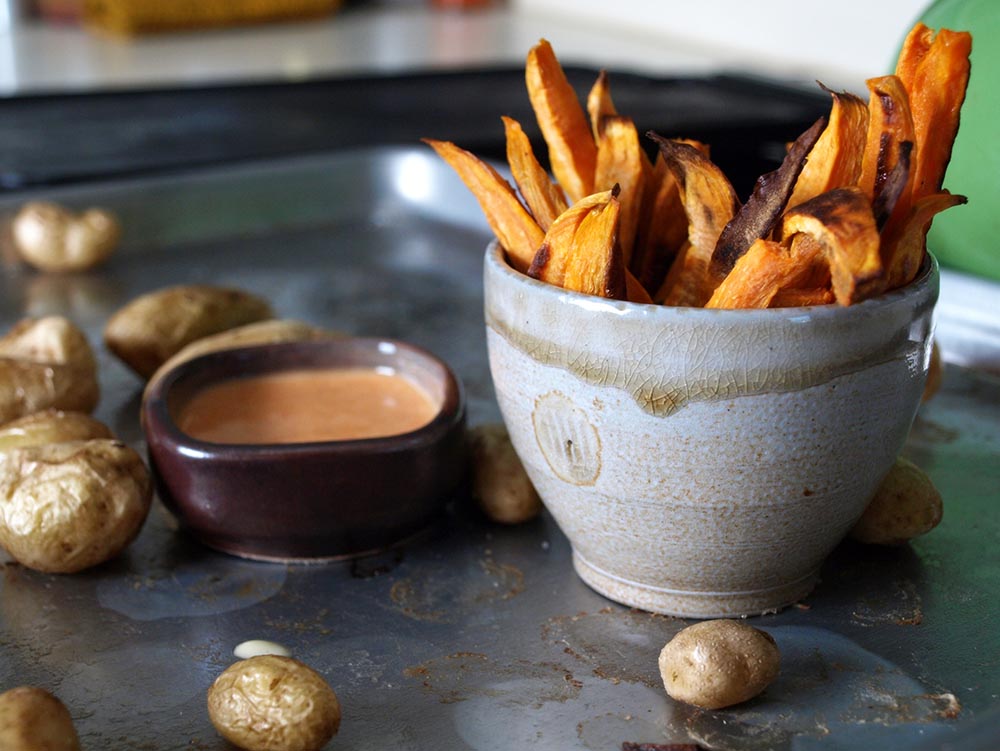 My best friend came with her cousin and baby to spend the day with me at Artprize 2012 yesterday.  As we sat down to tuck into some addictive seasoned fries at Stella's Lounge, we turned to a conversation of condiments for fries.  Gobs of ketchup, mayonnaise, vanilla ice cream (!), malt vinegar, siracha-mayo.  When I returned home and looked at the Food Matters Schedule for this week's recipe and found that it was tofu mayo (chosen by Sopie at Biographie de ma faim), I knew what had to be done!  The good old fry was about to get a makeover in my kitchen…and it was about to be served up Amsterdam-style with some mayo (albeit a vegan version)!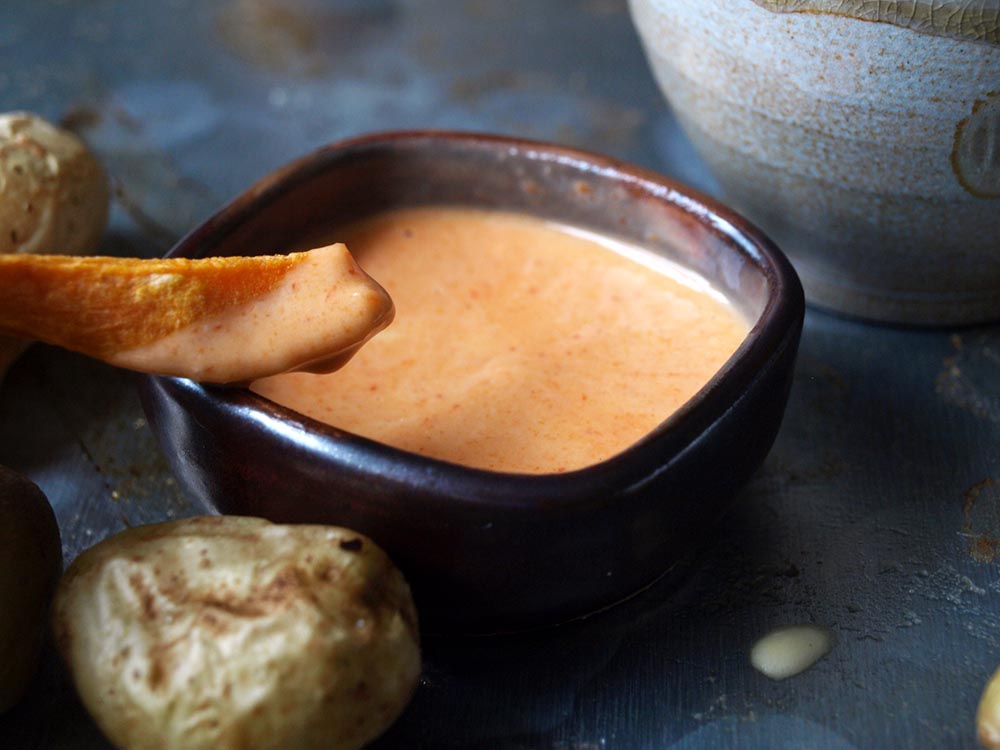 I roasted up some hand cut sweet potato fries and some teeny fingerling potatoes.  Then whipped up some tofu mayo from Mark Bittman's Food Matters Cookbook.  A couple of dips later…I wasn't really feeling it.  The tofu mayo wasn't really doing it for me.  Maybe it was because I used Nasoya tofu and it turned out kind of runny…maybe the color was a little too non-mayo for me.  Whatever it was, I knew I needed to make some changes a la Aura.  I roasted a head of garlic (wrap a head of garlic in some tin foil and pop into the oven at 350° until the garlic is smushy on the inside, about 1/2 hour) and pureed it with the tofu-mayo.  Better.  Still not satisfied, I reached for one of my tried-and-true kitchen weapons–Siracha, aka Rooster Hot Sauce.  A generous squeeze went into the mayo and voila!  A perfect, guilt-free vegan dipping sauce/mayo.  For the original recipe, head to Sophie's blog, where she has also posted a bread-and-nut mayo recipe.  To see what the other Food Matters Project bloggers came up with, head here.  For my Roasted Garlic-Siracha Tofu Mayo recipe, read on!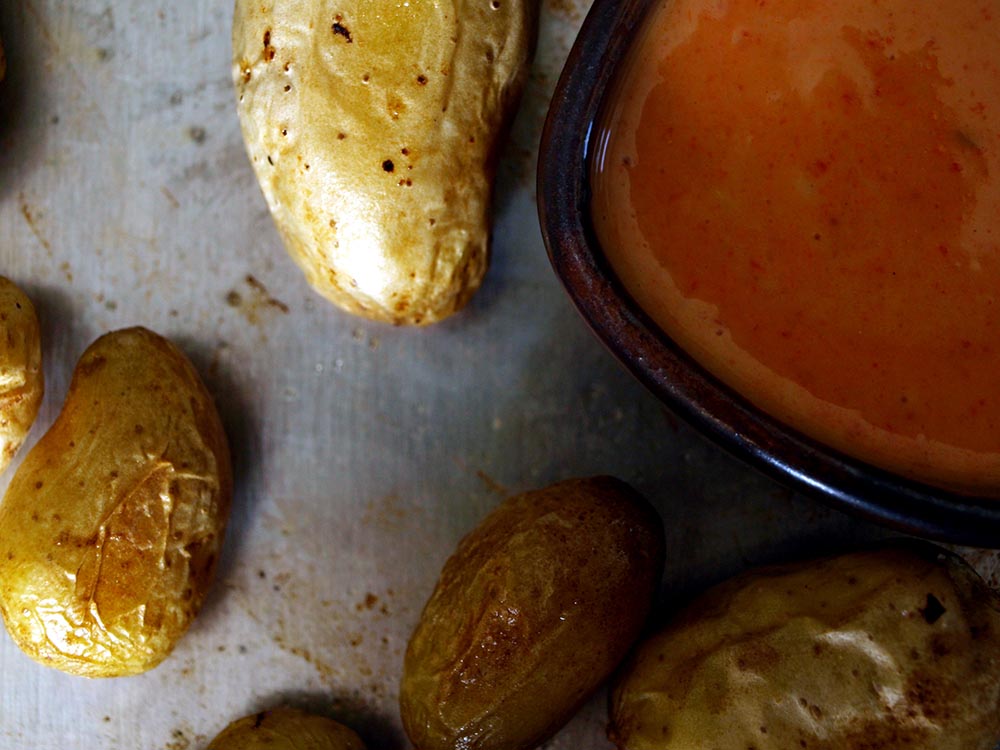 Roasted Garlic Siracha Tofu Mayo adapted from Mark Bittman's Food Matters Project; Makes about 1 cup
6 ounces soft silken tofu (about 3/4 cup) *
2 tablespoons olive oil
2 tablespoons lemon juice
2 teaspoons Dijon mustard, or to taste
1 tablespoon honey or sugar, optionnal
1/4 teaspoon paprika
1/4 teaspoon salt, or to taste
Put all the ingredients in a blender. Turn the machine to a medium speed that keeps things moving without splattering. Let it run for a minute or 2, then turn it off.
Scrape the sides of the container with a rubber spatula, turn the blender back on, and repeat the process two more times. Taste and add more salt if necessary. Serve immediately (or store in a jar for up to several days).
*I used Nasoya silken tofu and found my mayo to be a little on the runny side.  I would use Mori-Nu for better results.