I'm really excited to be hosting The Food Matters Project this week.  It's been such a wonderful habit to get into, cooking a new recipe every week for this project.  There have been some real surprises as the weeks have rolled by.  I have a tendency to buy cookbooks that have gorgeous color photography but Bittman's cookbook has nary a photo in sight.  Though at first I wished for some photos, there is something to be said about being able to create something to look like you think it ought to, rather than mimicking what you've seen.  My choice of recipe for this week, chosen after thumbing through the entire cookbook (again), was another tasty surprise.
I made the fritters following the recipe to the letter.  For the sauce, I modified slightly, adding carrots and some Habanero hot sauce for a truly spicy dipping sauce.  Hot out of the pan, these fritters are amazing and I recommend eating them as soon as possible.
Head here to check out the other FMP member's tasty creations.  And stop by the newly updated Pinterest board for visual inspiration.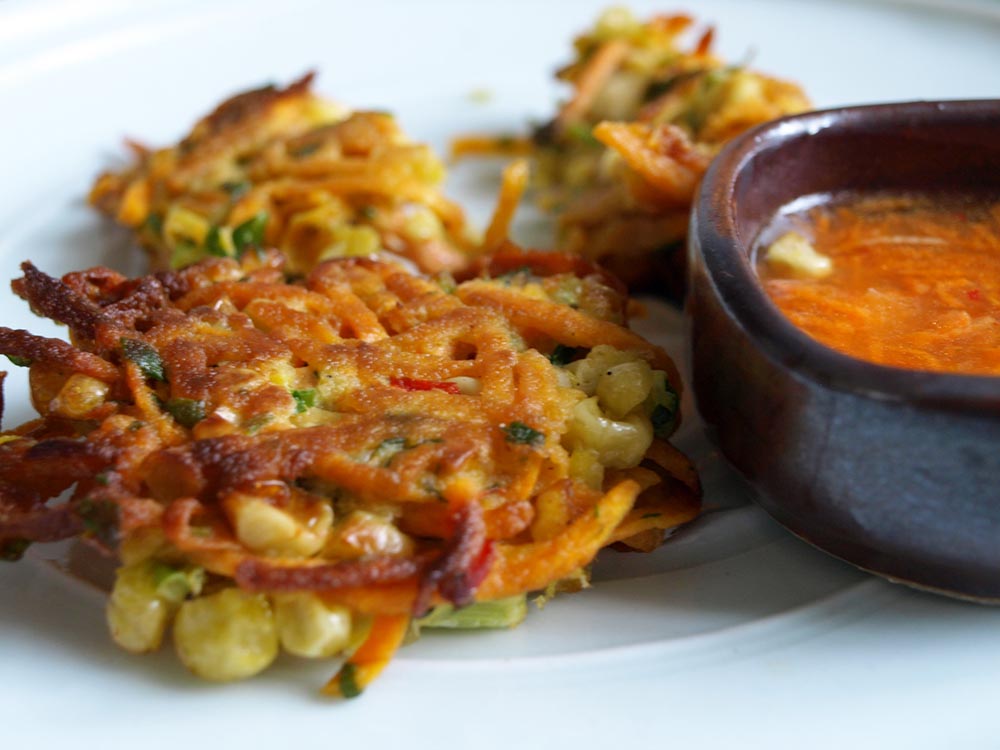 Sweet Potato and Corn Fritters With Thai Dipping Sauce; from Mark Bittman's The Food Matters Cookbook
"Crazy good, crazy simple–and not to mention pretty–these pan-fried fritters are best with peak summer corn, but frozen works all right too.  Or, since fresh sweet potatoes are available all year, you can just skip the corn and increase the quantity to 3 cups."
1/4 cup lime juice
1 tablespoon nam pla (fish sauce) or soy sauce, or to taste*
1/2 teaspoon minced garlic
Pinch of red chile flakes
Pinch of sugar, optional**
2 cups grated sweet potato, squeezed dry if necessary
1 cup corn kernels (frozen are fine)
1 fresh hot chile (like Thai), minced
4 scallions, chopped
3 tablespoons chopped fresh cilantro
1 egg or 2 egg whites, lightly beaten
1/3 cup whole wheat or all-purpose flour
Salt and black pepper
Vegetable oil, for frying
Combine the lime juice, fish sauce, garlic, ginger, chile flakes, and sugar if you're using it in a small bowl with 1 tablespoon water.
Heat the oven to 275° F.  Put the sweet potato, corn, chile, scallions, cilantro, egg, and flour in a bowl and mix well; sprinkle with salt and pepper.  (You can do this ahead of time and refrigerate the batter for a couple of hours before cooking.)
Put about 1/8 inch oil in a large skillet over medium-high heat.  When it's hot, drop spoonfuls of the sweet potato mixture into the oil and spread them out a bit.  (Work in batches to prevent overcrowding and transfer the finished fritters to the oven until all are finished.)  Cook, turning once, until golden on both sides and cooked through, about 5 minutes.  Serve hot or at room temperature with the dipping sauce.
Fancier Fritters:  When dropped fritters aren't quite elegant enough for the occasion, you can dust your hands with flour and shape the fritter batter into small patties, cylinders, or other shapes.  Cook immediately or refrigerate, loosely covered, for up to a couple hours before cooking.  To make croquettes–which are essentially breaded fritters–set up 3 bowls:  one with flour, one with an egg beaten with a splash of milk, and another with bread crumbs (preferably made from whole grain bread).  Carefully dredge each shaped fritter in the flour, then the egg mixture, and finally the bread crumbs.  Fry until crisp and golden.
*I used fish sauce because I love it…but this recipe won't be vegetarian if you use it.  If you are vegetarian, use soy sauce instead.
**I did include the pinch of sugar.