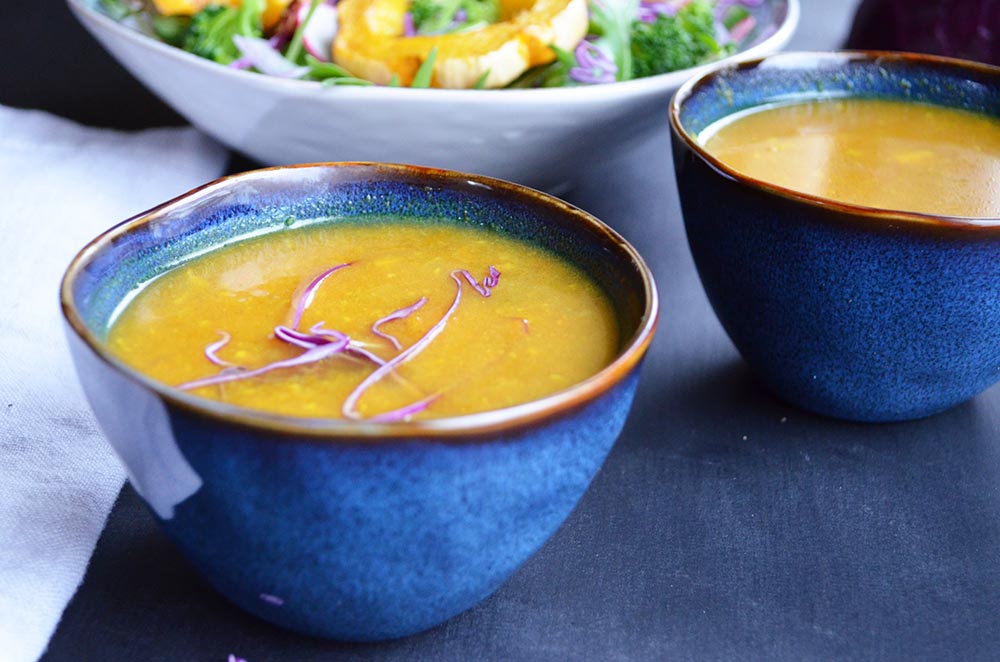 Did anyone else have a delicious Thanksgiving?  You, you, and you?  Well, I did too.  And I am so thankful for the friendship I enjoyed over meals and the classic Thanksgiving dishes (cranberry sauce recipe to post soon) as well as some new favorites (hello, sweet potato and coconut milk puree!).  But now that that Butter Fest 2012 is over and done with I am craving some good clean foods, some hot yoga, some brisk walks, and a push to get back to some good whole foods eating.
This year started out on a great foot.  I was eating only whole foods and shying away from refined carbohydrates and unhealthy fats.  After the holiday season my body was begging for vegetables, spices, and whole grains.  But alas!  Somehow, somewhere along the way I fell into a vat of whipped cream veered somewhat off of the path…(was it when I discovered this spring that I loved baking and became semi-addicted to sugar?) and now, at the beginning of this holiday season I have decided to get back on the wagon with my eating.  It feels necessary.  And happily, it feels so good.  This weekend, I went back to January and dug up the healthy living recipes I had so carefully selected, many from Sarah B. at My New Roots (love, love, love this blog).  One of the recipes was a butternut squash soup.  Imagine my delight when I realized that this week's host of the Food Matters Project, Jen from Prairie Summers, chose a roasted butternut squash soup as this weeks recipe for all of us project participants to cook up.  Using elements of each recipe, I created my own vegetarian version, adding Indian spices and celeriac for a simple soup chock-full of flavor.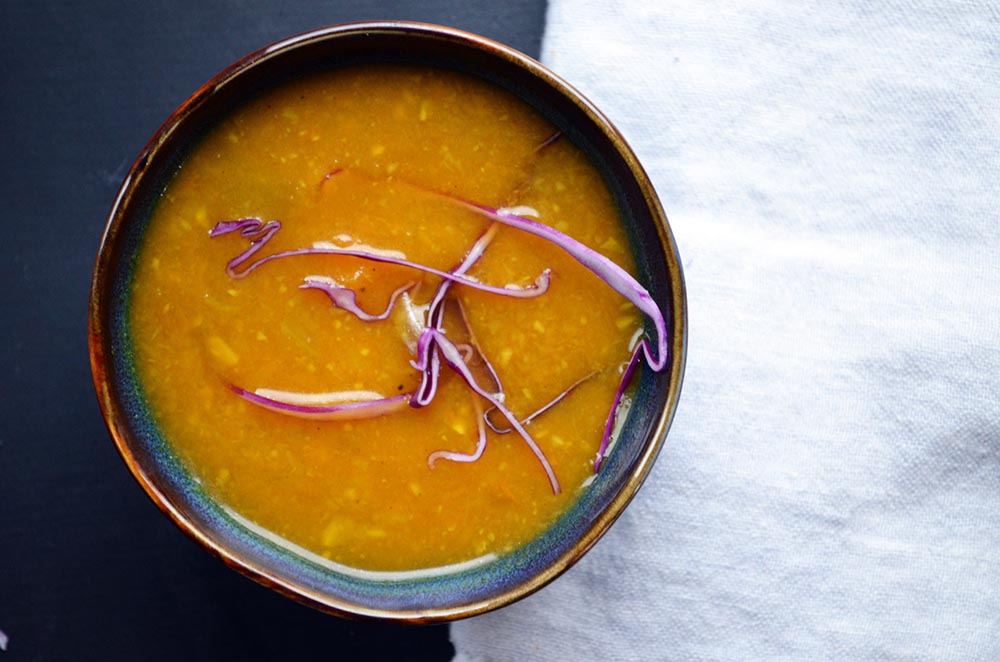 I paired my soup with a beautiful salad with mixed greens and microgreens, radishes, broccoli, and roasted acorn squash drizzled with a simple tahini vinaigrette.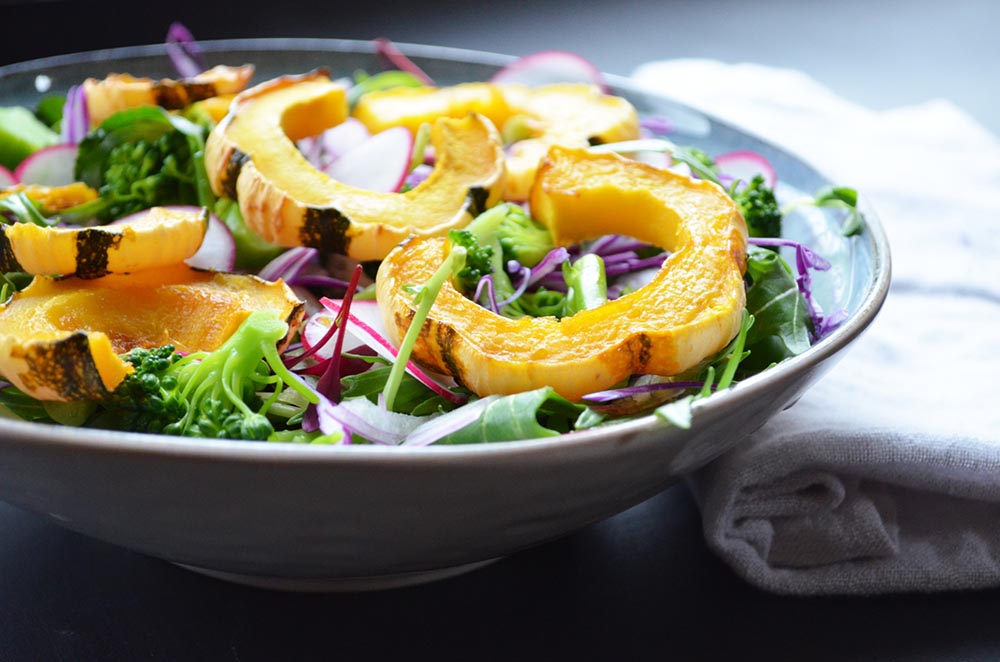 And how goes hopping on the clean food wagon again?  Not too shabby, I say.   With food this colorful and flavorful, Thanksgiving is a distant memory and I'm not in any rush to get to the sugar cookies just around the bend in December.
I will be posting many more colorful whole food recipes this month–please join me and try one out.  I recommend starting with this one!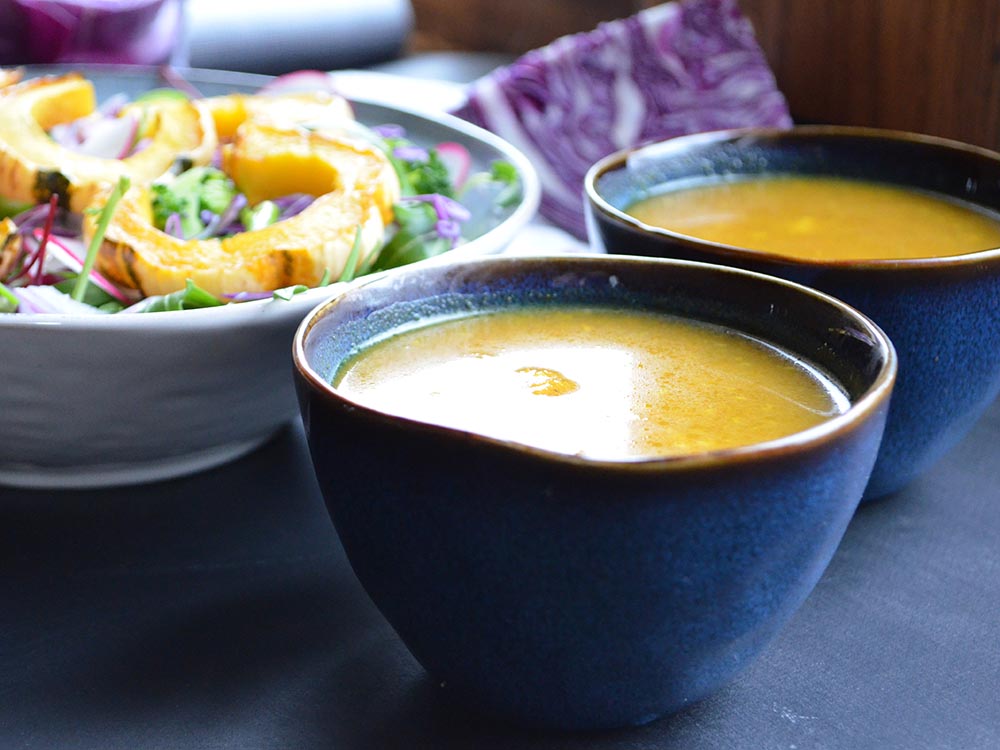 Indian-Spiced Roasted Butternut Squash and Apple Soup; adapted from Mark Bittman's The Food Matters Cookbook (original recipe was Roasted Butternut Chowder with Apples and Bacon, (page 120)
1 butternut squash, peeled, seeded and cubed
1 large onion chopped
2 large apples, peeled, cored and chopped
1/2 bulb of celeriac, peeled and chopped (optional)
2 tablespoon minced garlic
Salt and pepper
3 tablespoon olive oil
6 cups of vegetable stock
1 Tbsp fresh ginger, minced
1/2 tsp tumeric
1/2 tsp coriander
Heat the oven to 400F. Spread the squash, onion, apples, celeriac (if using), and garlic on a baking sheet. Sprinkle with salt and pepper and drizzle with oil. Roast until veggies are tender and slightly browned, approx. 45 min.
Remove sheet from the oven and transfer the roasted vegetables to a dutch oven or stock pot over medium heat.
Add the stock and the seasonings and simmer until the squash, onion and apples become very soft and begin to break apart.  You may either leave the soup chunky at this point or puree partially or fully with an immersion blender.  I pureed my soup partially to leave some chunks of apple, squash, and celeriac.
Top with some shredded cabbage, cilantro, some raw pumpkin seeds, a drizzle of olive oil, or some yogurt–whatever you like!  I would recommend this with a salad and some naan, hot from the oven.  Mmmmm!