Soup weather is upon us!  See how a little exclamation point can make it look like I am excited about that?  Well although I am decidedly un-excited about the cold weather, I am very excited that I am in the mood for soup.  Over the warm months, I have built up my stack of soup recipes and ideas to try so now is the time to put them into action.  I love making a big pot of soup for my lunches for the week and always freeze half to enjoy later down the road.  Nothing says cozy to me like a bowl of hot chili and a hunk of homemade cornbread with butter and honey.  I've recently come up with the secret to the most moist and delicious cornbread ever.  I'm excited to share that with you…recipe to post soon!
I recommend starting with 1 tablespoon of chipotle chili and adding to that if you want more spice.  I love spice so I even stirred a spoonful of habanero sauce into my bowl (but not into the pot to spare my friends who aren't heat seekers).  My stepdad used to make really spicy chili and would tell me it would "burn the germs out of my intestines".  Not the best image to share with you all but it is a memory that makes me giggle as I tuck into my own bowl of spicy chili.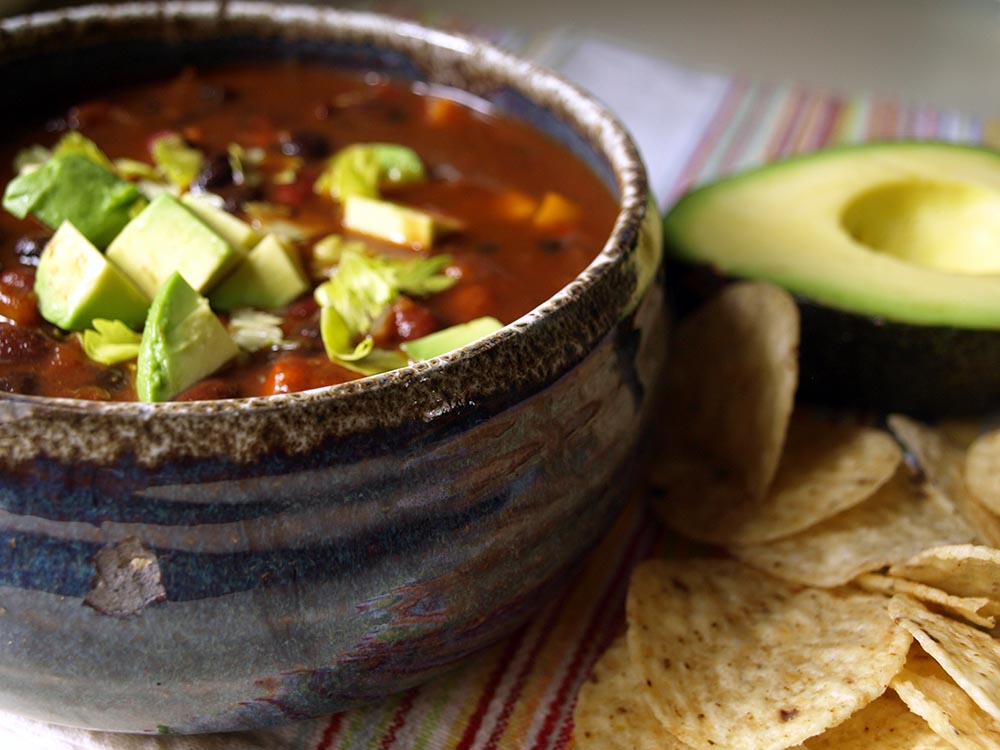 Sweet Potato-Black Bean Chili with Chipotle
1 medium red onion, chopped
2 bell peppers, chopped (I used red, orange, and yellow baby bell peppers because that is what I had on hand)
1 large sweet potato, peeled and cut into 1⁄2-inch pieces
4 small garlic cloves, chopped
1 tablespoon chili powder
1 teaspoon ground cumin
2 teaspoons unsweetened cocoa powder
1/4 teaspoon ground cinnamon
1 tablespoon chopped chipotle in adobo
salt and black pepper
about 28-ounces canned diced tomatoes
3 cups cooked black beans, if you use canned, rinse and drain first
2 cups cooked pinto or kidney beans, if you use canned, rinse and drain first
about 2 cups OR one 14 oz. can vegetable broth
sour cream, sliced scallions, avocado, radishes or cilantro, for serving
In a 4 to 6 quart Dutch oven or stockpot, saute the chopped vegetables in one  tablespoon of olive oil on medium-high heat. Continue stirring to make sure the vegetables do not stick to the pan and cook on all sides.
Once the onions soften and become translucent, turn the heat down to medium-low. Add all of the spices and canned ingredients, and stir. Turn heat to a simmer and cover for one hour, stirring occasionally.
Top with any of the suggested toppings above or some favorites or your own!  I like serving my chili either with cornbread, fried plantains, or if I don't have the time to make either, some tortilla chips do just fine.