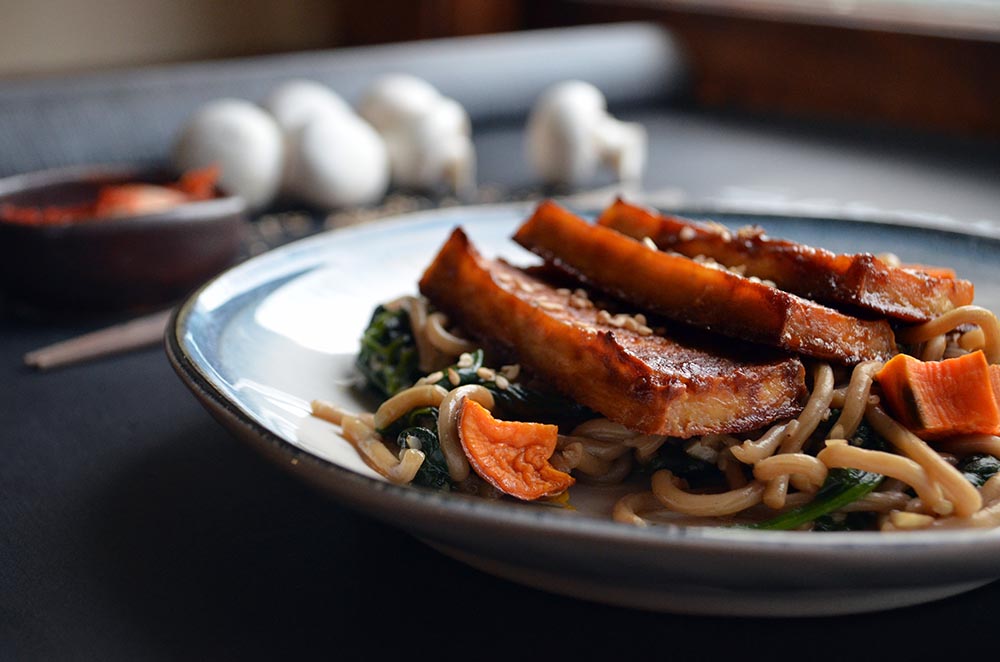 Welcome to another Food Matters Monday!  This week's recipe was Sesame Noodles with Spinach and Salmon, chosen by Sara from Pidges Pantry.  Check out everyone's variations on the dish here.  So far I've seen posts starting with this simple noodle dish and changing things up with crab, sea bass, kale, green beans, lamb, ahi, and fried tofu.  Wow!
Whatever variation you choose, this noodle dish is a perfect weeknight supper or quick lunch.  Add more spinach than noodles and you have a perfectly satisfying and very healthy dish.  The sweet soy-garlic-ginger sauce will be a hit with any diner at your table.
My version uses baked hoisin-glazed tofu and adds ginger and agave nectar.  I love the chewy texture of baked tofu and I wanted to make some for a friend of mine who is not eating meat this month to show her how satisfying baked tofu could be.  This was the perfect opportunity!  I promised to take photos to illustrate the process so here goes…!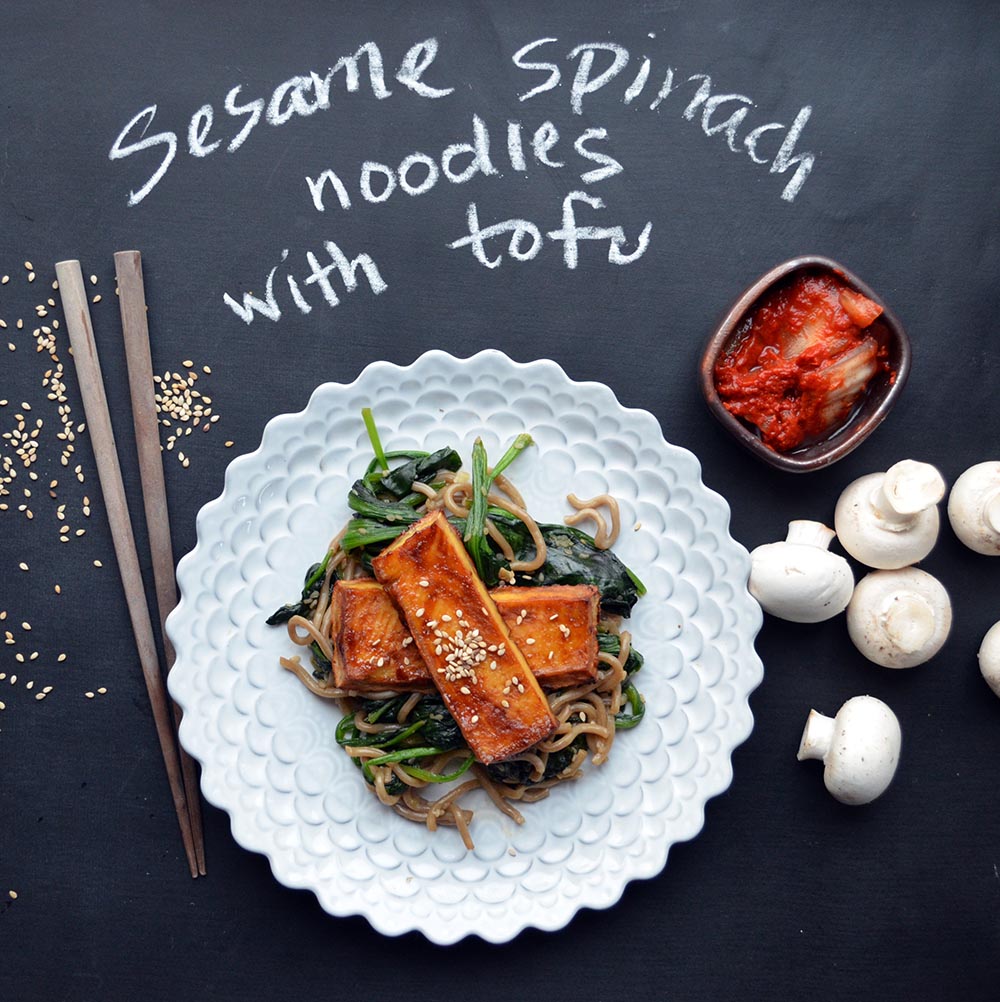 First, I press the tofu for a while to get some of the liquid out.  This is an especially important step when you are frying tofu but I do it for baked tofu anyway to speed up the baking time.  To press tofu, wrap the tofu in a clean towel (I use flour sack towels but any clean towel or paper towel will do) and place a small plate on top for 1/2 hour or longer to press.  Make sure the plate isn't too heavy or else it can smush and crack the tofu.
Once the tofu is pressed, unwrap and slice into 1/2 inch thick slices.  Place on an oiled baking sheet and brush with a marinade or hoisin sauce.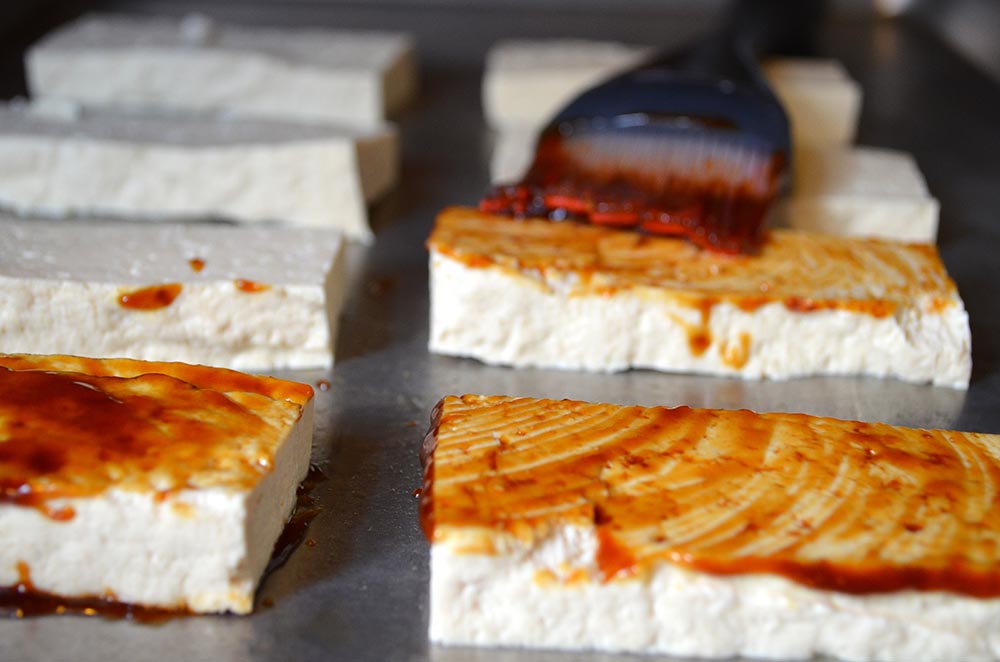 Bake at 300 degrees for 1/2 hour.  The result is toothy and satisfying:  smooth on the inside and crispy on the outside with a dense texture.  It is my favorite way to eat tofu!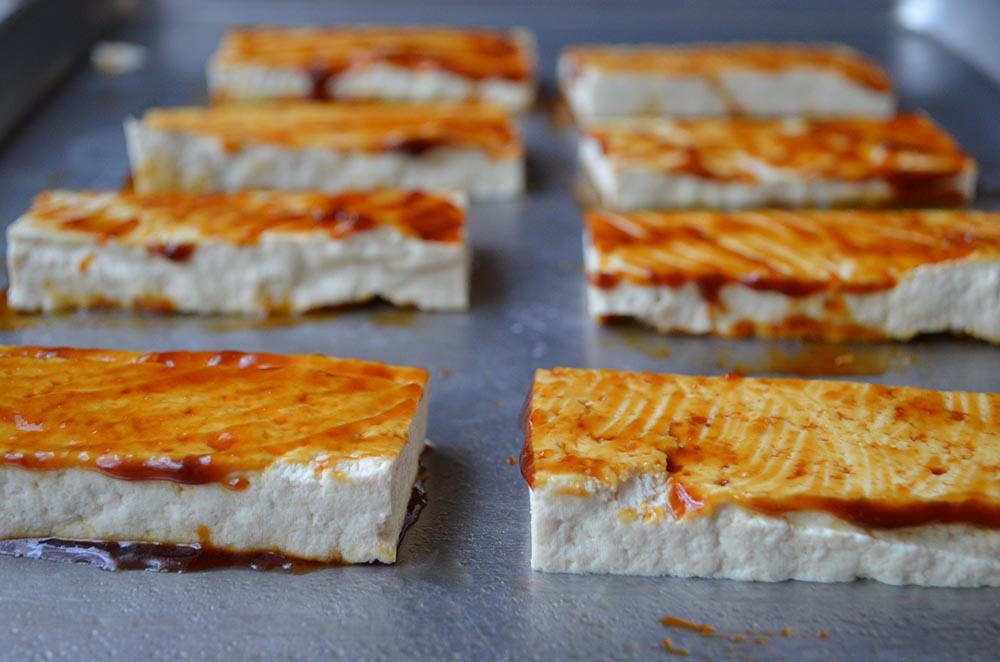 The noodle dish is so simple.  Just cook the noodles while quickly sauteing the garlic, ginger, and spinach in a wok.  Add the noodles, toss in soy sauce and agave, top with the tofu and you have a meal to the table in 1/2 hour.
As I always like to remind you, feel free to change things up if you would like!  This dish would also taste good with cabbage, green beans, zucchini, snap peas, or snow peas.  I added a few cubes of sweet potato to one of my plates of noodles.  Enjoy!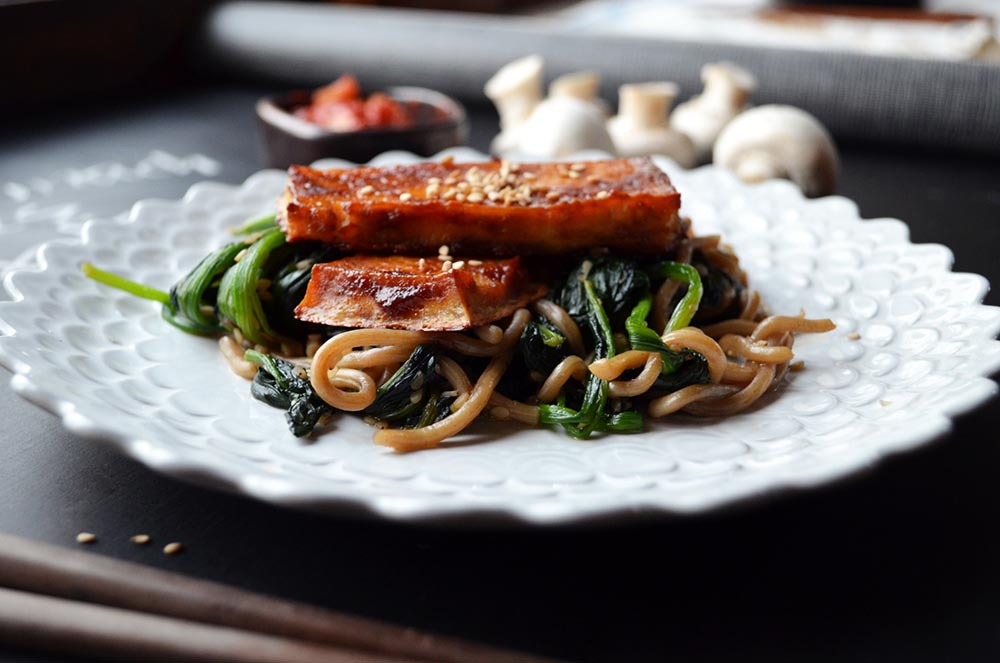 Sesame Soba Noodles with Spinach and Baked Hoisin Tofu
Makes 4 servings; Time: 30 minutes
1 tablespoons grapeseed or olive oil
8 ounces firm block tofu
3 tablespoons store-bought Hoisin sauce
1 tablespoon minced garlic
1 tsp minced fresh ginger
3 tablespoons sesame seeds
1 and ½ pounds spinach, trimmed and rinsed
1 tablespoon soy sauce
1 teaspoon agave nectar (or sugar)
½ teaspoon sesame oil
8 ounces buckwheat (soba) noodles
Drain the tofu and wrap it in a clean towel.  Place a small plate on it and let sit for a half hour to extract some of the liquid.
Heat oven to 300 degrees.  Lightly oil a baking pan.
Slice the tofu into 1/2 inch slices. and place on baking pan.  Brush with hoisin sauce on both sides and bake for 30 minutes.
Bring a large pot of water to a boil and salt it.
Heat 1 tablespoon of oil in the skillet on medium. Add the garlic, ginger, and sesame seeds and cook, stirring constantly, until the garlic begins to soften and the sesame seeds turn golden, about 30 seconds. Add the spinach and cook, stirring, for another minute or 2. Add the soy sauce, agave, sesame oil, and a splash of water and cook until the spinach is wilted, another 2 to 3 minutes. Remove from the heat.
Cook the noodles in the boiling water until they're tender but not mushy (start tasting after 5 minutes), then drain, reserving some of the cooking water. Turn the heat under the spinach mixture to medium and add the noodles. Toss, adding enough reserved liquid to keep things moist. Taste and adjust the seasoning if necessary. Serve immediately or at room temperature with tofu laid on top and some sesame seeds sprinkled on top.