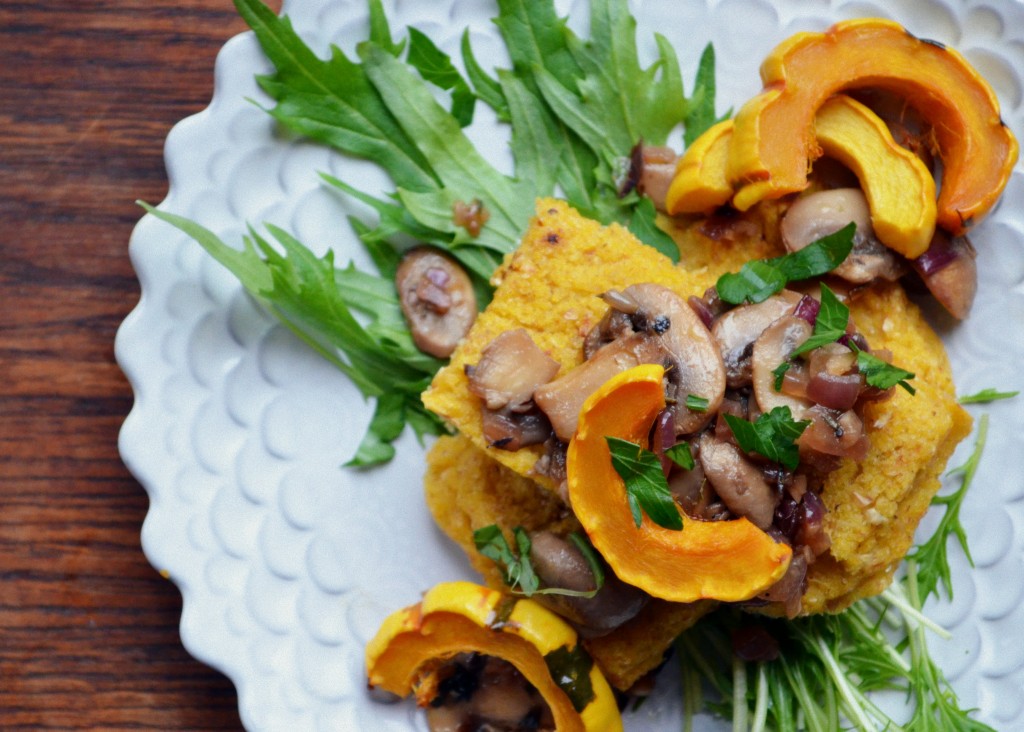 Sorry for the technical issues, everyone!  You should be able to access this post now.
Welcome to another Food Matters Monday!  This dish is a spin on Mark Bittman's Polenta with Garlicky Mushrooms.  The recipe this week was chosen by Sandra at Meadows Cooks.  She made her polenta cakes in the shape of hearts–adorable!  I made mine without any wine (subbed Sherry Vinegar) and added some roasted delicata squash for a heartier dish.  I also made this dish a second time, adding heavy whipping cream and a little cream cheese to the mushrooms.  And while it wasn't nearly as healthy, boy was it good!
Polenta is such a versatile food–if you haven't made it before, I highly recommending giving it a try.  It tastes good topped with any number of foods.  You can do a cream sauce, a marinara with cheese and veggies or meat, a nice eggplant sauce, a chickpea curry, pesto…the possibilities go on and on!  Polenta is basically just cornmeal cooked up, pressed into a pan and chilled, and then cut into shapes and pan-fried or baked.  Let me know if you end up making this dish or a variation–I would love to hear from you!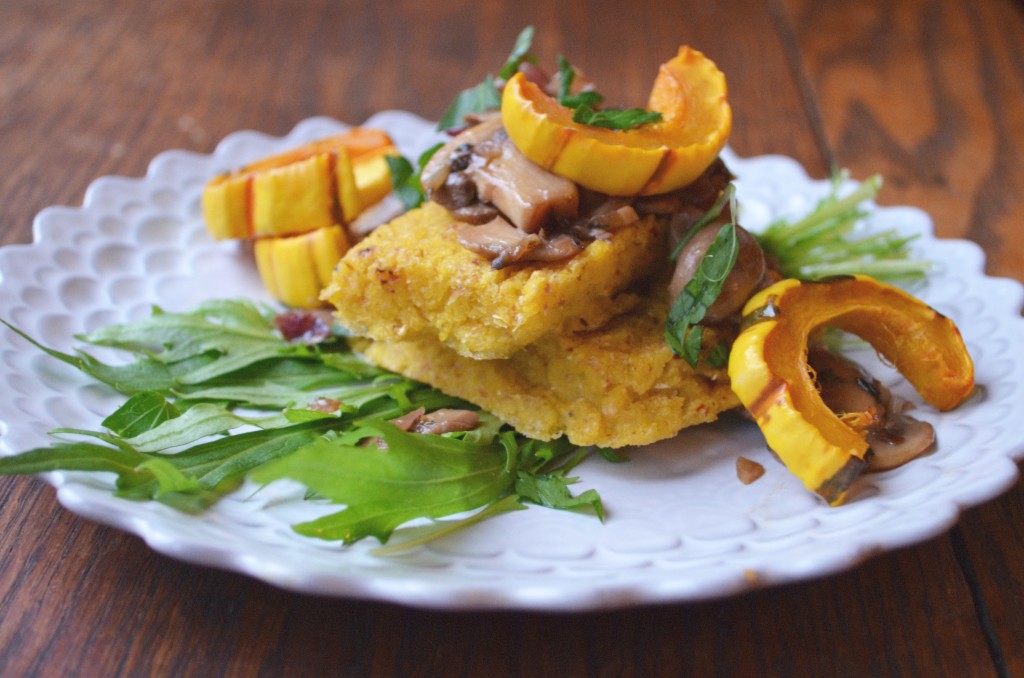 Polenta Cakes with Garlicky Mushrooms and Delicata Squash;
Makes: 4 to 8 servings;  Time: 3 hours, mostly unattended
1 cup coarse cornmeal
Salt
½ cup 2% milk (or use water)
Black Pepper
2 tablespoons olive oil, plus more as needed
1 pound mushrooms, preferably an assortment, sliced (I used baby bella mushrooms this time)
1 tablespoon chopped fresh thyme
1/8 cup Sherry vinegar
1 tablespoon minced garlic, or more to taste
1 delicata squash, seeded and sliced
Put the cornmeal and a large pinch of salt in a medium saucepan; slowly whisk in 2 and ½ cups water and the milk to make a lump-free slurry. Set the pot over medium-high heat and bring almost to a boil. Reduce the heat to low and bubble gently, whisking frequently, until thick, 10 to 15 minutes. If the mixture becomes too thick, whisk in a bit more water; you want the consistency to be like thick oatmeal. Taste for seasoning and add salt if necessary and plenty of black pepper.
Grease a large baking sheet with some of the oil while the polenta is still hot, pour it onto the sheet and use a spatula to spread it out evenly at least ½ inch thick. Brush the top lightly with oil, cover with plastic wrap, and refrigerate the polenta until it sets up, about 2 hours (or up to a day).
Heat the oven to 400°F.  Lightly spray or drizzle a baking pan with olive oil and lay squash onto the baking sheet, taking care not to overlap. Sprinkle with some salt and pepper and roast, about 20-30 minutes, flipping each piece halfway through.
Lower the heat in the oven to 375°F. Grease a clean large baking sheet with some of the oil. When the polenta is set, cut it into at least 12 squares or diamonds or use a round cookie cutter to make disks. Put the cakes on the baking sheet, brush with a bit more oil, and bake until they are warmed through and the edges begin to brown (the outside should be nice and toasted while the inside should stay soft), 20 to 30 minutes.
Meanwhile, put the 2 tablespoons oil in a large skillet over medium-high heat. When it's hot, add the mushrooms and thyme and sprinkle with salt and pepper. Cook, stirring occasionally, until the mushrooms are tender and dried out a bit, about 10 minutes. Add the Sherry Vinegar and let it bubble away for a couple of minutes; turn the heat to medium-low and add the garlic.  Taste and adjust the seasoning. Serve a spoonful of mushrooms and a few pieces of squash on top of each polenta cake.  I served mine on a bed of mizuna–love mizuna!