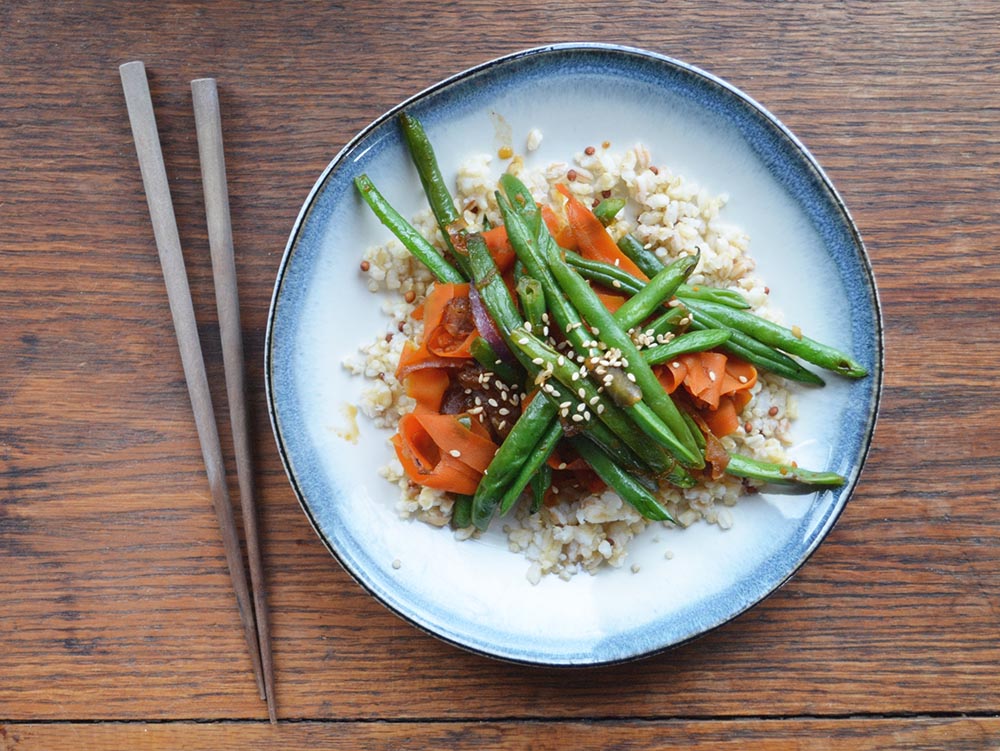 I work from home.  For those of you who work from home you might understand that this means I work from home A LOT.  At all hours.  And it can be taxing.  (If you work from home and don't work A LOT I want to know your secret!)  But…there are also some perks.  For instance, I get to eat a homecooked lunch every single day.  And what could be better than that?  Most of the time my lunches are super-quick veggie and grain concoctions, eaten in front of the computer while I sift through emails.  But sometimes, I like to treat myself and step outside of my zucchini-onion-soy-fish sauce routine.  This dish is super-quick.  It's just a simple veggie dish.  But it feels special, like I'm at a nice asian restaurant for lunch.  This dish deserves my attention.  It deserves for the computer to be silenced, deserves a linen napkin, and deserves to be enjoyed slowly with chopsticks.  I prefer this served with a cup of miso soup but it certainly doesn't need anything on the side.  I also like to serve my green bean stir fry on top of my special grain blend.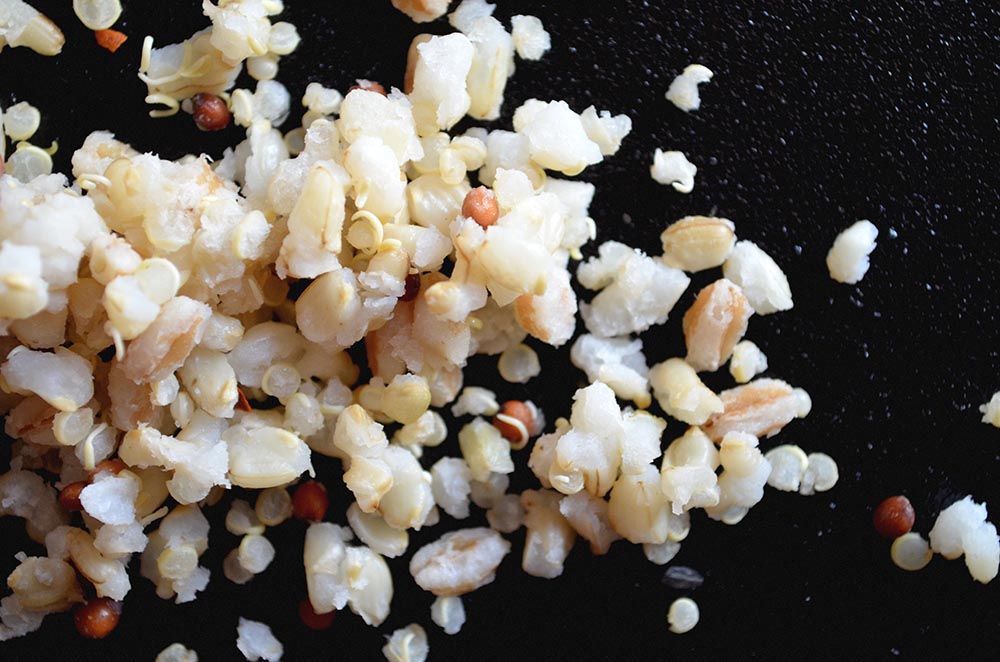 To make my grain blend, put 1 cup brown rice in a dutch oven and cover with water by 1 inch.  Cover and bring to a boil then turn heat to low and let simmer for 25 minutes.  Add 1/2 cup farro, 1/2 cup millet, 1/2 cup black and/or white quinoa, and 1/4 cup radish seeds (you can use any of these, some of these, or just make the brown rice plain–whatever works for you!).  Add more water if needed so the water level is about 1/2 inch above the grains after adding all grains.  Cook another 15-20 minutes covered on low heat.  Turn off and let sit for 10 minutes before fluffing.  The radish seeds are my favorite part.  they pop in your mouth and are so fun to eat!  This makes quite a bit of grain blend so once it is completely cooled I spoon the leftovers into quart-sized freezer bags, flatten, and freeze for future lunches or dinners.  Makes things so much easier when I'm wondering what to make for a meal and don't want to spend 45 minutes cooking rice!
I decided to add carrots to my stir fry today.  Other days I do mushrooms.  Other days just green beans and onions (always onions–love onions!).  My little dog loves eating carrots for a snack so she loves it when I make this dish because she nibbles on the raw carrot ends.  Today I shaved the carrots.  Other times I julienne or simply slice thinly into rounds or on the bias.  I think you are getting my drift.  Whatever floats your boat with these stir fries!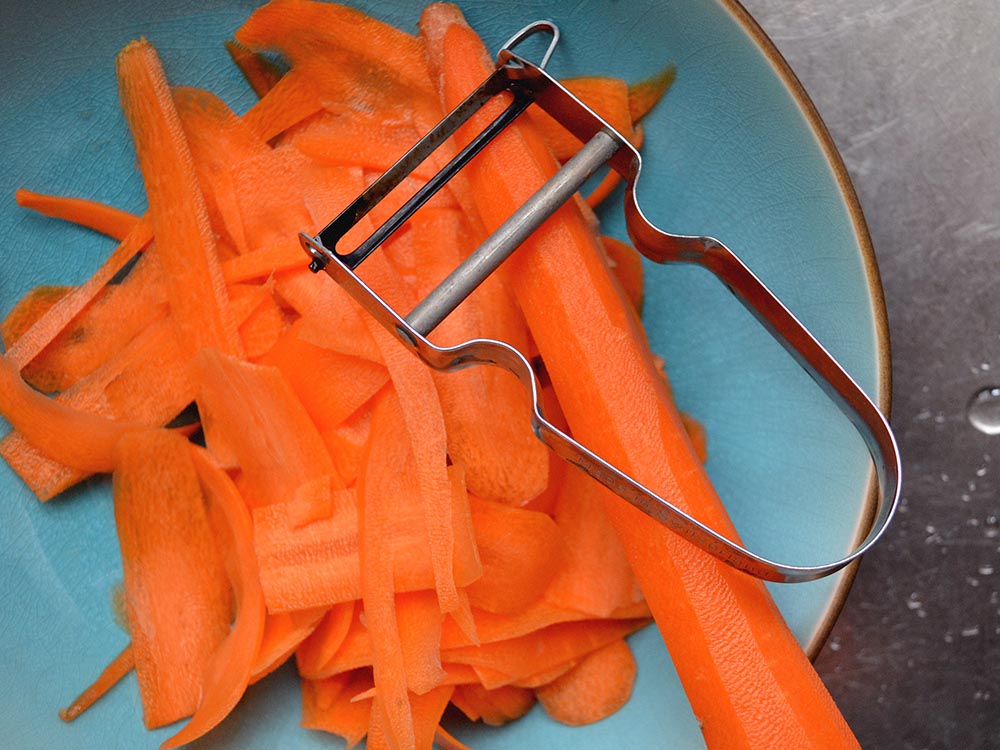 One thing I always do is shock the green beans.  You want them to stay pretty and bright green in the stir fry.  The best way to do this is to plunge them in cold water after blanching them.  These are my green beans after shocking: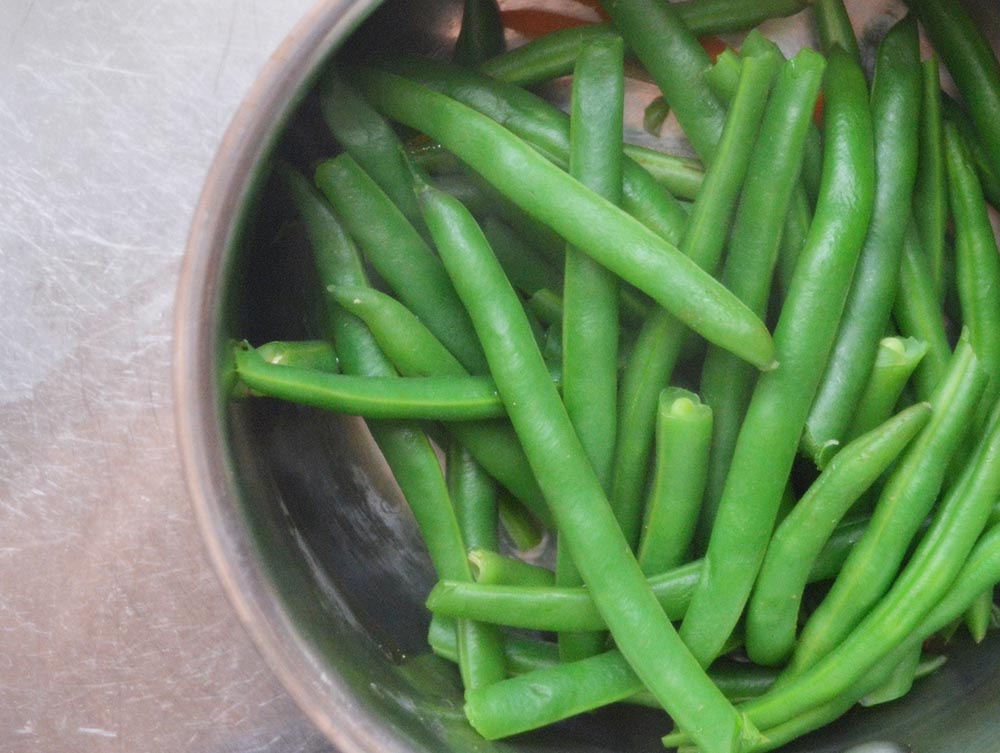 One more thing.  I've been using a sauce lately called Everidae Sauce.  You don't need it for this recipe–this recipe is great with just some soy sauce, honey, and crushed red pepper.  But if you want to try something really tasty, you can get it on Amazon if you aren't local to Grand Rapids.  It's produced by Grand Rapids own Dominic Sorenson at an incubator kitchen called Uptown Kitchen.  This sauce makes so many things tastier!  Just a tablespoon or two added to my plain ol' veggie and rice routine really takes the dish somewhere.  I love habanero and love spicy but even if you don't, there is a mild version of the sauce to flavor a dish without adding too much heat.  From the Scoville Farms Everidae Sauce Website:  "Dominic created the sauce to fill the need for a more versatile Habanero sauce, less spicy than traditional sauces with a flavor that wouldn't overwhelm the subtle flavors of his favorite dishes. Dominic puts his extensive food industry experience to work when personally making each batch. Working in small batches, he prepares each ingredient by hand, cooks, cans and labels each jar of sauce before hand delivering to local specialty stores and markets.  Each of the three versions of Everidae Sauce (Mild, Medium, Hot) are made with fresh Carrots, Sweet Onions, All Natural Garlic, Whole Orange Habaneros, Cider Vinegar, White Sugar, Salt and Natural Fruit Pectin."  Yum!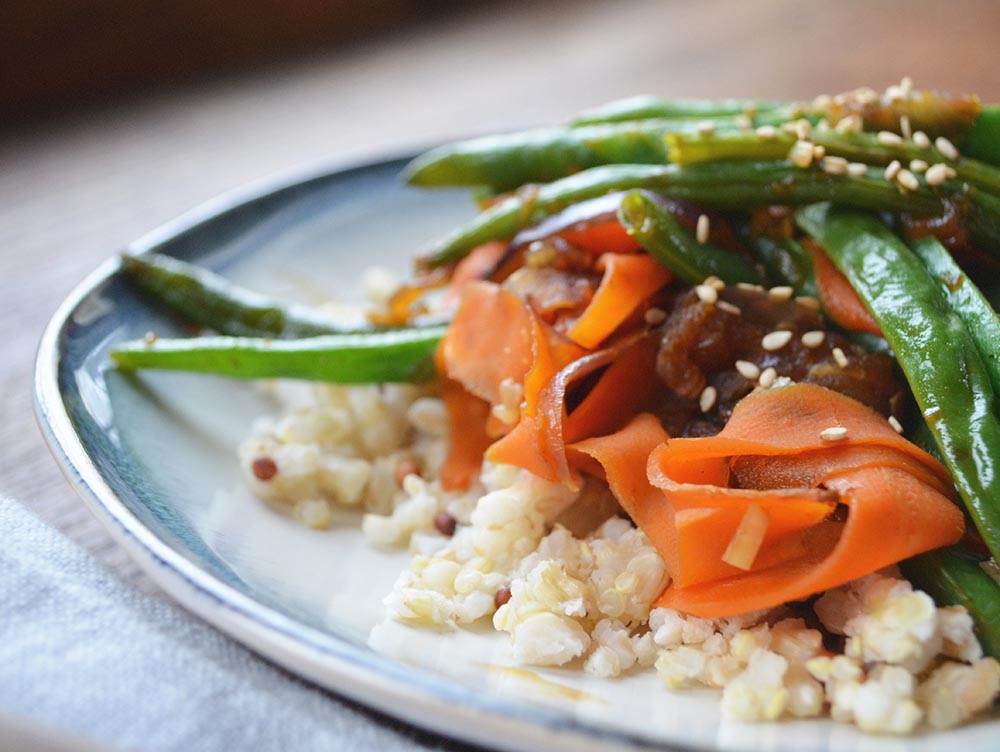 Okay, without further ado, the recipe!
Sweet and Sticky Soy-Garlic-Honey Stir Fry With Everidae Sauce
Salt
1 pound green beans
2 tablespoons olive oil
1/2 cup thinly sliced red onion
2 carrots, shaved into ribbons
3 garlic cloves
2 tablespoons honey
2 tablespoons soy sauce
2 tablespoons Scoville Farms Everidae Sauce (optional)
Bring a large pot of water to a boil and salt it.  Add the green beans and cook about 2 minutes.  Don't overcook or they will become soft and won't maintain their vibrant color.  Submerge the green beans in a bowl of ice water to stop them from continuing to cook.
Put olive oil in a large, heavy skillet or wok.  Cook the onions over medium heat for about 2 minutes.  Add the garlic and cook for another minute.
Toss the green beans and carrot ribbons into the pan and turn it up to high.  Let brown, stirring often, for 2 minutes.
Add the soy sauce, honey, and Scoville Everidae sauce and toss to combine with the vegetables.  Cook for another minute until the sauce thickens and gets a little sticky.
Serve on brown rice or a blend of grains.