My third post for the Food Matters Project really impressed me–I felt like I was eating at a trendy asian restaurant!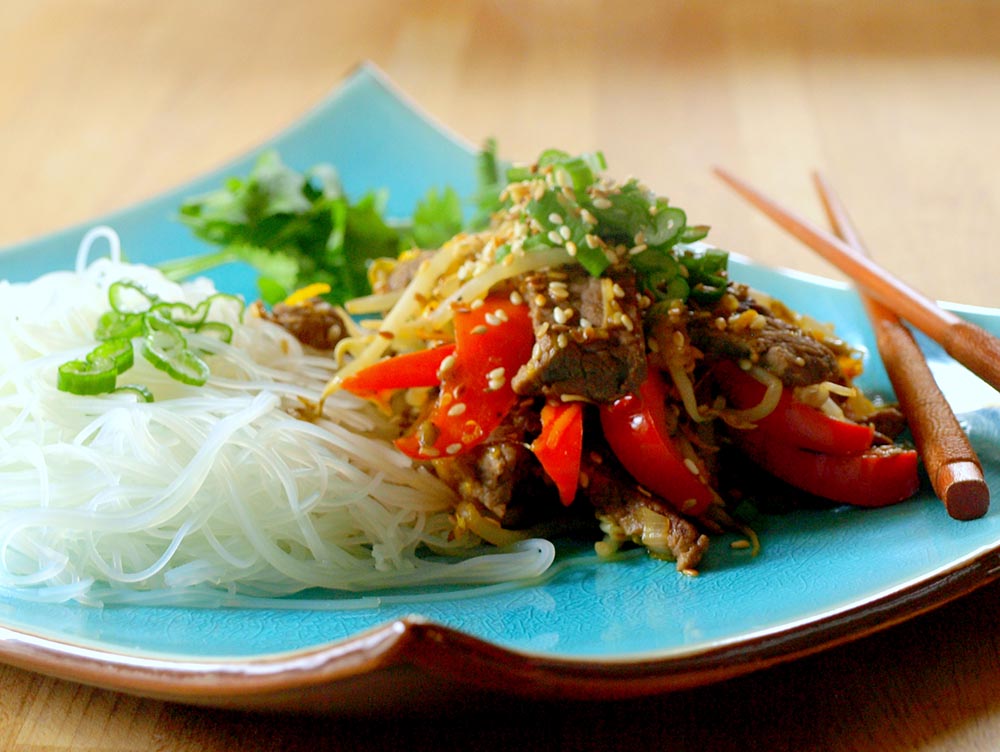 I seldom cook meat at home so it was a rare deviation from my normal fare.  In the future, I would likely cook this with tempeh or tofu rather than beef but I was pleased with how it turned out with beef. It is also a great dish for people that want to reduce the amount of meat they eat because it shows you that a little meat can go a long way in a dish.  Mark Bittman's Food Matters philosophy encourages us to eat fewer animal products than average.  "The average American eats a half pound of meat ech and every day, but no one (least of all me) is suggesting you become a vegetarian:  Just aim for less, a pound or two a week.  Start thinking about fish, poultry, meat, eggs, and airy the way traditional cultures do: as a garnish, seasoning, or treat–almost as a condiment.  When used as a flavoring ingredient rather than as the focus of the meal, a little meat goes a long way (Bittman, p. 9)."
Use this meal also as an opportunity to add more vegetables to your diet.  Add anything you have on hand–matchstick carrots, bell peppers, snow peas..all would be great additions.  I added red bell pepper to mine and it turned out great.  This recipe really made me wish I had a high-performing range so I could have seared the vegetables better in my wok–something to tuck away in my dream box!  Note also that it is easy to reduce the amount of this recipe.  I bought 4 oz of beef and one 1/2 pound bag of bean sprouts and it easily made enough for two meals.  Lastly, you should buy small oranges or if they are very large, just buy one.  I found that the sauce was a little too sauc-y for me and I could have gone with half the amount of orange juice.  I served mine with some bean thread noodles–they cook up fast and have the perfect texture for this dish.
Check out everyone else's takes on this recipe by going to:  http://thefoodmattersproject.com/
Seared Bean Sprouts with Beef and Sesame Orange Sauce
Makes 4 servings; Takes 20 minutes
Bean sprouts are light, crisp, and incredibly fast to prepare:  the freshest ones require only rinsing.  Plus they cook in the wink of an eye, which makes them perfect for stir fries, especially this classic with orange- and sesame-flavored beef.  Toss this with soba noodles or serve over short-grain rice or quinoa.
2 Tbsp sesame seeds
3 Tbsp vegetable oil
8 ounces beef sirloin or chuck, very thinly sliced
Salt and black pepper
1 pound bean sprouts
1 bunch scallions, white and green parts separated, all chopped (note that I used all of the whites but only a sprinkling of the greens)
3 Tbsp soy sauce
Grated zest and juice of 2 oranges
1 Tbsp honey, or more to taste (I used more)
Put the sesame seeds in a large dry skillet over medium-low heat and toast, shaking the pan often, until they begin to brown but don't burn, 3 to 5 minutes.  Remove them from the skillet.
Put 1 tablespoon of the oil in the skillet and turn the heat to high.  When the oil is hot, add the beef, sprinkle with salt and pepper, and cook, stirring just once or twice, until it sears and loses its red color, just a minute or 2.  remove the beef from the skillet.
Add the remaining 2 tablespoons oil.  When the oil is hot, add the bean sprouts and the white parts of the scallions.  Cook, stirring frequently, until browned in places and starting to wilt, 2 or 3 minutes.  Add the beef, soy sauce, orange zest and juice, and honey.  Cook and stir until the bean sprouts are just tender and everything is warmed through, a final 2 to 3 minutes more.  Taste and adjust the seasoning, adding more honey if you like.  Garnish with the sesame seeds and scallion greens and serve.