One of my favorite memories growing up was picking wild blueberries on the 40 acres in the Upper Peninsula of Michigan where I grew up.  On hot and humid summer mornings, I would go out and wade through the wet grasses to pick a couple of cups of wild blueberries to make blueberry muffins for my family.  I had a Hearthsong Cook-it! subscription, a Christmas gift from my mom (thanks for getting me into cooking, mom!) and the blueberry muffin page was well-used! Wild blueberries are tiny compared to conventional blueberries and it takes quite a few to add up for a recipe.  But it was always so worth it.  Now I don't have the luxury of going out to pick blueberries from the field but that doesn't make me crave them and the blueberry recipes we grew up with any less.
One of my favorite desserts as a kid was Blueberry Buckle.  I loved the name and the dense blueberry coffee cake with streusel topping has always made me swoon.  For whatever reason, the other day (in winter, far from blueberry season) I thought of blueberry buckle and I had to have it.  Luckily I was having my best friend and her family for dinner that night so I got to work.  I keep frozen blueberries in my freezer at all times–I can not tell the difference between frozen and fresh when baked.  I got the recipe from Martha Stewart Living and introduced a twist of my own by adding some raspberries (about 3/4 blueberries, 1/4 raspberries).  Served warm from the oven with a scoop of vanilla bean ice cream and I was getting my knees wet in the field on a hot summer morning–heaven!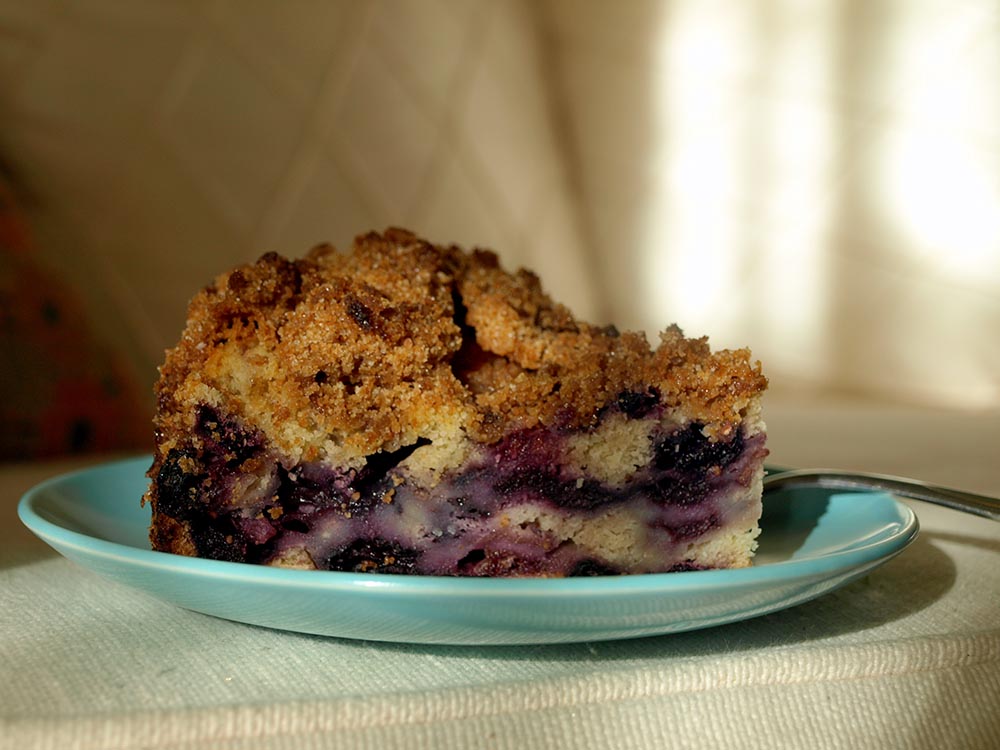 Blueberry Buckle (From Martha Stewart Living July/August 2000)
Ingredients
1/2 cup (1 stick) unsalted butter, room temperature, plus more for pan

2 cups all-purpose flour, plus more for pan
1 1/2 teaspoons baking powder
1/2 teaspoon salt
3/4 cup sugar
1 large egg
1 teaspoon pure vanilla extract
1/2 cup milk
5 cups wild or cultivated blueberries (I used about 4 cups blueberries and 1 cup of raspberries, thawed and drained).

Mrs. Kostyra's Streusel Topping
Directions
Heat oven to 350  degrees. Butter a springform baking pan, and dust with flour, tapping out excess. Set aside.
In a medium bowl, sift together the flour, baking powder, and salt; set aside.
In the bowl of an electric mixer fitted with the paddle attachment, cream butter and sugar on medium speed until light and fluffy, about 3 minutes. Reduce mixer speed to low, and add egg and vanilla, beating until fully combined.
Add reserved flour mixture, alternating with the milk, a little of each at a time, starting and ending with the flour mixture. Remove from mixer. Gently fold in blueberries.
Pour batter into prepared pan; sprinkle streusel topping over cake. Bake until cake tester comes out batter-free, 60 to 70 minutes. Transfer to a wire rack to cool for 10 minutes. Remove from pan; cool for 15 minutes before serving.
Mrs. Kostyra's Streusel Topping
Yield Makes enough for 1 ten-inch cake or 2 six-inch cakes
Ingredients
1 cup all-purpose flour

1/4 cup packed light-brown sugar
1 teaspoon ground cinnamon
1/4 teaspoon salt
6 tablespoons unsalted butter, room temperature
Directions
In a medium bowl, combine flour, sugar, cinnamon, and salt. Using a pastry blender or fork, cut in the butter until fine crumbs form.
Using hands, squeeze together most of the mixture to form large clumps. The topping can be frozen in an airtight container for up to 6 months.