This week on the Food Matters Project was an interesting one for me.  Baked pasta (yum!)…brussel sprouts (yum!)…figs (?) and bleu cheese (meh).  I love pasta.  I love brussel sprouts (especially roasted or sauteed with a bit of proscuitto).  I like figs quite a bit, especially as a fig jam with manchego cheese and crackers.  But in a pasta?  And I have a love/hate relationship with bleu cheese.  Sometimes a wedge salad with bleu cheese sounds and tastes wonderful but other times bleu cheese can taste to me like it came from the bottom of a barn floor.  Yech.
Well, I am committed to this project no matter where it leads me so I thought I would give it a go.  I wanted to stick to the main ingredients (pasta, brussel sprouts, figs, and bleu cheese) so I could respect the dish and give it a shot.  But I couldn't seem to stop myself from adding some caramelized red onion–just felt right.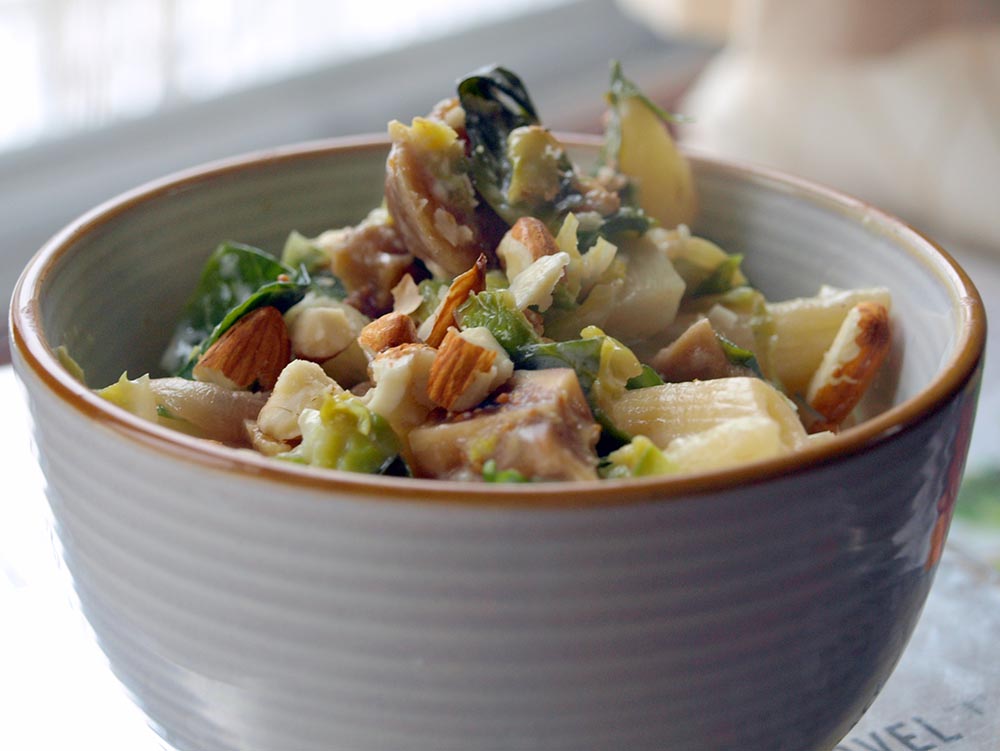 The resulting dish was surprisingly good.  I'll be honest–I could take or leave the figs.  They added an interesting texture and crunch but I would forgo buying them just for this dish.  I would suggest subbing caramelized onion and some flecks of proscuitto for flavor and crunch in lieu of the figs.  But really, it was good and comfort-foody and perfect for a cold February night in Michigan.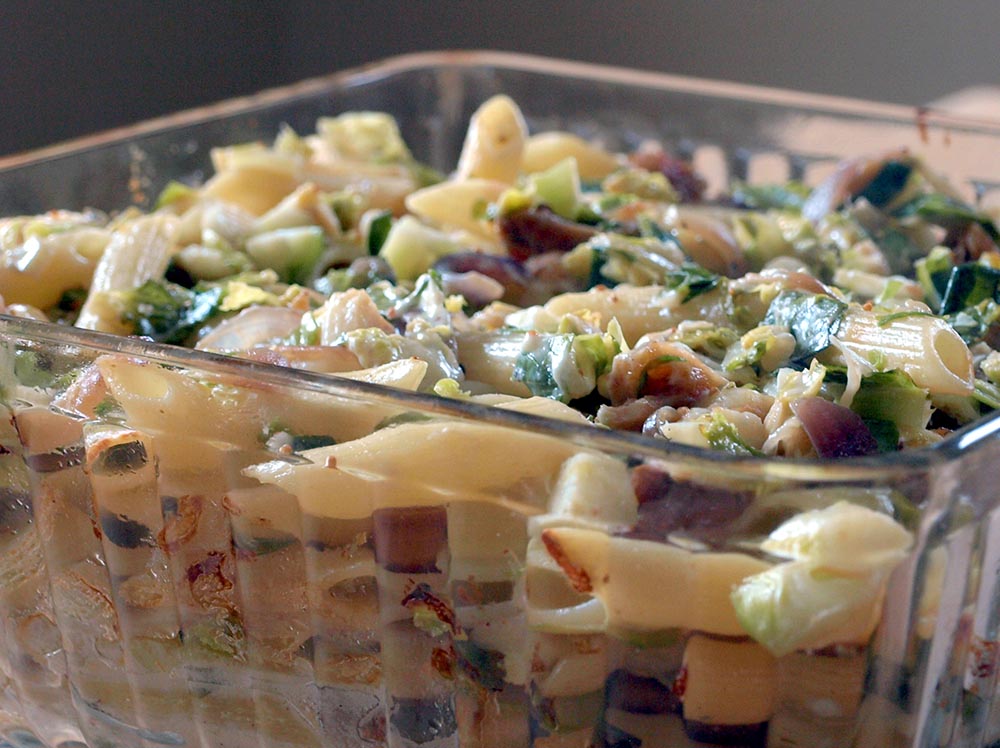 One thing to note is that if you reheat the dish, it loses some creaminess and color.  I reheated it later in the day in the oven and it was a little sad compared to it's creamy gorgeousness earlier in the day.  So plan on eating it up, at least if you want what's on your plate to be pretty!
Baked Rigatoni with Brussels Sprouts, Figs, and Blue Cheese
Makes: 4 servings
Time: 45 minutes
Many cheesy baked pastas depend on béchamel—the classic sauce made with flour, butter, and milk—for creaminess. But this is a very cool alternative that combines a variety of textures and flavors (including fruit) without diluting the taste of the cheese. Pears, apples, and cranberries would all be fine here, and if you're not keen on blue cheese, try fontina, Gruyère, or anything that melts easily.
2 tablespoons olive oil, plus more for greasing the pan
Salt
8 ounces rigatoni, preferably whole wheat
1 1/2 pounds Brussels sprouts, roughly chopped
4 ounces Gorgonzola or other blue cheese, crumbled
6 to 8 fresh figs, or 1 cup dried, chopped
Black pepper
1/4 cup chopped almonds, for garnish
1. Heat the oven to 400°F. Grease a 9 × 13-inch baking pan with a little olive oil. Bring a large pot of water to a boil and salt it. Add the pasta and cook it halfway through (start checking after 3 minutes; it should still be quite firm inside). Add the Brussels sprouts to the pot and cook, until the pasta and vegetables are just barely tender, another 3 minutes. Drain, reserving some of the cooking water, and return the pasta and Brussels sprouts to the pot.
2. Stir in the blue cheese, figs, the 2 tablespoons oil, and a splash of the cooking water. Sprinkle with salt and pepper, toss, and taste and adjust the seasoning. Turn the pasta mixture into the prepared pan.
3. Bake, checking once or twice and adding a bit more of the cooking water if the pasta looks too dry, until the mixture is bubbling, 15 to 20 minutes. Garnish with chopped almonds and serve.