This week's Food Matters recipe was Fish Nuggets Braised in Rhubarb Sauce.  It was chosen by Camilla of Culinary Adventures with Camilla. For everyone else's take, read through the comments on the Food Matters Project site.  I didn't have time to make a dish earlier in the day so was going to give up on it altogether, especially since the recipe did not sound in any way appetizing to me!  Also, I typically try to cook the project meals during the day so I can take photos with natural light so I was also a little bummed that I missed that window of time today.
Late tonight I pulled out a salmon filet and started piecing together a meal…crispy salmon with pan-seared brussel sprouts.  A quick scan of my fridge pulled up cucumber, radish, mango…the makings of a nice cool salsa to top the fish.  I have two rhubarb plants in my yard and right before dinner was finishing up, I decided to run out and grab a stalk so I 'qualified' for this week's Food Matter's Meal.  It had the two main components:  fish and rhubarb sauce–bingo!  The photo stinks but the dinner was delish–the rhubarb had a nice tang to it, cooled by the cucumber.  The salsa complemented the fish well and it was a dish I'd make again.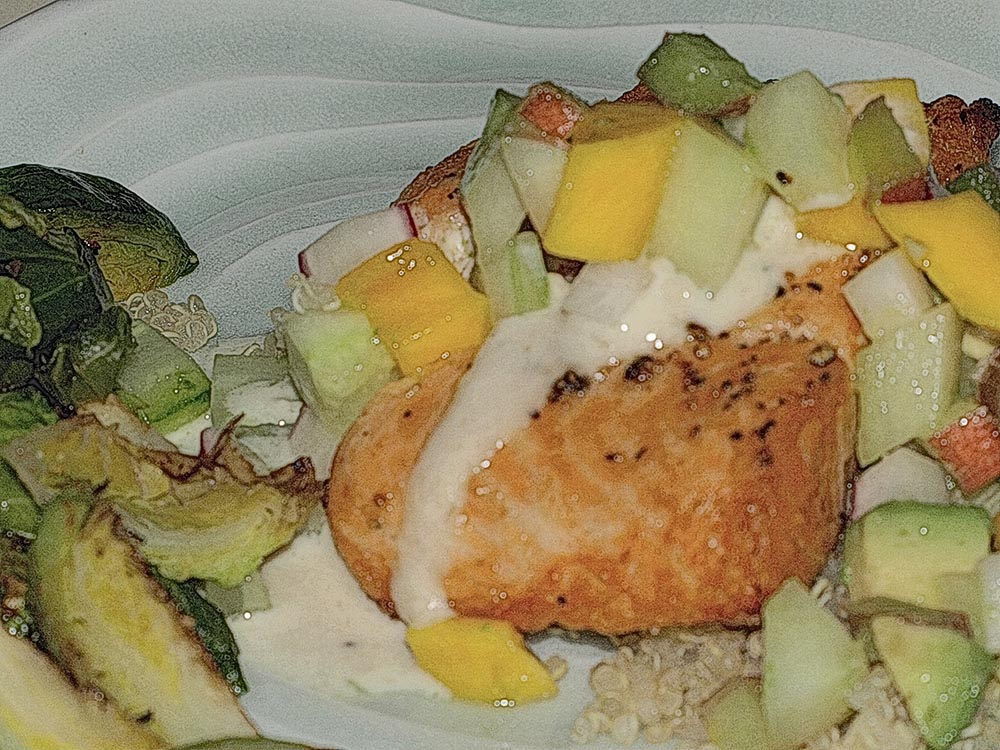 My recipe for dinner:
Salmon:  Rub the salmon filet with oil and sprinkle with kosher salt and cracked pepper.  Broil for 5 minutes on each side until crispy on outside and tender but cooked on inside.  Drizzle with lemon-tahini sauce and top with a couple of spoonfuls of cucumber-rhubarb salsa.
Lemon-Tahini Sauce (my standby sauce for fish):  Mix a tablespoonful of tahini with a squeeze of lemon, some salt, and enough hot water to thin to a drizzling consistency.
Rhubarb-Cucumber Salsa:  Dice cucumber, radish, avocado, mango, and rhubarb.  Mix with a squeeze of lime juice, a dot of honey, and a drizzle of olive oil.