Despite having a long-standing love of Easter (I love, love, love decorating eggs and putting together Easter baskets) this year's gift of a basket full of candy has turned me off a little.  I have eaten all of my Reese's Peanut Butter Eggs, my Cadbury Egg, and my Ferrero Rocher tray.  Oh my…well, let's just say I am looking forwarding to moving past the last few days of shoving piece after piece of candy down the hatch.  It's not me at my finest.
I'm on a search for some healthier sweets to make to wean myself off of the junky sweets wagon.  I pulled out a print-out I had…something I had seen on the Today show some time ago and wow…glad I did!  I always have thin crisps in my pantry for snacking.  I love topping them with thin slices of cucumber in the summer for a quick and cool snack but they are a great vehicle for so many things.  I had never thought about using them for a dessert.  These chocolate wafers have so many of the things I love in a sweet.  Dark chocolate?  Check.  Crystallized ginger?  Check.  Sea salt?  Check.  Candied fennel seeds?  Really?  Really.  It was a strange but great addition.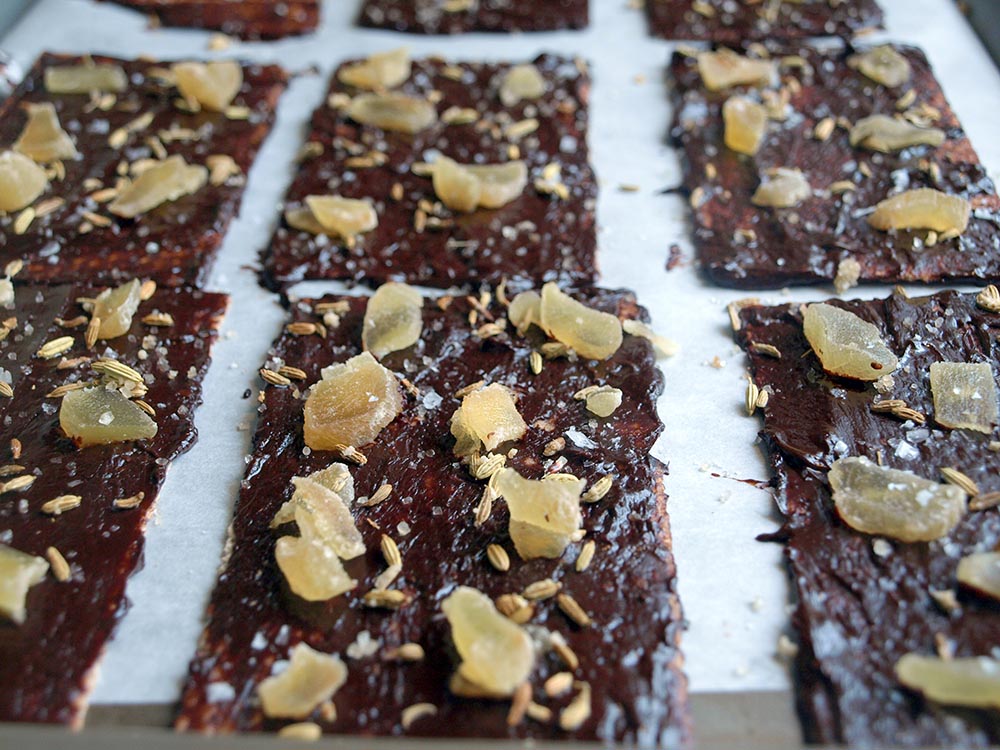 These were really quick and easy to make.  I highly recommend adding this to your snack repertoire.  Grabbing one of these beats grabbing a Reese's Peanut Butter Egg any day.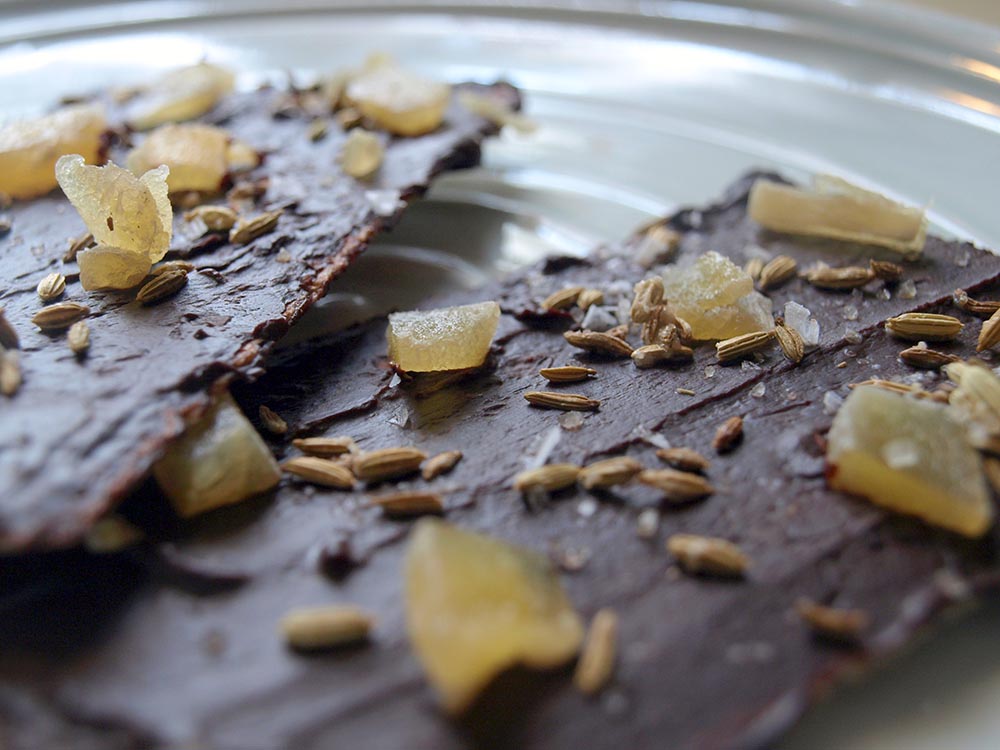 Chocolate Wafers With Ginger, Fennel, and Sea Salt
1 and 1/2 teaspoons fennel seeds
1/4 tsp sugar
7 ounces bittersweet chocolate (70 to 75 percent cacao), chopped (I had 60% cacao so just used that)
16 wafer-thin crispbreads, such as Finn Crisp (I used Kavli Crispy Thin)
2 tablespoons minced crystallized ginger
Sea salt flakes
Preparation:
Line a baking sheet with parchment paper.  In a small skillet, toast the fennel seeds over moderate heat until fragrant, about 2 minutes.  Add the sugar and cook, stirring frequently, until the sugar is melted and coats the seeds, about 15 seconds.  Scrape the candied fennel seeds onto a plate and let cool.  Crumble any clumps to separate the seeds.
Put the chocolate into a microwave-safe bowl and microwave in 30 second bursts until almost melted.  Stir the chocolate until completely melted and an instant-read thermometer inserted in it registers 90 degrees Fahrenheit.  Note:  you can heat chocolate on the stove also using double boiler method or bowl over pot of hot water.
Working very quickly, dip a crispbread in the chocolate and use an offset spatula to spread the chocolate in a very thin layer so it completely coats the crispbread.  Transfer to the prepared baking sheet and sprinkle with some of the fennel seeds, ginger, and sea salt.  Repeat with the remaining crispbreads, chocolate, and toppings.  Refrigerate the chocolate-covered crispbreads until just set, about 5 minutes.
Make Ahead:  The chocolate-covered crispbreads can be stored in an airtight container at room temperature for up to 5 days.