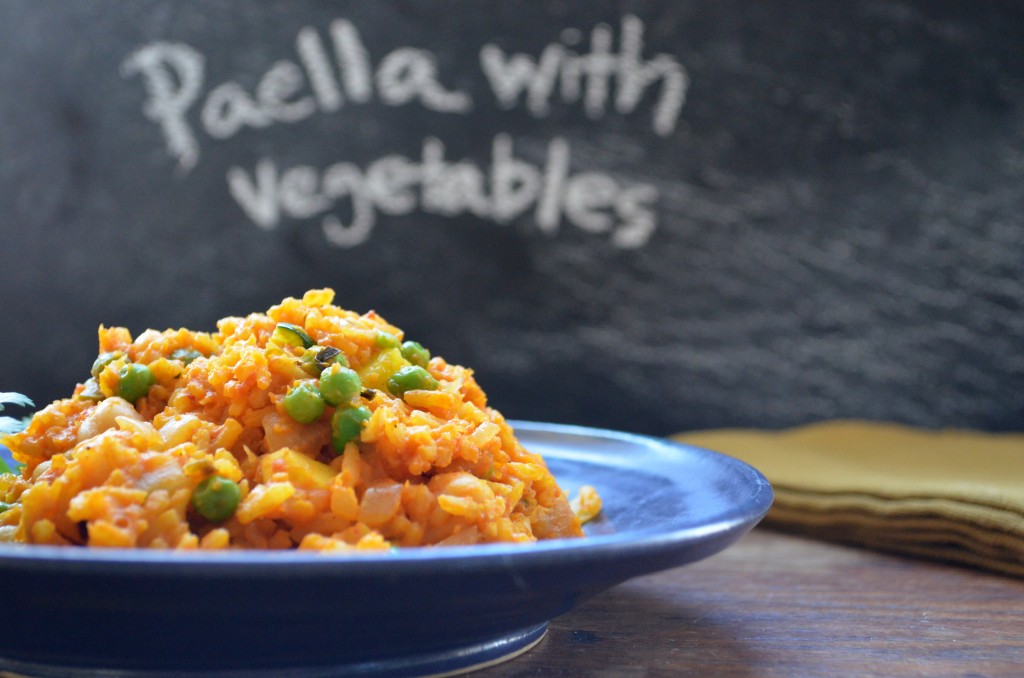 Welcome to Food Matters Monday…your weekly reminder that you are what you eat!  This week the awesomely adventurous foodie (and fellow oatmeal lover), Meg, from Fledgling Foodie, chose the recipe, a "pared down" paella with peas, clams, and chorizo.  Meg actually lived in Spain for four months in college so has a leg up on the art of paella making (and eating!) because she knows what a good paella should be.  I've only had paella once, at a wonderful Cuban restaurant named Cabana Nuevo Latino in my old neighborhood in Queens, NY (there are five locations and I have been to two–one in Forest Hills, Queens, and the other in Delray Beach, FL–I've been to both!).  I just had a couple of bites from my friend's plate and that is what I picture now when I think of paella, a generously sized dish of crisp-bottomed rice, soaking up a saffron-tomato broth with seafood intermingled in it all.  Six years later, I finally got around to trying my hand at paella for the first time, thanks to the Food Matters Project.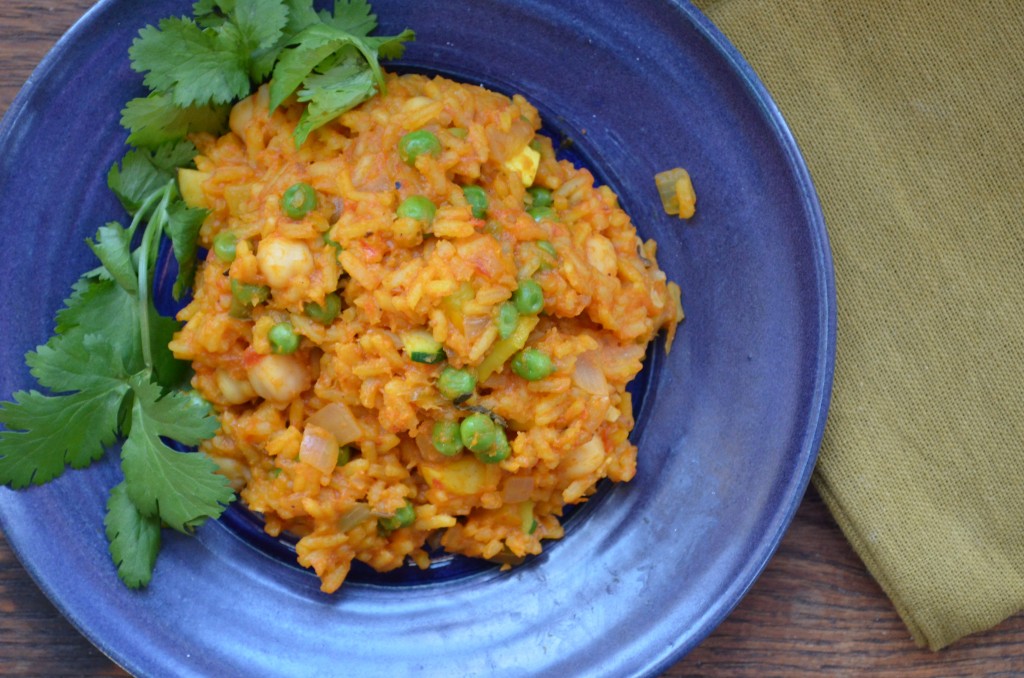 I've mentioned this before, but one of my favorite things about the Food Matters Project is that it forces me to try new things.  I don't get too excited about rice dishes (I've had risotto rice sitting untouched in my pantry for two years–Gordon Ramsey would be so disappointed!).  Paella never really popped out at me as a must-make dish.  But the FMP pushed me to try it and I'm glad I did.  I bought saffron for this dish and (gasp!) it was my first time using saffron.  I think saffron is an acquired taste (do you all agree?) and it was probably what I liked the least about the dish.  Otherwise, I found the paella to make for a hearty main dish, a good side dish, and overall, a healthy way to eat a ton of vegetables.  Oh, and though the saffron wasn't my favorite flavor, the color it imparted was marvelous!!!
My version is a vegan version and also gluten-free.  It was very easy to pull together and I listened to Lynn on the Splendid Table while making it and wished I could pick her brain about what she thinks makes a good paella!
I made mine in a dutch oven and was able to achieve the crispy rice bottom that is characteristic of paella.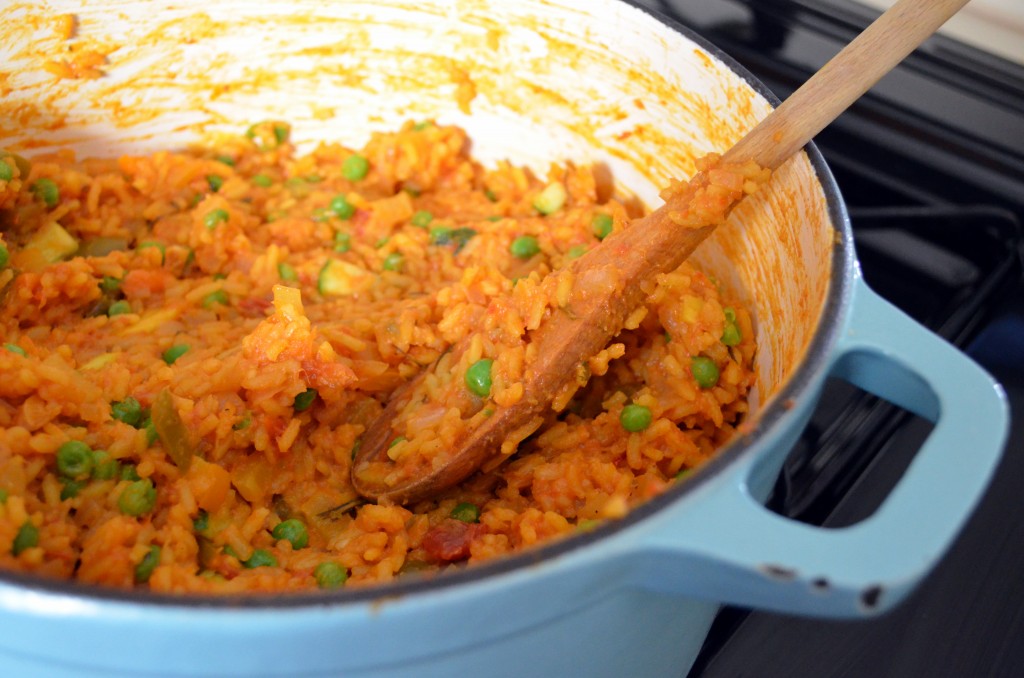 If you haven't tried paella yet, I say go for it!  I think it would taste great with some shrimp, mussels, and chorizo.  To see what everyone else came up with, head over to the Food Matters Project website.  To get the original recipe with clams, chorizo, and peas, head on over to Meg's blog!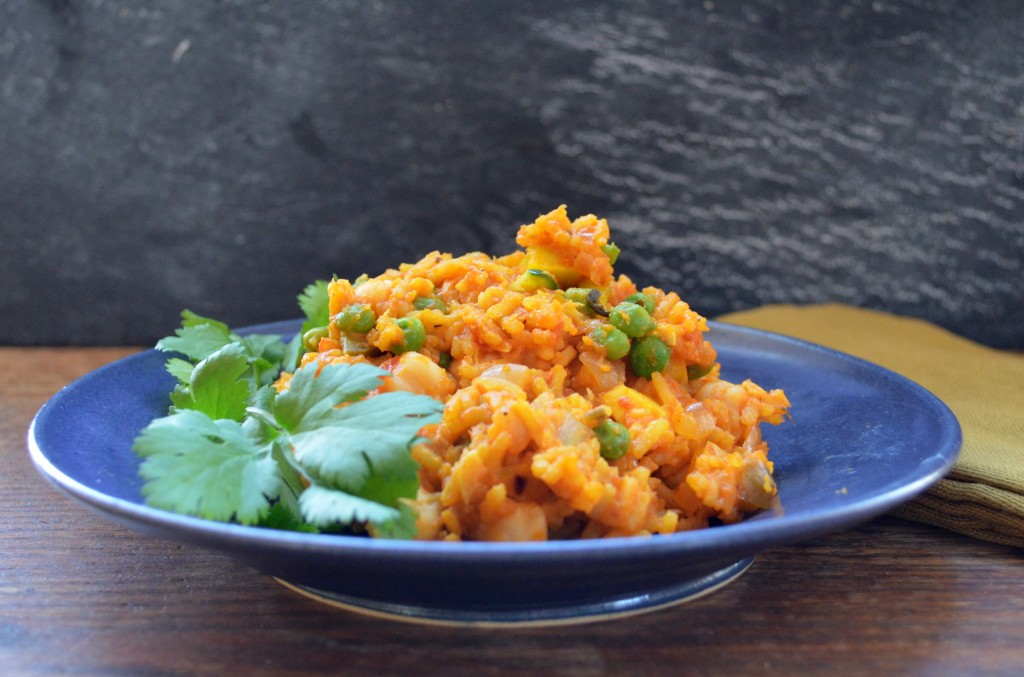 Paella with Lots of Vegetables; adapted from the NY Times
1 quart vegetable stock

Generous pinch saffron threads

2 tablespoons extra virgin olive oil

1 medium onion, finely chopped

4 large garlic cloves, minced

1 red, yellow, or orange pepper, chopped

1 green pepper, chopped

2 cups short or medium-grain rice

1 tablespoon tomato paste

1 heaping teaspoon sweet paprika

1 14-ounce can chopped tomatoes with juice

1 small zucchini, diced

1 small summer squash, diced

1 can chickpeas, drained and rinsed, or 1 1/2 cups fresh or thawed frozen lima beans

1 cup shelled fresh or thawed frozen peas

Salt and freshly ground pepper
Bring the stock to a simmer in a medium saucepan. Crush the saffron threads between your fingertips, and place in a small bowl. Add 1 tablespoon warm water, and set aside.

Heat the oil over medium heat in a dutch oven or a paella pan. Add the onion. Cook, stirring, until the onion is tender, about five minutes. Add the garlic, peppers and a generous pinch of salt. Cook, stirring, until the peppers begin to soften, about three minutes. Add the tomato paste, paprika and rice. Cook, stirring, for one minute until the grains begin to crackle.  Be very careful to keep an eye on the pan during this phase so you don't burn the rice!  I burned my first batch :(.  Add the tomatoes and cook, stirring, until they cook down slightly and smell fragrant, about five minutes. Stir in the saffron with its soaking water. Season generously with salt and pepper.

Add the stock, zucchini, summer squash, and chickpeas. Bring to a boil. Stir once, reduce the heat to medium-low, and simmer without stirring until the liquid has just about evaporated, about 10 to 15 minutes. Add the peas. Continue to simmer until the rice is dry, another 5 to 10 minutes. Remove from the heat and serve.