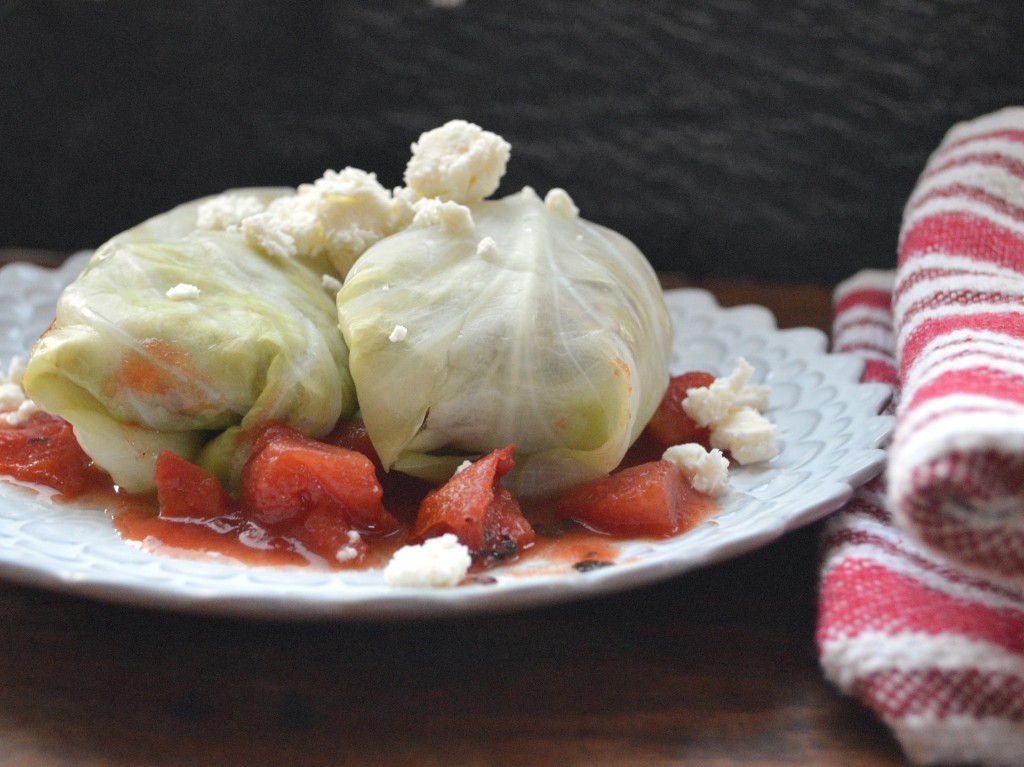 Welcome to Food Matters Monday!  This week, Keely Marie chose the recipe for us–stuffed cabbage rolls!  Keely Marie has some really great food on her blog–a couple of my favorites are her homemade naan (so brave–I haven't tried making my own naan yet because I'm afraid I'm going to ruin it…) and her take on the polenta cake we all made a while back.
The stuffed cabbage recipe in the Food Matters Project Cookbook has meat in it and I'm a once-in-a-while meat eater (and a never ground beef eater) so chose not to include it in this recipe.  Wanting to stay with Bittman's approach, though, I headed to my cookbook collection and grabbed his How To Cook Everything Vegetarian book.  And there it was.  A vegetarian version.  This reminded me of stuffed grape leaves quite a bit.  With the advantage of being able to use only pantry items I already had.  I always have cabbage on hand and ended up having collard greens on hand to test (with great results!).  The filling reminded me of mujadarrah, one of my favorite dishes, and one I will make when I know I'm going to have a busy workweek ahead of me.  Mujadarrah is basically rice and lentils with cumin, topped with fried onions and plain yogurt.  It was all I could do to not use the lentils and rice to make mujadarrah today and knowing this, I made extra so I could make the dish tomorrow!
If you prefer, you can also "deconstruct" the dish, serving it as a lentil/rice/cabbage bowl with some crumbled feta and a drizzle of olive oil.   Equally delicious, though not nearly as fun to eat.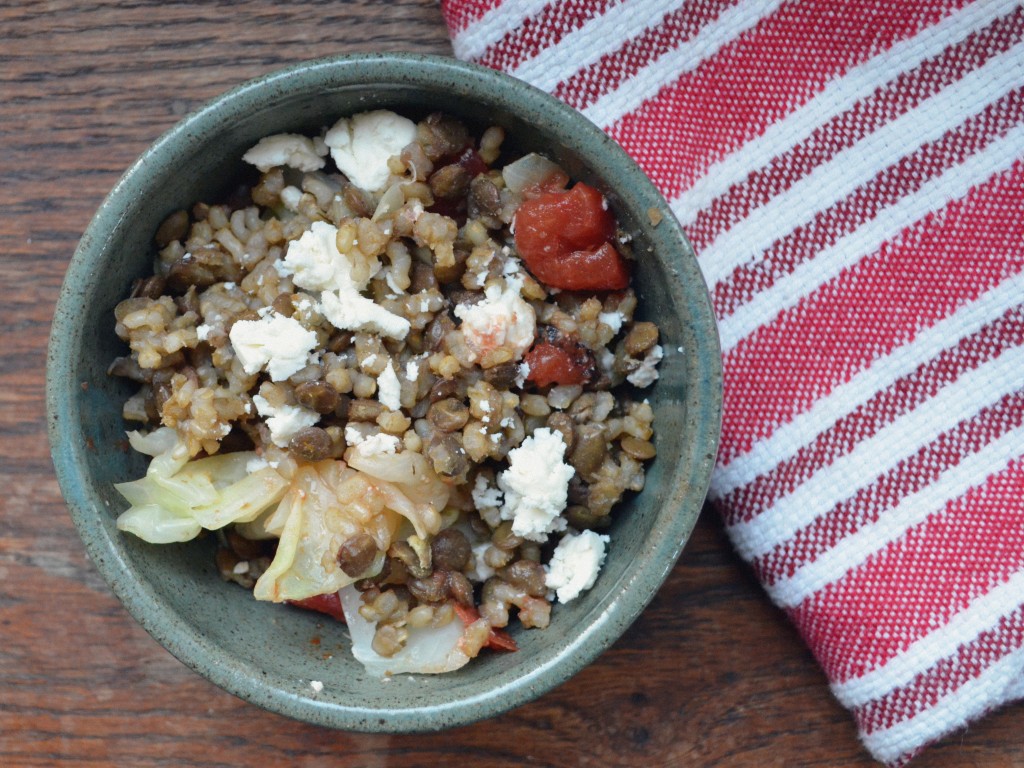 I'm so glad I got to try this recipe because now I know that I can use cabbage and collard leaves to make cool "burritos" with any variety of fillings.  I'll take this healthy option over a flour tortilla any day!
Cabbage or Collard Greens Stuffed with Cumin-Scented Lentils and Rice; adapted from Mark Bittman's How to Cook Everything Vegetarian Cookbook
1 tablespoon extra virgin 

olive oil

, plus a little for garnish

1/2 onion, chopped

2 teaspoons minced garlic

2 cups vegetable stock or water

1/2 cup brown, white, or Basmati rice (I used short-grain brown and Lundberg Farms is my favorite brand)

1/2 cup dried brown lentils

1 tsp cumin

Salt and freshly ground black pepper

8 large cabbage or collard greens, see below for preparation

Feta, Gruyere, Fontina, Gouda, or mozzarella cheese slices or butter (optional–leave out the cheese and this recipe is vegan)
Put the oil in a medium pot over medium-high heat.  When hot, add the onion and cook, stirring occasionally, until it's soft, about 5 minutes.  Add the garlic and cook for another minute, then add the stock and bring to a boil.

If you're using brown rice, add it to the pot along with the lentils.  If you're using white or basmati rice, add the lentils and cook them for 5 minutes, then add the rice.  Turn the heat to medium-low so that the mixture bubbles gently, cover, and cook until the lentils and rice are tender and the liquid is mostly absorbed (you don't want it completely dry), 25 to 30 minutes.  If there is excess liquid, take the cover off, turn the heat to high, and boil it off, being careful not to 

burn

 the bottom.  Sprinkle with salt and pepper and set aside.

Meanwhile, use a thin-bladed sharp knife to cut a cone-shaped wedge out of the bottom of the cabbage, removing its core.  Pull off 8 to 12 large, untorn leaves and put in a steamer above a couple inches of salted water.  If you are using kale, simply Cover and cook until the leaves are just flexible enough to bend.  Make a V-cut in each leaf to remove the tough central stem.

To stuff the cabbage or kale leaves, put a leaf, curved side up, on a counter or cutting board.  Put 1/4 cup or so of  filling in the center of the leaf, near where you cut off the stem.  Fold over the sides, then roll up from the stem end, making a little package.  Don't roll too tightly — the mixture will expand as it cooks.  Skewer the rolls with a toothpick or two to hold them together or just put them seam side down.

Put the cabbage packages in the steamer and cook until the cabbage is tender, 10 to 15 minutes.  Top with a slice of cheese and run under the broiler until bubbly if you like or drizzle with olive oil or melt a pat of butter on top.  Sprinkle with herbs and serve.