This week for The Food Matters Project I improvised quite a bit!  The original dish was Vegetables au Vin with Coq and I created a vegetarian version, ommitting three of the main ingredients–chicken, bacon, and wine.  As this dish came together it formed into a very rich, flavorful mushroom-vegetable stew.  As Mark Bittman promised, the eggplant melted into the sauce–delicious!  I served mine with some homemade polenta and an arugula salad.  Yum!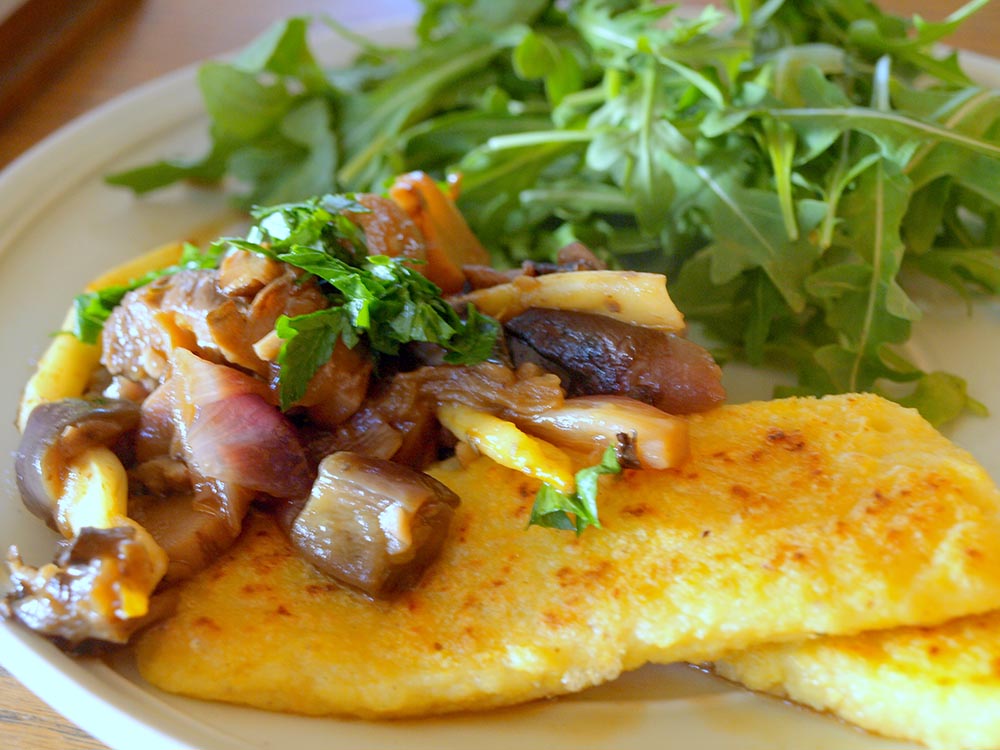 For the original recipe, head here.  For a glimpse of what everyone else on the project did, head here.
I had all of the vegetable ingredients called for so I started out with eggplant, salting it and letting it sit for a bit before dabbing off the salt: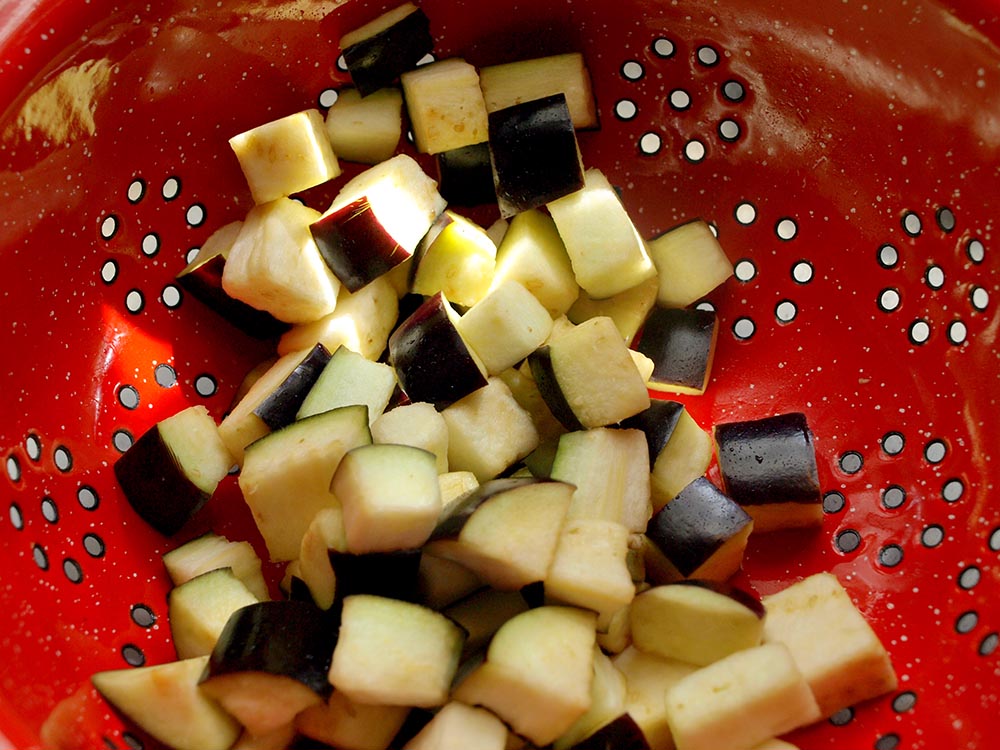 For the mushrooms, I chose king oyster mushrooms and shitake mushrooms–both of these mushrooms have an excellent "meaty" texture.  Very chewy and substantial.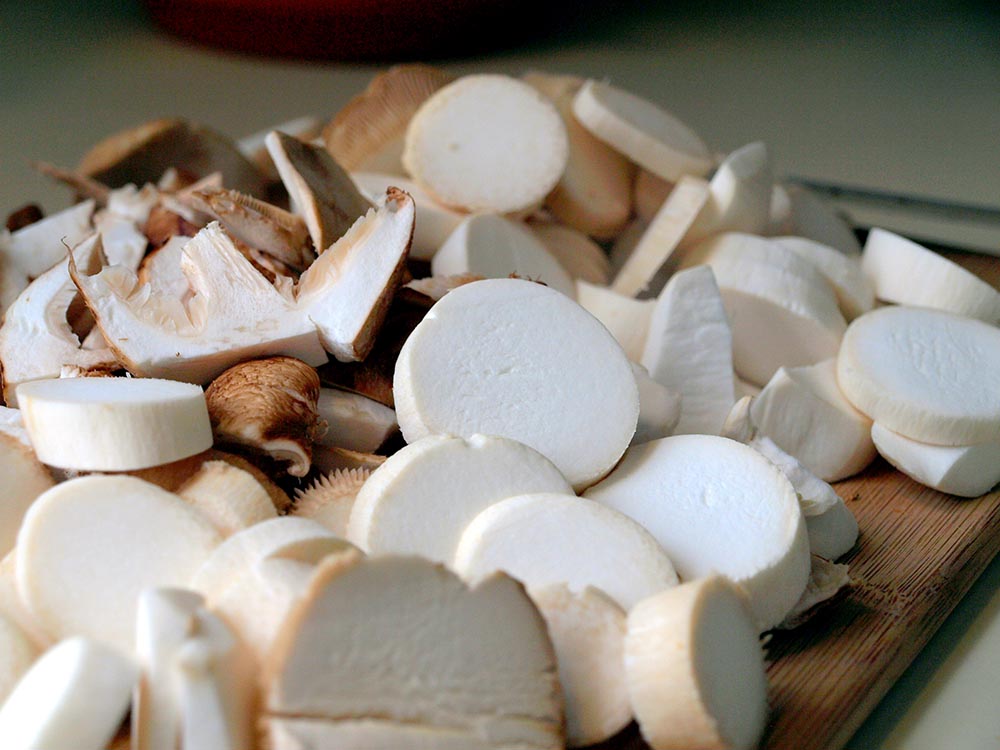 The eggplant, pearl onions, and mushrooms went into the pan with some olive oil for about 10-15 minutes to brown up and dry out a bit.  (Tip: the pearl onions can be a pain to peel.  Boil some water and toss them in for a few seconds and the peeling will become infinitely easier!)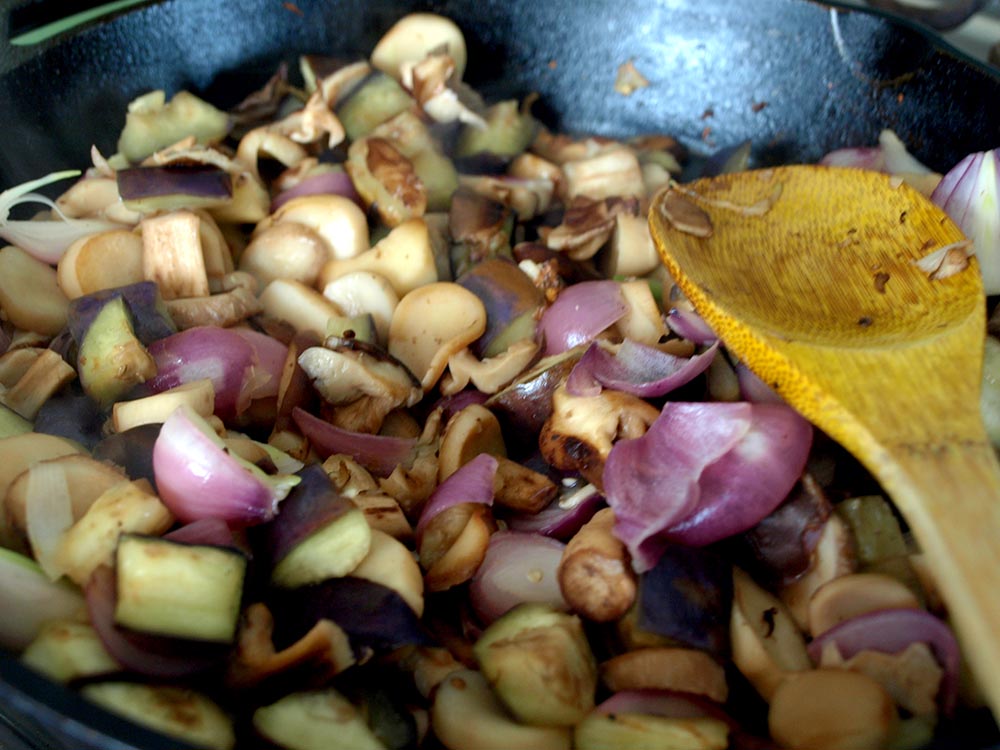 I added green beans, garlic, bay leaves, parsley, thyme, and a couple of cups of vegetable broth and let it simmer for about a half an hour until the eggplant melted into the sauce.  Feel free to add any vegetables you are in the mood for here.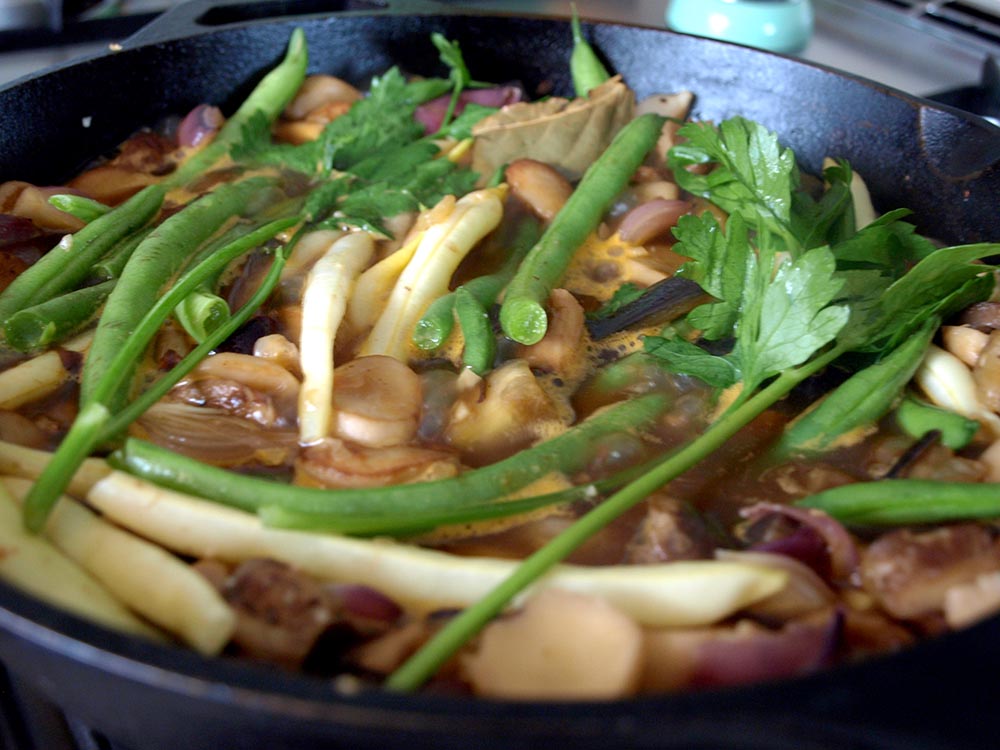 This recipe is so versatile–just add what you have with some herbs, garlic, and broth and simmer until it is a silky sauce.  I made some polenta for mine and it offset the rich and salty sauce I had created.  Mark Bittman's polenta recipe:
Polenta Cakes
1 cup course cornmeal
salt
1/2 cup milk, preferably whole (or use water)
2 and 1/2 cups water
Black pepper
2 tablespoons olive oil, plus more as needed
Put the cornmeal and a large pinch of salt in a medium saucepan; slowly whisk in 2 and 1/2 cups water and the milk to make a lump-free slurry.  Set the pot over medium-high heat and bring almost to a boil.  Reduce the heat to low and bubble gently, whisking frequently, until thick, 10 to 15 minutes.  If the mixture becomes too thick, whisk in a bit more water; you want the consistency to be like thick oatmeal.  Taste for seasoning and add salt if necessary and plenty of black pepper.
Grease a large backing sheet with some of the oil.  While the polenta is still hot, pour it onto the sheet and use a spatula to spread it out evenly at least 1/2 inch thick.  Brush the top lightly with oil, cover with plastic wrap, and refrigerate the polenta until it sets up, about 2 hours (or up to a day).
Heat oven to 375 degrees.  Grease a clean large baking sheet with some of the oil.  When the polenta is set, cut it into at least 12 squares or diamonds or use a round cookie cutter to make disks.   Put the cakes on the backing sheet, brush with a bit more oil, and bake until the edges begin to brown (the outside should be nice and toasted while the inside should stay soft), 20 to 30 minutes.
Tip:  I cooked my polenta cakes in a skillet with some olive oil until they were browned on each side.