What a great weekend of hot yoga, good food, and friendship!  Tonight at Sunday Dinner, Abby made a short rib roast and it was amazing–so sorry I don't have a photo to show here.  I brought honey-glazed roasted root vegetables to accompany the main course, served with a potent garlic aoli for those who were brave (and not planning on smooching too much for the rest of the night).  This is a dish I will keep in my repertoire to make over and over again–try it and you will add it to yours too!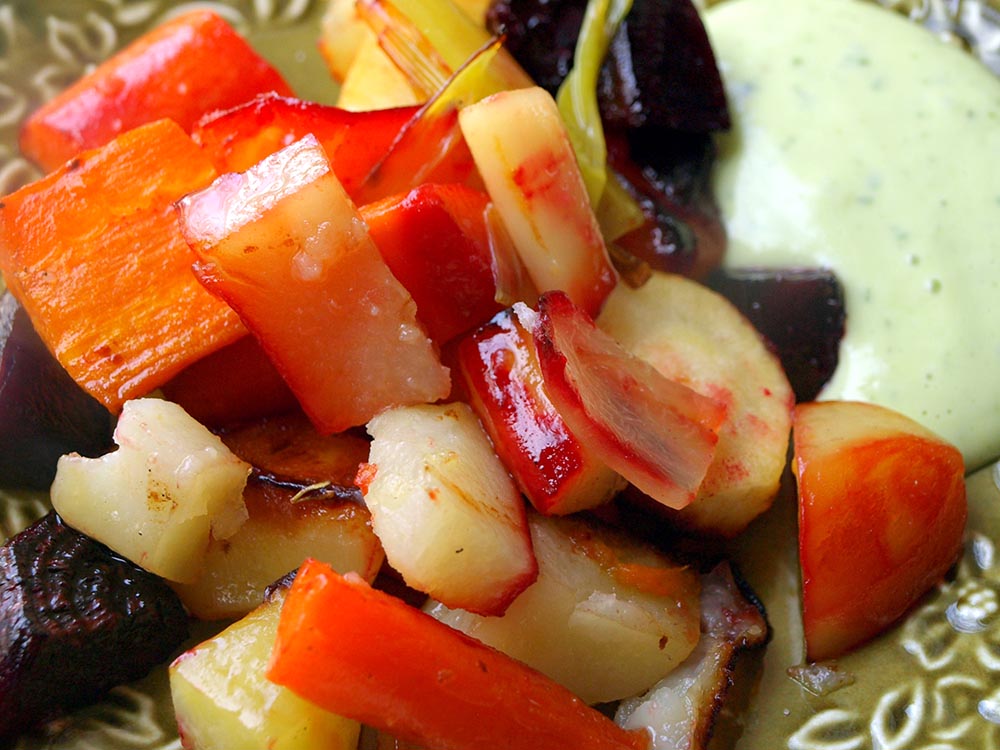 Honey-Glazed Roasted Root Vegetables
ACTIVE: 25 MIN; TOTAL TIME: 1 HR 30 MIN; SERVINGS: 12
Ingredients
1 1/4 pounds parsnips, peeled and sliced 1/2 inch thick
1 1/4 pounds carrots, peeled and sliced 1/2 inch thick
One 1 1/4 pound celery root—peeled, quartered and sliced 1/2 inch thick
1 1/4 pounds golden beets, peeled and sliced 1/2 inch thick
1/2 cup extra-virgin olive oil
1/2 cup honey
6 thyme sprigs
Salt and freshly ground pepper
2 tablespoons sherry vinegar
Directions
1. Preheat the oven to 425°. In a large bowl, toss the root vegetables with the oil, honey and thyme and season with salt and pepper. Divide between 2 large, sturdy rimmed baking sheets. Cover with foil and roast for 40 minutes, shifting the pans once, until the vegetables are tender. Remove the foil and roast for 10 minutes longer, until glazed. Return them to the bowl and stir in the vinegar then season with salt and pepper. Serve right away.
Make Ahead:  The vegetables can be cooked early in the day and kept at room temperature before rewarming.