Happy birthday to my little sister!  On Saturday, Anna turned 25.  We celebrated by going to Marie Catrib's (http://mariecatribs.com/) for some delicious sandwiches and spreads, going to see The Artist (blew my expectations away) and eating a big slice of Hummingbird Cake.
I have had Hummingbird Cake twice:  once at Marie Catrib's and once at Carrie's a few weekends ago. Both blew me away and after some convincing, Anna agreed to let Hummingbird Cake be her special birthday cake this year.  I am so glad she did!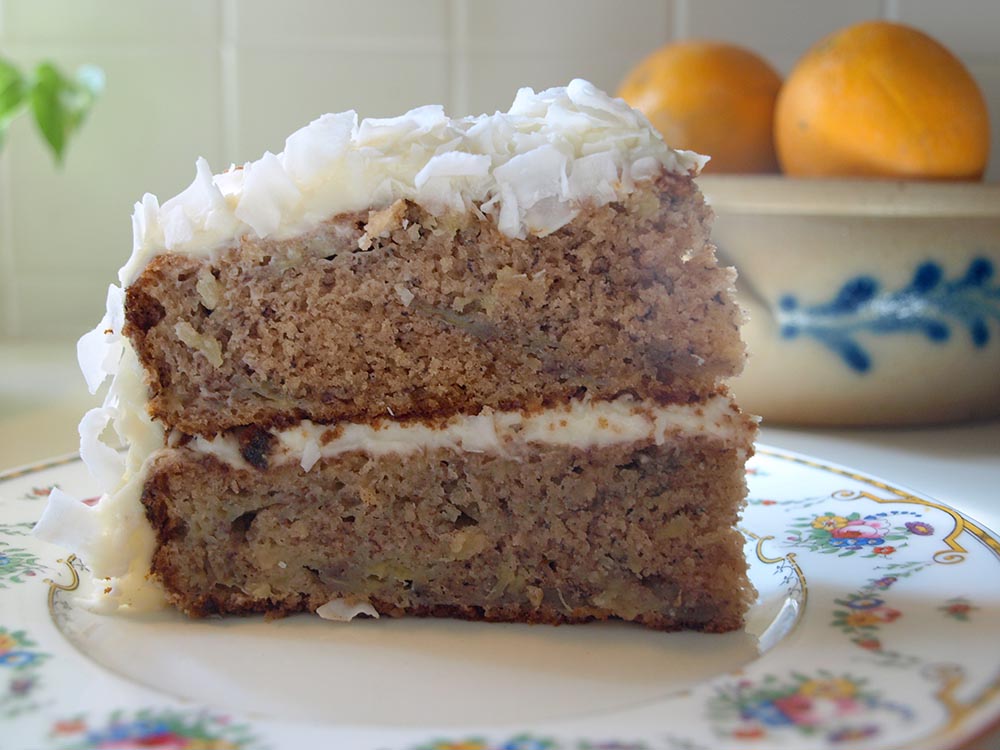 Many of the recipes out there call for pecans in the cake and on top but I made a female (no nuts!) version and topped it with unsweetened flaked coconut instead.  I love the look of coconut on a cake–it makes it look like a dreamy snowball.
I made my cake with a combination of a recipe from Carrie and a recipe from Southern Living.  I wish I would have stuck more to Carrie's recipe because it had more pineapple–my cake had a stronger banana presence than hers.  Oh well, now I have a good excuse to experiment and make this again with more pineapple.  Regardless, the results were great and my sister was a happy birthday girl that night.
Here is the Southern Living recipe–try adding more pineapple and reducing some of the banana for what I think would be a perfect balance!
HUMMINGBIRD CAKE
3 cups all-purpose flour
1 teaspoon baking soda
1 teaspoon salt
2 cups sugar
1 teaspoon ground cinnamon
3  large eggs, beaten
1 cup vegetable oil
1 1/2 teaspoons vanilla extract
1  (8-ounce) can crushed pineapple, undrained
1 cup chopped pecans (optional)
2 cups chopped bananas
1/2 cup chopped pecans (optional–I used unsweetened flaked coconut instead)
Combine first 5 ingredients in a large bowl; add eggs and oil, stirring until dry ingredients are moistened. (Do not beat.) Stir in vanilla, pineapple, 1 cup pecans, and bananas.
Pour batter into three greased and floured 9-inch round cakepans. Bake at 350° for 25 to 30 minutes or until a wooden pick inserted in center comes out clean. Cool in pans on wire racks 10 minutes; remove from pans, and cool completely on wire racks.
Spread Cream Cheese Frosting between layers and on top and sides of cake; sprinkle 1/2 cup chopped pecans on top. Store in refrigerator.
Break out the ice cream and enjoy!