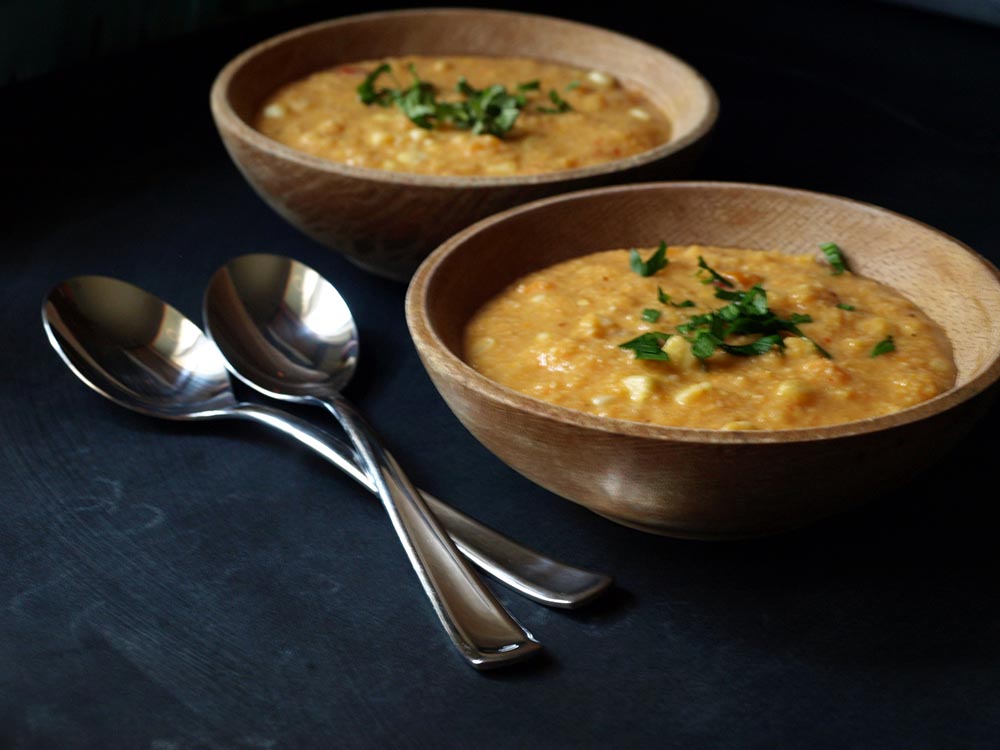 This is the last week for corn in Michigan, a truly sad state of affairs, I'd say!  I've been hooked on an aptly named variety called "Heavenly Bliss" from Platte Family Farms of Comstock Park, MI (find them at the Fulton Street Farmer's Market).  Luckily, I had the good sense to freeze a couple of gallon bags of it to pull out when I am most in need of the fresh taste of summer in the middle of the long winter ahead.
In the midst of my efforts to preserve the harvest, I realized that I had several perfectly good ears of corn, kernels removed, just begging to be used for corn chowder stock.  Six lovely ears of corn went to the new task and the result was this sweet and smoky corn and sweet potato chowder with chipotle, adapted from Mark Bittman's recipe.  An excellent way to enjoy our delicious Michigan sweet corn.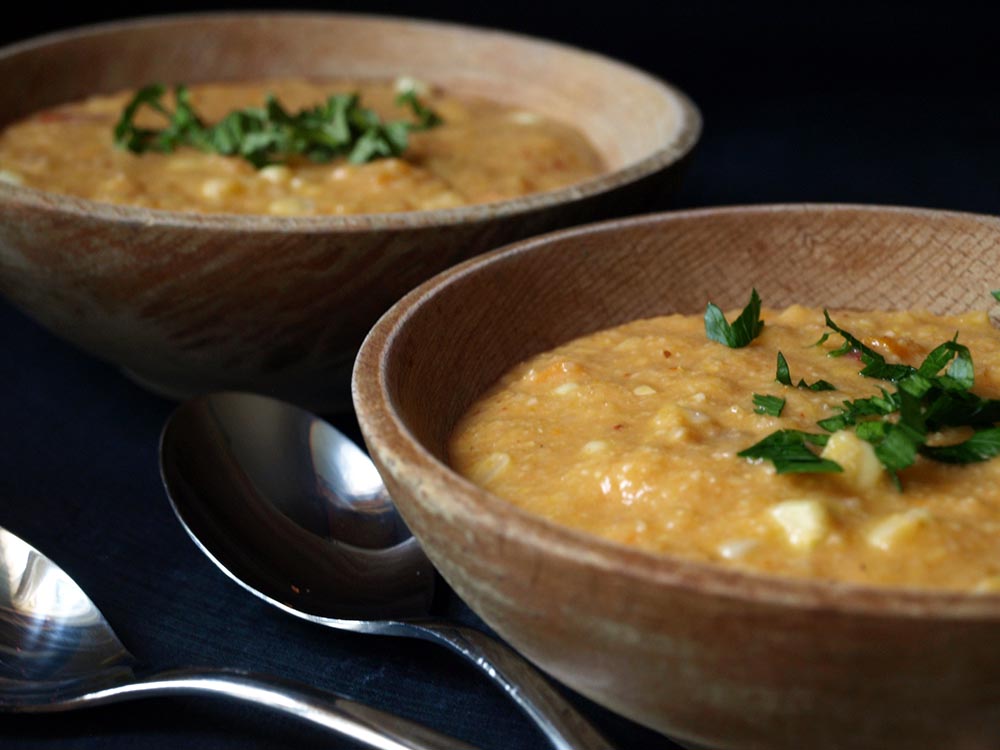 Corn and Sweet Potato Chowder with Chipotle; adapted from Mark Bittman's The Food Matters Project; serves 4
Kernels from 6 ears fresh corn, cobs reserved
Salt
1/4 cup olive oil
1/2 cup chopped onion
2 canned chipotle chiles, minced, with some of their adobo sauce
1/2 red bell pepper, seeded and chipped finely
1/4 cup cornmeal (fine or medium grind) or masa harina
Black pepper
1/2 cup 2% milk
1 large sweet potato, peeled and chopped
1 large red skinned potato, peeled and chopped
Chopped fresh basil
Put the corn cobs and 6 cups of water in a pot over medium-high heat and salt it.  Cover the pot and bring to a boil.  Lower the heat so the water bubbles gently and cook for about 15 minutes.  Let the cobs steep until you're ready to make the soup, then remove them and save the broth.
Put the oil in a large pot or Dutch oven over medium-high heat.  When it's hot, add the onions, chipotles with some of their adobo sauce (you can always add more later), and red bell peppers; cook, stirring occasionally, until the onions and peppers begin to get soft, about 1 minute.  Turn the heat down to medium-low and stir in the cornmeal and some pepper.  Cook, stirring constantly with a whisk or a wooden spoon, until the mixture starts to turn golden, 5 to 10 minutes.  Add the milk and reserved broth and turn the heat up to medium-high.  Stir or whisk constantly until the cornmeal is dissolved and the soup starts to thicken, about 2 minutes.
Stir in the corn kernels, potatoes, and sweet potatoes and bring to a boil.  Cover the pot and lower the heat so that the soup bubbles gently.  Cook, stirring occasionally, until the corn and potatoes are tender and the soup has thickened, 10 to 15 minutes.  Taste and adjust the seasoning. Garnish with the basil if you like and serve.