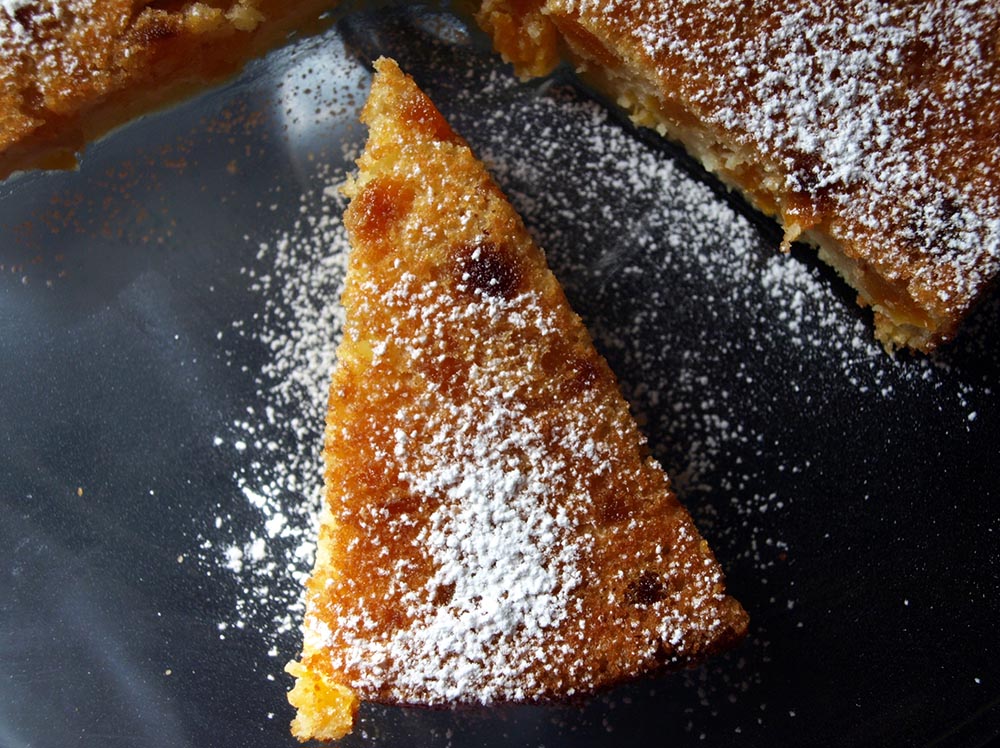 Our Food Matters Project recipe this week is Apricot Polenta Cake, chosen by Jen from Prairie Summers, a charming blog with many bright and flavorful European dishes and whole food dishes (and if you want something sweet, try her lemon cheesecake–mmmmmmm!).  And what a great choice it is!  Anything that has cornmeal in it is usually a favorite of mine and this dessert recipe is no exception.  This fruity cake is the perfect balance of rich and sweet with neither quality overpowering the flavors of corn and apricot.  It reminds me of my favorite scones from the Nantucket Baking Company–both have a great depth of flavor with chewy apricot bites and a soft and crumbly texture.
The cake took a little bit of time (chopping the apricots, cooking the polenta, beating the egg whites) but was well worth every second.  I would serve this cake with some greek yogurt or a small dollop of whipped cream on the side.  But it is also fabulous plain enjoyed with your morning coffee…trust me…for a moment this morning I forgot I had to work today!
The other Food Matters participants came up with all kinds of variations using cherries, berries, plums, and making cakes, tarts, even a soup!  To check out these and other variations, head here.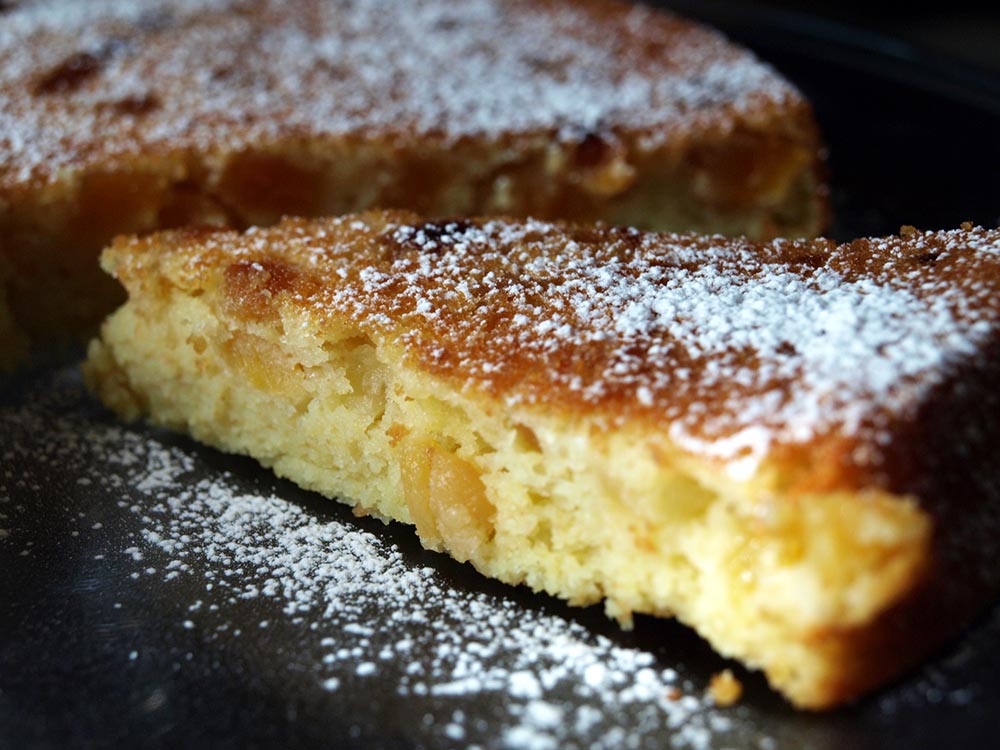 Apricot Polenta Cake; from Mark Bittman's The Food Matters Project Cookbook
Time:  1 hour plus time to cool
1/3 cup olive oil, plus more for greasing the pan
1/2 cup coarse cornmeal
1/4 tsp salt
1/2 cup all-purpose flour
1 and 1/2 teaspoons baking powder
1/2 cup sugar
2 eggs, separated
3 tablespoons orange juice
1 cup chopped dried apricots
Powdered sugar, for dusting
Heat the oven to 350 degrees.  Grease an 8- or 9-inch square or round baking pan with a little oil.  Put the cornmeal and salt in a medium saucepan; slowly whisk in 1 and 1/4 cups water to make a lump-free slurry.  Set the pot over medium-high heat and bring almost to a boil.  Reduce the heat to low and bubble gently, whisking frequently, until thick, about 5 minutes.  Remove from the heat and let cool slightly.
Combine the flour and baking powder in a bowl.  With an electric mixer (or a whisk) beat 1/3 cup oil with the sugar until creamy; add the egg yolks and beat until thick, scraping down the sides of the mixing bowl as necessary (this will take 5-7 minutes).  Mix in the polenta until smooth, then mix in the dry ingredients until smooth.  Add the orange juice and apricots and stir until blended.
In a separate bowl, beat the egg whites until they form soft peaks (When you remove the beaters or whisk, a soft peak should fold over onto itself).  Stir them thoroughly but as gently as possible into the batter (the base batter is fairly thick and it's okay if the whites aren't fully incorporated).
Turn the batter into the prepared pan.  Bake until a toothpick inserted in the center comes out clean, about 35 minutes.  Let the cake cool in the pan.  Invert it out onto a plate if you like and sprinkle with powdered sugar just before serving.  Store at room temperature, covered with wax paper, for a day or 2; use plastic wrap and it will keep for an extra day or so.  (Dust again with powdered sugar after storing and before serving).