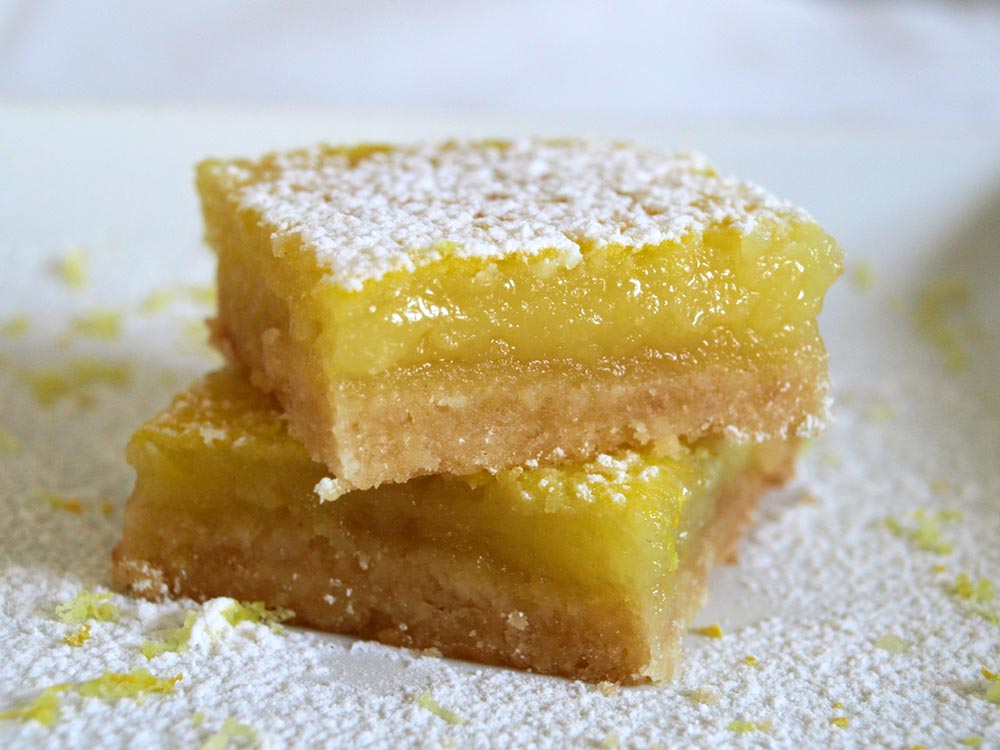 If you are anything like me, you might have stacks of food magazines in your kitchen with a dog-eared page every tenth page or so, recipes planning to be cooked.  Every so often a page gets torn out, a more pressing interest in making or baking that particular dish.  This recipe from the August issue of Cooking Light stood out to me, not so much because I like lemon bars (which I do from time to time), but because I know so many people that love them.  And I figured this was one of those recipes that would be so much better than store-bought.  And I hope I speak for my many taste testers when I say…this recipe is a keeper!  Fresh squeezed lemon juice, pine nuts in the crust, less fat (5 grams vs. 11 grams in most lemon bars), fewer calories (124 vs. 319 in most lemon bars!), and less sugar (reduced sugar by 2/3)…all add up to some lovely lemon bars.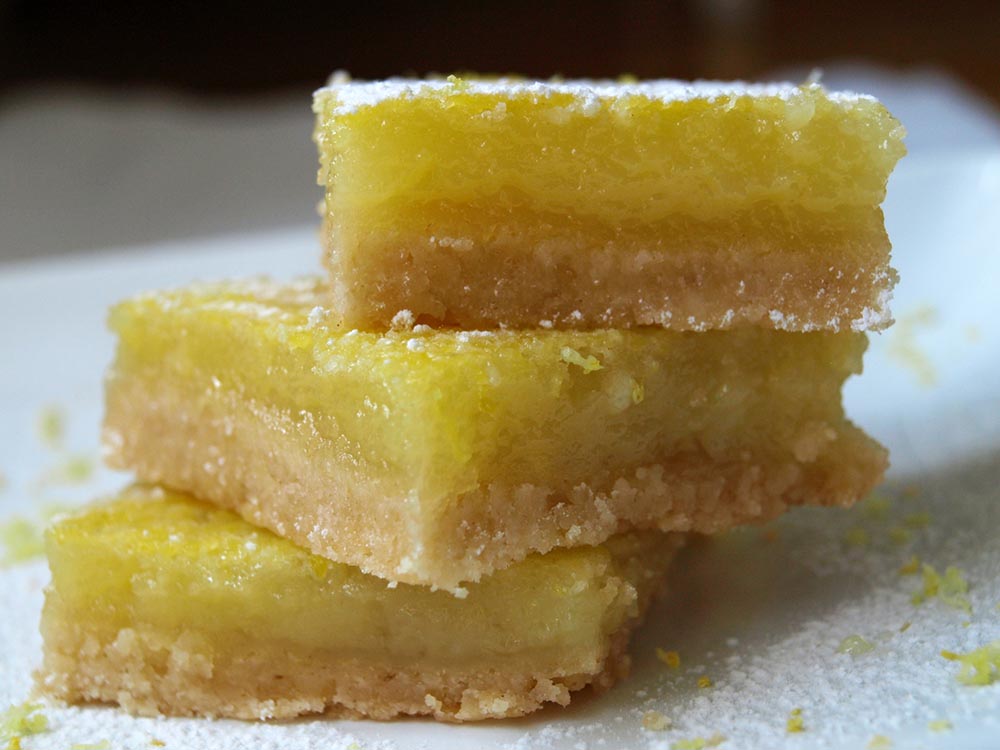 Lemon Squares;  From Cooking Light, August 2012; Recipe Makeover
3.4 ounces all-purpose flour (about 3/4 cup)
1/4 cup powdered sugar
3 tablespoons pine nuts, toasted and coarsely chopped
1/8 teaspoon salt
2 tablespoons chilled unsalted butter, cut into small pieces
2 tablespoons canola oil
Cooking spray
3/4 cup granulated sugar
2 tablespoons all-purpose flour
1 teaspoon grated lemon rind
1/2 cup fresh lemon juice
2 large eggs
1 large egg white
2 tablespoons powdered sugar
Pre-heat oven to 350 degrees.
Weigh or lightly spoon flour into dry measuring cups; level with a knife.  Place flour, 1/4 cup powdered sugar, pine nuts, and salt in a food processor; pulse 2 times to combine.  Add butter and canola oil.  Pulse 3 to 5 times or until mixture resembles coarse meal.  Place mixture into the bottom of an 8-inch square glass or ceramic baking dish coated with cooking spray; press into bottom of pan.  Bake at 350 degrees for 20 minutes or until lightly browned.  Reduce oven temperature to 325 degrees.
Combine granulated sugar and next 5 ingredients (through egg white) in a medium bowl, stirring with a whisk until smooth.  Pour mixture over crust.  Bake at 325 degrees for 20 minutes or until set.  Remove from oven, and cool completely in pan on a wire rack.  Cover and chill for at least 2 hours.  Sprinkle squares evenly with 2 tablespoons powdered sugar.
Serves 16 (serving size 1 square).  Calories: 124.  Fat:  5g (sat 1.3g, mono 2g, poly 1.2g); Protein:  2g; Carb:  18.5g; Fiber:  0.3g; Cholesterol:  30mg; Iron:  0.5mg; Sodium:  31mg; Calc:  6mg