This was a new one for me–hummus served hot.  The dish was chosen by this week's host of Food Matter's project.  I am loving this weekly project.  I get to cook "with" 50+ other bloggers and try things I normally may not pick to make myself.  Don't get me wrong–I've made my fair share of hummus over the years.  Roasted bell pepper hummus, black bean hummus, roasted garlic hummus, lemony hummus, white bean hummus, you name it.  I would have skipped right over this recipe, thinking about how I don't need a recipe for hummus.  But I have never thought about serving it hot!  So thanks again to Mark Bittman for encouraging a new way to try things.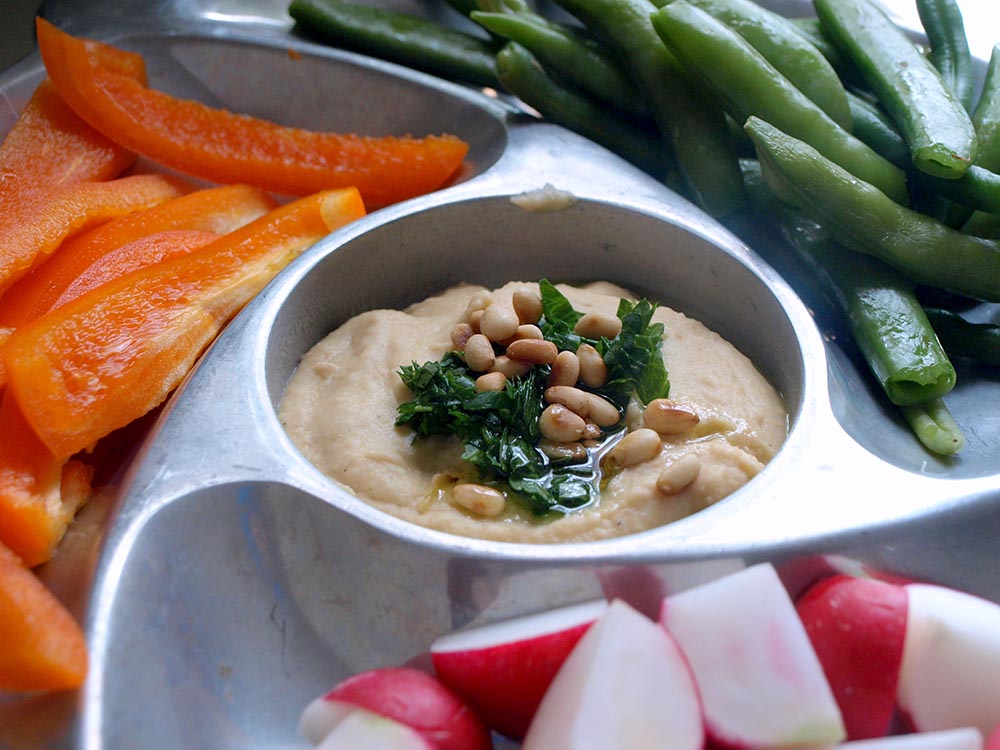 In some ways this hummus is like any other–a breeze to make and can be served with just about anything.  I have been in need of some serious veggies so I served mine with blanched peas and green beans, orange bell pepper, and radishes.  I also topped the hummus with toasted pine nuts, parsley, and olive oil.  Heating the hummus resulted in a rich and creamy dip unlike any hummus I have had before.  Also, I typically use an immersion blender to make hummus and while it does a fine job it leaves some small chunks.  The trick to getting hummus super-smooth and creamy is a blender or food processor.  Have fun with it and dress it up how you like.  And be prepared to start enjoying hummus in a brand new way!  To see how all of the other Food Matters bloggers made their hummus, go to:  http://thefoodmattersproject.com/
Hummus Served Hot
Makes 6 to 8 servings
From Bittman's Food Matter's Cookbook:  The first time I ate this was in Turkey, and it stunned me.  But why?  Of course, hummus, a Middle Eastern staple, has uses beyond sandwich spread or meze platter.  Served warm, it makes an elegant, fondue like dip, sauce, or side dish.  Offer this as an appetizer in a large bowl alongside crudites of all sorts:  cubes or cooked potato, eggplant, or crusy bread, or strips of pita for dipping.  You can also serve this mixture on grains, with pasta, or straight up as an alternative to mashed potatoes.
Ingredients
3 cups cooked or canned chickpeas, drained, liquid reserved
1 or 2 garlic cloves
1/4 cup olive oil, or to taste
1/4 cup tahini, or to taste
Salt and black pepper
3 tablespoons lemon juice, or to taste
Chopped fresh parsley, for garnish
Put the chickpeas with 1/2 cup of their cooking liquid (or water) in a blender, add the garlic, oil, and tahini, and sprinkle with salt and pepper.  Puree for a minute or 2 until the mixture is very smooth.  Add more cooking liquid, oil, or tahini as you like until the consistency is like a smooth dip or thick soup.  (Refrigerate for up to a couple of days or freeze for months).

Transfer the puree to a medium saucepan over medium heat (or use the microwave); heat through while stirring constantly.  Add the lemon juice, then taste and adjust the seasoning, adding more salt, pepper, or lemon juice as needed.  Serve warm, garnished with parsley.
Ways to Flavor Hummus Served Hot: 
Stir in any of these just before serving, either alone or in combination; taste and add more if you like.
1/2 cup chopped roasted bell peppers
1/2 cup mashed roasted garlic in place of raw garlic
1/2 cup grated Parmesan, Gruyere or fontina cheese
1/4 cup pesto or herb past
1/4 cup chopped nuts like walnuts, almonds or pistachios
1/4 cup chopped black or green olives
1 tbsp cumin
1 tbsp smoked paprika (pimenton)
1 tbsp curry powder
1 tbsp chile paste