Thanks to Joanne for her interesting pick for the Food Matters project this week.  I really look forward to my weekly creation and having someone else pick a dish for me (and everyone else on the project) really pushes me to try new things.  Not that I don't try new things all of the time…but it's undeniable that I tend to pick certain types of dishes over others.  Well, this week was Curried Tomato Soup with Hard Boiled Eggs.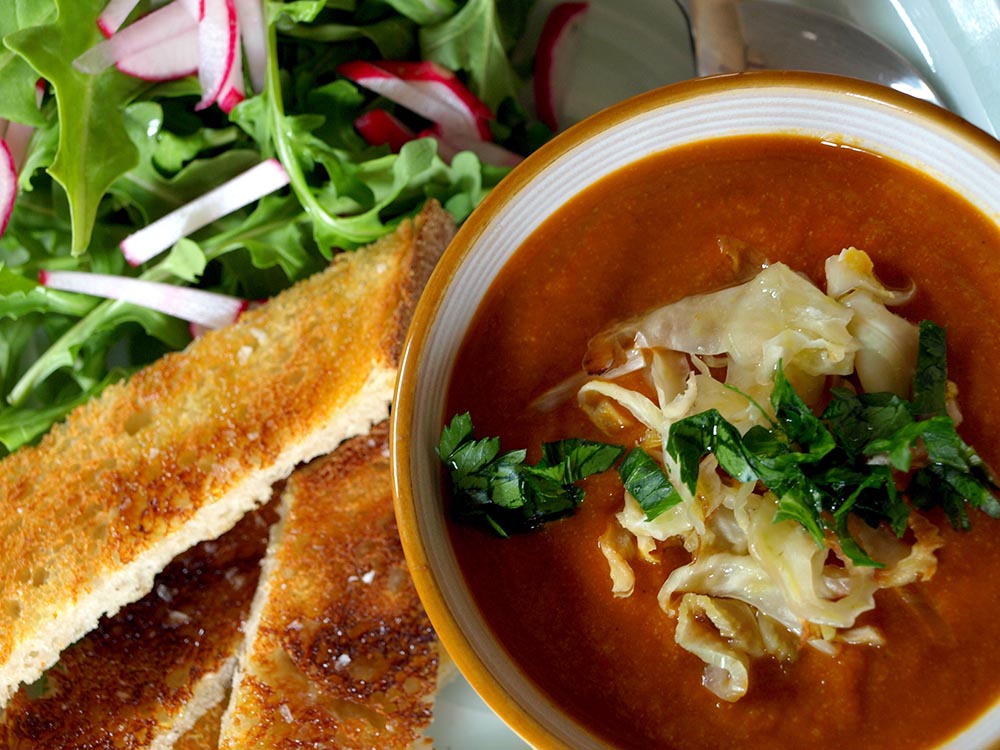 I have been going through a hard boiled egg phase lately so I already had that going for me.  And the soup ingredients were very similar to a cauliflower and pea curry I made recently (sans peas) so it wasn't too much of a stretch.  I put the soup together whilst gabbing on the phone so it took a bit longer than it should have but it was very easy.  When done, I wasn't sure I liked the big chunks of cauliflower floating around in it (I should have chopped it into smaller bits) so I took my immersion blender (best thing since sliced bread) and went at it.  If you don't have an immersion blender yet and you like to cook please, for me, just get one.  They are so awesome.  You can make smoothies, puree soups, dips, anything…all without dirtying a food processor or blender.  Anyway, I went at it until the soup was a puree with some very little bits and I really like what it did for the soup although I'm sure it would have been fine without pureeing had I chopped the cauliflower into smaller bits.  For Joanne's take on the dish as well as the recipe, head to:  http://www.joanne-eatswellwithothers.com/.  For everyone else's take on the dish check out:  http://thefoodmattersproject.com/.  Those bloggers come up with some very unique takes on each week's recipes.  I took the soup to Sunday dinner with Carrie, Abby, Kellie, and Bill and offered it two ways:  topped with roasted shaved fennel or with hard boiled eggs.  At first everyone thought it seemed more like a sauce or a dip but after a bite or two, everyone seemed to really get into it.  I got more into it myself and am glad to have this added to my repertoire!  One other thing:  I served it at room temp and preferred it this way.  It was a great dish on what felt like a summer day on the patio.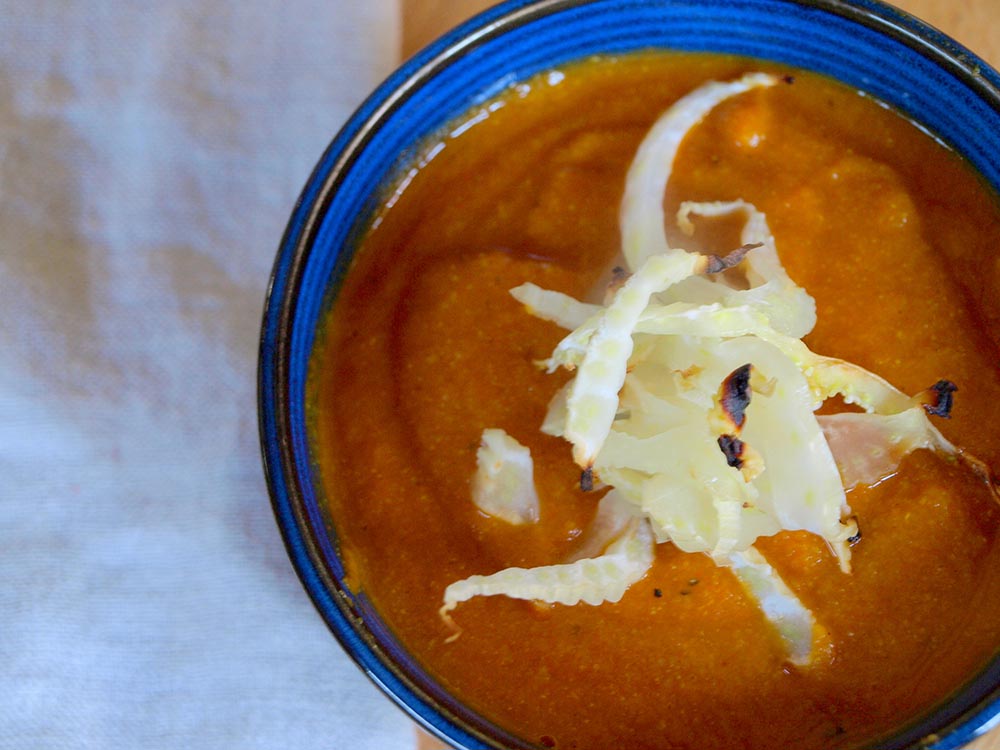 Curried Tomato Soup with Hard-Boiled Eggs
1/4 cup vegetable oil
1 onion, chopped
1 tablespoon minced garlic
1 tablespoon minced ginger
1 tablespoon minced fresh hot chile
2 tablespoons curry powder
1 teaspoon cumin
Pinch of sugar
2 all-purpose potatoes, peeled and chopped
1 carrot, chopped
Salt and black pepper
3 cups vegetable stock or water
1 cup coconut milk (I used light coconut milk)
3 cups chopped tomatoes (canned are fine; include their juice)
1 small cauliflower, cored and roughly chopped
4 hard-boiled eggs, roughly chopped, for garnish
1/4 cup chopped fresh cilantro, for garnish
Put the oil in a large pot or Dutch oven over medium-high heat.  When it is hot, add the onion, garlic, ginger, and chile.  Cook, stirring occasionally, until softened, 3 to 5 minutes.  Stir in the curry powder, cumin, and sugar.  Cook and stir until the spices become fragrant, a minute or 2 more.
Add the potatoes and carrot and sprinkle with salt and pepper.  Cook, stirring, for a minute or 2, then add the vegetable stock, coconut milk, and tomatoes with their liquid.  Bring to a boil, then lower the heat so the mixture bubbles gently.  Cook, stirring once in a while, until the potatoes and carrots are fairly soft, 15 to 20 minutes.
Add the cauliflower and adjust the heat so that the mixture bubbles gently.  cook until all the vegetables are very tender, about 15 minutes more.  (The soup can be made up to this point in advance and refrigerated for several days or frozen for months; gently reheat before proceeding.)  Serve garnished with the hard-boiled eggs and cilantro.
NOTE:  I pureed it, which I thought turned out pretty well.  It would translate well into a sauce for vegetables or tofu over rice or as a dip for some crusty bread.