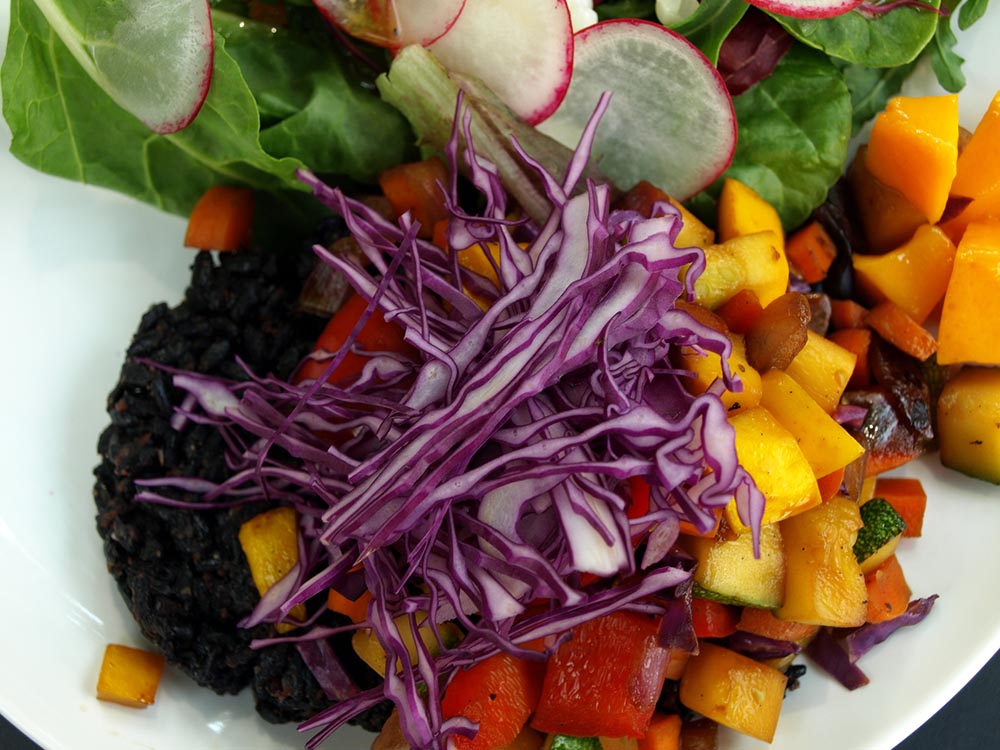 This week's Food Matters Project recipe wasn't one that initially popped out at me when first thumbing through the cookbook.  This is one of those simple recipes that I passed over but was asked to reconsider when it was chosen for this week's recipe by the gals at Small Kitchen College.  And what a great pick it was!  I finally have a functioning stove again and have had the pleasure of cooking for some dear friends who stayed with me this weekend.  The theme of food this weekend was simple, simple, simple.  We had many simple salads, mushroom-lentil burgers, and corn on the cob.  Today for lunch we whipped up this rice cake recipe and it was just what the day called for–simple and healthy.
I have to admit that I was a bit skeptical about this one (words spoken by this skeptic:  "Why not just stir fried vegetables over rice?  Why does it have to be cakes?  Why won't these stick together?  Aargh!").  But when we sat down on my patio to dig into this rainbow of colors, all doubt slipped away and we all were delighted to be tucking into this light meal before heading out for Sunday fun.
For the original recipe, which uses basmati rice and chicken, head on over to Small Kitchen College.  While you are there, check out the links to budget-friendly meals, an ode to Julia Child, and the girls' latest impulse buy…truffle salt!  One of my favorite things about the Food Matters Project is checking out everyone's blogs and this gem doesn't disappoint.
Now onto my own experience with the recipe…I used black rice in my recipe because it is just so pretty.  Also, a recommendation–the sesame oil really made it difficult for me to shape my cakes and I would have preferred in hindsight to add it to the finished recipe for flavor.  The rice, which was sticky when cooked, did not bind after stirring in the sesame oil so I had to add almond meal until the cakes bound together.  If your cakes do not stay together during the cooking, no biggie!  It will taste just as good all crumbled up, scout's honor.  I also used whatever veg I had on hand and omitted the chicken.  Feel free to use whatever sticky rice you have and whatever veg you have on hand.  Make it simple!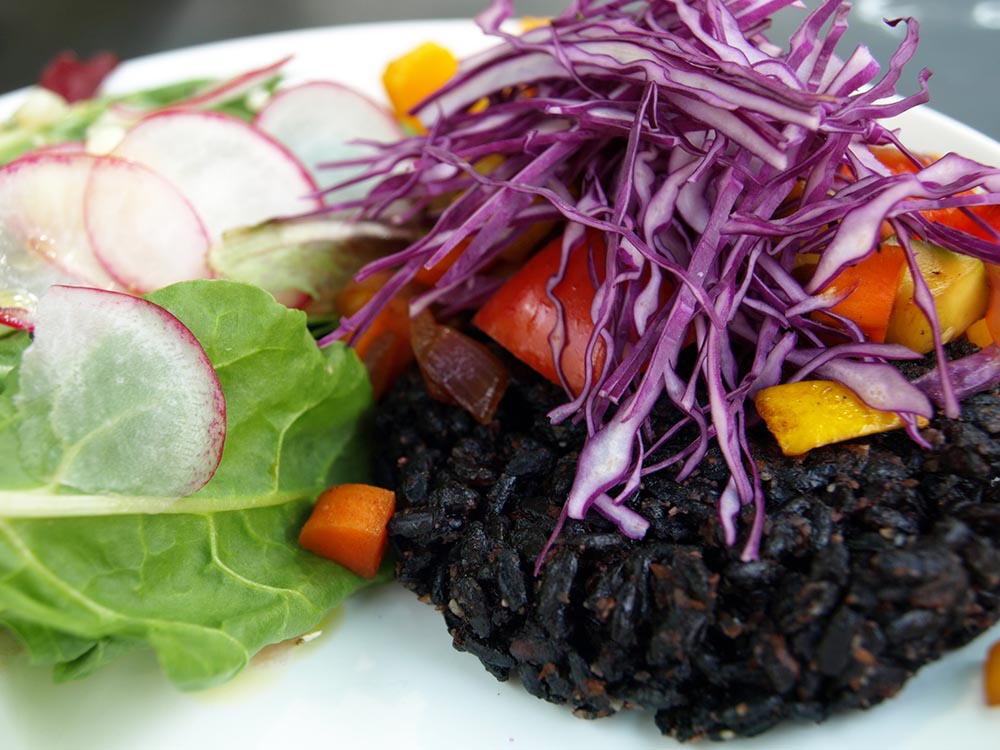 Crisp Black Rice Cakes with Stir Fried Vegetables; adapted from Mark Bittman's Food Matters Cookbook
3 cups soft-cooked rice (I used forbidden black rice)
Salt and black pepper
3 tablespoons vegetable oil, or more as needed
1 onion, chopped
2 tablespoons minced garlic
3 cups diced vegetables such as zucchini, carrots, bell pepper, cabbage, etc.
1 tablespoon nam pla (fish sauce)
Juice of 1 lime
1 tablespoon tamari or soy sauce
thinly shaved red cabbage for garnish
sesame oil for garnish if desired
Heat the oven to 200 degrees F.  Sprinkle the rice with salt and pepper then use your hands to form the rice into 1-inch-thick cakes.
Put 2 tablespoons of the vegetable oil in a large skillet or double burner griddle over medium heat.  When it is hot, add the cakes to the skillet, working in batches if necessary, and cook, turning once and until golden brown, 3 to 5 minutes per side.  Transfer the cakes to the oven to keep them warm.
Put the remaining 1 tablespooon vegetable oil in the same skillet over medium-high heat.  After a minute, add the onion and garlic and cook for about 30 seconds or so.  Add the remaining vegetables and cook, stirring occasionally, until they begin to soften, 3 to 5 minutes.  Stir in the fish sauce, a few tablespoons water, the lime juice, and the tamari/soy sauce.  Cook, stirring, until the sauce thickens a bit, about a minute.  Taste and adjust the seasoning.  Serve the stir fry on top of the cakes, garnished with sesame oil and thinly shaved cabbage.
NOTE:  If your rice cakes are not sticking together, try adding some almond meal bit by bit until the rice sticks.