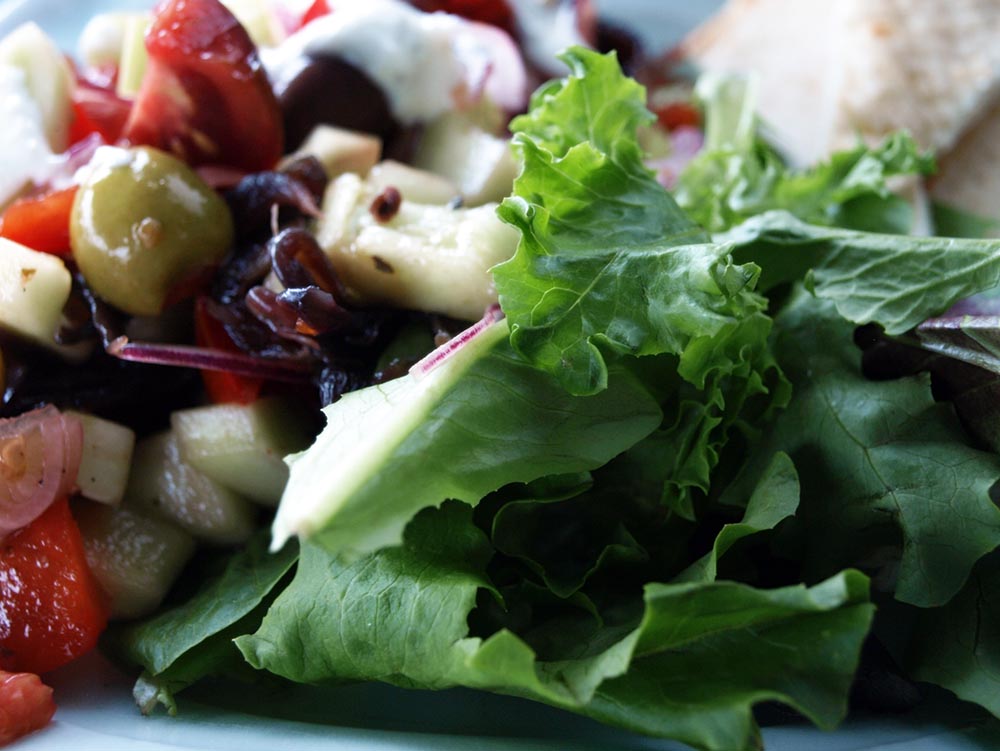 If my calculations are correct, this is week 30 of the Food Matters Project!  This week, Megan chose Greek "Nachos" with Feta Drizzle.  An interesting choice!  And a good one for me, since I have been waiting for a new range to replace my old one.  It will be delivered at the end of this week and I can hardly wait to have my cooking capabilities restored.  In the meantime, recipes like this are holding me over.  I had everything I needed for this recipe other than an oven to make the pita chips.  I made a few small tweaks–see below for the recipe.
I made my recipe as just a salad with feta drizzle and served a few wedges of pita on the side.  I packed it up and headed out to the park for a picnic and some disc golf….and then the rain came…!  It ended up being a picnic in the car listening to old country songs that took me back to my school bus days.  The rain cleared, the sun came out, and bellies full, we headed out to the disc golf course to close the gorgeous Michigan summer weekend!
To see what everyone else conjured up this week, head on over to the Food Matters Project website.  To get the original recipe, check out Megan's blog.  While you are there, I'm sure you'll stay a while to check out her musings, creative ideas, ramblings, travel, daydreams, and paintings–very entertaining!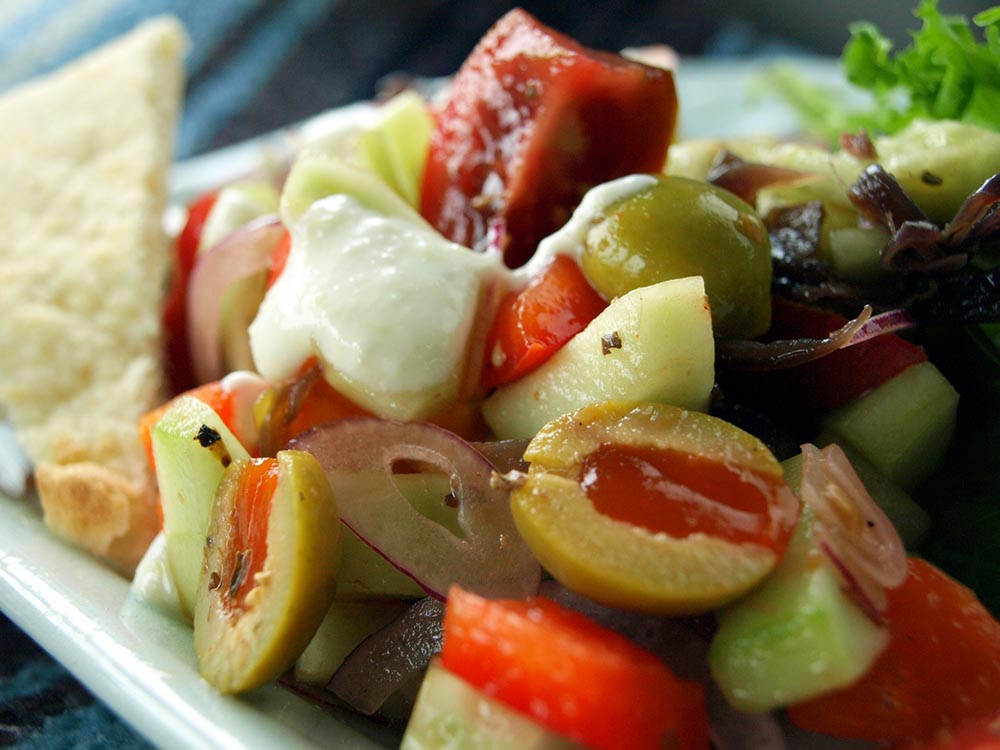 Greek Salad With Feta Drizzle
1/4 cup olive oil
Salt
4 oz feta cheese (I buy it in a block rather than crumbled)
1/2 cup yogurt, preferably Greek or whole milk
1 Tbsp oregano
Grated zest and juice of one lemon
Black Pepper
2 or 3 ripe tomatoes, chopped
1 cucumber, peeled, seeded, and chopped
1/2 cup mixed olives, pitted and halved
1 small red onion, thinly shaved or sliced
Note:  I also added caramelized onion leftover from the previous night's dinner and 1/2 of a red bell pepper, seeded and chopped.  This recipe is so versatile–add what you have on hand that sounds good!
Combine the feta, yogurt, 1/4 cup olive oil, oregano, and lemon zest and juice in a food processor (or use an immersion blender), sprinkle with salt and pepper.  Process until smooth.  If you don't have a blender or food processor, just mash all of the ingredients with a spoon.
Drizzle the feta dressing on the top of the salad.  Serve the salad with some mixed greens and pita bread.