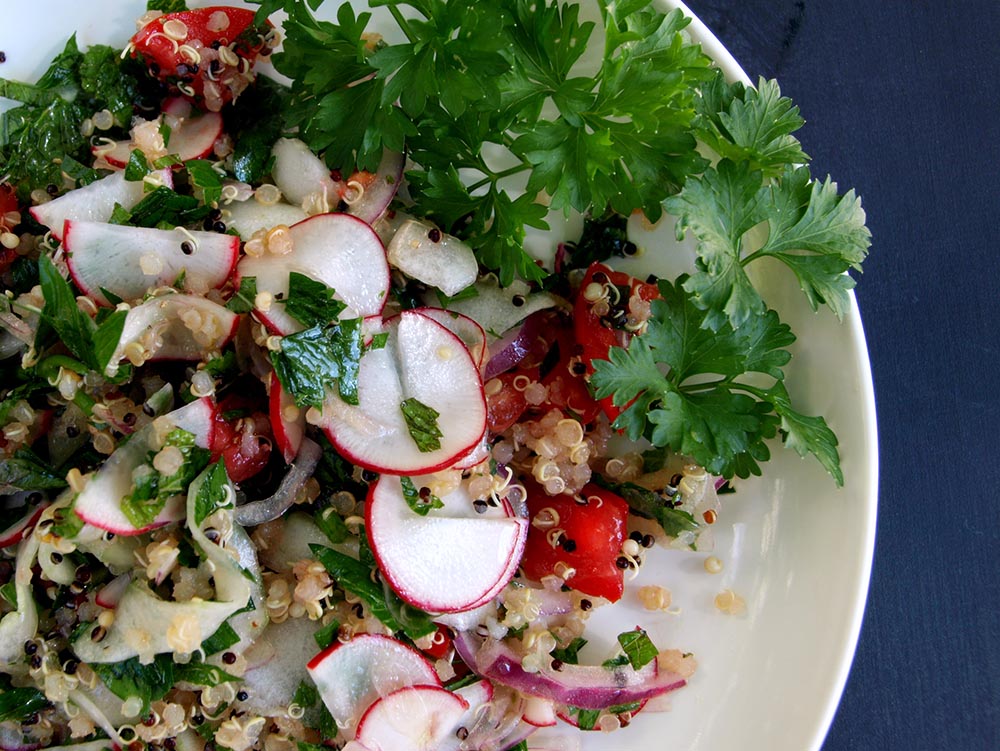 Ah, Labor Day, you have fooled me!  It occurred to me that today is Monday, not Sunday and that I have a recipe to post for the Food Matters Project!  Well, better late than never…
This week, the lovely Sara from Simply Whole Kitchen chose Quinoa Tabbouleh and once again, I'm so happy to be part of this project because over the last six months I have tried a couple of dozen new recipes that I may not have tried otherwise.  Funny thing is, I have had bulgar wheat in my pantry for months and have thought about making tabbouleh several times but bulgar wheat doesn't end up in my rotation too often so the idea kept getting shelved.  Along comes Mark Bittman…who once again reminds me that I don't need to "play by the rules" and that tabbouleh can be made as many different ways as it can be spelled (Tabbouleh, tabouleh or tabbouli, tabouli…blah!  my tongue is tied!).  This particular recipe taught me that there are no hard and fast rules to cooking and that we can let creativity be our guide.  In this case, tabbouleh is made with quinoa and in Bittman's recipe, even adds radishes, beans, and celery to the dish.  I love this guy and his easy-does-it attitude.
And I love quinoa.  I mean really, really love it.  Like Love with a capital T and a cherry on top.  I go through tons of the stuff and if you have been to my house, chances are you have left it at one point or another with a little baggie of quinoa with directions on how to cook it because I am always spreading my quinoa gospel.  I was overjoyed to see quinoa have a starring role in my Cooking Light magazine last month and I'd like to imagine that I have had a small role in spreading the word about this great seed.  In a nutshell, it is a nutritional powerhouse (a stand-alone complete protein), cooks faster than rice, and is a great and much healthier stand-in for carbs like rice or couscous.  If you want to know more about it, click here or shoot me a comment/question and I would be happy to answer!
I adapted Bittman's recipe based on what I was in the mood for so if you want the original recipe, head on over to Sara's blog, Simply Whole Kitchen.  And remember, you don't need to have everything exact to make a great tabbouleh!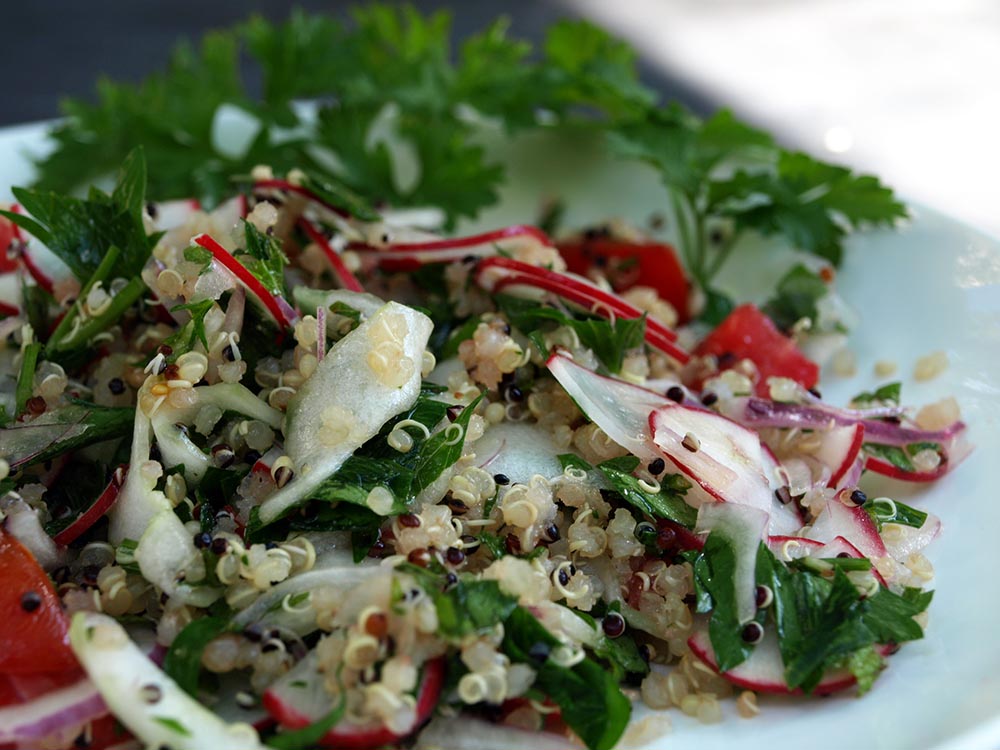 Quinoa Tabbouleh
adapted from Mark Bittman's Food Matters Cookbook
1/2 c quinoa, rinsed and drained
salt
1/3 c olive oil, more as needed
1/4 c lemon juice, or more as needed
black pepper
1 c roughly chopped fresh parsley
1 c roughly chopped fresh mint
6 or 7 radishes, chopped or sliced thinly
1/2 c finely diced scallions or red onion
2 ripe tomatoes, chopped
Put the quinoa in a small saucepan with 3/4 c water and a pinch of salt.  Bring to a boil, then reduce the heat to medium-low.  Cover and bubble gently until the quinoa as absorbed all of the water, 15 minutes or so. Remove from the heat and let rest, covered for 5 minutes.  Toss the warm quinoa with the oil and lemon juice and sprinkle with pepper.
Just before you're ready to eat, add the remaining ingredients and toss gently.  Taste and adjust the seasoning, adding more oil or lemon juice as needed, then serve.