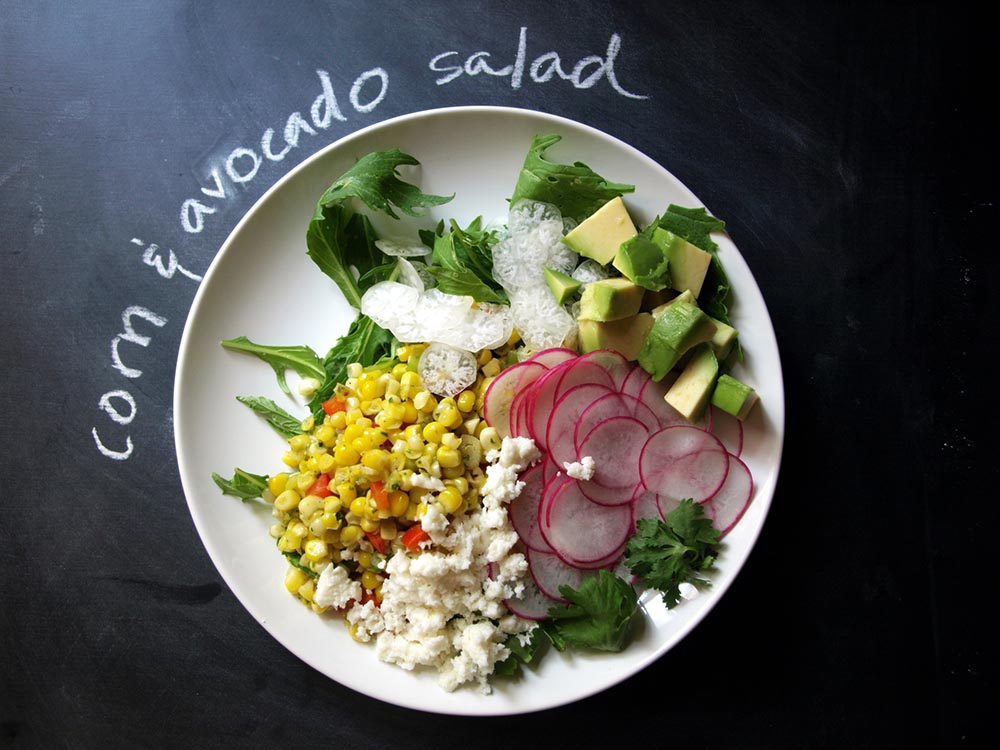 Week 24 of The Food Matters Project had perfect timing.  It is hot, hot, hot out and I've got corn on my mind.  Every year at this time I eat ear after ear of fresh Michigan corn spun heavy handedly in a stick of butter and generously salted and peppered.  Normally at this time of year the grocery stores have huge bins of corn.  It's always a fun people-watching experience seeing everyone pull back the husks of corn to examine the topmost corn kernels for freshness.  Roadside stands spill over with corn and ears can be bought for 10 cents.  My grandma would pick up corn from a pair of brothers in China Township who reportedly had the best peaches and cream corn in the area–the corn was so plump and juicy it could almost be dessert!  Michigan corn season has always been a favorite of mine but this year the severe drought in Michigan (and elsewhere of course) has jeopardized the corn crops, adding to an already tough year for Michigan agriculture after the cherry crops were nearly all lost to extreme heat in March (!) followed by a hard frost in April.
So it was with some sadness that I bought corn trucked in from outside of the state.  But it was with sheer delight that I dove into this salad today.  If you don't already know this, I love simple salads in the summer.  And this one didn't disappoint.  All of the other Food Matters Project folks are busy at work making or posting their fabulous versions of Mark Bittman's Corn Avocado Salad With a Little Something Seared on Top.  To see what everyone else came up with, head over here.  This week's host who chose the recipe is Jenn.  She has a lovely blog called Vanilla Lemon and a lovely little family to boot!  If you have a moment, check out her blog and be sure to check out her Peach-Marscapone Sandwiches.  Yum!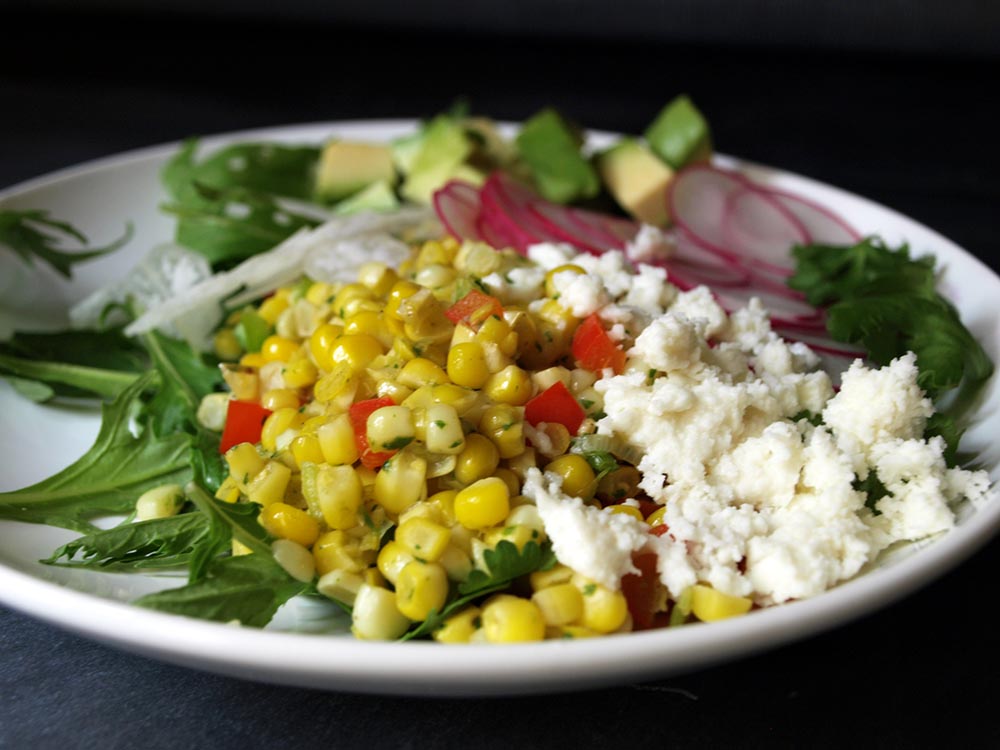 Corn, Avocado, and Radish Salad with Queso Fresco
This is another one of my non-recipe recipes and is for 1 person…..here goes….this is what I did!
1 ear of corn with kernels cut off
1/8 cup diced red bell pepper
1 scallion, greens and whites finely sliced
1 tbsp finely chipped cilantro
Salt and Pepper
1/4 avocado
1 red radish
1 white radish
Handful of arugula, mizuna, spinach, or any other green
2 tbsp queso fresco or another crumbling cheese if you prefer
Heat 1 tsp oil in skillet over medium-high heat.  Toss scallions and bell pepper into the pan and cook for 1 minute.  Add corn kernels and cook for 3-4 minutes until bright and lightly cooked but still having some freshness to them.  Add cilantro and season with salt and pepper.  Let cook for 10 minutes.
Arrange greens, radishes, and avocado on a plate and top with some of the corn salad.  Add some queso fresco, feta, or any crumbling cheese if you like.  Dress with your favorite dressing (I used my light dijon vinaigrette from last night).  Enjoy!