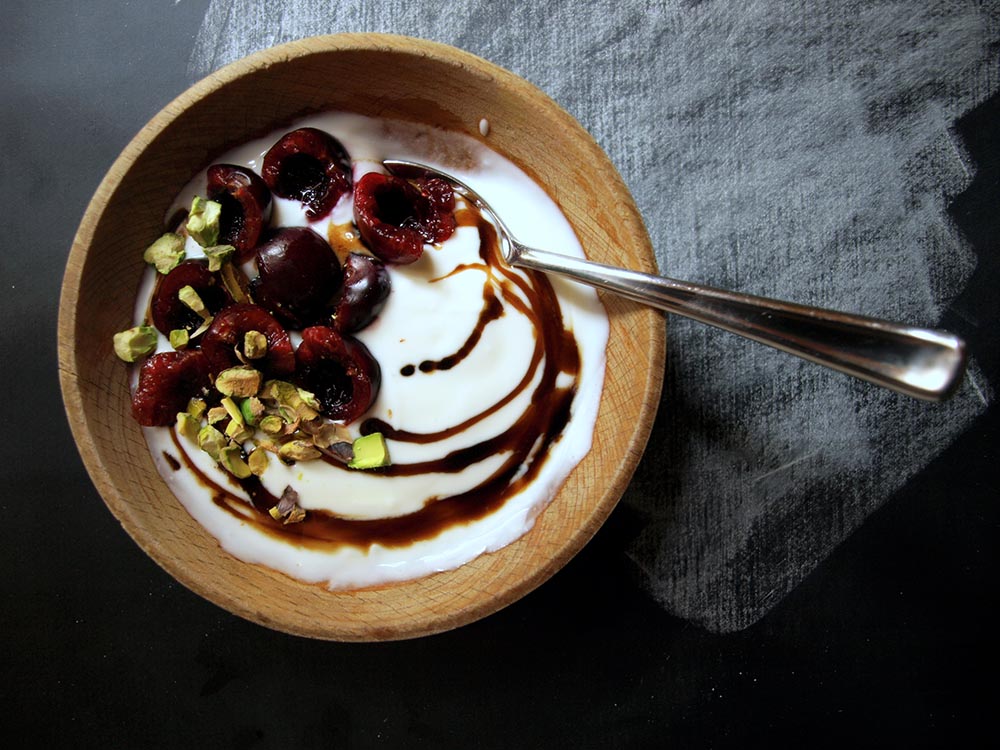 Alright, I know what you are thinking…I've met many a balsamic/fruit doubter in my day.  I thought the same thing when I saw this recipe from Kate, which was featured in the summer issue of Foodie Crush magazine.  I encourage everyone to check it out-it is a free online magazine featuring some of the best food bloggers out there.  I've had a lot of fun cooking along with Kate through The Food Matters Project.  I always look forward to seeing her variations and excellent photography so was thrilled to see her featured in the Whole Foodies section of the magazine.
Because I have faith in Kate's food choices, because it just looked so pretty in Foodie Crush, and because I had just made homemade yogurt the night before, I simply had to make this dish.  And I'm so glad I did.  This was like a party in my mouth.  Crazy good.  And I made extra balsamic-honey glaze and have already used it on grilled flatbread with peaches, arugula, and goat cheese.  Can't wait to come up with a zillion other uses for it!  See below for my variation on the recipe and head over to Kate's page for the original!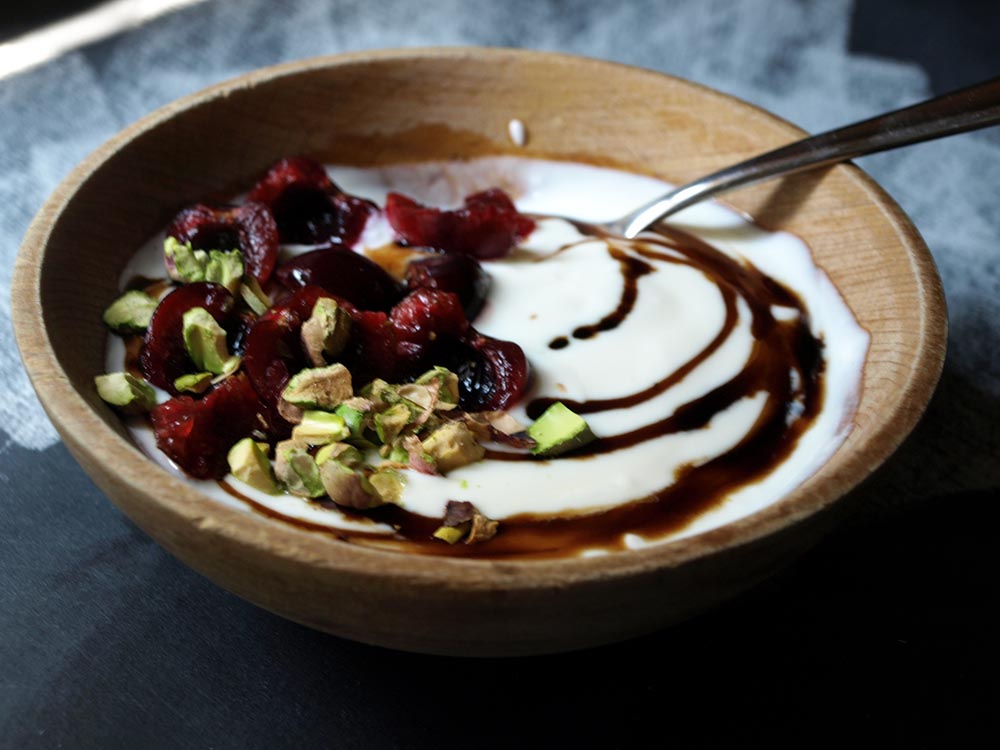 Vanilla Yogurt with Cherries, Pistachio, and Balsamic-Honey Glaze
Adapted from Cookie + Kate; serves 4
2 and 1/2 cups homemade plain yogurt
1/2 tsp. pure vanilla extract
1 and 1/2 cup cherries, pitted and halved
1 tablespoon raw sugar (I used sucanat but you can use turbinado), optional
2/3 cup balsamic vinegar (I used cherry infused balsamic vinegar from Cherry Republic)
1/3 cup honey
1/3 cup shelled pistachios, crumbled
Strain yogurt:  Line a fine mesh sieve or colander with cheese cloth.  Spoon yogurt into it and let sit for 1 hour to drain.  The consistency will be thicker and creamier.  If the yogurt is too thin for your liking, you may strain longer until the consistency is what you like.
In a medium bowl, stir together the yogurt and the vanilla extract.  In another bowl sprinkle cherries with sugar (optional).
In a small saucepan over medium-low heat, combine the balsamic vinegar and honey.  Simmer, stirring constantly, until the liquid is reduced by half.  Pour the liquid into a small bowl and allow it to cool.
Spoon yogurt into individual serving bowls, swirl in a spoonful of sauce, and top with cherries and crumbled pistachios.