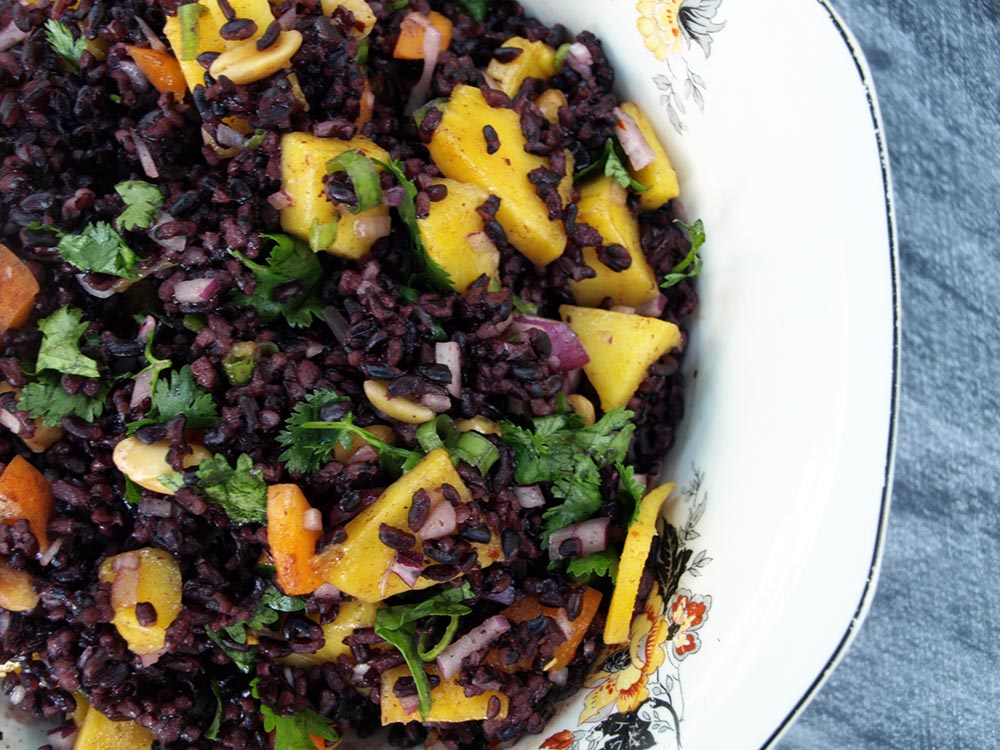 Raise your hands–who knew about black rice?  I sure didn't until trying this salad.  Okay, that's not entirely true because I bought this black rice about 3 months ago and it has sat in my pantry.  I'm sure it was thinking that I obviously had no idea how good it was, snickering as I passed it over for brown rice time and again.  What foolishness!  What ignorance!  I just tried black rice for the first time and it was such a pleasant surprise–I am hooked.  Dear black rice, I'm so sorry I underestimated your awesomeness.  Now it is time to SHINE!
As if I needed to sell this grain any more…did you know that this beautiful rice has anti-inflammatory properties, a higher antioxidant level than blueberries, and loads of fiber?  Check out all of the amazing properties of black rice here.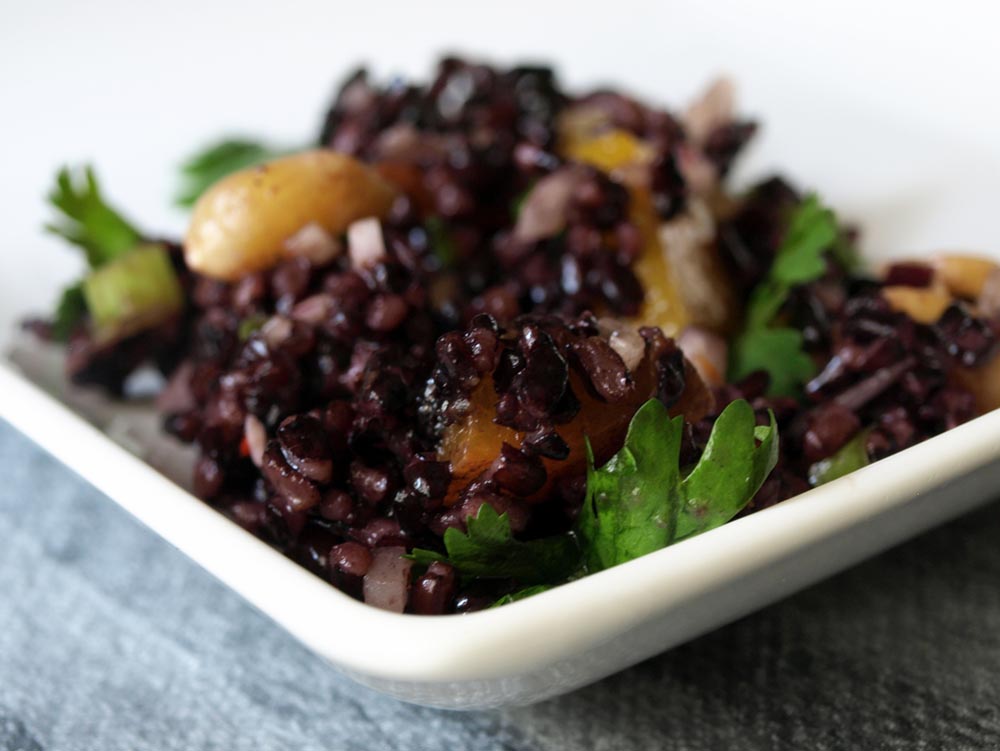 Black Rice Salad with Mango and Peanuts; adapted from Bon Appetit June 2012
Serves 6-8 as a side
Ingredients
¼ cup(or more) fresh lime juice
3 tablespoons orange juice
2 tablespoons vegetable oil
1 tablespoon fish sauce (such as nam pla or nuoc nam; optional)
2 cups black rice
Kosher salt
2 just-ripe mangoes, peeled, pitted, cut into 1/2-inch dice
1 cup fresh cilantro leaves
1 cup finely chopped red onion (about 1/2 large onion)
½ cup unsalted, dry-roasted peanuts
6 scallions, thinly sliced
2 jalapeños, seeded, minced
Preparation
Add 1/4 cup lime juice, 3 tablespoons orange juice, oil, and fish sauce (if using) to bowl; whisk to blend. Set dressing aside.
Bring rice and 2 3/4 cups water to a boil in a large saucepan. Season lightly with salt. Cover, reduce heat to low, and simmer until all liquid is absorbed and rice is tender, about 25 minutes. Remove pan from heat and let stand, covered, for 15 minutes. Spread out rice on a rimmed baking sheet, drizzle with dressing, and season lightly with salt; let cool.
Place mangoes and remaining ingredients in a large bowl. Add rice and toss gently to combine. Season lightly with salt and more lime juice, if desired.