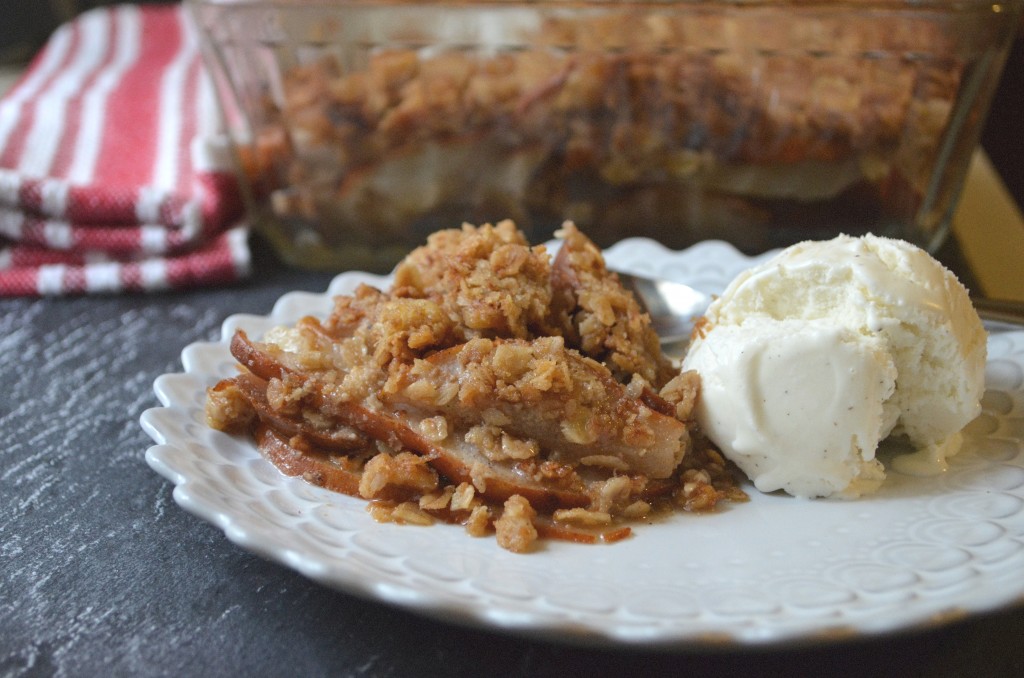 Welcome to another Food Matters Monday!  Yes, I know it's Tuesday but for my sake, let's pretend it's Monday.  This week has been a doozy already between work ramping back up and searching for a car after mine decided to slide off the road in an ice storm two weeks ago.  Eek!  Thank goodness for this week's Food Matters recipe.  This week Camilla from Culinary Adventures With Cam chose a warming and comforting recipe and if she was standing here now, I'd hug her and we'd eat cardamom scented pear crisp together.
This recipe is quite basic–just your typical fruit crisp–until you get to the last ingredient:  cardamom!  I've used cardamom extensively in Indian cooking but have never thought to use it in a dessert until now and certainly didn't realize how many other cultures use cardamom, both in cooking and for other purposes as well.  Cardamom is used often in Scandanavian cooking as a spice in baked goods such as stollen and spice cookies.  Cardamom can also be found extensively in African cooking.  Not only that, but the ancient Greeks and Roman's used cardamom as a perfume!
I also just learned about it's medicinal qualities.  Among other things, cardamom is great for digestion problems (heartburn, intestinal issues, loss of appetite) and cold symptoms (cold, cough, sore throat).  Let's just say cardamom is my new favorite spice.
I made my crisp gluten-free using brown rice flour as a substitute for the wheat flour.  Other than that I stuck to the recipe exactly and served it warm with vanilla ice cream.  Mmmmmm!
To see what everyone else made (there are always many variations), click here to go to the Food Matters Project website and read through the comments.
Cardamom-Scented Pear Crisp
Adapted from Mark Bittman's Food Matters Project Cookbook
4 tablespoons butter + some for greasing the pan

2 tablespoons vegetable oil

3/4 cup brown sugar

1/2 cup chopped nuts

1 tablespoon lemon juice

1 cup rolled oats

1/2 cup brown rice flour

pinch of salt

3 lbs pears, cored and sliced

1 teaspoon cardamom
Heat the oven to 400°. Grease an 8 or 9″ pan with a little bit of butter. Cream the butter, oil and sugar together, using a mixer or fork. Stir in the nuts, lemon juice, oats, flour, and salt, until combined and crumbly. You can make the topping ahead of time, if you like.

Put the pears in the prepared dish, sprinkle with cardamom, and toss to coat. Crumble the topping over all. Bake until the filling is bubbly and the crust is starting to brown, 30-40 minutes. Serve immediately, or at least while still warm.