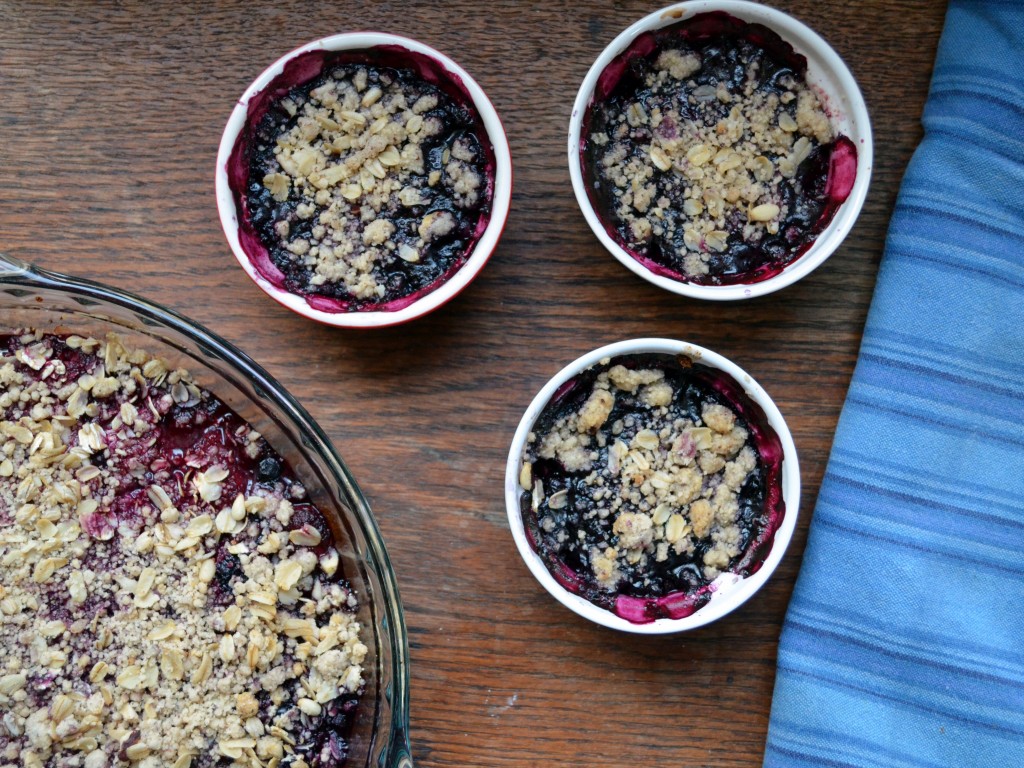 Another Food Matters Monday has snuck up on me!  And thank goodness it has, because this was a recipe worth making.  Thanks to Laura for choosing this recipe. Laura is a personal chef (I'm so jealous!) so I knew this would be a good one.  Check out Laura's creation on her blog, Chef Laura At Home.
This is the second time I have used pine nuts in a dessert…and the second time I've been impressed with the results.  The first time I used pine nuts in a lighter lemon bar recipe from Cooking Light Magazine and they were fantastic.  If you want to try that recipe, and I hope you do, click here!  The lemon bars were under 120 calories per bar and were the brightest and tastiest lemon bars I've tasted.
Anyway…I digress…this dish was also quite good.  Lightly sweetened and topped with a crunchy topping, this dish is great for dessert, or would even be good at breakfast with some yogurt.  Thanks again to Mark Bittman for giving us a reminder that dessert doesn't need to be sickeningly sweet to be satisfying.
I made some of mine in a pie dish and the rest in 4 souffle cups to give to my sweet neighbors that let me park in their driveway when the plows haven't done a good job on the slushy roads.  Whether you are using small souffle cups or a large pie dish, you'll know its done when it gets bubbly and your kitchen smells of summer.  Enjoy!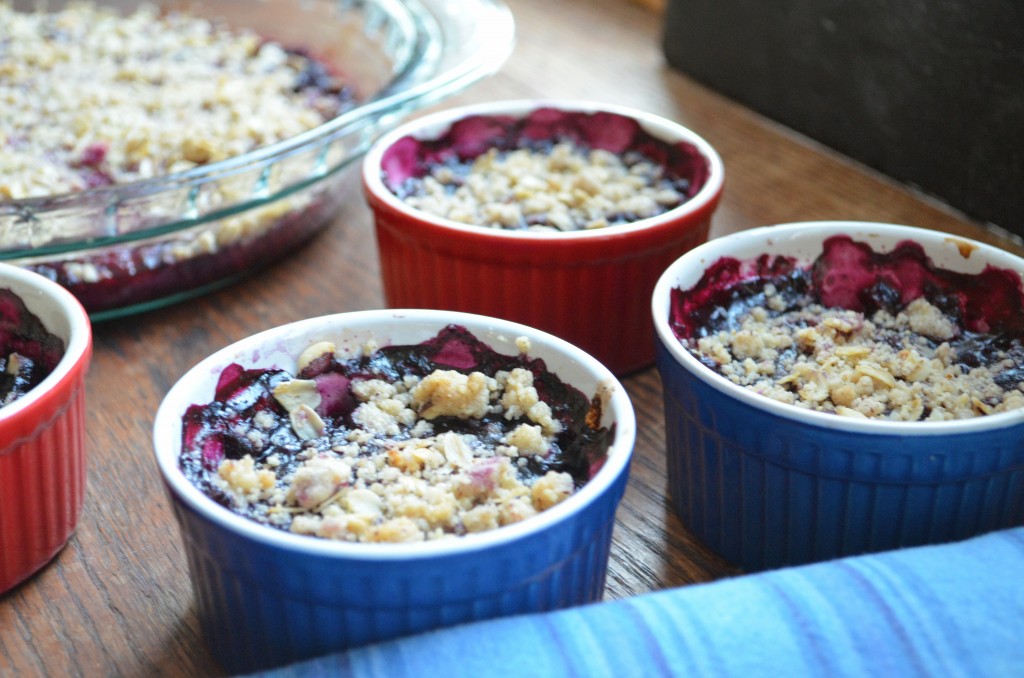 Berry Crisp with Pine Nut and Hazelnut Topping; adapted from The Food Matters Cookbook by Mark Bittman
Makes:  6 to 8 servings                                  Time:  40 to 50 minutes
4 tablespoons (½ stick) unsalted butter, softened, plus more for greasing the pan

4 to 6 cups fresh or frozen blueberries, raspberries, or a mixture of the two

1 cup pine nuts

½ cup sugar

½ cup whole wheat flour

¼ teaspoon nutmeg

¼ teaspoon cardamom

Pinch of salt

Grated zest of 1 lemon
Heat the oven to 375°F.  Grease an 8- or 9-inch square or round baking dish with a little butter. If you're using frozen berries, set them in a colander to thaw for a bit while you prepare the crust.  Mix together the pine nuts and hazelnuts.  Put ¾ cup of the pine nut/hazelnut mixture in a food processor along with the 4 tablespoons butter and sugar; let the machine run until the nuts are finely ground and the mixture is creamy and fluffy.

Transfer the mixture to a bowl and add the rest of the pine nut/hazelnut mixture, flour, nutmeg, cardamom, and salt and stir with a fork until crumbly.  (You can make the topping ahead to this point, tightly wrap, and refrigerate for up to a day or freeze for up to several weeks; thaw before proceeding.
Spread the berries in the prepared baking dish and sprinkle the top with the lemon zest. Crumble the topping over all and press down gently.  Bake until the filling is bubbling and the crust is just starting to brown, 30 to 40 minutes.  Serve immediately, or at least while still warm.