Wow–Monday snuck up on me this week.  I spent last week in Los Angeles and Dallas moderating focus groups.  This week I am off to Minneapolis to do some fun design work!  So I had just a couple of days to land and get my bearings.  Hence Monday sneaking up.  Well, I missed last week's FMP post and wanted to make sure that didn't happen again this week–I am definitely into my routines.  The resulting dish was a little off the mark (this week's recipe is Chickpea fritters) but had the same foundation:  beans and veggies.  Several weeks ago, FMP had us making salsa and one of the posts made me drool–the adorable newlyweds Kathleen and Tom from Life with the Lushers made black bean cakes with corn salsa and avocado cream and I knew I had to make it.  Considering I had black beans already cooked up this week I decided that now was the time!
If you want to make the chickpea fritters that the food matters project group made this week, head to Lena's blog, Mrs. Garlic Head.  She has the recipe posted and it looks so delicious!  And if you want more ideas for chickpea fritters and all of their variations, head over the the FMP Pinterest board for some quick visual inspiration!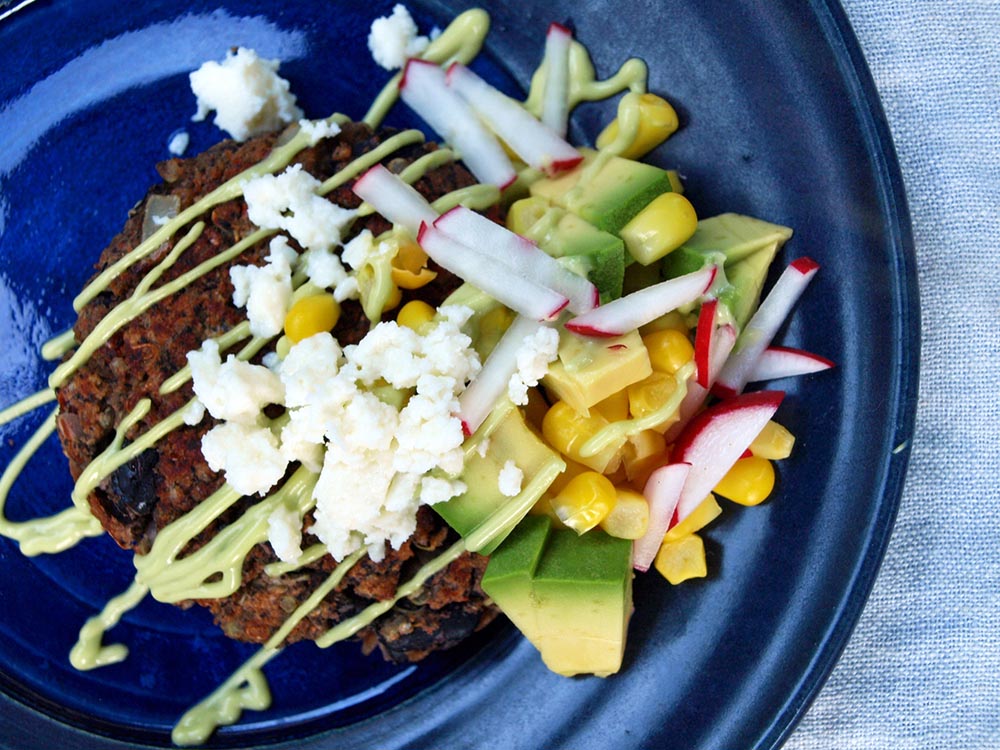 Black Bean Quinoa Cakes with Avocado Cream; adapted from Life with the Lushers
FOR THE BLACK BEAN QUINOA CAKES:  makes about 12
About 4 cups cooked black beans, divided
2 roasted red bell peppers, finely chopped & divided
2 eggs
1 teaspoon dried oregano
1 teaspoon cumin
1 chipotle in adobo, minced
1 medium onion, diced
1/2 to 3/4 cup cooked quinoa
1/2-2/3 cup panko breadcrumbs, plus more, if necessary
Salt & freshly ground pepper, to taste
Olive oil, for cooking
FOR THE AVOCADO CREAM:  makes about 1 cup
1 avocado, pitted & roughly chopped
1/2 cup low fat sour cream
1 lime, juiced
Salt & freshly ground pepper, to taste
Place half of the black beans in the bowl of a food processor with 1 of the roasted red peppers, the eggs, oregano, cumin & chipotle.  Pulse until smooth. [NOTE:  You can also use an immersion blender to cut down on the clean-up time.  I did this tonight and it worked great!]
In a large bowl, roughly mash the rest of the beans. Fold in the remaining roasted red peppers, onion & pureed bean mixture. Season with salt & pepper. Mix in the panko and quinoa, a little at a time, until the mixture firms up. Chill for at least 30 minutes.
While the patty mixture is chilling, make the avocado cream. Combine all the ingredients in a tall sided bowl or measuring cup and puree with an immersion blender until smooth.  You may also use a blender or a food processor if you don't have an immersion blender.
After 30 minutes, form the bean mixture into patties about 3-3 1/2 inches in diameter.
Heat a few tablespoons of vegetable oil in a large skillet over medium heat. Add the patties, being careful not to overcrowd the pan, & cook for 3-4 minutes on each side, until they are brown & have completely firmed up.
Serve with avocado cream and any other toppings you would like.  I served mine with avocado cream, diced avocado, corn, queso fresco, and radishes.  Some spicy habanero salsa on the side really topped it all off perfectly.  SO GOOD!
NOTE:  These would also make excellent black bean burgers–just serve on a bun with the fixings piled on top.