My trip to the newly renovated Fulton Street Farmer's Market on Saturday did not disappoint–I came home with bags full of snow peas, snap peas, white and red radishes, cantaloupe, Michigan strawberries (I am forever grateful that I get to enjoy Michigan strawberries when they are in-season–that bright berry smell!  That burst of flavor!), and some cool new pieces of pottery from Dutch Lakes Pottery.
Before I get to the salad I put together with my market finds, I want to turn my attention to the radish.  I eat radishes all year long in salads and love them for their exceptional color (I can't think of anywhere else I see that vibrant fuschia in the vegetable world) and their peppery bite.  But when I get them at the farmer's market I like to enjoy them in the most simple of ways, with some butter and salt.  If you have never tried it, please do–it elevates the radish to something pretty exceptional.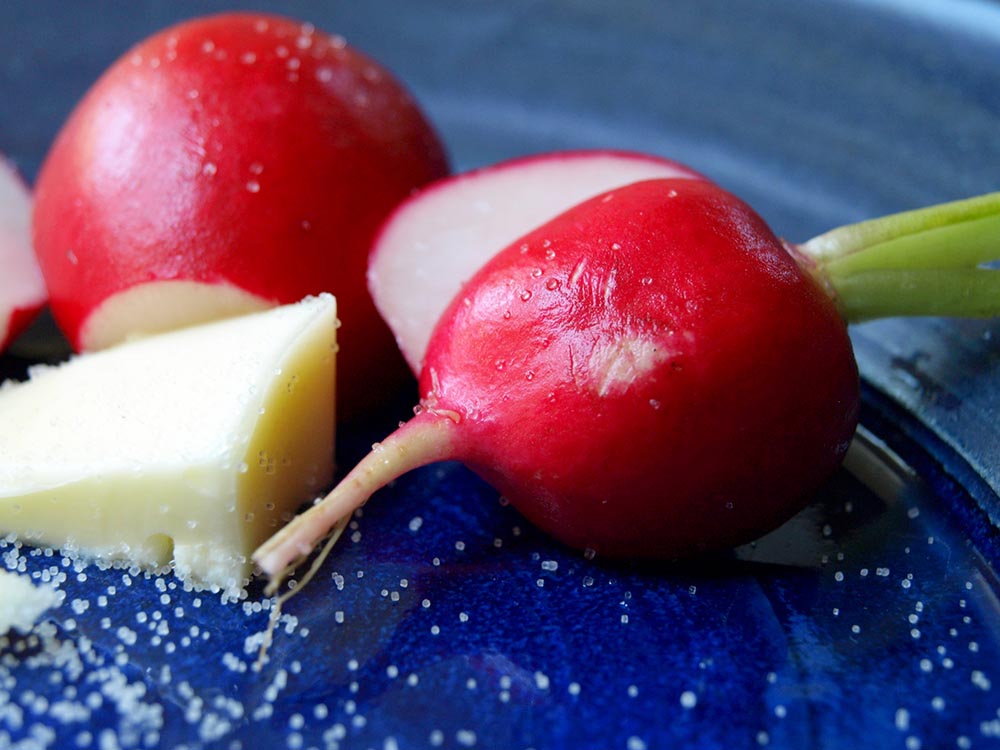 Now, to the salad–this is a slight adaptation from a salad I saw in Bon Appetit last April–I've had it in the back of my brain to make ever since because I love every ingredient in it.  Peas, radishes, mustard, and goat cheese are the backbone for this salad and it's too bad it took me so long to make it–this is one I'm sure to make many more times.  If you can find pea shoots, add them to this salad–they are in the original recipe from Bon Appetit and are a great addition to salads…but hard to find.  I asked a couple of market vendors if they would bring some to sell next week so hopefully they will be in the next salad I post.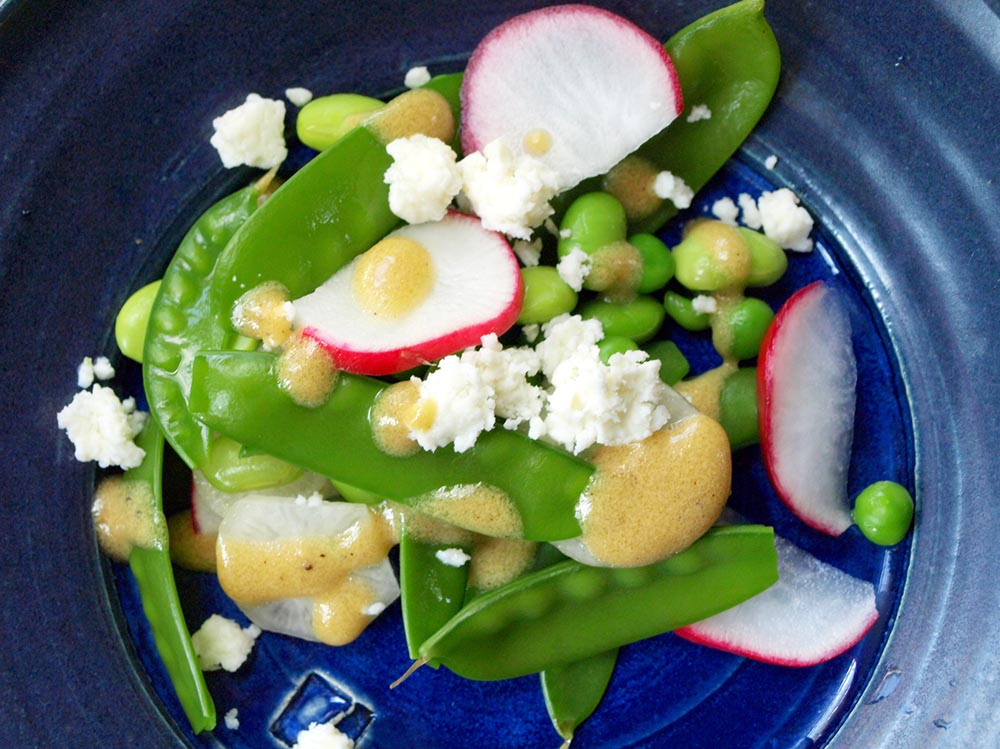 Pea and Radish Salad with Mustard Vinaigrette; Adapted from Bon Appetit April 2011
Vinaigrette
3 tablespoons extra-virgin olive oil
1 tablespoon red wine vinegar
1 tablespoon Dijon mustard
Fine sea salt
Vegetables
1 cup shelled fresh peas (from about 1 pound peas in pods) or frozen peas
1 cup fresh or frozen shelled edamame
1 cup sugar snap or snow peas, stringed
2 red radishes, trimmed, thinly sliced
2  white radishes, trimmed, thinly sliced
5 to 6-ounces soft fresh goat cheese or queso fresco, crumbled
Preparation
Whisk both oils, vinegar, and mustard in small bowl to blend. Season with sea salt and freshly ground black pepper. DO AHEAD Can be made 1 day ahead. Cover and chill. Return to room temperature and re-whisk before using.
Cook peas, edamame, and snap peas in separate batches in large saucepan of boiling salted water until tender, about 4 minutes for fresh peas and 2 minutes for frozen peas, 4 minutes for edamame, and 1 minute for snap peas. Using slotted spoon or skimmer, transfer vegetables to large bowl of ice water to cool, then drain well and transfer to medium bowl.  DO AHEAD Can be made 6 hours ahead. Cover; chill.
Divide pea mixture among plates. Scatter sliced radishes and crumbled goat cheese over. Sprinkle with freshly ground black pepper. Drizzle vinaigrette over and serve.  And don't forget to thank the farmers who grew your food!  🙂