When I was a kid, my mom would occasionally try to trick me into eating a peanut butter and jelly sandwich.  I loathed peanut butter and jelly sandwiches.  I used to sneak outside and feed them to Popcorn, one of our geriatric Shetland ponies. Lest you think of me as a picky eater, let me share that I much preferred alfalfa sprout, cheddar, and mustard sandwiches or pan-fried tofu and ketchup sandwiches.  Yes, an odd child with adventurous tastes indeed.  There was just something about a classic PBJ that turned me off.  Especially if it had sat in a Snow White lunchbox getting warm and soggy until noon.  Yuck.  I guess I was a foodie before I even knew it.
Fast forward.  I still don't like PBJ. Probably never will.  And I'm still not too into peanut butter.  But other nut butters can definitely spark my interest.  Cashew and almond butters can be amazing!  They also tend to be expensive and take me a long time to eat a whole jar so I typically skip buying them.  But I recently discovered how easy it is to make your own super-smooth and creamy nut butters at home.  And the beauty is that you can make small batches and customize it to your preference by roasting, not roasting, or mixing some roasted nuts with raw nuts.
I'm pretty excited about this revelation.  So this week I'd like to show everyone how to make almond butter two ways:  roasted and raw.  This is one of the easiest things I've ever made (though decidedly not the easiest to clean up…but well worth it).  This week was the first time I have made almond butter and I just couldn't wait to share the how-to!  Almond butter is (in my opinion, for what it's worth) much tastier than peanut butter and has the added benefit of providing a hefty dose of Vitamin E.  Not only that, it is cheaper than store bought and you can make it to your liking, depending on if you prefer the taste of raw almonds or roasted.  All you need are some almonds, some salt, a food processor, a spatula, and some patience.  That's it!  Let's begin:
First, add about 3 cups of almonds to a food processor with the "S" blade.  The photos I have for this post are for a smaller batch (the larger batch was made under the cover of darkness…no good for photos) but the consistency is the same, whether you are making a batch with 1 cup or 3 cups.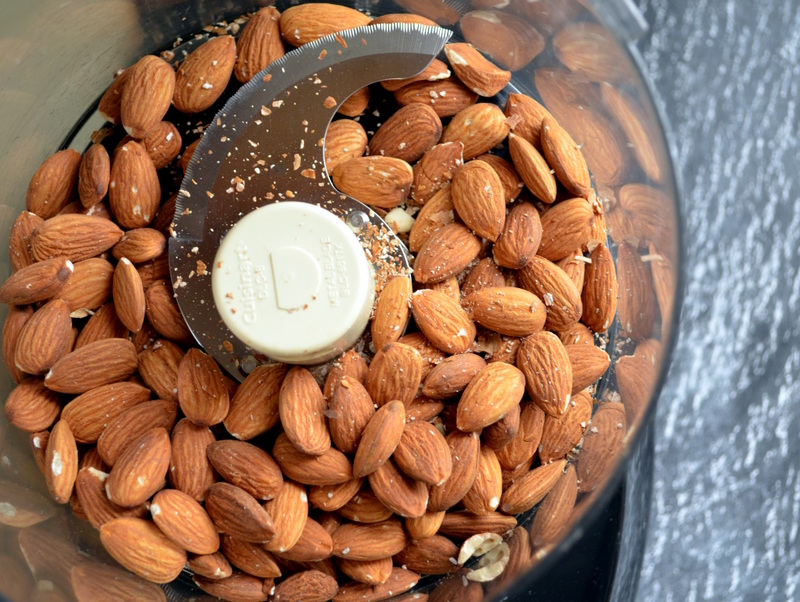 Turn the food processor on and let it run for a minute.  At first, you will see the almonds grind down into an almond meal.  If you like using almond meal in your recipes (great for baking!), this is a great way to save money–grind your own!  If you are making almond butter, continue processing the almonds.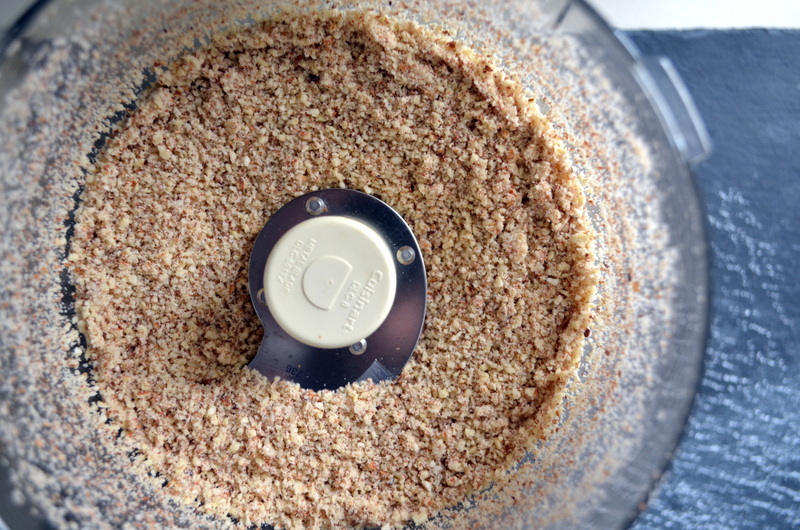 The ground almonds will start to build up on the sides of the food processor.  You'll want to stop the processor every 2-3 minutes and push the almonds down before continuing.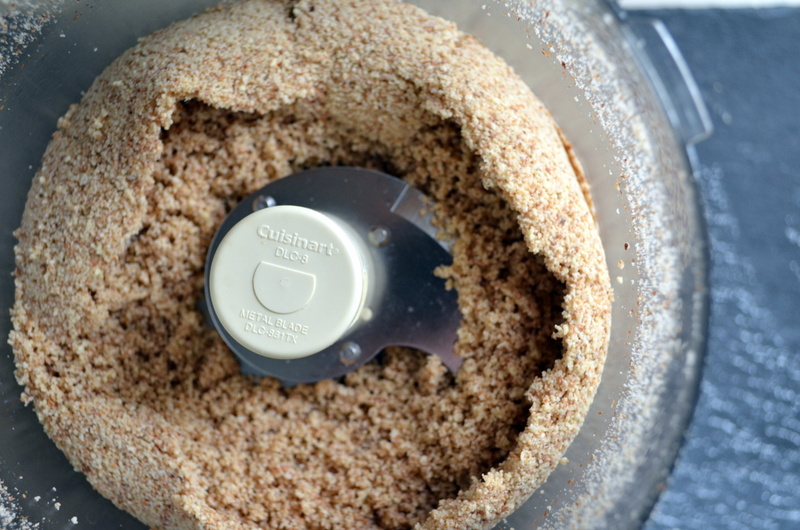 After a while, the almonds will start to get a little clumpy: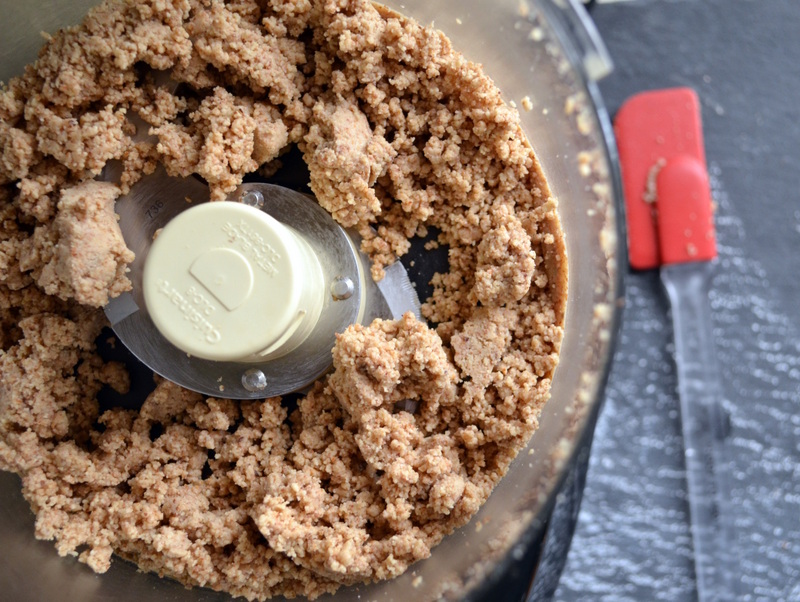 And will continue to get clumpier and stickier: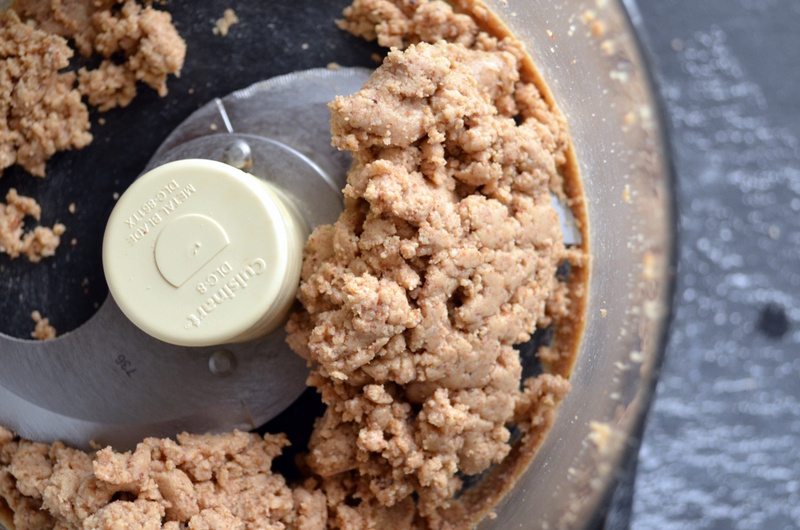 Phase 4: Almonds Get Clumpier and Stickier
At around the 10-12 minute mark, depending on how dry your almonds are, the almonds will finally start to release more oil and begin to resemble almond butter.  But don't stop there!  It's not quite done.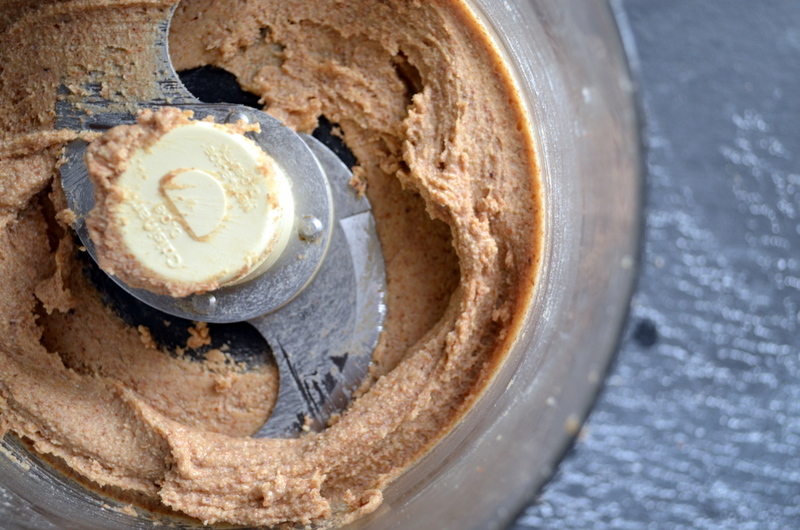 After another couple of minutes of processing, the almond butter will suddenly, magically, release more of its oils and become smooth and creamy.  If you taste it, it will be warm from the processing.  Now, add a pinch of high quality sea salt if you like and give it another whir.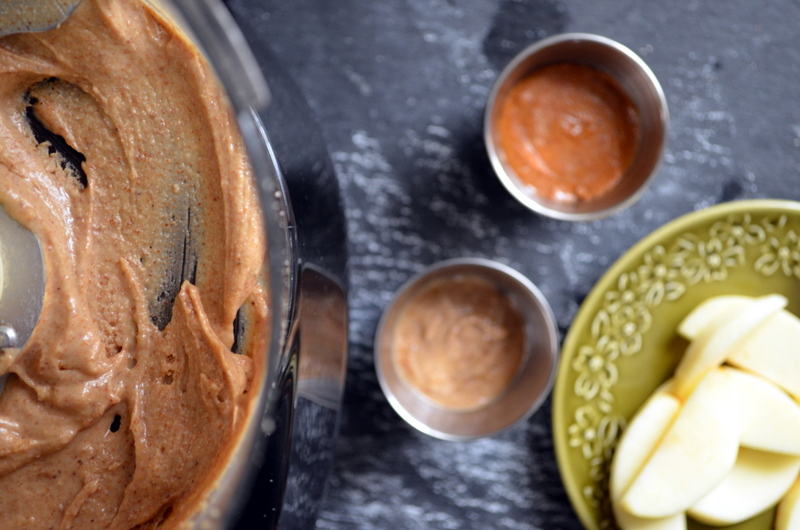 I had some of mine with some sliced apples.  Delicious!  You can use the almond butter in a recipe (try almond butter cookies–just like peanut butter cookies but better) or store in a glass jar in the fridge.  When you want to use the almond butter, take it out for a bit to warm it to room temperature for easier spreading.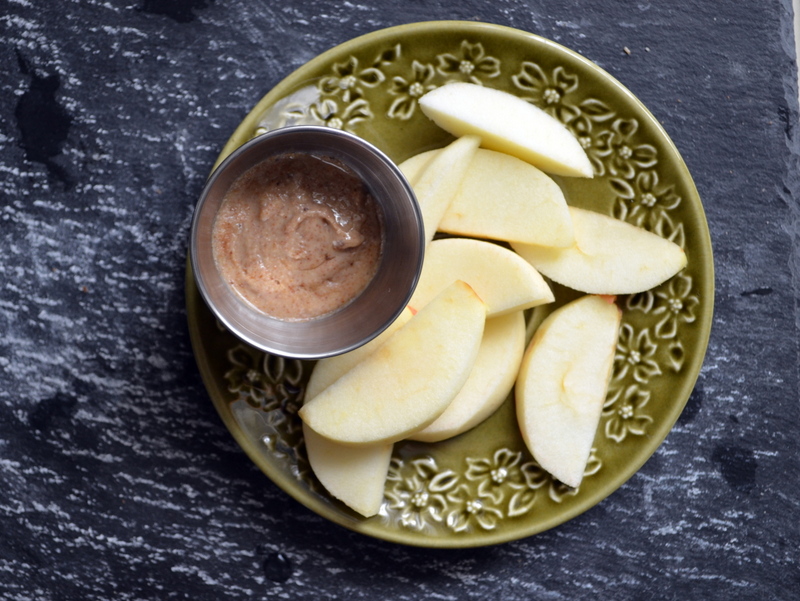 Okay, so how about making roasted almond butter, you ask?  It is *almost* as easy.  There is only one added step:  roasting your almonds.  You will l want to roast your almonds in the oven on a dry sheet pan at 350° for 10 minutes.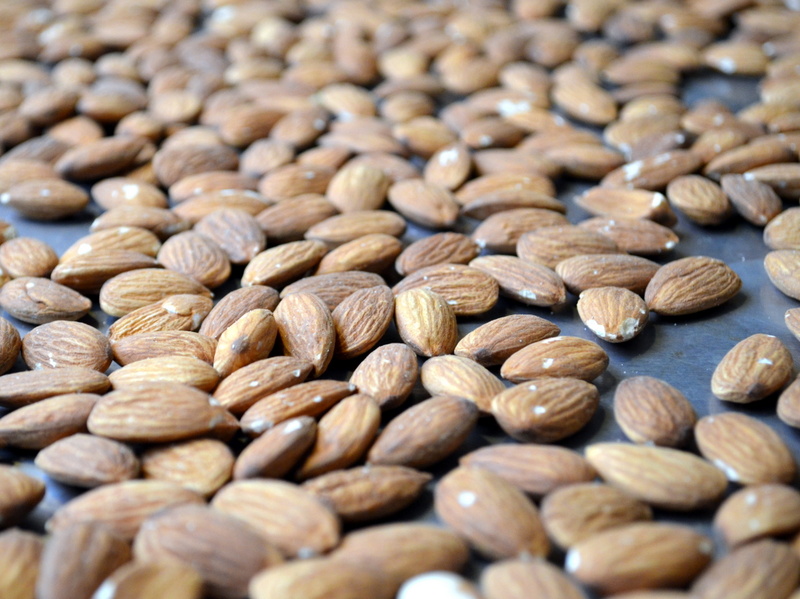 When the almonds are roasted, they will turn a nice deep brown color: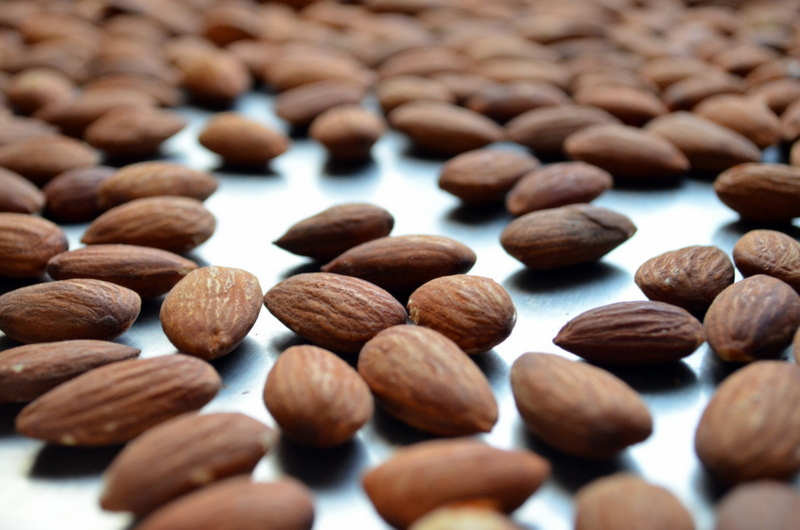 Process the nuts in the same way that you would raw almonds.  When you are done, the result will be deeper in color and flavor.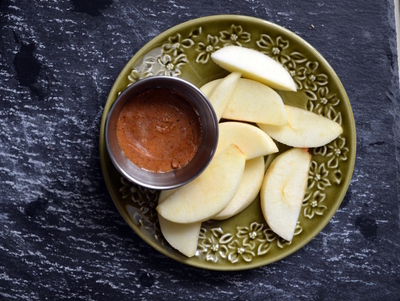 Roasted almond butter tastes amazing on toast with some honey!  One thing to note:  if you want to add honey or any other liquid to your almond butter, wait until you serve it.  Adding liquid to your almond butter will reduce its shelf life.
Enjoy!