I just joined the Food Matters Project (http://thefoodmattersproject.com/), a collective of bloggers who are committing to make a recipe from Mark Bittman's Food Matters Cookbook every Monday.  Sarah and Kate, co-creators of the project blog, explain the mission:  "We hope to inspire, educate, and encourage as we cook our way through Mark Bittman's book together. From vegans to pescetarians to those who love indulging in the semi-occasional (or frequent!) burger and fries, everyone is welcome to join!"
I am very excited to be taking part in the project because I truly believe that you are what you eat and I am excited to be participating in healthy, whole cooking with like-minded individuals.  Although I will need to miss a Monday or two, look forward to many Monday posts from me over the next year!
This week, the recipe was seasoned popcorn.  I was really excited about it in part because I am very pressed for time this week but I was also excited about it because of my love for popcorn.  For those of you who know me, you probably know that I LOVE POPCORN.  If you don't know that, it is because I usually eat it by myself late at night from a gigantic wooden bowl aptly named "the popcorn bowl" and used for just that purpose and only that purpose.  I have a long history of popcorn love.
Flashback:  I was five when my mom met my future (and former) stepdad.  Mike loved popcorn at a level I have never seen before.  One of my favorite memories of Mike is waiting for storms.  When a storm was coming in, we would make a big bowl of popcorn and sit outside eating it and waiting until the first sprinkles came and the lightning appeared (and subsequently mom would start to fret).  We had a large wooden bowl we dubbed the popcorn bowl.  When us kids took over that bowl, my mom bought him a bowl that said "Dad's Popcorn" on the bottom and that became his special bowl.  The wooden bowl was always better though, because you could take the popcorn at the bottom and push it into all of the goodness at the bottom.  And there was a lot of goodness!  Let me explain.  Popcorn in my family wasn't just a snack.  It was dinner sometimes.  To take a bowl of popcorn and transform it into dinner, my mom would add melted butter, shredded cheese, finely diced onions and copious amounts of nutritional yeast flakes.  The nutritional yeast flakes have an umami flavor–of course I didn't know that at the time, all I knew was that I loved it!  It was one of the foods my mom incorporated into our vegetarian diet so we had enough B vitamins (another way was nutritional yeast "gravy", still served up at home at holidays. I still have my mom mail nutritional yeast to me a couple of times a year so I never run out.
Alright, onto the recipe…I made two types of popcorn.  One was my classic nutritional yeast, olive oil, and finely diced onion.  This is my "usual" popcorn although if I am with someone I usually keep the onion off.  I also made a version with roasted garlic olive oil, parmesan, and chopped fresh parsley.  Both were delicious…and ended up becoming my lunch.
Some of the nutritional yeast and onions fall to the bottom of the bowl so when you get to the bottom, there is a lot of goodness!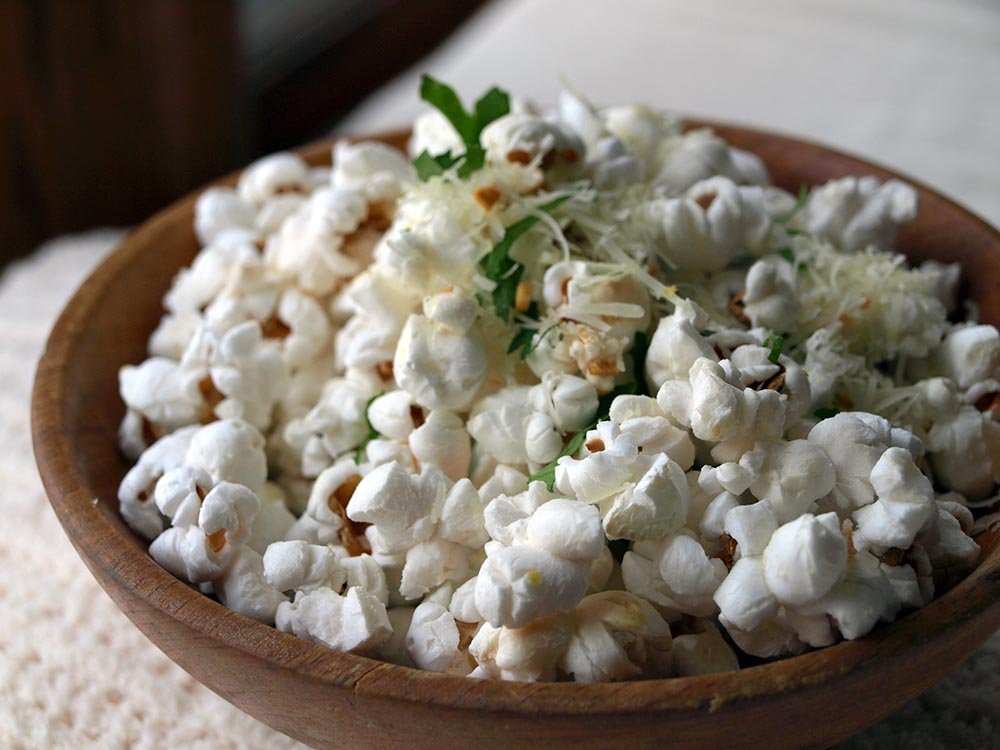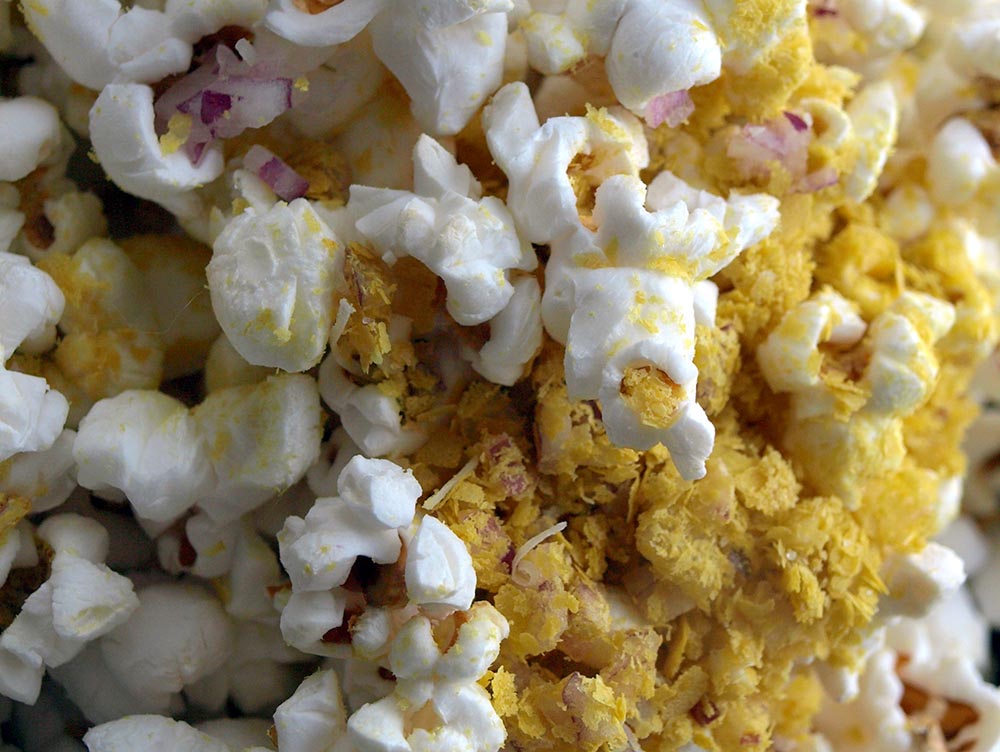 The other popcorn was also delicious and different–definitely something I will try again.  I lightly browned diced garlic in olive oil, poured it onto the popcorn, and added parmesan, salt, and parsley.  I left the crispy bits of garlic in the oil and it made for some tasty eating.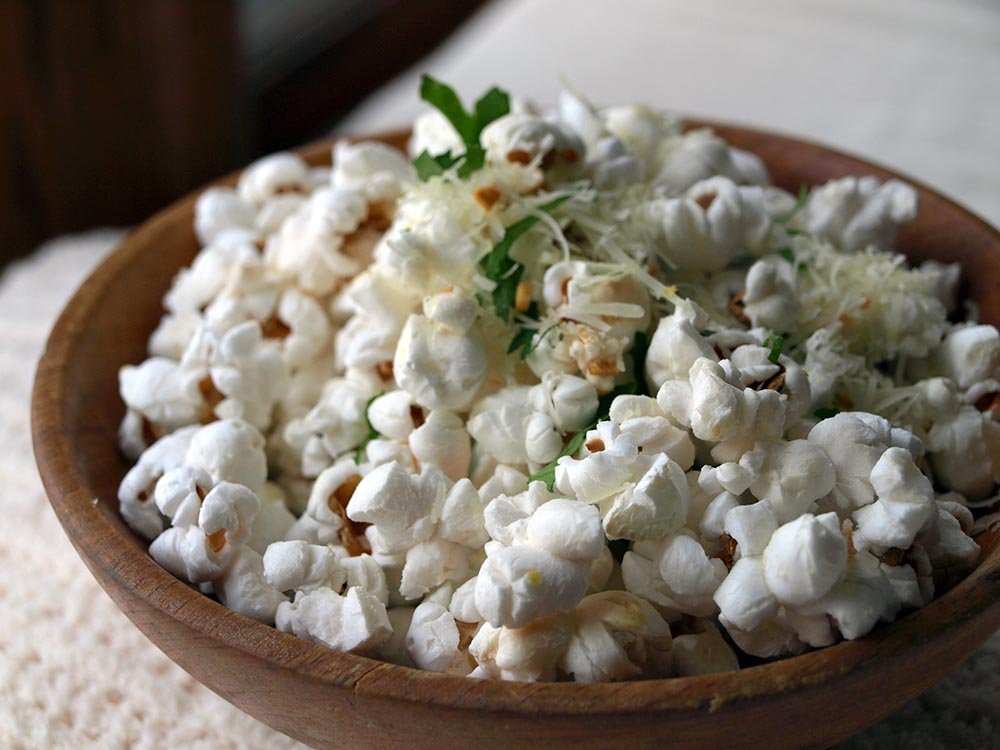 I typically use an airpopper to make my popcorn but Mark Bittman's recipes call for stove-top popping so I did it that way because it is a fun way to make popcorn and the olive oil coats the kernels nicely.  Bittman also writes that you can microwave popcorn without settling for the store bought microwave popcorn.  Take a brown paper bag, add a few tablespoons of popcorn kernels, crimp the top, and pop it in the microwave until the kernels slow down with their popping.  Mark Bittman is so cool.  See below for his recipe and suggestions on seasoning.
Seasoned Popcorn
Makes: 4 to 8 servings
Time: About 10 minutes
Real hot popcorn is one of nature's ultimate convenience foods. I can't say this strongly enough: There's no reason to use microwavable packages, no matter how "natural" they claim to be. Any popcorn can be microwaved, as you'll see below.
Toss the popcorn with extra ingredients while it's still warm and the seasonings will stick pretty well, even without adding any more fat. You can even cook popcorn in olive oil as long as you lower the heat as needed to keep it from burning; the flavor is delicious.
2 to 3 tablespoons vegetable oil
1⁄2 cup popping corn
2 to 4 tablespoons butter or olive oil, optional
Salt (and other seasonings from the list that follows if you like)
1. Put the vegetable oil in a large, deep pan (6 quarts or so). Turn the heat to medium, add 3 kernels of corn, and cover.
2. When the kernels pop, remove the lid and add the remaining corn. Cover and shake the pot, holding the lid on. Cook, shaking the pot occasionally, until the popping sound stops after about 5 minutes. Meanwhile, melt the butter or gently warm the olive oil if you're using it.
3. Turn the popcorn into a large bowl; drizzle with butter or olive oil if you like, and sprinkle with salt while tossing the popcorn. Serve immediately.
Microwave Popcorn (Makes 2 to 4 servings). In a small glass container, or a brown paper lunch bag, combine 1⁄4 cup popping corn with 1⁄4 teaspoon salt and fold the top of the bag over a couple of times. Microwave on high for 2 to 3 minutes, until there are 4 or 5 seconds between pops. Open the bag or container carefully, because steam will have built up. Toss with your seasonings and a drizzle of butter or olive oil or serve as is.
Garlic Popcorn. Use the optional butter or oil and as you melt or heat it, add a tablespoon minced garlic and cook until soft and turning golden. Strain the garlic bits out as you pour the butter over the popcorn—or not.
A Dozen Ways to Spike Your Popcorn
Toss any of these with just-cooked popcorn, alone or in combination. Since some are more potent than others, start with a light sprinkle and taste as you go.
Chopped fresh herbs
Black pepper
Chili powder
Curry powder, or garam or chaat masala
Old Bay seasoning
Five-spice powder
Toasted sesame seeds
Cayenne or red chile flakes
Grated Parmesan cheese
Brown sugar
Finely ground nuts or shredded, unsweetened coconut
Chopped dried fruit