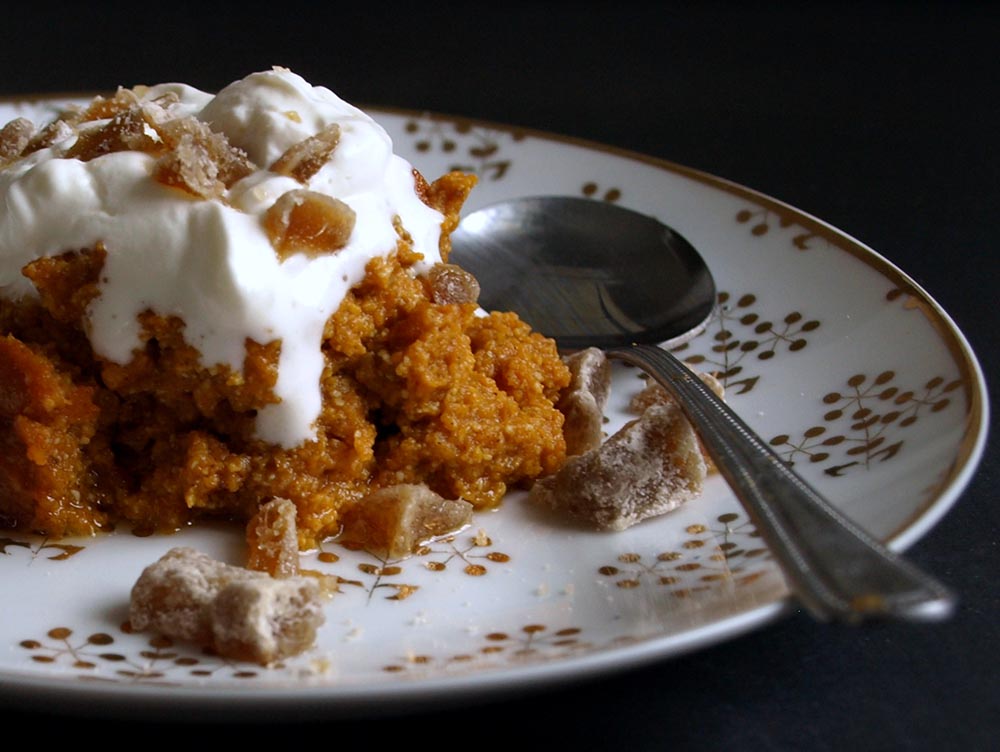 At thirty one, there are certain things I have come to understand about myself.  I am never going to be a 'morning person.'  I prefer reading to watching and can sit in silence all day as long as my hands are full.  If I like how something tastes, feels, looks, I always want more of it…beyond reason (I'm looking at you, Salt of the Earth Smore).  I'm never going to get that growth spurt I always wanted.  I like my pumpkin pie without the crust.
It feels so wasteful, so insulting, especially when someone has hand-rolled a pie crust.  I have been guilted (by myself) into eating pumpkin pie crusts.  But when it comes down to it, I'd just rather have the pie without the crust so I can enjoy the creamy filling without the interruption of a thick slab of dough.  So imagine my excitement when I saw that this week's Food Matters Project recipe, chosen by Sandra over at Meadowsknits, was essentially a pumpkin pie without the crust… with the added twist of incorporating silken tofu as well as some orange juice and zest.
The custard came together quickly and easily, just tossing everything into the stand mixer and pouring into a pie pan.  An hour later my home smelled lovely and I was tucking into some custard with whipped cream and candied ginger.
Some notes…the custard wasn't as smooth as I had hoped it would be.  The tofu didn't fully incorporate into the batter.  I suggest blending the tofu then adding it to the batter for a smooth finish.  I would also add 1/4 cup more sugar next time for some added sweetness–the finished product using the recipe below is lightly sweetened and could use a bit more sweetness, in my opinion.  Overall, an easy, healthier dessert I plan to experiment with, and soon!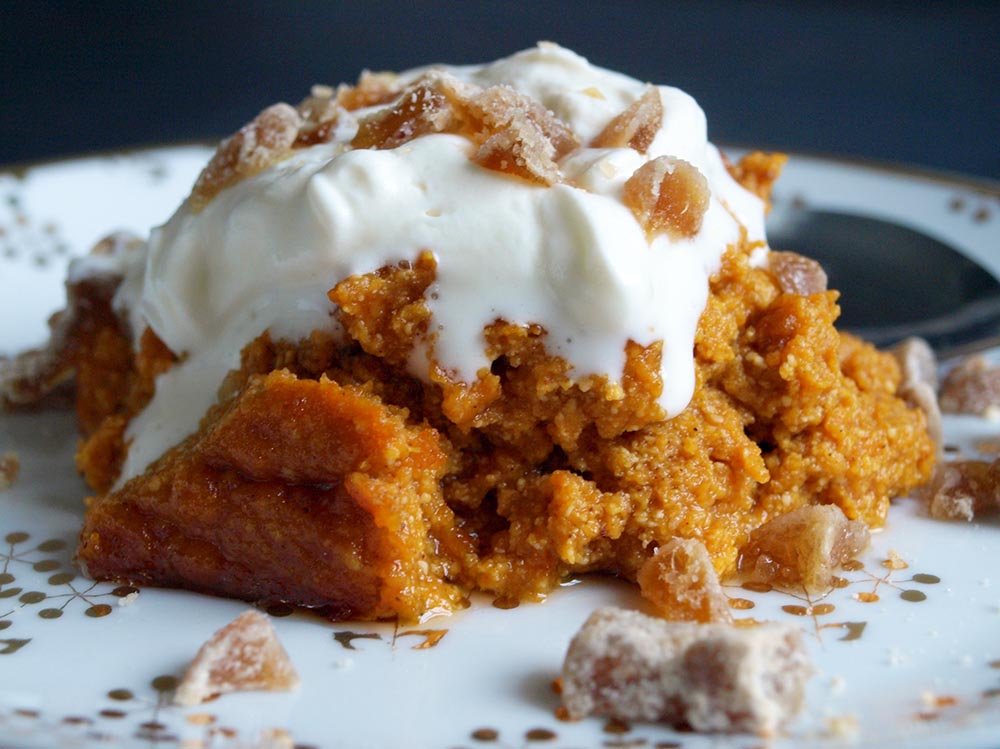 Baked Pumpkin-Orange Custard from Mark Bittman's The Food Matters Project Cookbook
2 Tablespoons unsalted butter, melted, plus more for greasing the pan
2 eggs
3/4 cup brown sugar
12 oz. soft silken tofu
3 cups (two 15-oz. cans) pureed pumpkin (unsweetened and unseasoned)
1/2 teaspoon cinnamon, or more to taste
1/4 teaspoon nutmeg
1/4 teaspoon allspice
Grated zest and juice of 1 orange
pinch of salt
Whipped cream (optional)
Sliced candied ginger (optional–I like Reed's Candied Ginger)
Heat oven to 350 degrees. Grease an 8-inch or 9-inch square pan or pie plate with a little butter. Use an electric mixer or whisk to beat eggs and sugar in a large bowl until light. Add the tofu and beat until smooth, a minute or two longer.
Add the 2 tablespoons melted butter and remaining ingredients and beat until everything is thoroughly combined. Pour the mixture into the prepared pan and bake until set around the edges but still a little jiggly at the center, about 1 hour. Let cool completely before serving, or refrigerate up to a day and serve cold.