"Brussels sprouts are misunderstood–probably because most people don't know how to cook them properly."  -Todd English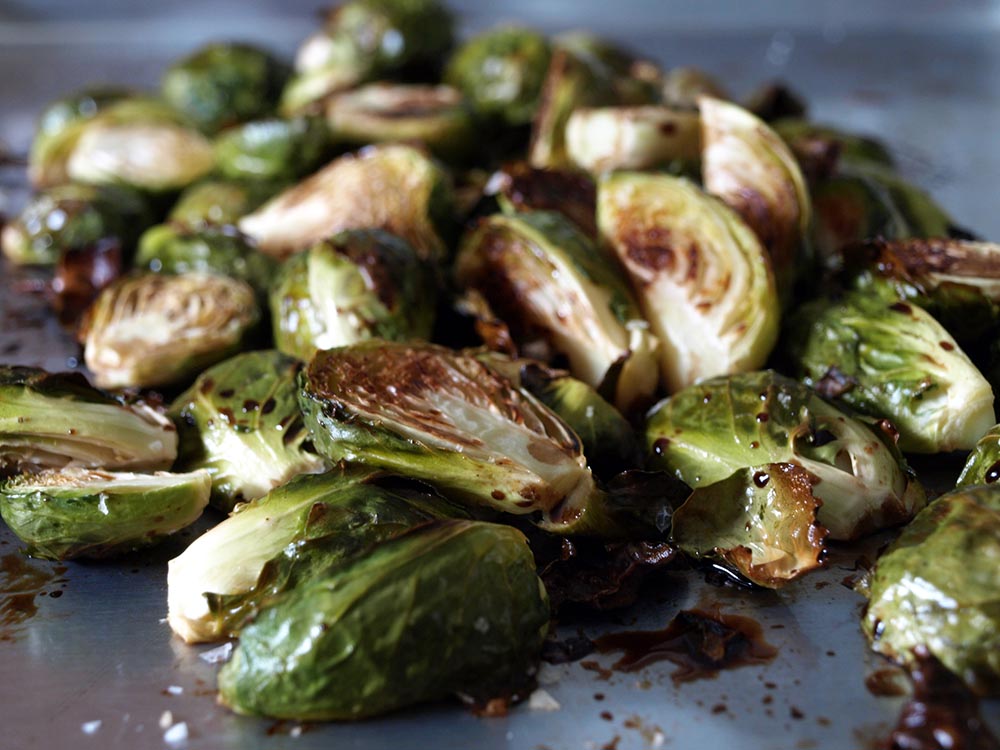 I see you there in the frozen food aisle, hands poised over a bag of brussels sprouts.  You know they are good for you so you choke them down.  You may be about to torture your children by putting them on their plates tonight, dreading the inevitable negotiations at the table (no dessert unless you eat your brussels sprouts!).  If I were your grocery shopping angel I would say:  Stop!  Step away from the frozen brussels sprouts and take a walk to the produce section to get some of these fresh little cabbages and you won't be disappointed.  Call them baby lettuces, as Jenny Rosenstrach does and everyone will adore them, even kids if you have 'em.  Drizzle some sweet balsamic glaze on them and you will wonder why they ever got a bad rap in the first place.
I never had to get over the brussels sprouts hurdle.  My mom was kind enough (and whole-foodsie enough) to never torture us with frozen or canned brussels sprouts.  She told us stories of living in Santa Cruz and picking stalks of brussels sprouts from the cliffs by the ocean.  With such a romantic back story, they had to be good.  Every autumn and winter I turn to these gems for comfort.  I typically saute them in some olive oil with a generous dusting of sea salt and pepper and a squeeze of lemon.  Toss some parmesan cheese into it all and I'm in heaven.  Another favorite is sauteing in some butter with a tiny amount of prosciutto and shallots sautéed along with the sprouts.  A-maz-ing.  But when it is just getting to settle into the beginning stages of winter and frost is on the ground, I use any excuse to turn on my oven.  Hence this version of roasted sprouts with a comforting balsamic honey glaze.  In my opinion, there are few things better than an oven-warmed kitchen and a sheet of sweet, salty, and crispy brussels sprouts.  Watch out, though…you'll find yourself popping one after another into your mouth.  They are that addictive.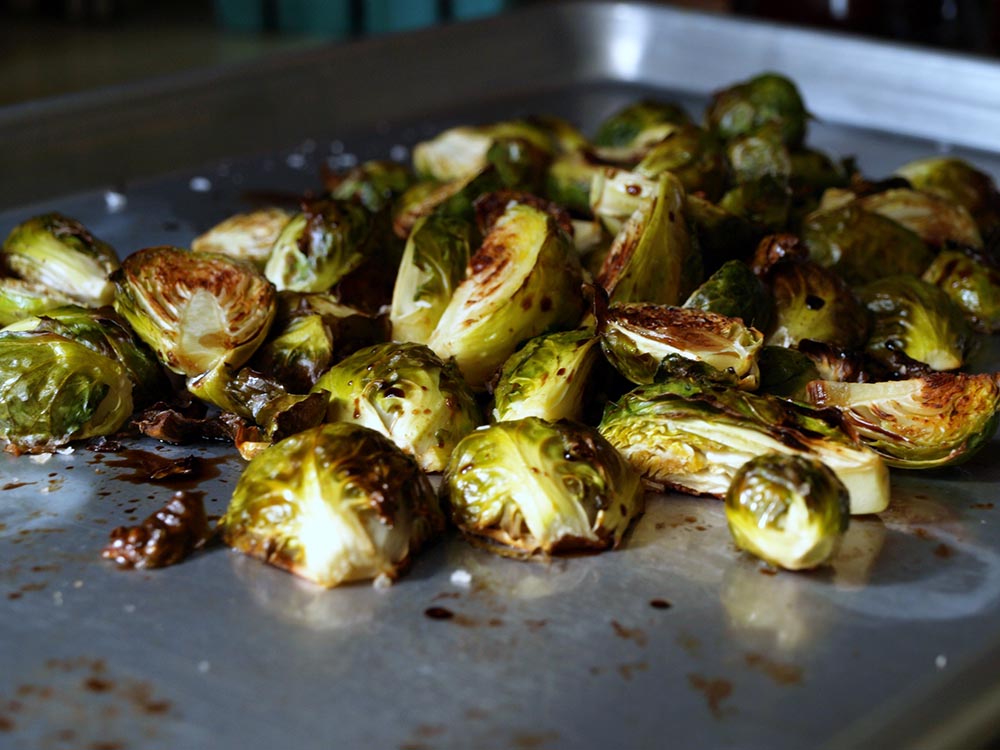 Sold on brussels sprouts?  Good.  Here's how you make them.
Roasted Balsamic-Honey Glazed Brussels Sprouts
1.5  pounds Brussels Sprouts
2 Tbsp Olive Oil
Salt And Pepper
1/2 cup Balsamic Vinegar
1/4 cup honey (or agave nectar if you are vegan)
Trim Brussels sprouts, then cut them in half or quarter if desired (or you can leave them whole). Arrange on a baking sheet and toss with olive oil. Sprinkle with plenty of salt and pepper and roast at 375 degrees for 25 to 30 minutes, or until brown.
Combine balsamic vinegar and honey in a saucepan. Bring to a boil, then reduce heat to medium-low and reduce until very thick, about 15 to 20 minutes.
Drizzle the balsamic reduction over the roasted sprouts. Toss and serve immediately.
Serves 2-4