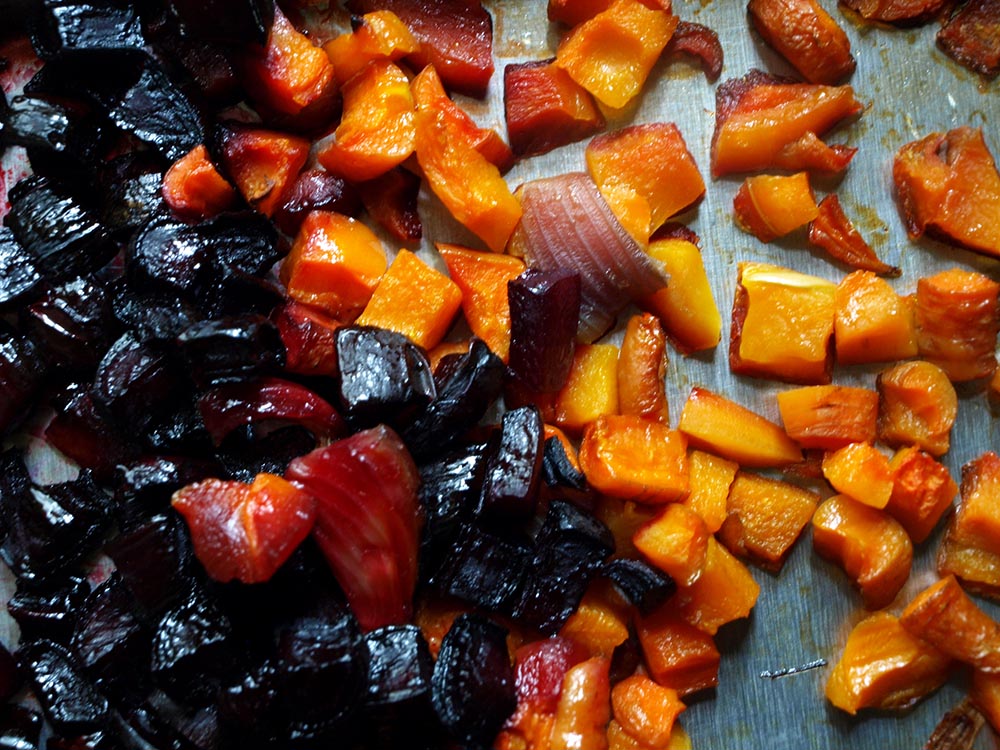 I would be hard pressed to find ten things I like about November weather.  But if you asked my favorite thing about November weather, it would be root vegetables.  I was just thinking how I am now at the opposite end of the spectrum from this post when it was 95 degrees in my house and the last thing I wanted to do was turn on the oven.  Well, it's November in Michigan so I am loving turning on my oven any chance I get and roasting veggies or whipping up a big pot of warming root vegetable stew.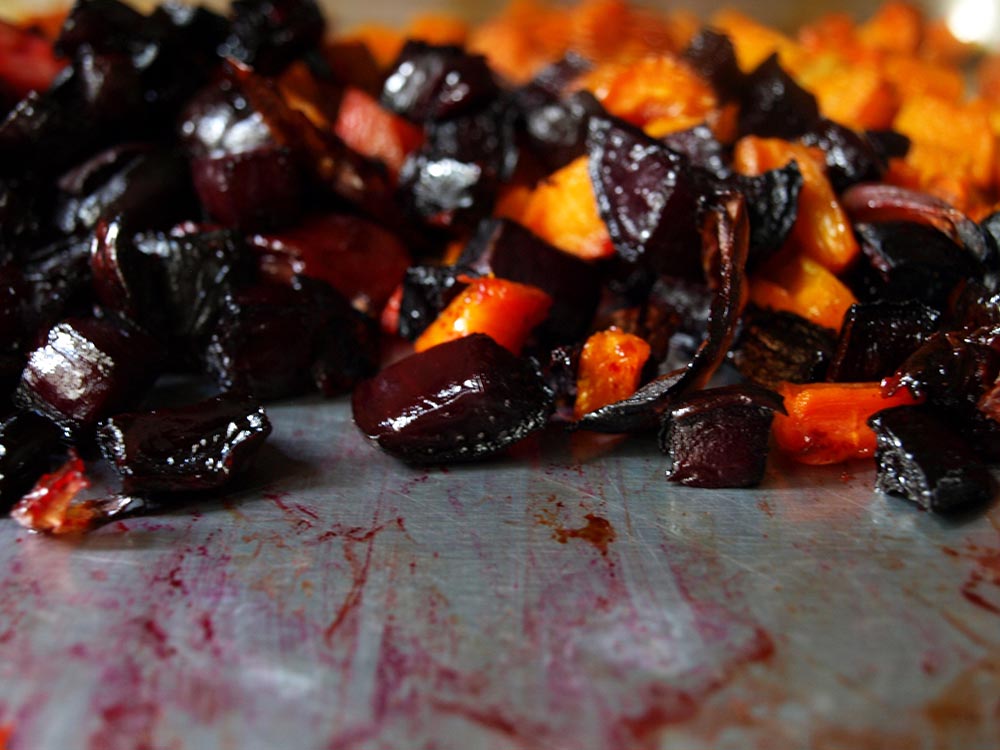 This week's Food Matters Project recipe, chosen by Camilla, was Wheat Berries with Braised Beef and Parsnips.  Being that about 95% or more of my meals are vegetarian I decided to go a veggie route with my version, instead opting for one of my go-to salads.  I typically make this salad with farro because it is quick and I enjoy the texture, but because wheat berries were the foundation of this week's FMP recipe I started there.
I roasted onion, beets, carrots, leeks, and butternut squash, all from my brother's wonderful organic farm (I'll need to create a post just to tell you all about my weekend at home on my brother's farm and at the Marquette Farmer's Market).  The wheat berries were cooked in vegetable broth and tossed with the vegetables.  Then comes the fun part..adding whatever else you think will taste good!  I like to add some crumbled feta to cut through the sweet tastes in the salad but if you omit the feta, this salad is vegan.  This time I also added some pepitas, some arugula, a random heart of palm I had in the fridge, and a drizzle of honey-mustard vinaigrette.  Perfect for my cold November day.
For the recipe for wheat berries with braised beef and parsnips, head over to Camilla's blog, Culinary Adventures With Cam.  For everyone else's take, check out our Pinterest Board!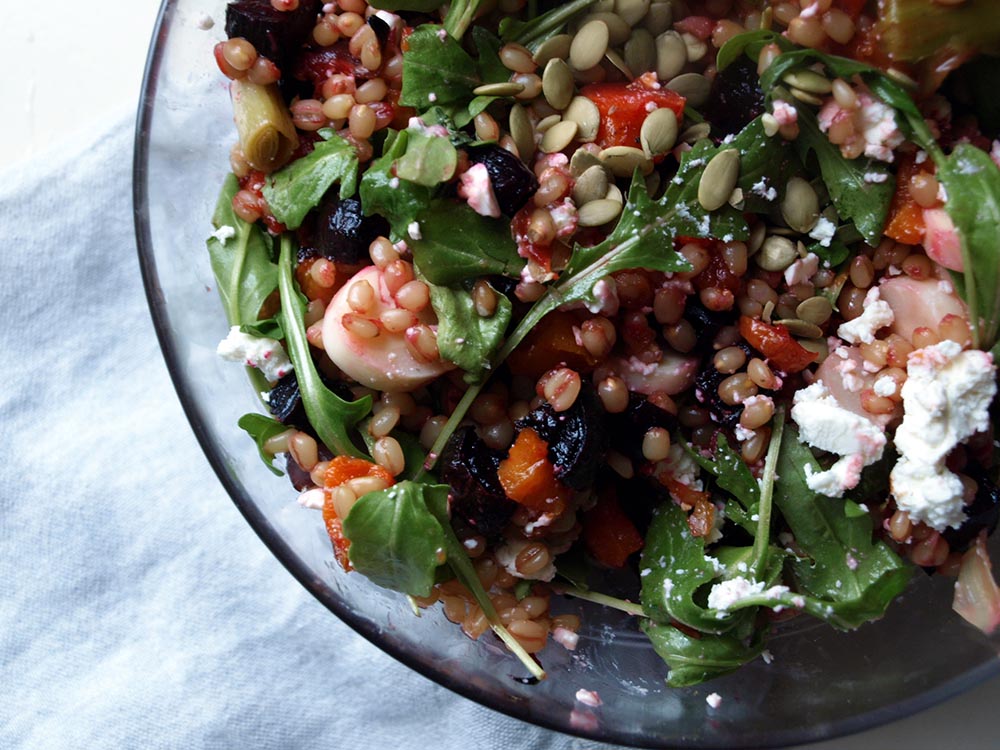 Autumn Wheat Berry Salad With Roasted Vegetables
1 cup dried wheat berries
2 cups water or vegetable broth/stock
2 cups vegetables such as beets, carrots, winter squash, onions, brussels sprouts, potatoes, sweet potatoes, etc.  I used leeks, beets, carrots, red onion, and butternut squash.
2 Tbsp olive oil
Salt and pepper
3 Tbsp feta cheese, crumbled (optional–vegan if omitted)
2 Tbsp pepitas (optional)
1 cup arugula (optional)
2 tablespoons honey mustard vinaigrette (below)
Anything else you think would taste yummy in this salad
Honey Mustard Vinaigrette
3 tablespoons extra-virgin olive oil
1 tablespoon red wine vinegar
1 tablespoon Dijon mustard
1 tablespoon honey (use maple syrup or agave if you are vegan)
Fine sea salt
Put the wheat berries and water or broth/stock into a saucepan and bring to a boil.  Turn down to low heat and simmer for 1 hour until soft.
Meanwhile, turn your oven to 350° and start chopping your vegetables.  Whatever vegetables you choose, be sure to cut them into relatively uniform shapes, I chopped mine into about 1/2 inch cubes.  Place all veggies in a large bowl when done and drizzle with olive oil.  Sprinkle generously with salt and pepper and toss.  Pour veggies onto sheet pans and cover with tin foil.  Bake for about 20-25 minutes and check for softness. When soft but not mushy, remove foil and turn oven to 450° for about 5-10 minutes to crisp the veggies slightly.  Remove from oven and let cool for 10 minutes.
Mix vegetables, wheat berries, arugula, cheese, pepitas, and vinaigrette in a large bowl.  Serve warm or at room temperature.  I highly recommend wearing a cozy sweater and leaving the oven door open (now that the oven is shut off).  Stand in front of the oven warmth and enjoy!