Welcome to another week of the Food Matters Project!  This week the host chose Cassoulet with Lots of Vegetables (page 392 of Mark Bittman's Food Matters Cookbook).   Go on and  head over to Keely's blog to see the full recipe.  To see what all of the other bloggers did,  click here.  I chose to make this as a vegetarian dish so I smushed Mark Bittman's recipe together with the Gourmet Magazine Vegetarian Cassoulet recipe and voila!  Aura's Vegetarian Cassoulet.  Recipe below with all of my modifications.
Also, if you have the time, I highly recommend you cook your own beans.  It is cheaper and they taste better, plain and simple.  I have been feeling guilty about my laziness with beans lately.  I always, and I mean always, use canned beans even though I have a nice assortment of dried beans in my pantry.  It seems like every cookbook these days urges to cook your own beans so I finally bit the bullet and am glad I did.  It cost about 1/2 the price for the beans for this dish, was totally easy (just cooked them up last night while I was putzing around the house–no stirring or tending required), I didn't have to deal with washing out cans, and the texture is great.
For the crumbs, I would normally make these with some day-old bread but I didn't have any around so I used panko bread crumbs and the result was still very good.
Aura's Vegetarian Cassoulet
Active time:30 min
Start to finish:  One to one and a half hours
Serves 4 to 6
For cassoulet
1 medium onion, sliced.  (or 3 medium leeks-white and pale green parts only)
4 medium carrots, halved lengthwise and cut into 1-inch-wide pieces
3 celery ribs, cut into 1-inch-wide pieces
4 garlic cloves, chopped
1/8 cup olive oil
1/2 tsp dried thyme
1/4 cup chopped fresh parsley
1 bay leaf
2 cups diced tomatoes with juice
2-3 cups of cooked Great Northern Beans
1-1.5 cups vegetable broth
For garlic crumbs
2 cups panko bread crumbs
1/8 cup olive oil
1/2 tablespoon chopped garlic
1/8 cup chopped parsley
Make cassoulet:
Cook onions/leeks, carrots, celery, and garlic in oil with herb sprigs, bay leaf, and 1/2 teaspoon each of salt and pepper in a large heavy cast iron skillet or pot over medium heat, stirring occasionally, until softened and golden, about 15 minutes. Stir in tomatoes in their juices, beans, then broth, and simmer, partially covered, stirring occasionally, until carrots are tender but not falling apart, about 30-45 minutes.  If still brothy, continue to simmer until some of the juices have been soaked up.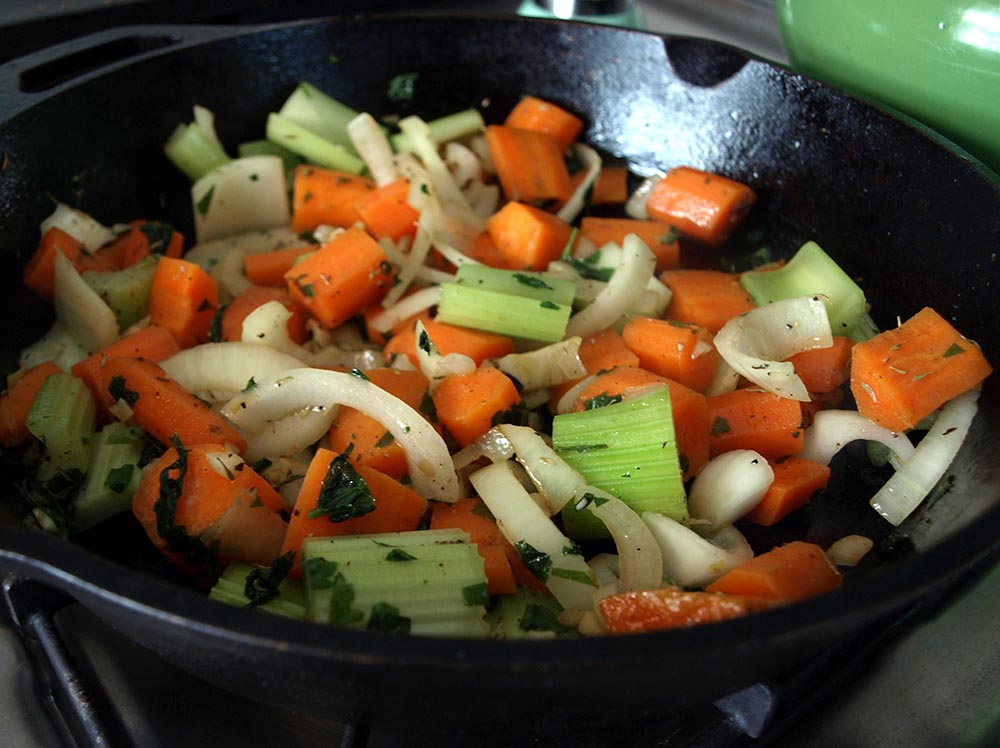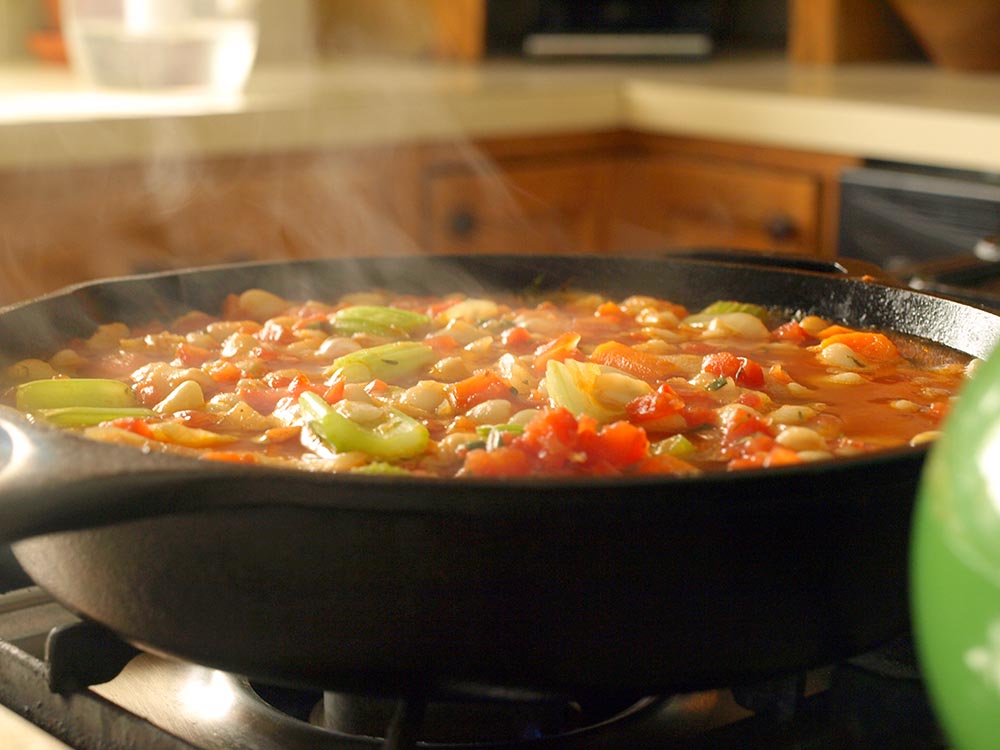 Make garlic crumbs while cassoulet simmers:
Preheat oven to 350°F with rack in middle.

Toss bread crumbs with oil, garlic, and pinch each of salt and pepper in a bowl until well coated. Spread in a baking pan and toast in oven, stirring once halfway through, until crisp and golden, about 10 minutes (but keep a close eye on them–I burned my first batch!).

Cool crumbs in pan, then return to bowl and stir in parsley.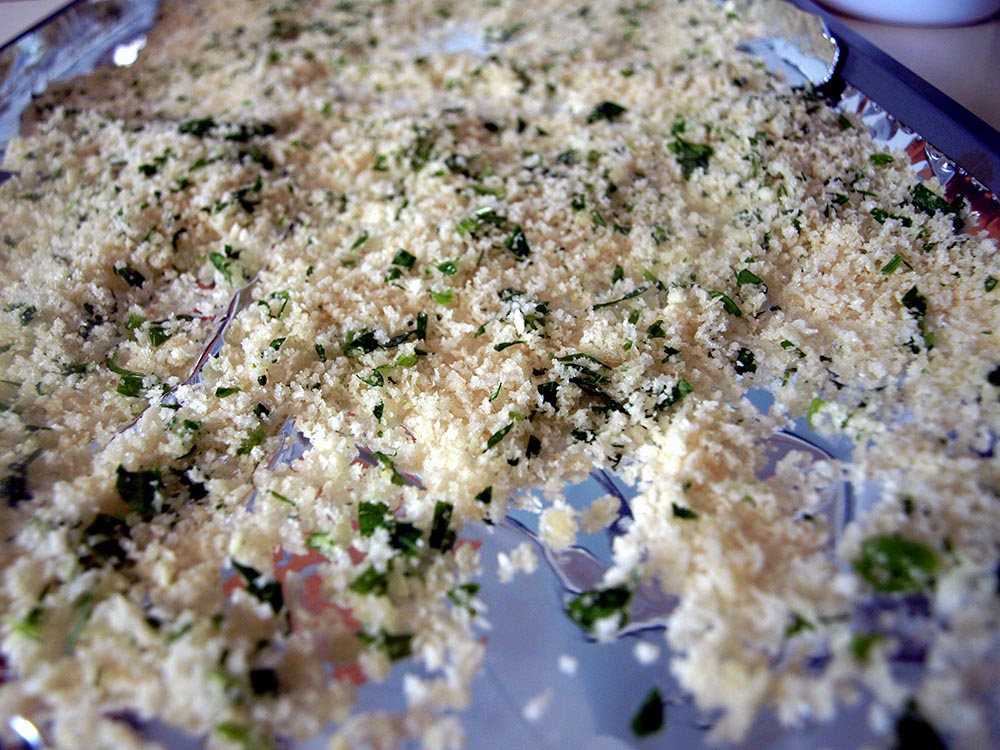 Finish cassoulet:
Discard herb sprigs and bay leaf. Mash some of beans in pot with a potato masher or back of a spoon to thicken broth. Season with salt and pepper. Just before serving, sprinkle with garlic crumbs and parmesan cheese.