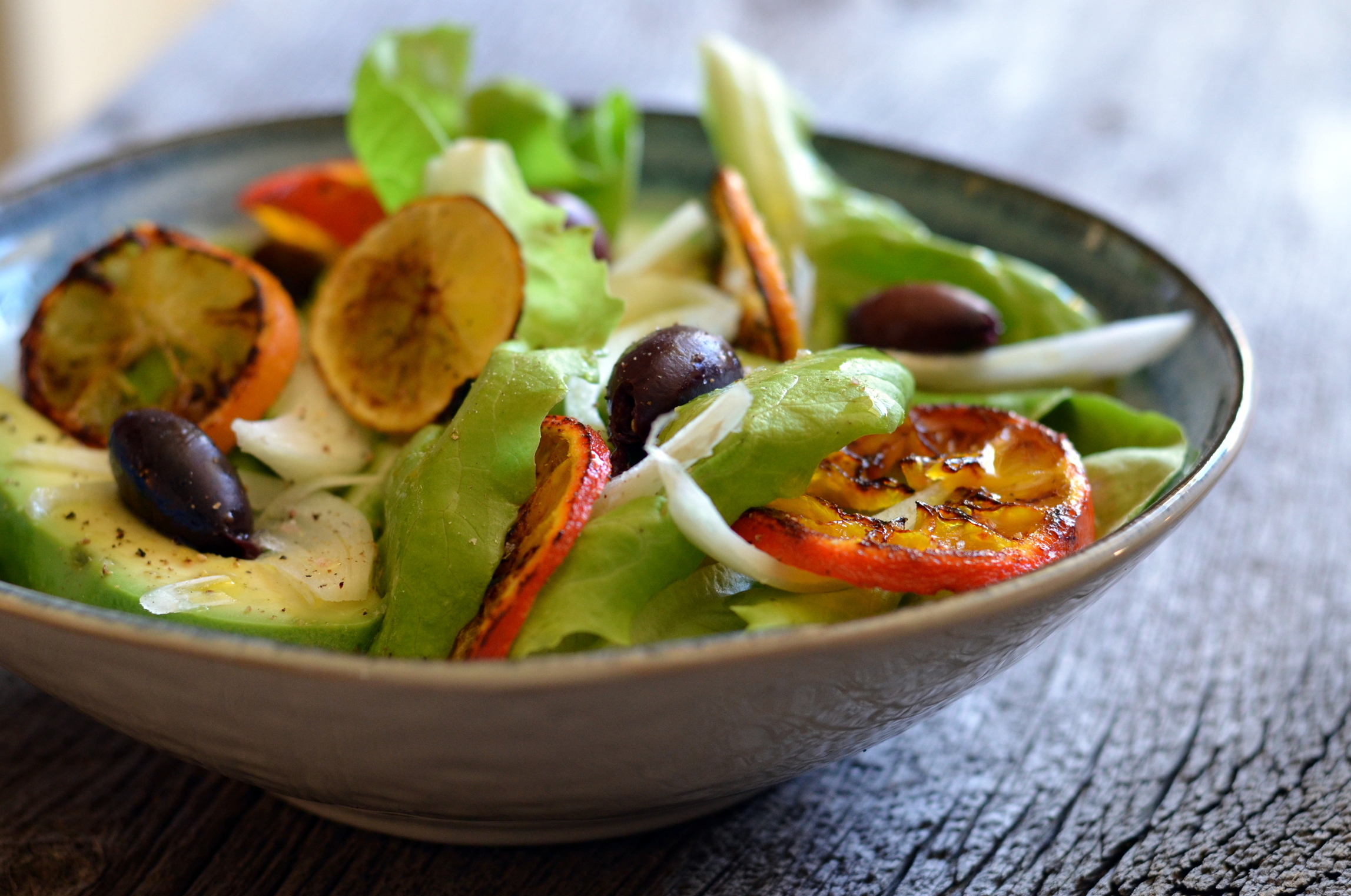 Happy New Year!  I just got done filing almost a year's worth of paperwork (ahem…I sheepishly admit that last year's resolution to stay on top of my filing didn't stick for more than a couple of months….sigh…what do you do?).  I feel accomplished and proud for the moment.  That feeling will last only briefly, until the baby cries, , my hair stays wet, the laundry that needs folding piles up at the end of the bed, and I realize that I haven't eaten in six hours.  As I stand over the counter scraping avocado out of the shell with a cracker while bouncing just so to quiet the little one, I'm sure the elation of my paperwork success will feel like a distant memory.  But hey, I'll take it while I can get it.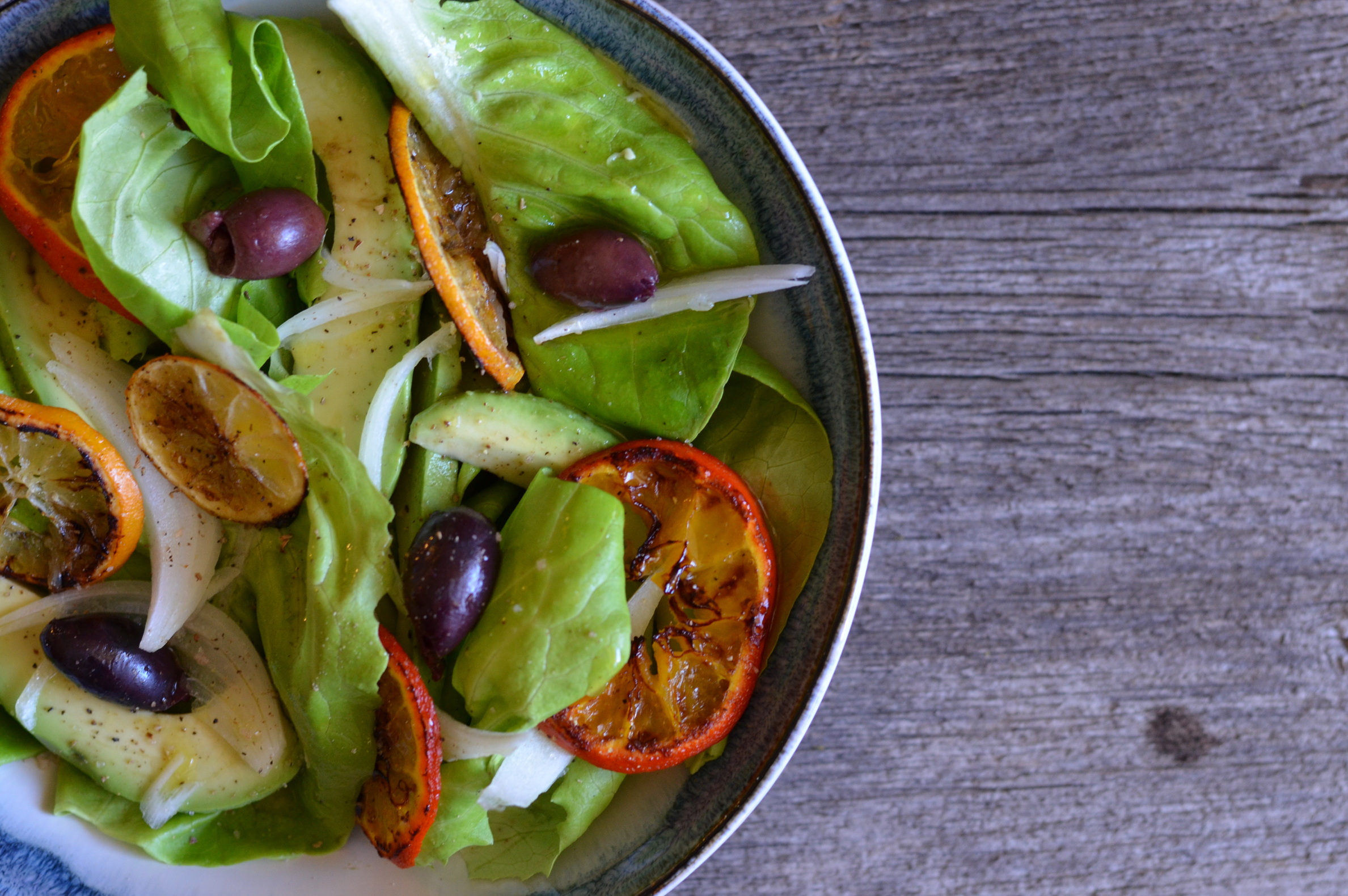 This year I didn't really come up with a New Year's resolution.  I've got so many things I need to work on.  I tackle too many things without taking care of myself first and foremost.  I snap and grumble when I'm stressed.  I stretch myself too thin and jeopardize my important relationships.  I hope this year will be the year I learn to keep it simple and start learning how to live the good life.
I'll check back next year and let you know how that all goes.  In the meantime, here is a winter salad that is vibrant and beautiful.  It has good, healthy fats in it (avocado and olive oil) and has an unexpected twist–roasted citrus.  I adapted this recipe from Bon Appetit magazine and I'm so glad I gave it a shot.  Roasting caramelizes the citrus and the sweet tang pairs beautifully with the creamy avocado and mild Meyer lemon vinaigrette.
If you haven't tried Meyer lemons yet, I suggest you do!  They are a cross between a lemon and a mandarin orange.  Juicy, thin-skinned, and much less tart than a lemon, they are such a treat in the winter.  If you can't find Meyer lemons, substitute mandarin oranges or tangerines instead.  To make this more of a substantial dish, add smoked salmon or a broiled salmon filet.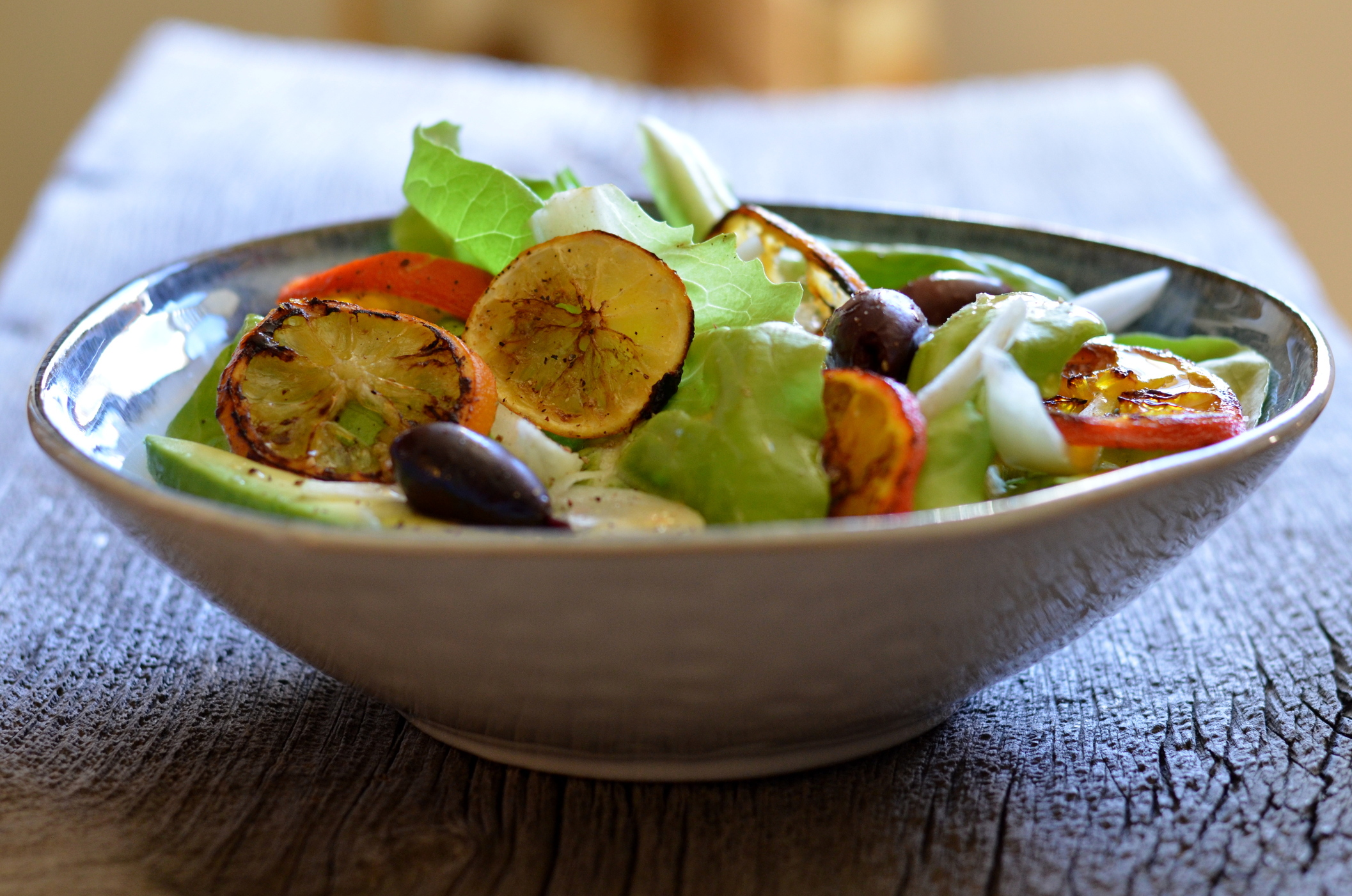 Roasted Citrus and Avocado Salad With Meyer Lemon Vinaigrette
Ingredients
1 blood orange, tangerine, or Valencia orange, sliced 1/8" thick
1 Meyer lemon, sliced 1/8" thick
4 tablespoons olive oil, divided
Kosher salt and freshly ground black pepper
1 head Bibb lettuce, leaves torn
¼ small sweet onion, thinly sliced
2 tablespoons fresh Meyer or regular lemon juice
1 tsp honey
1 avocado, cut into wedges
12-16 pitted kalamata olives, optional
Instructions
Preheat oven to 425°. Toss citrus slices with 1 Tbsp. oil on a rimmed baking sheet; season with salt and pepper. Roast citrus, turning once, until lightly charred, 10–15 minutes. Let cool.
Place Bibb lettuce or greens mix into bowsl. Add onion, olives, and citrus.
Combine lemon juice, olive oil, and honey in a small bowl. Season with salt and pepper and whisk. Drizzle over salad. Add avocado last and serve.
NOTE: Smoked salmon is a delicious addition to this salad and a great way to get healthy fats into your diet.
https://honeycreekkitchen.com/winter-salad-with-roasted-citrus-and-avocado/
Copyright www.dinnerwithaura.com