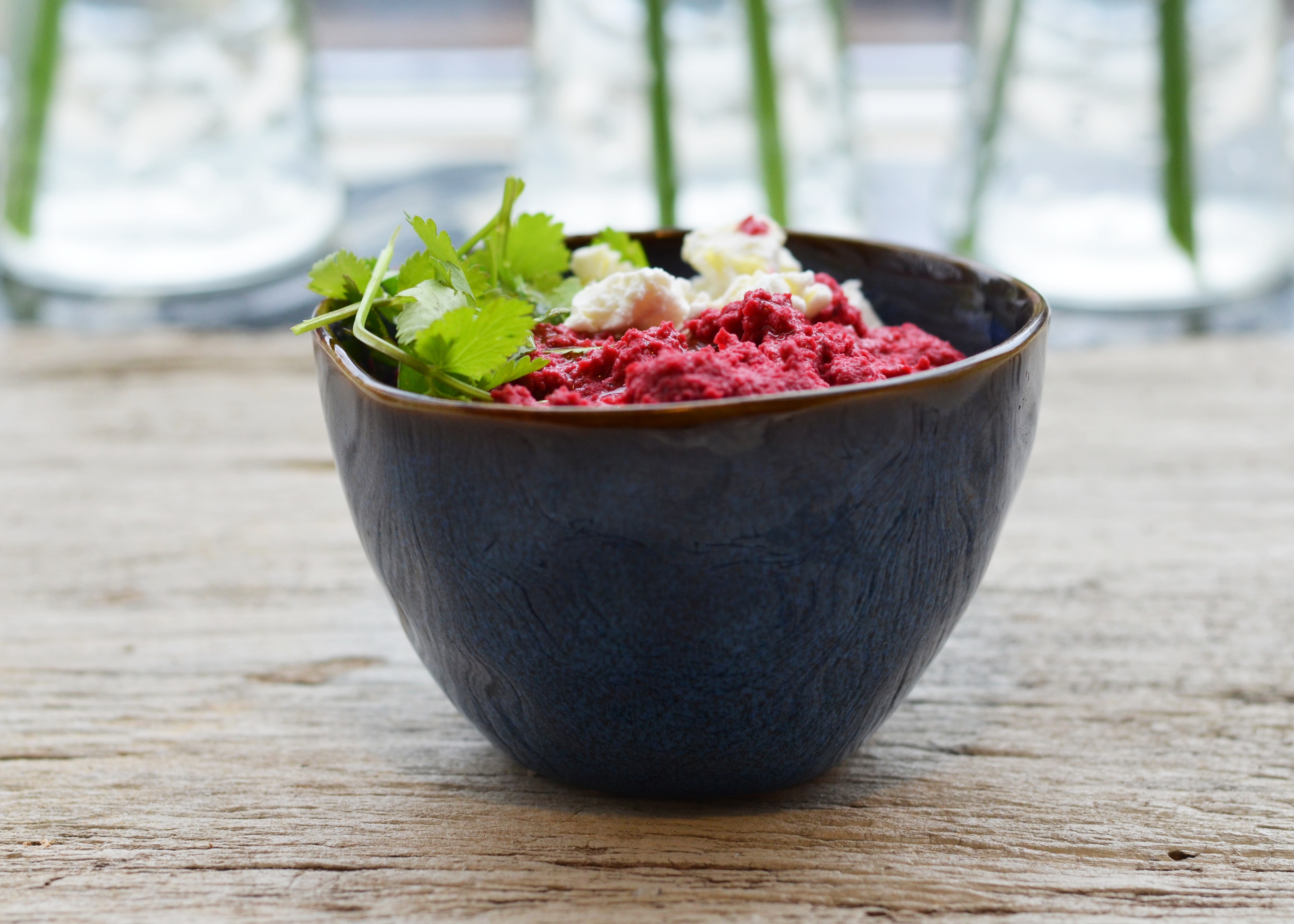 An old Ukranian proverb forewarns, "A tale that begins with a beet will end with the devil."  As a big beet fan, I'd like to think that a tale that begins with a beet will end with deliciousness.
My cooking style has changed considerably since my baby boy arrived in November.  Meals are simple, quick, freezable, and lunch-packable.  Sundays are filled with food prep to make the work-and-baby-filled weeks a little easier.  This Sunday I prepped muesli for breakfasts, grains, tofu, and greens for lunches, and snacks for the whole week.  As a nursing mom, I need to make sure I'm eating small, healthy snacks in the mid-morning and mid-afternoon and hummus is a clear winner.  Hummus is packed with protein and fiber, easy to make, and endlessly versatile (spread on crackers or in a sandwich, use as a dip with carrot sticks or sugar snap peas or put a dollop on a grain salad).  Sometimes I get stuck in a rut with a basic hummus recipe but last month's Cooking Light magazine inspired me to get a little crazy with my hummus and the results were great.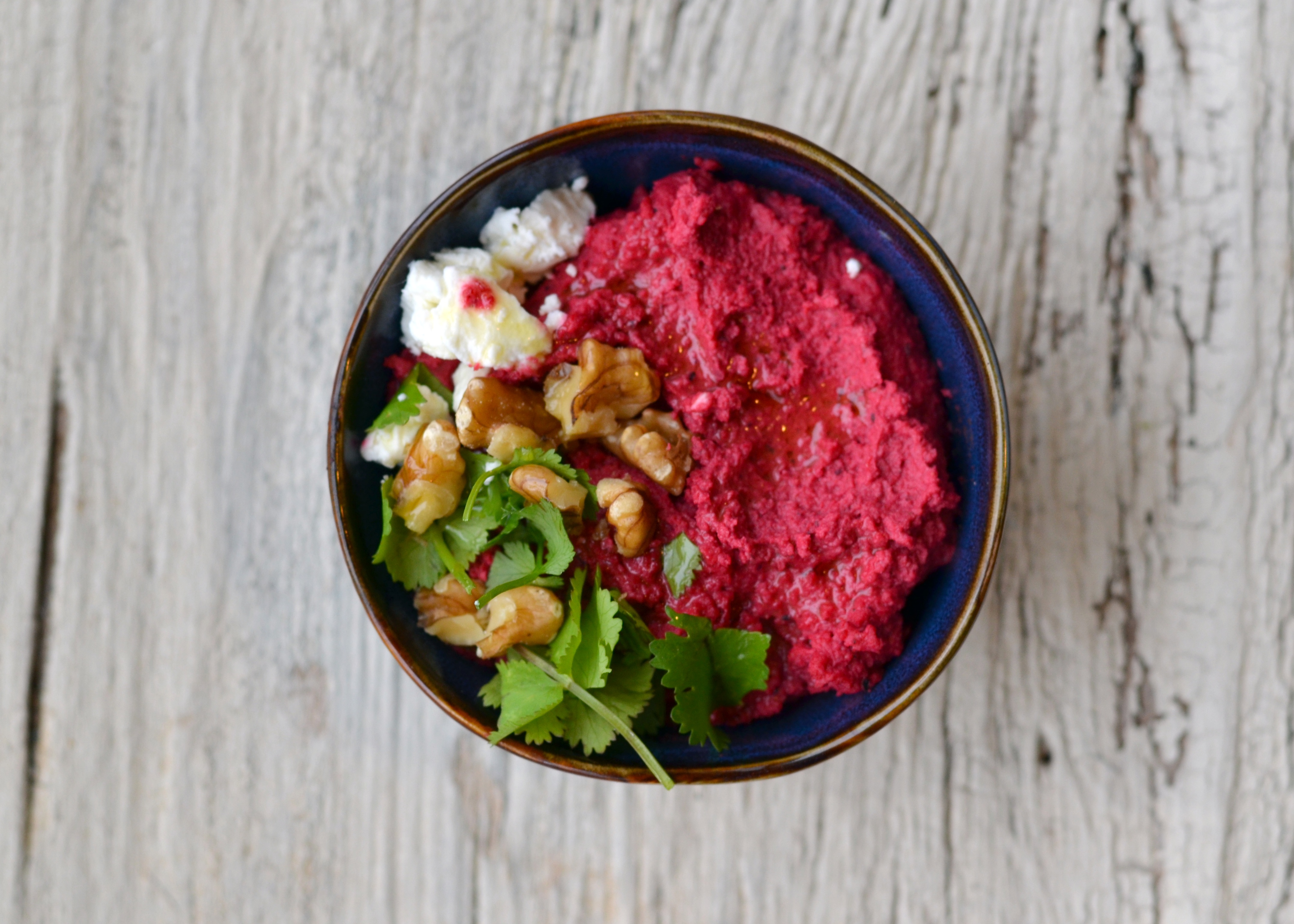 I switched things up a bit from the original recipe.  Cooking Light simplifies their recipe by microwaving their beet in parchment paper but I loved the depth that roasting the beet lent to the dip.  They top their beet hummus with blue cheese, walnuts, and microgreens but I used what I had on hand:  goat cheese, cilantro, walnuts, and a drizzle of lemon-infused olive oil.
For more hummus inspiration, check out Cooking Light's slideshow of creative hummus recipes.
Roasted Beet Hummus With Walnuts and Goat Cheese
Ingredients
1 tablespoon tahini (roasted sesame seed paste)
1 tablespoon fresh lemon juice
1 tablespoon extra-virgin olive oil
1 (15-ounce) can unsalted chickpeas, rinsed and drained
3 tablespoons water
1 garlic clove
1 medium beet
1/2 teaspoon honey
1/2 teaspoon kosher salt
1/8 teaspoon black pepper
3 tablespoons crumbled goat cheese or blue cheese
1 1/2 tablespoons chopped toasted walnuts
1 tablespoon fresh herbs (such as parsley or cilantro)
Instructions
Combine tahini, lemon juice, olive oil, chickpeas, water, and garlic clove in the bowl of a food processor.
Wrap beet in tin foil. Bake at 350° for 30-45 minutes until you are able to pierce the beet with a fork. Let stand 5 minutes; quarter beet.
Add beet, honey, salt, and black pepper to food processor with chickpea mixture; process until smooth.
Top hummus with goat cheese or blue cheese, walnuts, and herbs.
https://honeycreekkitchen.com/roasted-beet-hummus-with-walnuts-and-goat-cheese/
Copyright www.dinnerwithaura.com