A few days ago, I got a text from our friend, Natalia.  Natalia is a dear friend of ours who has a voice like honey, is sharp as an icicle (the sharpest thing my mid-winter brain could come up with), and has a knack for coming up with great food combinations, which she photographs, as you do, and sends to her foodie friend, as you do.  She also likes to say, "as you do", as I just did.  This most recent text was an image of a citrus salad, built around grapefruit from her recent trip to Arizona.  She added watercress, avocado, goat cheese, a lemon vinaigrette, and spicy salted pepitas.  The text was a great reminder that citrus is in season, even if my brain has a difficult time wrapping around the idea that there is anywhere on this earth that isn't covered in several feet of snow and a blanket of clouds.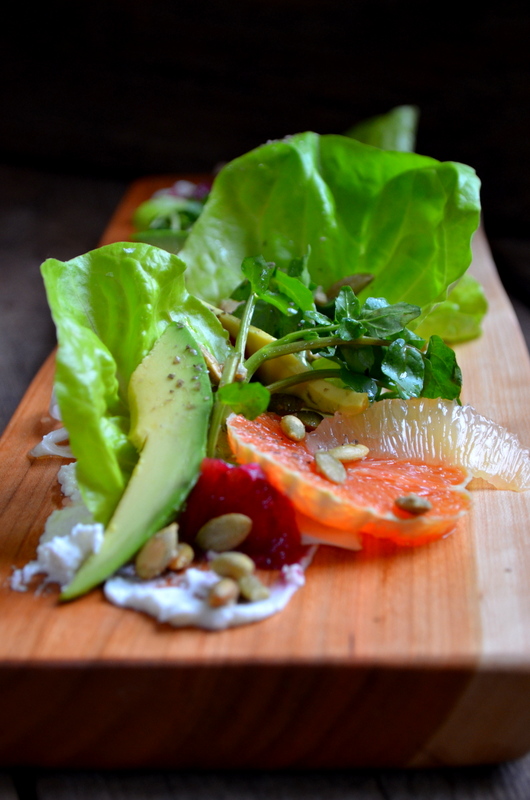 I decided that recreating this salad would cheer me up so I ran out to pick up some grapefruit, lemons, blood oranges, and cara cara oranges.  I added to that:  Boston lettuce, avocado, watercress, goat cheese, shaved fennel, sweet and spicy pepitas, and a citrus vinaigrette made from the juices of the citrus.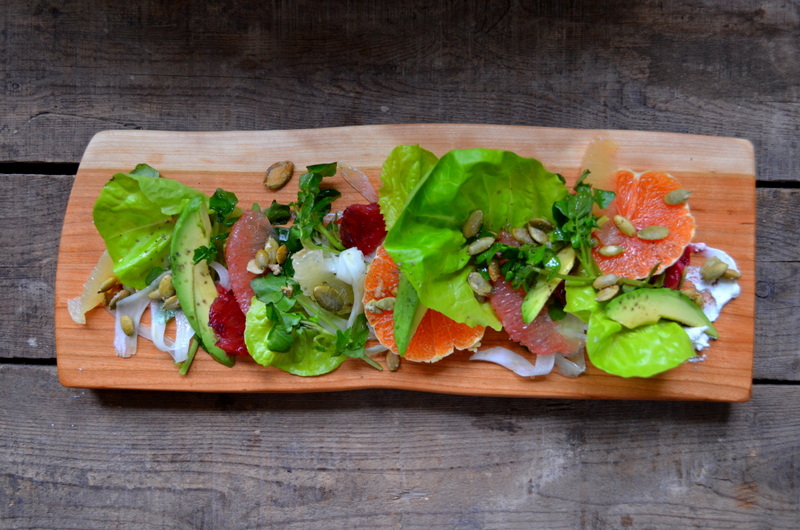 My friend, Chef Matt Pietsch from the incredible restaurant Salt of the Earth, showed me how to "supreme" a citrus fruit, removing the pith, skin, membrane and seeds, and leaving the beautiful flesh behind for the salad.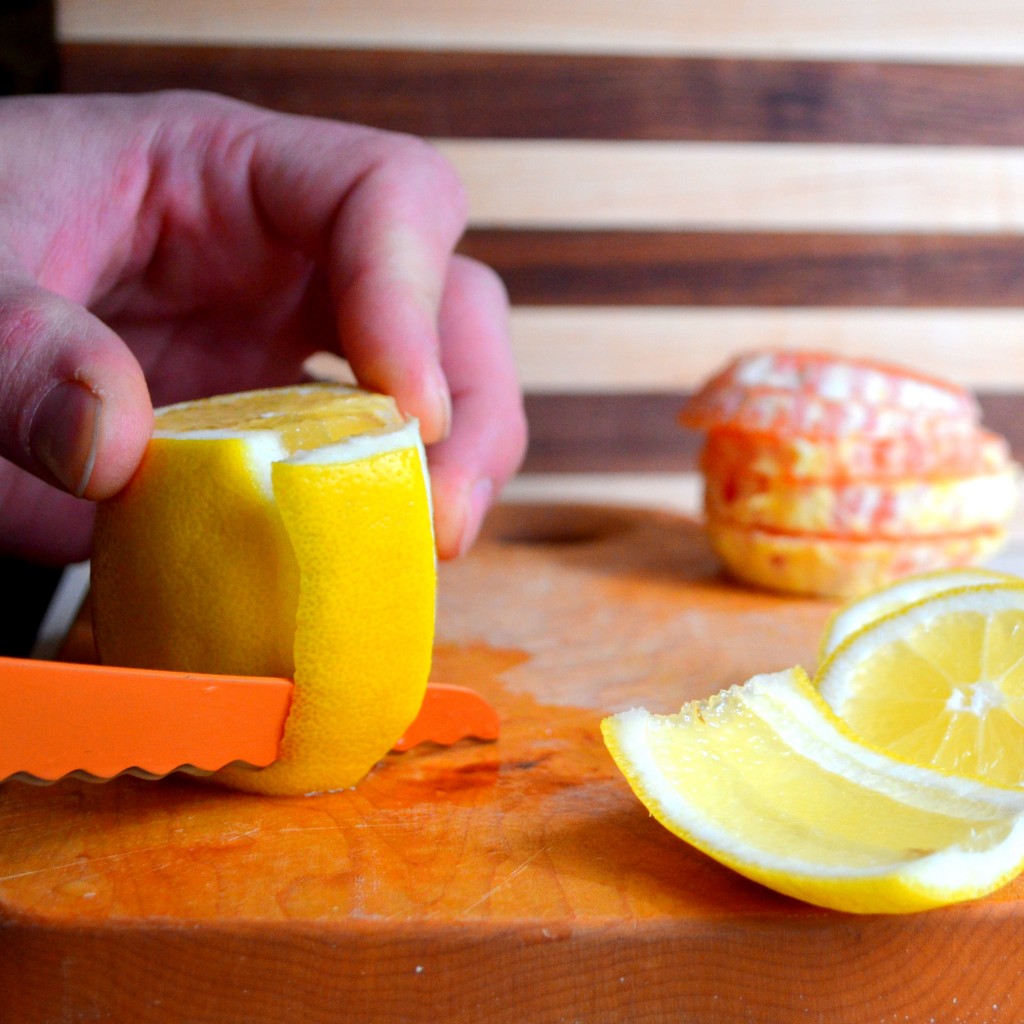 He also showed me how to artfully assemble this salad as they would in the restaurant.  The trick?  His advice?  Try to make it look as if the ingredients fell from the heavens.  Now that's a beautiful image, isn't it?  I hope you enjoy this salad.  And I really hope that just for a minute it takes you away from winter and brings you to remember a hot, sunny day with the sun on your face.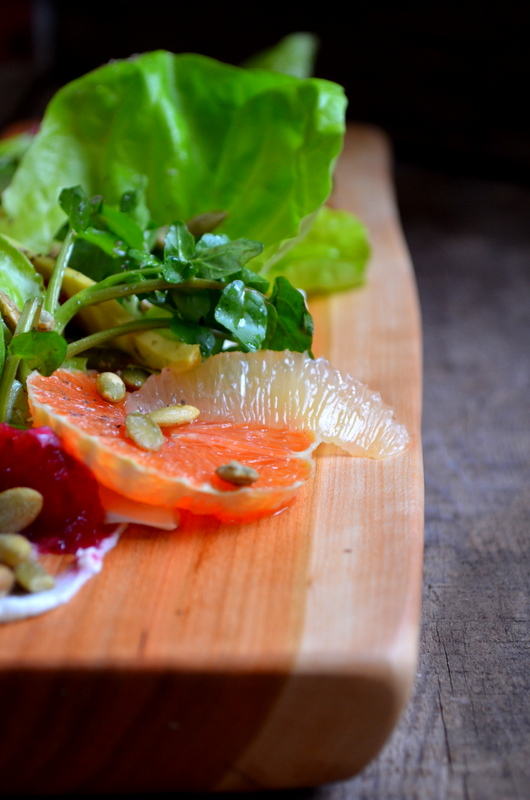 Winter Citrus Salad With Avocado, Watercress and Shaved Fennel
Ingredients
1 tsp butter or coconut oil
1/3 cup raw pumpkin seeds
1 tablespoon sugar
dash of cayenne
1 red grapefruit
1 cara cara orange
1 blood orange
3 tablespoons goat cheese
1 small head Boston lettuce, washed, leaves separated and patted dry
1/2 fennel bulb, shaved thinly on mandoline slicer
1/2 cup watercress
1/2 avocado, thinly sliced
1 tsp olive oil
salt and pepper
Instructions
Prepare the candied pepitas. In a small frying pan over medium heat, melt butter or coconut oil. Stir in pepitas and cayenne. Continue stirring until pumpkin seeds are lightly browned, about 2 minutes. Stir in sugar and continue to stir for 1 minute. Remove from heat and transfer to a plate. Let cool for ten minutes.
Prepare your citrus. Here's how to supreme it: First, remove the rind. Cut the ends of the fruit so you have a flat end on both sides. Set one of the flat ends on a cutting board. Next, taking your knife and placing on the top of the citrus, cut down the sphere making sure to remove the whole rind (the colored peel + white parts that encircle the flesh of the citrus). Next, slice the segments. Turn your citrus on it's side and find a wall or membrane (the hard white parts that separate the flesh inside). Slide your knife from the outside to the center, separating the flesh from the wall on one side of the segment. Repeat on the other side of the segment until the segment releases. Squeeze the leftover membranes and reserve the juices.
Next, schmear the goat cheese onto your platter artfully.
Arrange the lettuce leaves, fennel, watercress, and avocado on top of the goat cheese.
Mix the olive oil and citrus together and season with salt and pepper. Drizzle over salad and serve.
https://honeycreekkitchen.com/winter-citrus-salad-with-avocado-watercress-and-shaved-fennel/
Copyright www.dinnerwithaura.com