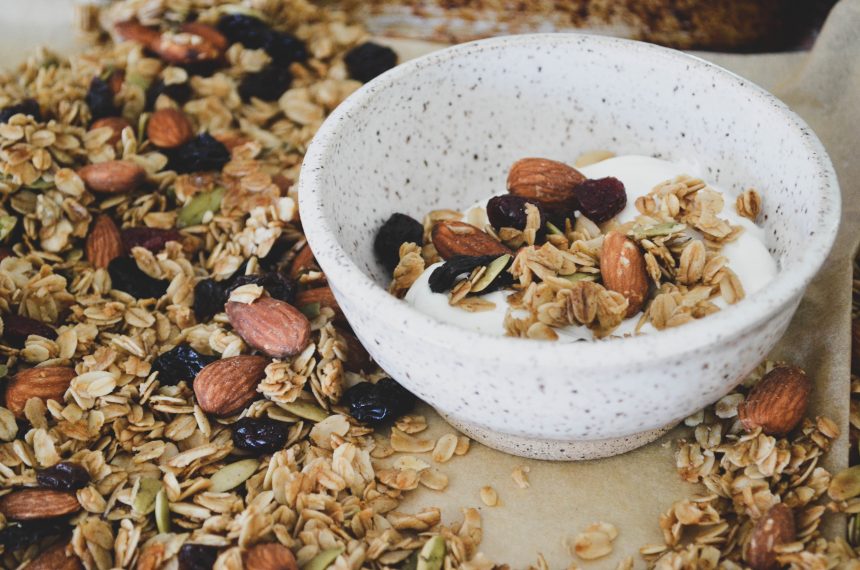 "We should start a cooking school. For kids." My four-year old son twirls the bowl of granola with his right hand, little fingers curled around the spatula handle in his left.  I tried to keep the conversation going.  "Oh yeah," I asked, "what would you teach the kids?" "I'd teach them about not touching a hot stove. We'd use a pretend stove in a real kitchen.  I'd teach them cutting and doing the blender.  And umm…making a hot bowl of chicken soup.  And I'd want them all to know that I'm a chef."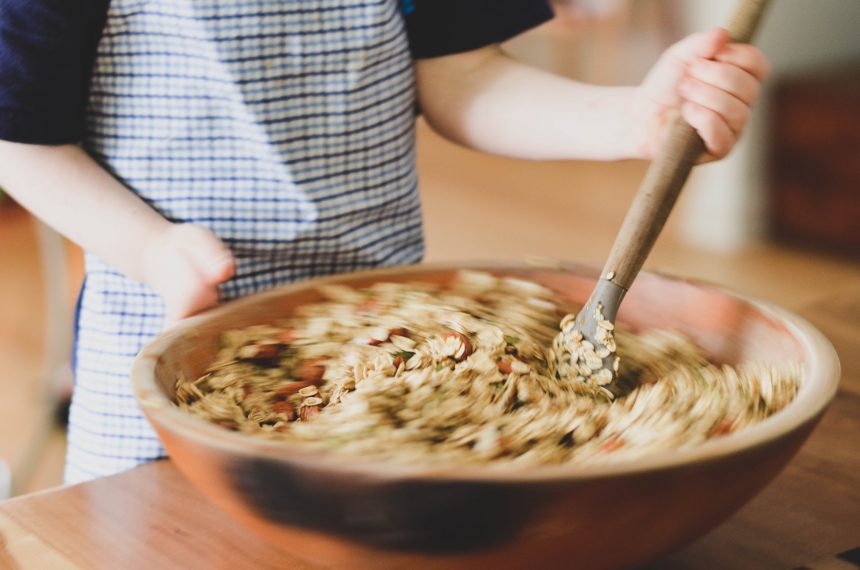 If you know me at all, you'll know how overjoyed I am to have a child who loves to cook (or should I say children…at 5 months old, little Hattie kicks her legs with excitement from her perfect viewing position in my Ergobaby carrier and pushes my arm down rhythmically as I chop).  At age two, I put River to work smashing walnuts in a bag and chopping pears or bananas.  At three he knew how to assemble a food processor and blend hummus (before you call CPS, I am always right there just in case). At four, he chops vegetables almost nightly for our dinner.  In addition to enjoying some amazing moments of connection and conversation, my son has learned to love and experiment with food.  At the table, he picks every teeny piece of onion out of his quesadilla but at the counter, he chats away about his day at daycare while absentmindedly munching on raw onion.
My journey into cooking started at the age of eleven in 1992 with a Cook It! Cooking Club membership from Hearth Song – a well done yet poorly timed foray into the world of subscription services.  With "a little care," the author promised my binder would last for many years; 27 years later it holds true to its promise. I still have a couple of the utensils that came from the membership, including my trusty wooden citrus juicer. Although some of the recipes were a bit worldly for me (it was a little tricky to find the sesame butter for the homemade halvah and I had yet to discover tamari to use for the smoky almonds…my step dad was more likely to buy Kikkoman soy sauce at Econo foods), I recall the excitement I'd get when I received a monthly packet of recipes or was preparing to make a recipe from my binder.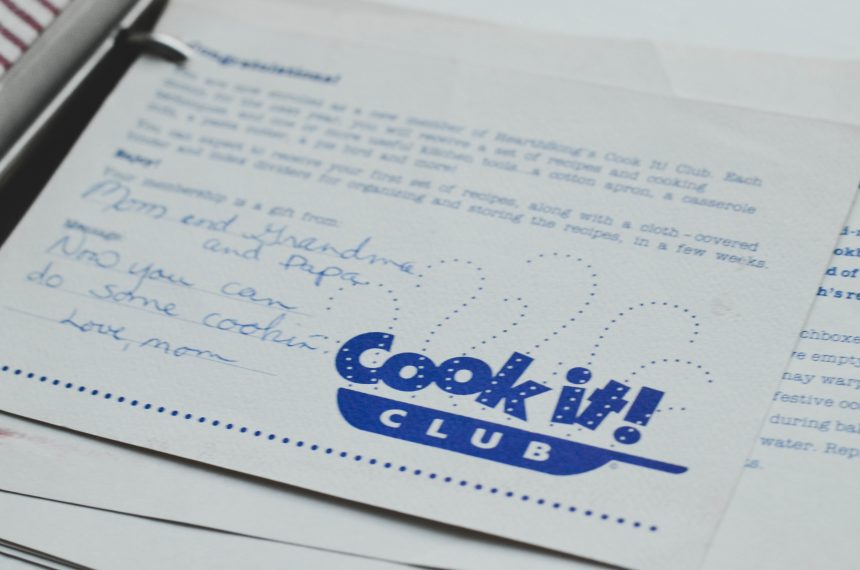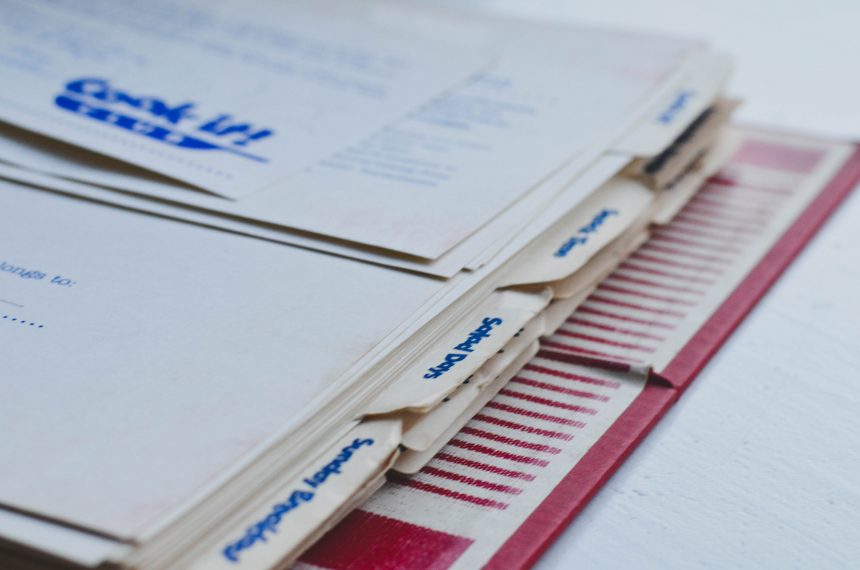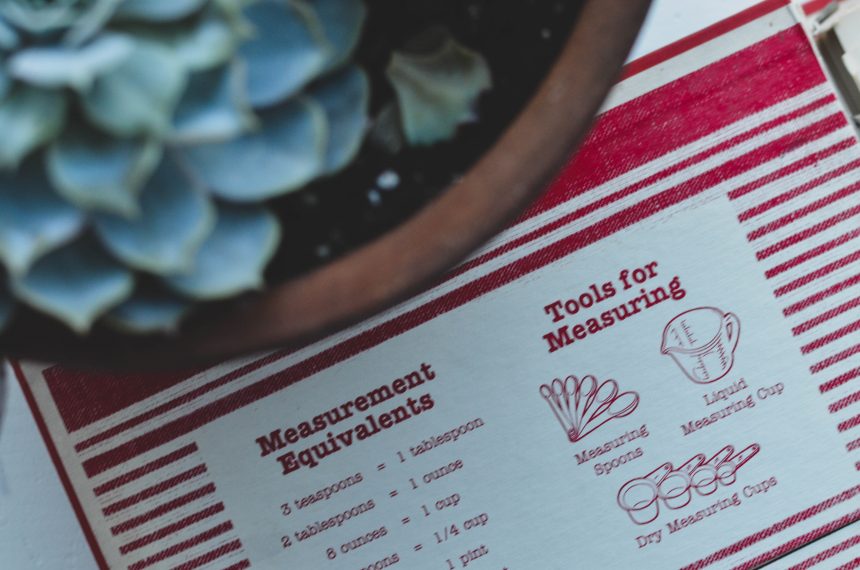 We aren't members of a cooking club (though I just signed us up to be testers for Test Kitchen Kids) but on an almost daily basis I invite River to pull up his IKEA step stool and help me chop, mix, blend, or stir.  Though we've had our fair share of kid-related cooking disasters…like the time River eye-balled the baking soda and the muffins were deemed edible only by the dad in the house…we have mostly had successes, a lot of fun, the making of many amazing memories, and hours of chatting away while doing what we both love best of all.  I'd like to think that I'm teaching River how to feed himself well when he is on his own someday and to create food that is nourishing for himself, his friends, and his family.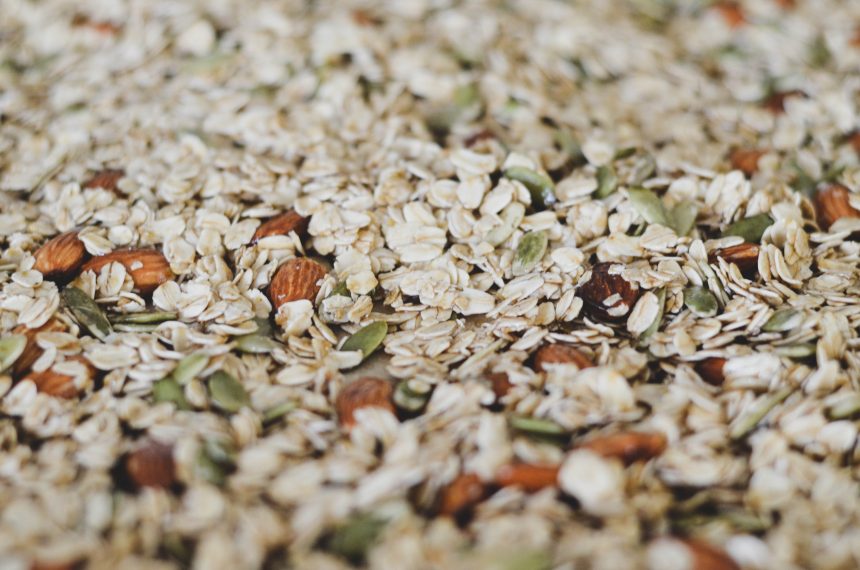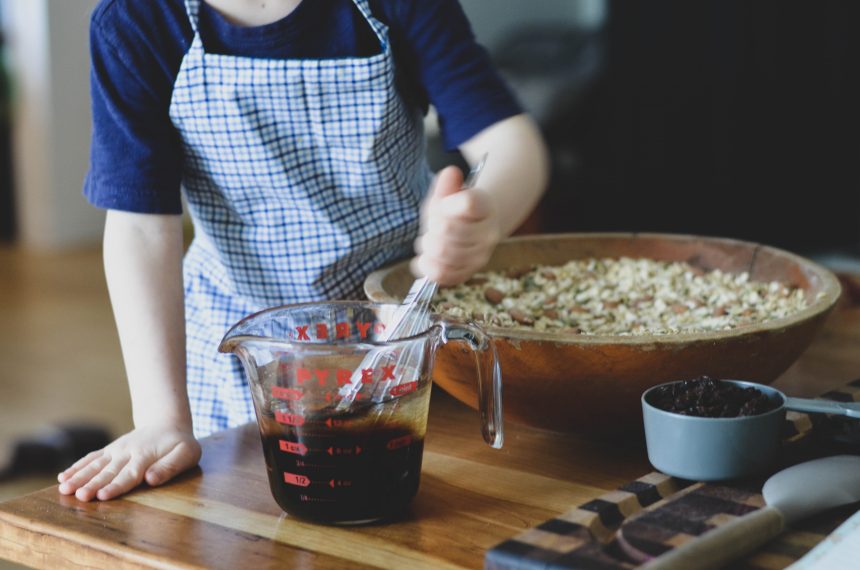 This granola is a perfect recipe for kids to help with.  It is super simple and aside from the oven part of the recipe, your little one can help with every other step and will get so excited when the house fills with the comforting scent of toasted oats, cinnamon, maple syrup, and honey.  I've tweaked this recipe over time and have come to find that apart from the overall ratios of dry ingredients to wet, you can adapt as you like.  Sometimes I halve the cinnamon and substitute some cardamom for an interesting and warming twist. You can use any nuts you like, any dried fruit you like, and add extras (such as coconut flakes) to suit your taste.  You won't want to stop eating this when you hit the right combo of flavors for you.  By the handful, with milk, or sprinkled on yogurt, this granola will be a versatile staple in your kitchen for years to come!
Note that this recipe is sizable!  I make this amount of granola if I'm planning to share with neighbors and friends, which I often do.  Feel free to halve it if this feels like too much for your family.  Or make the full batch and freeze some – it keeps well for at least a month.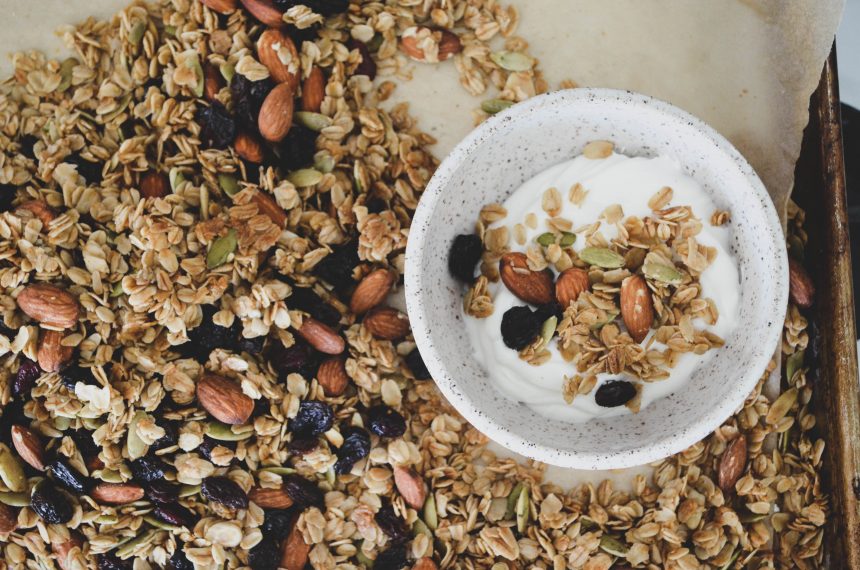 Ingredients
8 cups whole rolled oats
2.5 cups nuts (I use raw almond and pumpkin seeds but sometimes do pecans or slivered almonds).
1 tsp sea salt
2 tsp cinnamon
3/4 cup melted coconut oil
1 cup maple syrup
1/4 cup honey
2 tsp vanilla extract
1.5 cups dried fruit
Instructions
Preheat oven to 350.
Mix all dry ingredients other than dried fruit (oats, nuts, sea salt, cinnamon) in a large mixing bowl.
Mix all wet ingredients (coconut oil, maple syrup, honey, vanilla) in a separate small mixing bowl.
Mix all ingredients together, spinning the bowl and using a spatula or spoon to ensure that all dry ingredients are moistened.
Turn out onto two half sheet baking pans.
Bake at 350 for 25 mins, taking out to stir and press down halfway through. Let sit for 45 mins and stir in dried fruit.
Let cool completely before storing in air-tight jars.
https://honeycreekkitchen.com/maple-almond-granola-and-cooking-with-kids/
Copyright www.dinnerwithaura.com