Do you ever make something so delicious that you can't wait to spread the news but wind up with lousy photos of the outcome?  That's what happened with my chilaquiles.  But they were so enjoyable to eat and as much fun to say once I learned to pronounce the word (say it: chee/lah/KEE/lehs) that I just couldn't keep it to myself forever, regardless of my poorly lit photo documentation.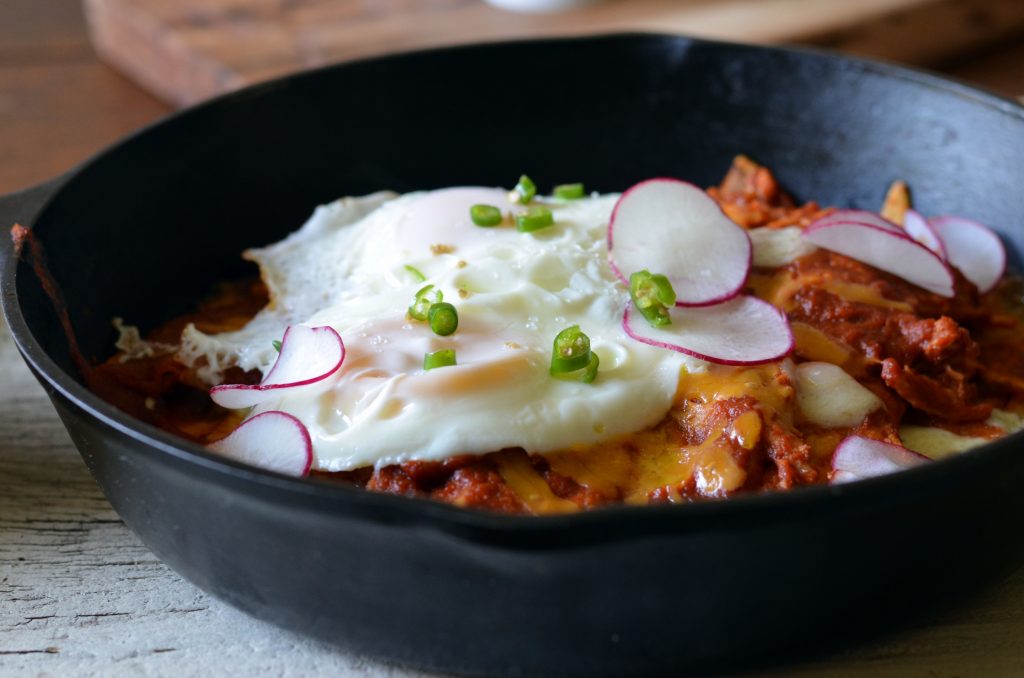 I made this dish for my brother and sister when they stopped in for a rest on their drive back home from a road trip to Texas.  My brother regaled us with stories of the interesting towns they visited and people they met including the Mexican songster who keeps a tin can on the US side of the border then sits across the river to serenade passersby, coaxing them to drop a coin in the tin.  Or the little girl who twisted colored wires into a peacock for my brother to bring to us as a souvenir. My sister mostly just enjoyed a little bit of space after being stuck in a van with my brother for two weeks.  Ah, siblings.
I don't travel much these days but hearing my brother's stories and seeing his photos helped me to see a glimpse into another world and made me long to travel.  It's so easy to forget that we are all just such a tiny part of such a big world.  I listen to state and national news every day and feel like I know what's going on but all I really hear are a finely curated selection of stories.  Traveling forces you out of your sliver of the world and into the lives of others.  It forces connection. I get so wrapped up in going through the motions to make sure I meet all of my responsibilities at home and at work that I forget that everyone else in the great beyond is doing the same thing…just trying to navigate this world, find happiness, and make sure their basic needs are met. We are all looking for connection, for similarities, for synergy.  We are all looking for someone to look inside and understand us and love us for who we are.  When I remind myself of that, I feel so much more connected, a whole lot more tolerant, and a little bit silly for being so focused on my teeny corner of this world.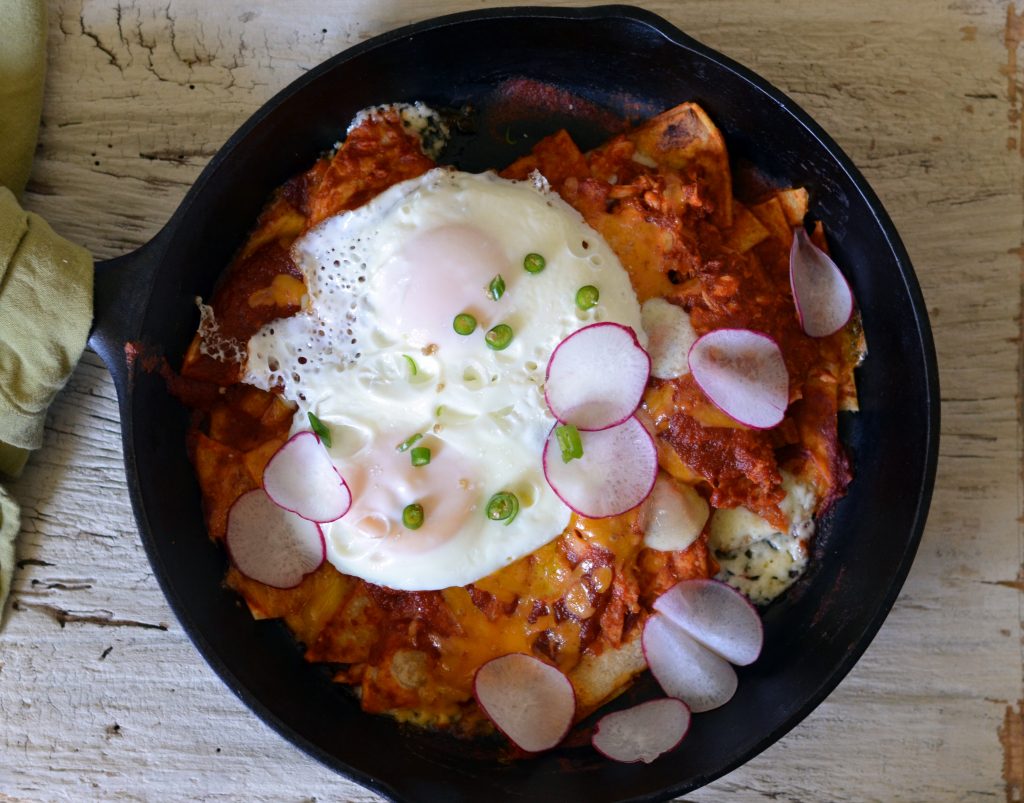 Back to chilaquiles…one thing that helps me to feel more connected is trying new dishes from places I'd like to visit.  While I couldn't drop everything and go on a road trip to Texas, as much as I'd have liked to, I could try a new recipe that would transport me there in my imagination.
A few notes:  first, the sauce is a touch spicy so adjust accordingly.  Second, the sauce recipe makes a fair amount so plan on using the leftovers for round two of this great dish. Third, there are more chilaquile recipes than can be counted.  Different regions and even different families have their own recipes for chilaquiles.  If this recipe doesn't do it for you, try with tomatillo sauce or a mole sauce instead or pour the sauce on at the end, keeping the tortillas crispy for a nacho-esque dish instead. This recipe is from Bon Appetit (apart from the method for the tortilla chips) and is an excellent choice for your first go-round with chilaquiles.
And finally, you may use bagged tortilla chips for this recipe but if you don't have any on hand, making your own tortilla chips is easy, satisfying, and makes for a heartier dish with a little less salt (this is also an excellent way to use up stale tortillas).  We always have tortillas on hand but don't often have snack foods so it's nice to have the homemade tortilla trick up my sleeve when the need arises.  See below for a few photos of the process.  Very easy and very worth it!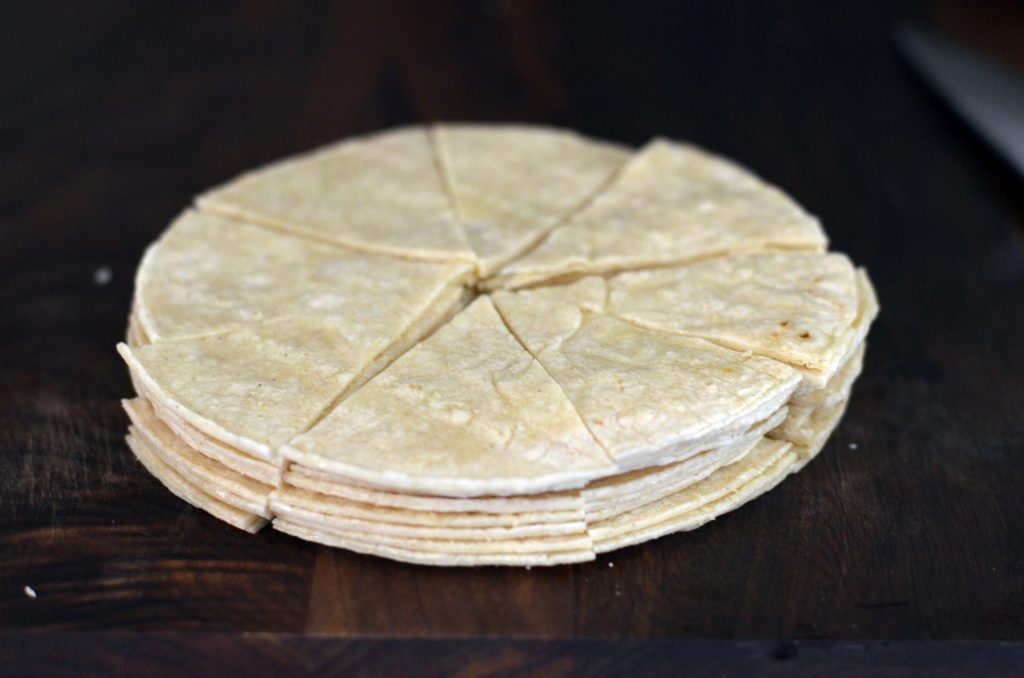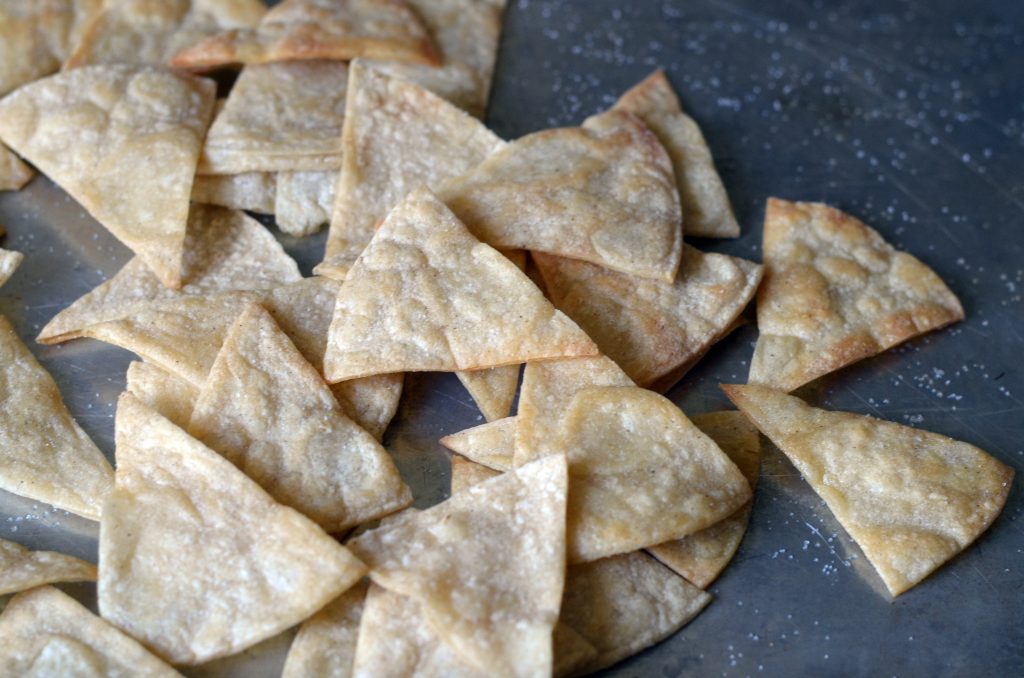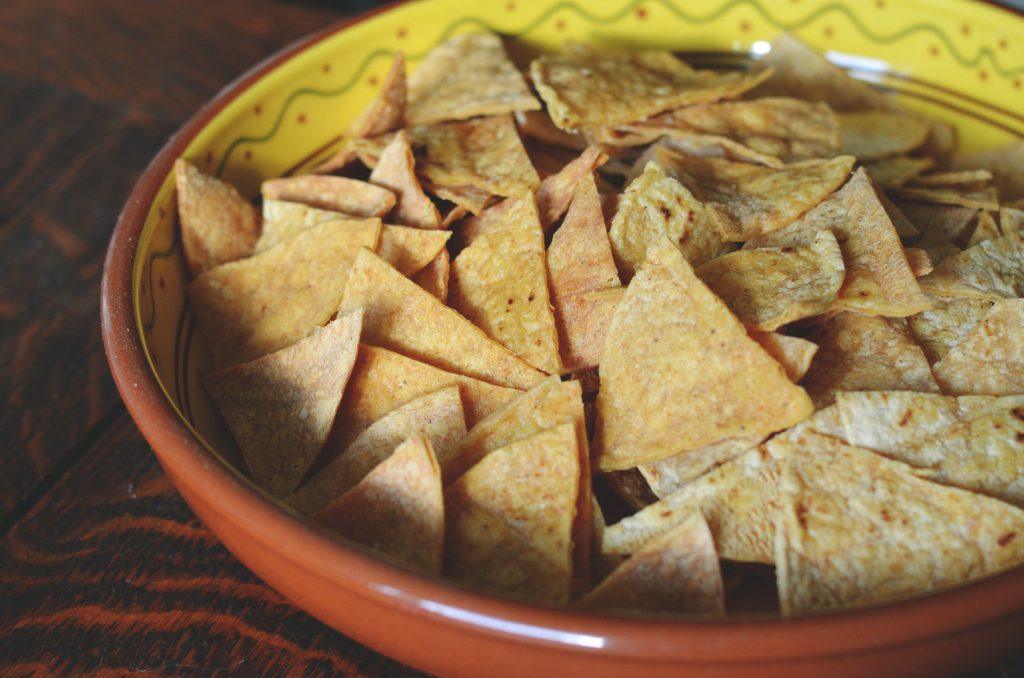 Chilaquiles With Homemade Baked Tortilla Chips
Ingredients
7 dried guajillo or New Mexico chiles
1 28-ounce can whole tomatoes, drained
1 medium white onion, chopped (1 1/2 cups)
5 garlic cloves, chopped
1 jalapeño, with seeds, chopped
1/8 teaspoon smoked or Hungarian sweet paprika
2 tablespoons vegetable oil
2 teaspoons honey
Kosher salt, freshly ground pepper
Olive or vegetable oil to brush tortillas.
9 6-inch corn tortillas or 36 large tortilla chips
Kosher salt
1 cup (4 ounces) crumbled queso fresco or mild feta
1 cup (4 ounces) shredded Monterey Jack or Cheddar
4 large eggs
Finely chopped white onion
Thinly sliced radishes
Chopped fresh cilantro
Lime wedges
Instructions
Red Chile Sauce: Place chiles in a medium bowl; cover with 2 cups boiling water. Let chiles soak until softened, about 15 minutes. Drain, reserving soaking liquid. Discard stems and seeds; place chiles in a blender. Add tomatoes, next 4 ingredients, and 1 cup reserved soaking liquid; purée until smooth.
Heat oil in a medium saucepan over medium-high heat. Add purée (it will splatter) and bring to a boil. Reduce heat to medium and simmer, partially covered and stirring occasionally, until slightly thickened, about 15 minutes (add more reserved soaking liquid if too thick). Stir in honey and season to taste with salt and pepper. DO AHEAD: Can be made 3 days ahead. Cover and chill. Rewarm before using.
Tortilla Chips: Preheat oven to 400 degrees. Using a pastry brush, brush one side of each corn tortilla with a light layer of olive oil. Stack one on top of the other with oil side up - the un-oiled side will become oiled from the tortilla it is set upon. Cut the stacked tortillas into 8 wedges. Place tortilla pieces on a single layer on a baking sheet. Sprinkle with salt. Bake 10 to 12 minutes until lightly browned.
Preheat broiler. Toss chips and 1 cup sauce in a large bowl. Transfer half of chips to a large ovenproof platter or skillet. Scatter half of cheeses over chips. Top with remaining chips and cheeses, along with 1/2 cup more sauce. Broil until cheese is golden and melted, 4–5 minutes.
Meanwhile, pour oil into a nonstick skillet to lightly coat. Heat over medium heat. Add eggs and fry until whites are set but yolks are still runny, about 4 minutes.
Top chilaquiles with chopped onion, radishes, cilantro, and lime wedges. Top with fried eggs and serve with remaining sauce alongside.
https://honeycreekkitchen.com/chilaquiles-with-homemade-tortilla-chips/
Copyright www.dinnerwithaura.com