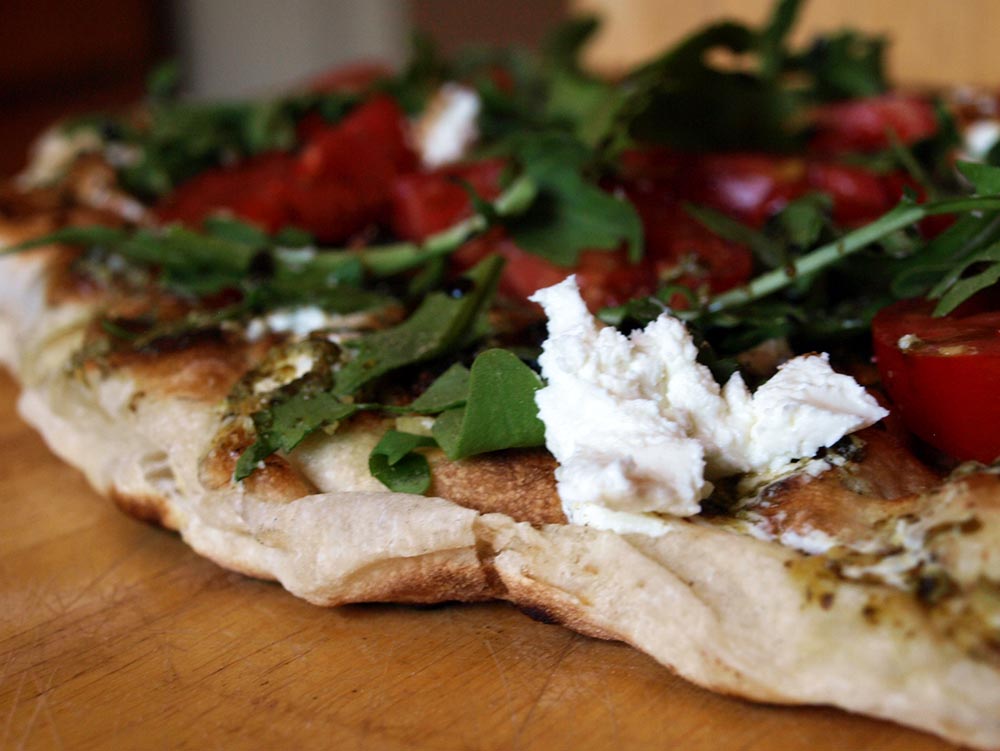 This week, I'm joining a call to action:  Food Bloggers for Slave Free Tomatoes.  First, I'll fill you in on what this is all about.  Once you've read all about this great initiative (and perhaps even taken a moment to sign the letter requesting that your supermarkets carry slave-free tomatoes), your reward will be a simple and delicious recipe for Grilled Caprese Flatbread, using slave-free farmer's market tomatoes from a Michigan farm.
A big thanks to Nicole from The Giving Table for pulling all of us food bloggers together to effect social change!  Head on over to her FABULOUS blog to check out her own slave-free tomato recipe and all of the many other wonderful recipes and thoughts on food philanthropy she so beautifully offers to her readers.
Food philanthropy never tasted so good
On Tuesday, July 24th, "Tomato Tuesday", bloggers from around the country are donating their posts to the fight for slave-free tomatoes.
About Recipe for Change
This summer, International Justice Mission has partnered with The Coalition of Immokalee Workers and The Fair Food Standards Council (FFSC) to create Recipe for Change, a campaign to raise awareness about injustices in U.S. tomato fields and ask the CEOs of major supermarket chains Publix, Ahold (owners of Stop & Shop, Giant and Martin's) and Kroger to endorse the Fair Food Program, ensuring the tomatoes you buy are slave-free.
Where to Purchase Slave-Free Tomatoes
Whole Foods, Trader Joe's, your local Farmer's Market, or your CSA box.
The Problem
Slavery is not just happening overseas. Chief Assistant U.S. Attorney Douglas Molloy once called Florida's tomato fields "ground zero" for modern-day slavery in the United States. In the past 15 years, over 1,000 people have been freed from slavery in U.S. tomato fields.
The Solution
Recipe for Change–a campaign led by International Justice Mission in partnership with the Fair Food Standards Council and the Coalition of Immokalee Workers–is targeting three major supermarket chains this summer (Ahold, Publix and Kroger's), and asking its CEOs to support the Fair Food Program. Corporations that join agree to pay a small price increase for fairly harvested tomatoes (1.5 cents more per pound), and promise to shift purchases to the Florida tomato growers who abide by these higher standards–and away from those who won't.
Major fast food companies, like McDonalds and Subway, have already endorsed the Fair Food Program, but the largest U.S. supermarket chains have yet to support this collaborative effort to eradicate modern-day slavery.
Call to Action
Supermarkets can help eliminate slavery and other serious abuses from the tomato supply chain when they join the Fair Food Program. But in order to change its policies, CEOs need pressure from consumers.  Take 30 seconds, raise your voice, and sign your name to help ensure that supermarket tomatoes are slave-free!
And NOW…your reward!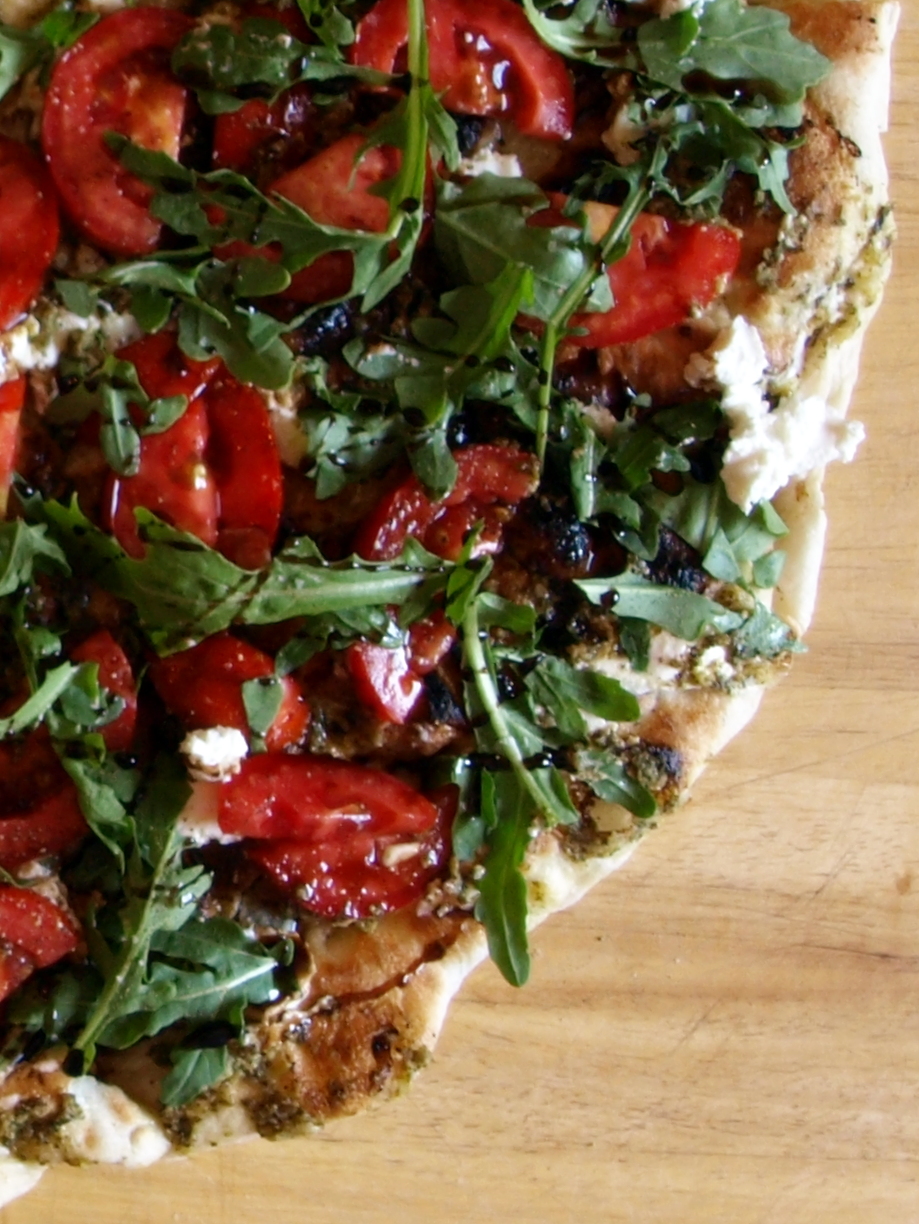 Grilled Caprese Flatbread Pizza
One 3/4-1 lb ball of prepared dough, either from local bakery or homemade (for homemade no-knead dough recipe click here)
Big handful of arugula
2 slave-free tomatoes (heirloom if you can find them!), sliced
3 oz of goat cheese
3-4 tablespoons of homemade pesto
olive oil
sea salt
cracked pepper
Prepare your grill to a piping hot temp (charcoal is best–no gas taste–blech!).  Arrange coals so they are evenly distributed around the grill.  Lightly flour your dough and roll it out.  Don't worry about the shape–slightly misshapen actually looks best for flatbread pizzas.  Once your grill is hot, clean off the grate with a wire brush.  Oil a piece of paper towel and using tongs, rub the oiled towel on the grill grate.  Toss the dough directly onto the grill.  After about 1 minute, take your tongs and gently lift the dough to check the bottom.  Depending on the heat of your grill, the flatbread should cook about 1-3 minutes on each side.  Some light charring is nice but don't burn it!  Once the flatbread is browned and lightly charred in spots on both sides, remove from the grill and top.  Spread pesto on flatbread.  Arrange arugula, goat cheese, and tomatoes on the top.  Generously drizzle good quality olive oil on top.  Sprinkle some sea salt flakes and freshly cracked pepper on top.  Enjoy your amazingly simple grilled caprese flatbread.  Mmmmmmmm.