Ummm….hi.  It's been a while.  A looong while.  In August I thought I was going to get back in the swing of blogging and it just never happened.  It's not that I haven't been cooking…but while I was pregnant my priorities shifted.  First, the focus shifted to just getting food in my mouth, not pausing to take a photo and write a recipe.  As I neared the end of my pregnancy, my focus shifted to making large batches of soups, stews, and easy-to-freeze dishes like manicotti to get me through the early weeks of motherhood.  We were also in the midst of frantically working on a major home project…the baby's room.  What started with a simple home improvement project (putting down new flooring and painting the walls) ended up turning into a major project, replacing windows, tearing the room down to the studs, and working on the roof.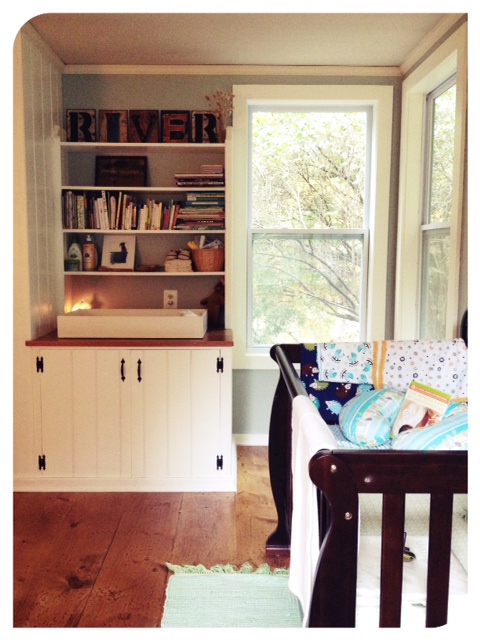 My work life became very busy as I worked toward having a couple of months off of leave.  And when it came down to it, my blog fell by the wayside.  After all, the most important thing I had to "cook" was my little guy.
I'm just now getting my bearings enough to consider blogging again.  Let's hope this time it sticks…
As a way to cope with all of the busyness and life changes, I have become a very practical cook in recent months.  This recipe I'm about to share is about as practical as it gets.  It is my take on one of Cooking Light's most popular dishes, Toasted Guajillo and Pork Posole.  It's a great way to use up Thanksgiving turkey leftovers and can easily be adapted if you have leftover pork or chicken.  It's a refreshing change after eating turkey, stuffing, and mashed potatoes until they come out of your ears.  Not to mention, it's very budget friendly and healthy to boot.
I flavor my posole with toasted guajillo salsa, which has been a staple in my house for the last several months.  It is SO good.  We use it as a flavor booster in soups, as a salsa with chips, on top of tacos and enchiladas, and with my baked eggs with kale and mushroom skillet on weekend mornings.  It freezes well so I make a double batch.  I'm even thinking about giving it away at Christmas with a jar of tomatillo salsa (red and green for Christmas!).  So I highly recommend you make a batch and use some of it in this posole.  If you aren't into making some of this salsa, see my note at the bottom of the recipe for another way to use chiles in this recipe.
Treat this like chili when thinking choosing your toppings.  I like radishes, cilantro, sour cream, and avocado on mine.  Crumbled tortilla chips are also a nice addition.  Whatever you like!  I hope you enjoy.  It's good to be back!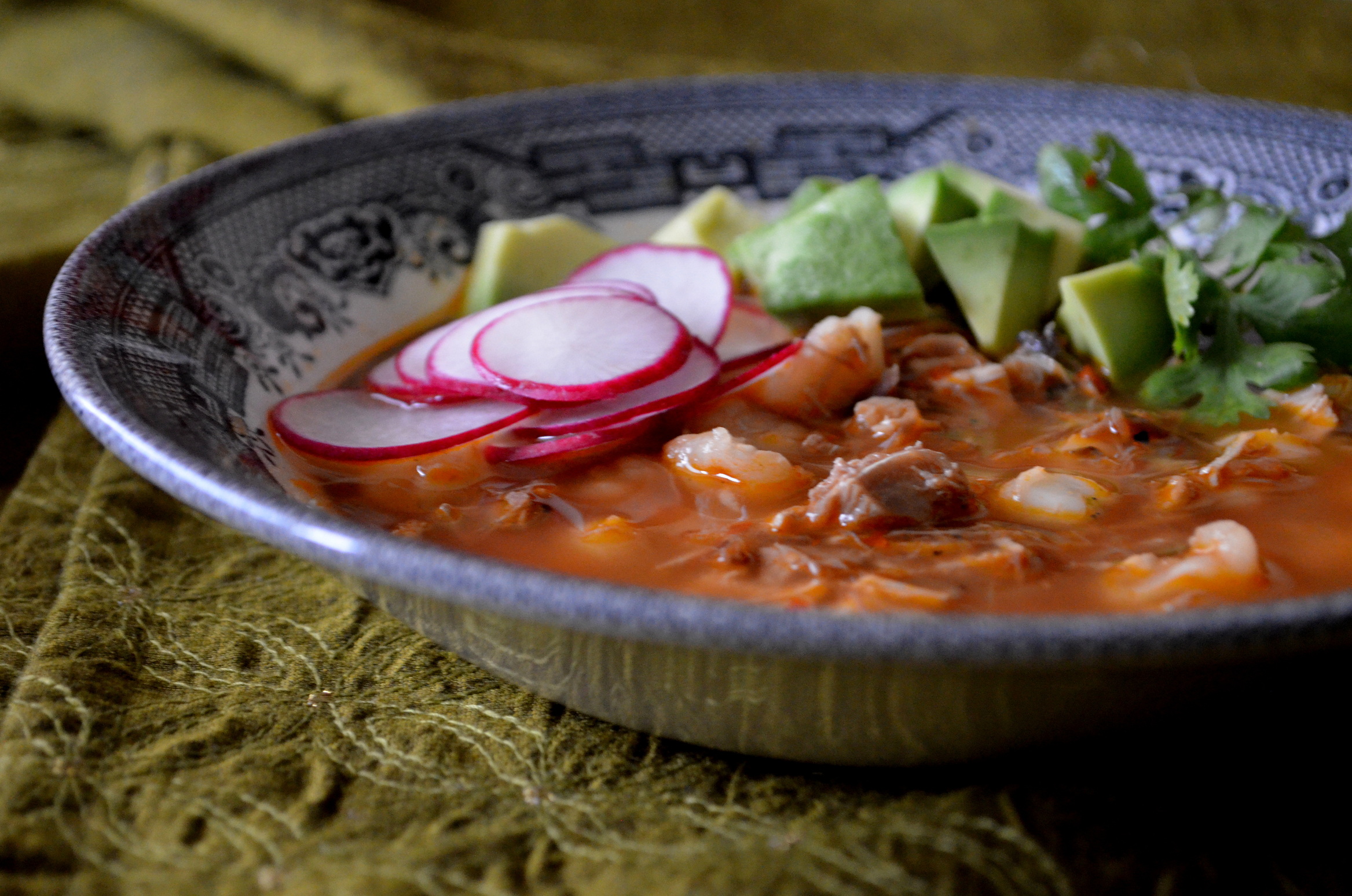 Turkey Posole With Guajillo Peppers; adapted from Cooking Light Magazine
Ingredients
1 tablespoon oil
3 garlic cloves, minced
1 medium onion, chopped
3 cups fat-free, lower-sodium chicken broth
2 teaspoons ground cumin
1/4 teaspoon ground cloves
1/2 teaspoon kosher salt
1/4 teaspoon freshly ground black pepper
3 cups water
1 pound leftover turkey, chicken, or pork, cut or torn in 1/2 inch pieces
3 tbsp toasted guajillo chili salsa (recipe here) or see note below
1 (7-ounce) can chipotle chiles in adobo sauce
1 (29-ounce) can hominy, rinsed and drained
Instructions
Add oil to dutch oven/large soup pot and heat over medium-high heat. Add garlic and onion to pot and stir frequently for five minutes, until onions and garlic are softened and lightly browned.
Add half of the broth, cumin, cloves, salt, and pepper.
Using an immersion blender, blend until smooth. If you don't have an immersion blender, pour contents into a blender and blend until smooth, then pour back into the pot.
Add remaining chicken stock and water.
Add guajillo chili salsa and 1 tablespoon adobo sauce; reserve the chipotle chiles from can and remaining sauce for another use (I freeze mine in small quantities).
Stir in hominy and turkey, chicken, or pork.
Bring to a boil; cover, reduce heat, and simmer for 10 minutes.
*Note: If you don't feel up for making a batch of guajillo chili salsa, you can use the following method:  put 3 chiles on a baking sheet, bake at 400° for 4 minutes or until dark. Cool; remove stems and seeds.  Place in a blender with 1 cup of liquid from soup pot and puree.  Add to soup.
https://honeycreekkitchen.com/turkey-posole-with-guajillo-peppers/
Copyright www.dinnerwithaura.com