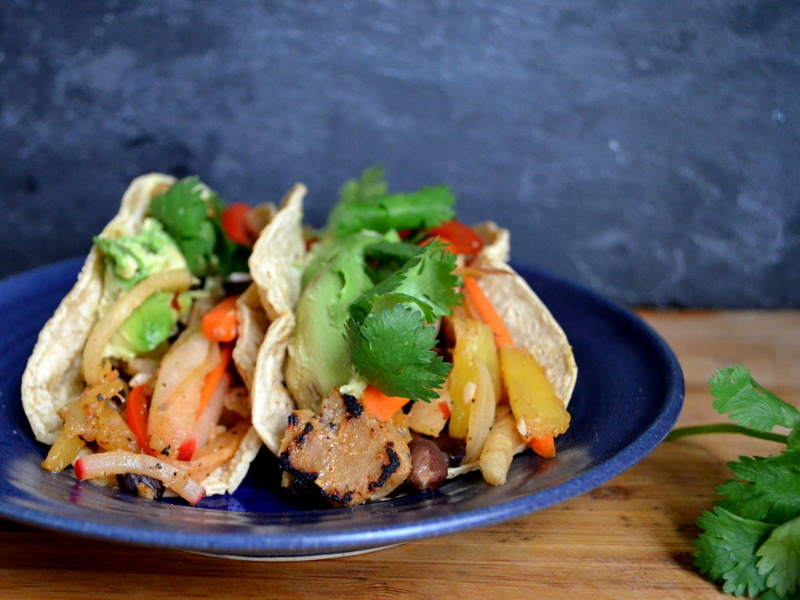 I don't know what the weather is like in your part of the world but here it is the Winter-That-Never-Ends or the Spring-That-Never-Comes (there are still 3 feet of snow where my poor mom lives in the Upper Peninsula so I'll hush now).  Today was dark and rainy, so dark that I had to turn on the lights in my house as though it was nighttime.  I needed a pick-me-up.  Pronto.  So I made this lively and lovely fajita recipe, courtesy of Mark Bittman.  Thanks to the darling Margarita at Let's Cook and Be Friends for choosing this recipe as the Food Matters Project recipe of the week.  The original recipe is called "Not Your Usual Steak Fajitas" and can be found on Margarita's blog by clicking here.  This being a vegetarian blog, I ended up making mine with seitan (seasoned wheat gluten) instead of steak.  But if you prefer, you can substitute meat or any meat substitute in this recipe and it will still be delicious.  If you want to check out what the other FMP bloggers came up with, head to the Food Matters Project website for more.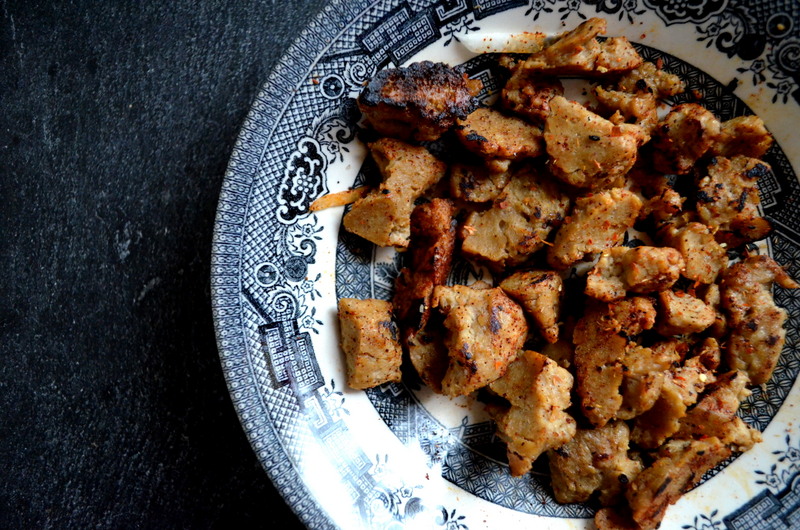 This recipe uses jicama, an often forgotten vegetable in my cooking repertoire.  Jicama tastes a little bit like a green apple when it is uncooked.  Cooked, it retains a pleasant crunch and light sweetness.  The pineapple and limes in this recipe really bring out the tropical flavors of this dish.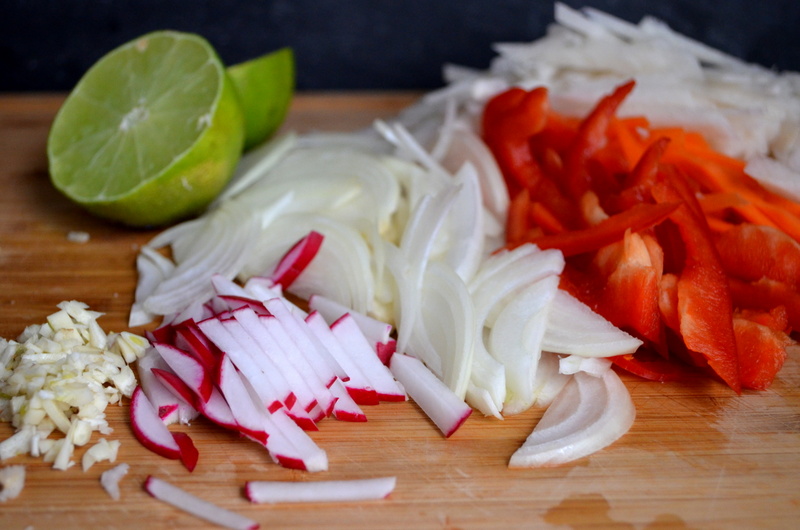 I tried these in taco-form initially but really ended up coming to the conclusion that this is just as good as a stand-alone or served over a bed of rice.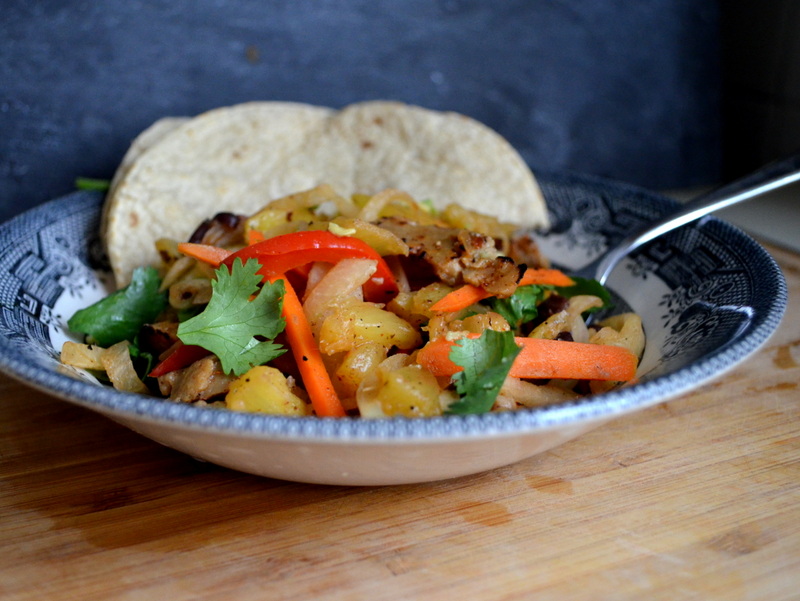 Each bite is a reminder of the summer that I know will eventually come.  It was a great pick-me-up today and along with my chaser of hot yoga, by the end of the day I was sitting pretty.  I hope you enjoy this as much as I did!
Tropical Fajitas With Jicama and Pineapple-Lime Glaze
Adapted from "Not Your Usual Steak Fajitas"; Mark Bittman, The Food Matters Cookbook
Makes: 4 servings        Time: 40 minutes
2 tablespoons vegetable oil

8 ounces of seitan, thinly sliced (don't feel limited by this–if you prefer you can use steak, chicken, tofu, or any other protein you want–this dish would also be great with veggies alone if you don't have protein on hand)

Salt and black pepper

1 large onion, halved and thinly sliced

1 red bell pepper, cut into strips

1 or 2 fresh hot chiles (like jalapeno or Thai), seeded and minced

1 tablespoon minced garlic

8 ounces jicama, peeled and cut into matchsticks

3 radishes, cut into matchsticks

2 large carrots, cut into matchsticks

1 cup cubed fresh pineapple

¼ cup lime juice

½ cup water

Chopped fresh cilantro, for garnish

Warm corn or whole wheat tortillas, for serving, optional
Put a large skillet over high heat until it smokes, 3 to 4 minutes. Add 1 tablespoon of the oil and, a few seconds later, the seitan/protein. Sprinkle with salt and pepper and stir immediately. Cook, stirring every 20 seconds or so for just a minute or 2 until it has some nice charring on it. Transfer to a plate.

Add 1 tablespoon of the remaining oil to the skillet and reduce the heat to medium-high. Add the onion, bell peppers, chile, and garlic and cook, stirring, until soft and golden brown, about 5 minutes. Transfer to the plate with the seitan/protein.

Raise the heat to high again and add the jicama, radishes, and carrots. Stir immediately, then cook, stirring every 30 seconds or so, until the vegetables soften and begin to char slightly, 3-5 minutes. Transfer everything to the plate with the seitan/protein.

Add the pineapple, lime juice, and water to the skillet. Bring to a boil and cook, stirring to scrape any brown bits stuck to the bottom of the pan, until the glaze thickens a little. Return all the vegetables and seitan/protein to the pan and toss to coat with the lime and pineapple mixture. Garnish with cilantro and serve with warm tortillas.