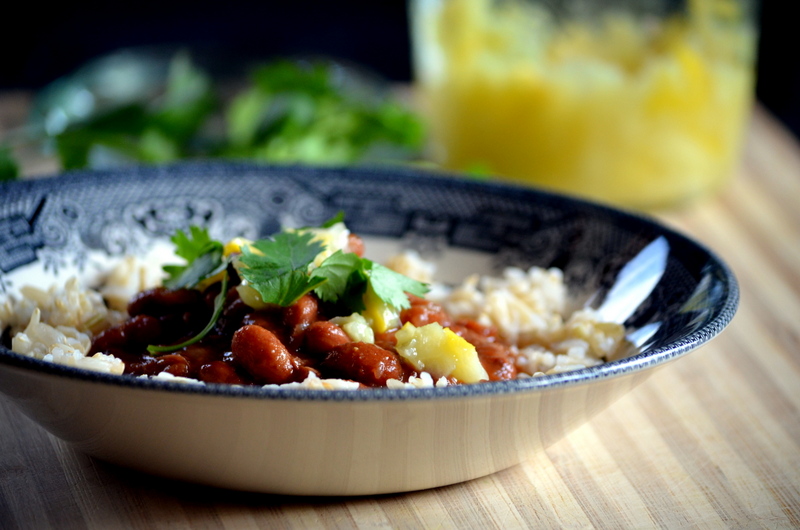 I'm happy to be hosting the Food Matters Project this week.  This was the perfect dish to make this Saturday on what was yet another rainy, cold April day in Michigan.  I have become accustomed over the last two months to the shared misery of a cold and rainy spring here (I have to remind myself that I am not alone in hoping for spring, lamenting every snow flake that falls–yup, we even got snow yesterday on April 14).  There is a sense of solidarity here in Michigan–we are in this together!  Because of this shared empathy about the weather, I kind of forgot that a lot of other areas of the country are having splendid spring weather, almost summery in fact.  So, here is to hoping that this dish is as satisfying in the warmer regions as it was here in the land of rain and snow.
I chose this dish for this week's Food Matters Project because it is something that I normally might not make and I was really curious about it.  Bittman called it "Super Lemony Kidney Beans" and it sounded like it could either be really bad or really good.  Thank goodness it is the latter because this one, although requiring little hands-on time, takes a good chunk of time in the oven.  One thing that is really interesting about The Food Matters Project cookbook is that there are no photos so every recipe is kind of a surprise.  While I can usually imagine what the dish will taste like, I have a hard time imagining what it will look like.  This dish is based on an Afghan dish called lubia chalow and the best way to describe it is a bean stew with preserved lemons and plenty of spices (spicy-flavorful, not spicy-hot).  Having never cooked anything from Afghan cuisine, I was excited to try.  It used a lot of the same spices that I love to use in my cooking…cardamom, mustard seeds (I could write a blog post on how many ways I use mustard seeds in my cooking!), cumin seeds, cinnamon, chile, and garlic.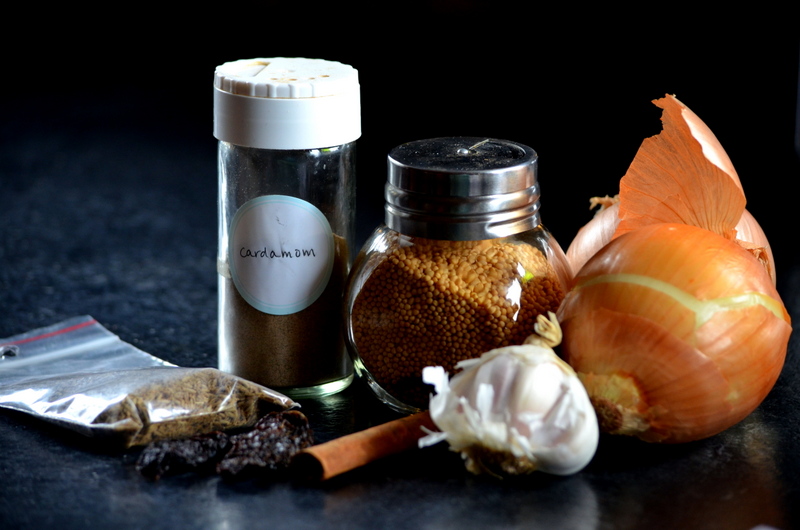 It resembles a big pot of chili with the exception that rather than simmering slowly on the stove, it spends a couple of hours in the oven.  You'll need a nice, heavy pot or Dutch oven–I used a Martha Stewart enameled cast iron Dutch oven.  A thinner pot might burn the food on the bottom in the oven.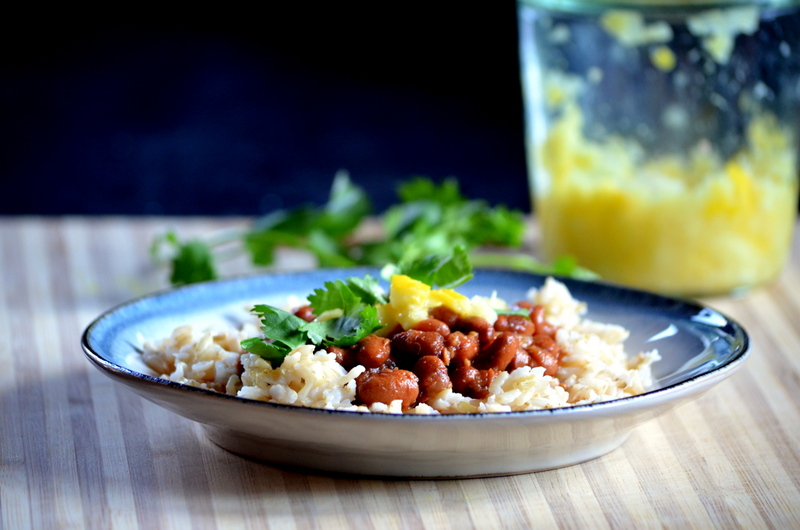 I am staying at my friend, June's, beautiful little house in the country.  It is so cozy in her house and, having been a little damp and cold after running through pouring rain into the house, I decided to plant my chair right by the oven and work on my computer in the warmth.  I also took some breaks to take some photos of the birds (through the window, of course)!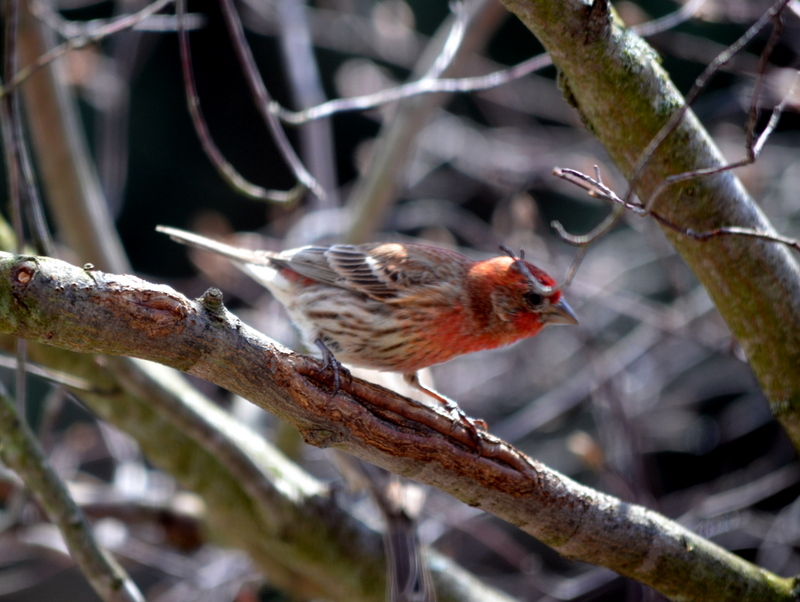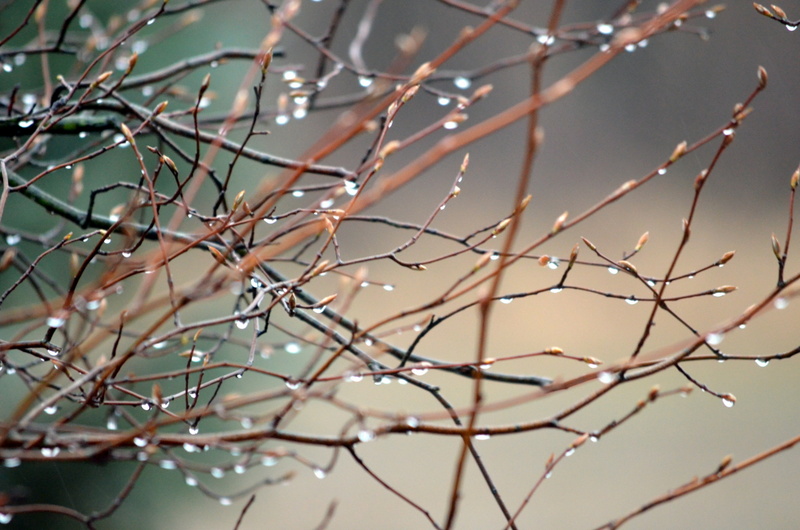 After smelling cardamom, cumin, and cinnamon wafting through the air for the better part of two hours I could hardly wait to try this.  It was satisfying and very unique with the preserved lemons.  Oh, one thing I should note is that the recipe for the lemons makes a ton of preserved lemons (about 3 cups or so).  You can easily halve the recipe for the lemons and have enough for this dish with a little leftover.  Oh, and be sure to stop on by and see what everyone else on the Food Matters Project ended up creating here.
And just so you don't think it's all gloom and doom here, the sun finally came out Sunday (after the snow, sleet, and rain had made their point during the morning and early afternoon).  I finally got out for a walk with the pup.  It felt wonderful to get outside, breath in the fresh air, pick some daffodils, and stretch our legs.  I think my dog sums up perfectly how I felt yesterday–no words needed.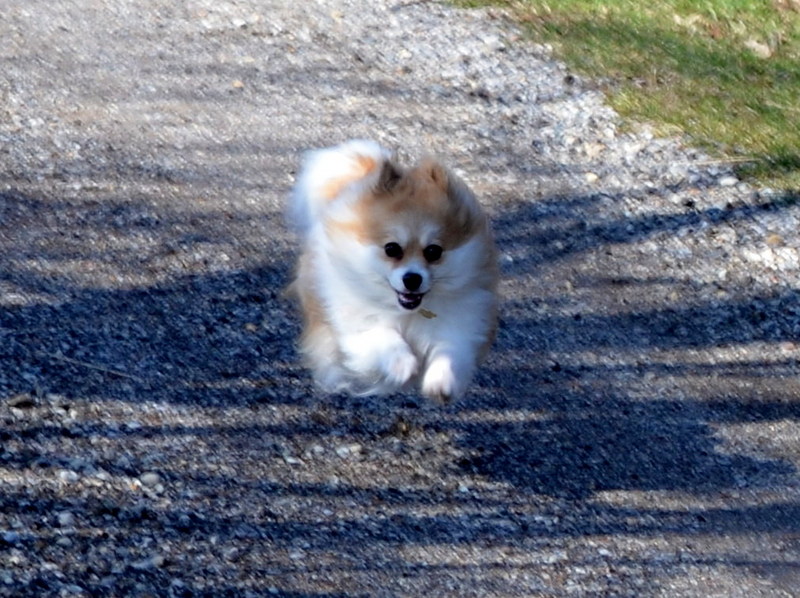 Enjoy this dish and enjoy the springtime, wherever you are.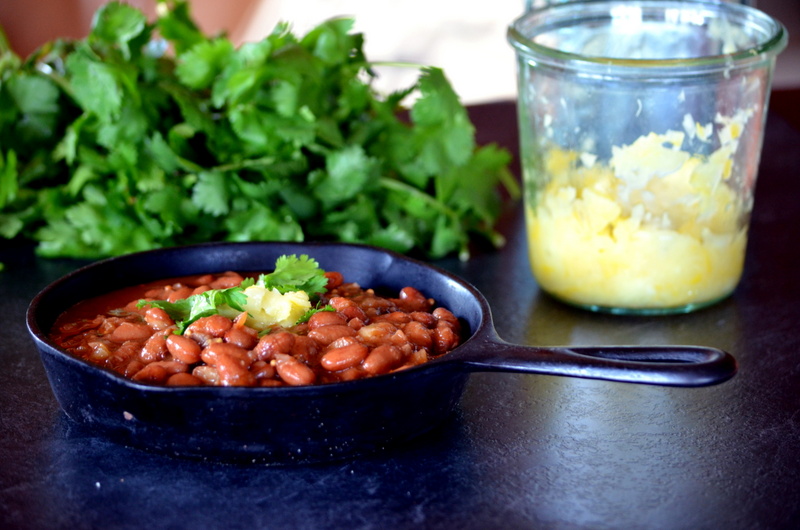 Lubia Chalow (Super-Lemony Kidney Beans); from Mark Bittman's The Food Matters Project Cookbook
Serves 6 to 8; Takes about 3 hours, largely unattended
Based on an Afghan dish called lubia chalow, this soupy bean stew begins with quick preserved lemons, a staple of Middle Eastern cooking.  Usually the lemons are left whole or halved, heavily salted, and set aside to cure in a mixture of spices and their own juice.  Chopping the fruit helps speed the process considerably with delicious (if not entirely authentic) results.  Six lemons are enough so that you can use some of the mixture for the beans and store the rest in a jar in the fridge for later.  (They get better and better with age.)  These beans are good served over Basmati or jasmine rice with a dollop of yogurt.
6 lemons

Salt

1/3 cup olive oil (I reduced to about 2 tablespoons)

2 onions, chopped

2 tablespoons minced garlic

1 tablespoon cumin seeds

1 tablespoon mustard seeds

4 cardamom pods (I did not have cardamom pods so I added 1 tablespoon cardamom–I love cardamom though–if you aren't sure, you may want to add a teaspoon, then adjust at the end of cooking)

1 cinnamon stick

1 dried mild chile (I used ancho)

1/4 cup tomato paste

1 pound dried kidney beans, rinsed and picked over; don't bother to soak them (I used cranberry beans, which are very similar)

Black pepper

1/2 cup chopped fresh mint, for garnish (I used cilantro)
Heat the oven to 325°.  Trim the ends from 4 of the lemons; quarter them, remove the seeds, and put them (rind included) in a food processor.  Add the juice of the remaining 2 lemos to the food processor (again, without the seeds) along with 2 teaspoons salt.  Pulse several times to chop the lemons into bits but don't puree.  Put the mixture in a jar and leave it on the counter while you cook the beans; shake it every once in a while.

Put the oil in a large ovenproof pot or Dutch oven over medium-high heat.  When the oil is hot, add the onions and cook, stirring occasionally, until soft, 3 to 5 minutes.  Add the garlic and cook for about a minute more. Stir in the cumin, mustard seeds, cardamom pods, cinnamon stick, and dried chile; cook, stirring, for 30 seconds or so.  Stir in the tomato paste.
Add the kidney beans and water to cover by about 3 inches.  Bring to a boil, cover the pot, and bake for 90 minutes (you can ignore the beans this whole time).  After 90 minutes, stir the beans and check to see if they are tender.  If they are, add water if necessary to keep the beans covered by about 1 inch and stir in 1/2 cup of the pickled lemons. Cover and continue baking for another 30 minutes.  If the beans are not yet tender, make sure they are covered by about 2 inches water and don't add the lemons yet.  Cover the pot and check again in 30 minutes; repeat this step as necessary until the beans are tender enough to add the lemons.

When the beans are completely tender and the liquid has thickened, fish out the cinnamon stick and chile if you like (and the cardamom pods if you can find them easily).  Then taste and adjust the seasonings, adding pepper and some more of the lemons if you like.  Serve, garnished with the mint (you can make the beans ahead and refrigerate them for up to several days; gently reheat before serving.