Take two on the pistachio goat cheese.  I made this delicious spread a week ago and served it on top of roasted beet and sweet potato medallions.  I was so enamored that I wanted to try it again, on a different platform.  Enter bruschetta.  I've discussed this before, but bruschetta is simply toasted or grilled bread drizzled with olive oil.  You can top it with anything you see fit.  This weekend I topped it with pistachio goat cheese, apricots, and honey.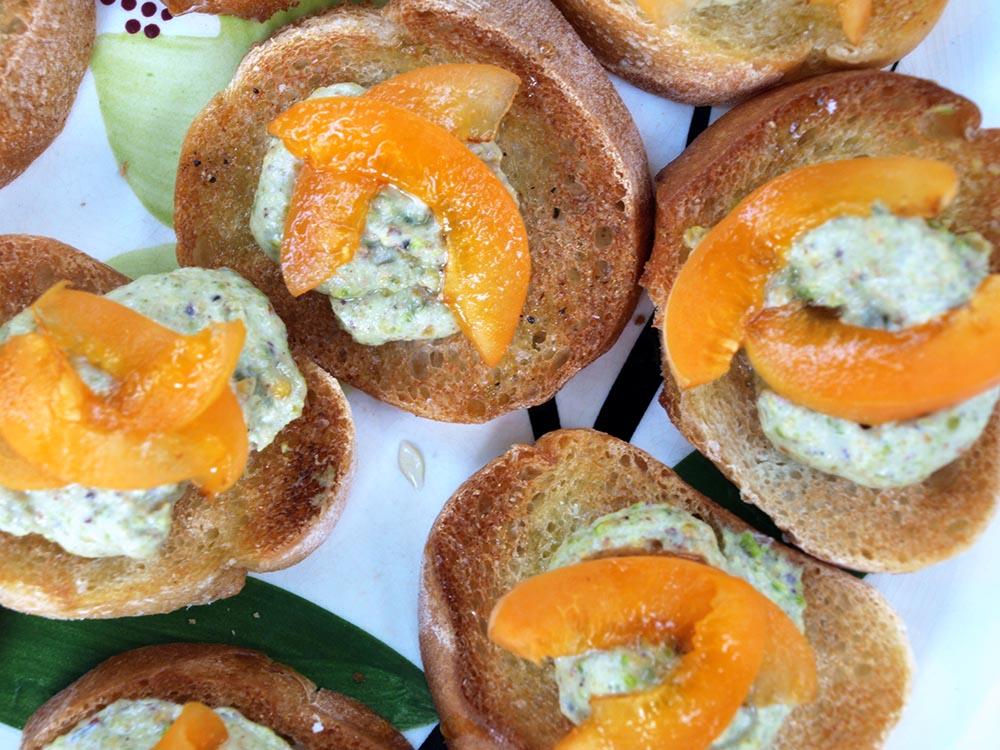 Bruschetta with Pistachio Goat Cheese, Apricot, and Honey
1/2 loaf of french bread, sliced about 1/2 inch thick
olive oil in a bottle for drizzling
4 ounces fresh goat cheese
1 cup shelled pistachios
2 apricots, pit removed and sliced
1 tablespoon honey
Pepper
Salt
Combine the goat cheese and pistachios in a food processor. Sprinkle with salt and pepper and, with the machine running, drizzle in 2 tablespoons of olive oil. If the mixture doesn't come together, add more oil until the filling is smooth and fluffy. Taste and adjust with seasoning, then cover and refrigerate until you are ready to assemble the bruschetta.
Heat a grill or a broiler.  Drizzle slices of bread with olive oil and sprinkle with salt and pepper.  Place on grill or under broiler until just toasted.  Turn, and toast second side.  Remove from oven.
Transfer the goat cheese mixture to a pastry bag or a zip-lock bag with the corner cut off (or you can just use a teaspoon for this). Squeeze or spoon dabs of the filling onto the bruschetta.  Repeat until either the bruschetta or the filling runs out, top with two slices of apricot per toast and a light drizzle of honey, then serve straight away.