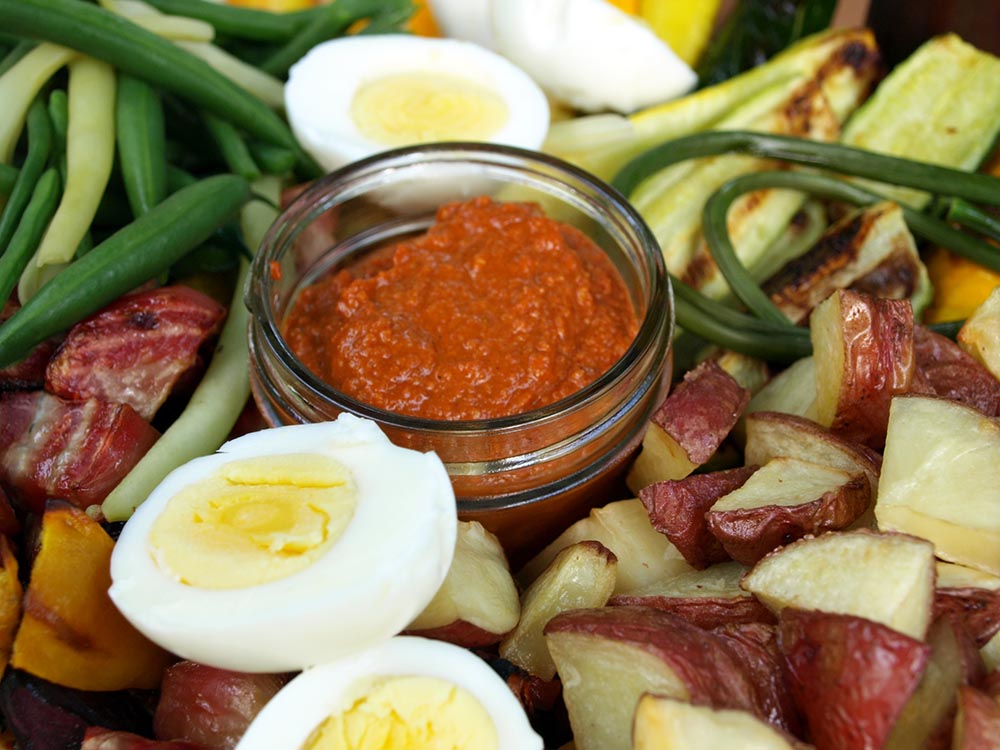 Welcome to week 27 of the Food Matters Project!  When I read we would be making romesco sauce for this week's project I was filled with nostalgia.  Flashback to 2004.  A younger version of me (a waitress by day, student of sociology by night, writing about the construction of masculinity in boxing and bodybuilding…oh the days when all passions, no matter how random were pursued…!) on a break from serving up huge plates of healthy eats at Gaia Cafe, picked up the NY Times Dining In section.  The cover article was "The Chef:  Peter Hoffman; Still Life With Roast Vegetables."  It was the first time I read a food article that struck me as so romantic and appealing that I wanted to make the dish right then and there.  The article follows Peter Hoffman on his visit to the Union Square Farmer's Market.  He carefully selects what's good at the market and creates a gorgeous pile of roasted veggies served with a piquant romesco sauce.  I tucked the article in my purse and made it soon thereafter.  It became my go-to dish for quite a while.  I would pile veggies on a platter and serve it with generous amounts of romesco, crusty bread, and a dry white wine.  It felt so rustic and romantic.  When the Food Matters Project schedule said "romesco" I was thrilled to return to this long-lost favorite.  The recipe below is the version provided by the NY Times.  For Mark Bittman's recipe, check out Mireya's blog, My Healthy Eating Habits.  She is living in Spain right now and shares some information on the origins of the sauce.  Older posts take readers on a tour of Spain–a great way to get a close-up view of one foodie's experience!  For everyone else's take on the recipe, head to the Food Matter Project site or to the Food Matters Project Pinterest board for a visual of all of the great stuff we FMP bloggers cooked up (note that it will take 2-3 days for all photos to be posted on the Pinterest board).
Feel free to use any vegetables you have in the house that can be roasted–don't feel limited by the suggestions below!  Romesco keeps for up to a month (and freezes well) so this sauce will get some mileage–definitely worth the time to make it!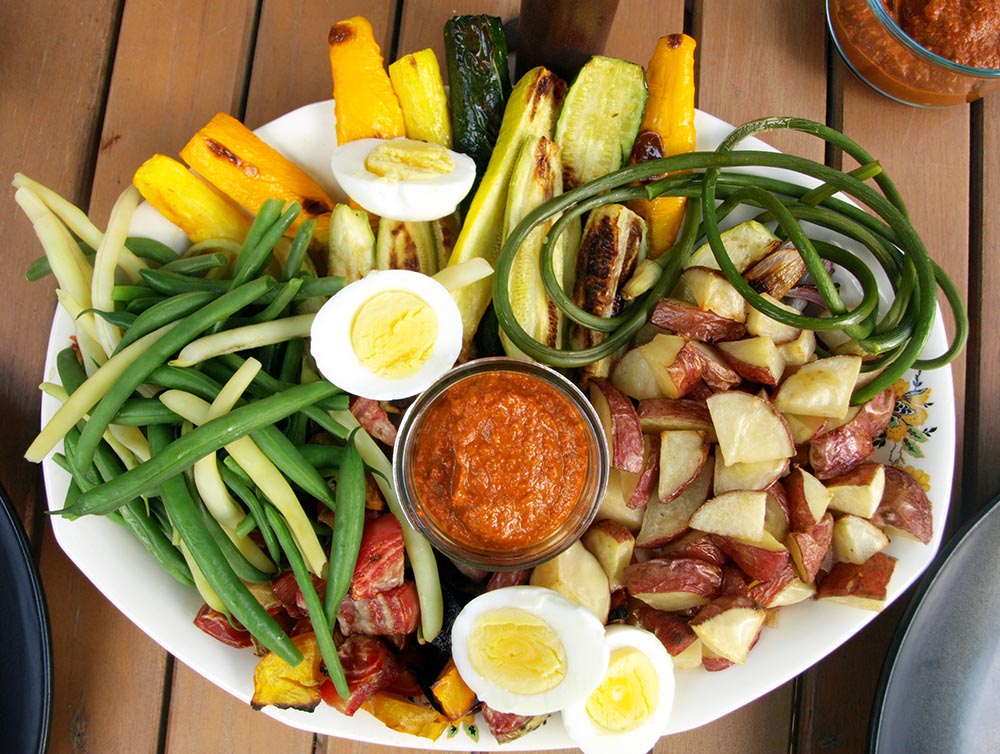 Summer Salad with Romesco; adaptedfrom Chef Peter Hoffman in the NY Times, June 16, 2004
Time: 1 hour 25 minutes
For the salad:
1 bunch (about 5) medium beets (I used candy striped, red, and yellow beets), tops trimmed leaving 1 inch of stem
4 or 5 small lita and/or golden zucchini squashes, trimmed and halved lengthwise or sliced into 1-inch rounds
1 bunch green garlic
1 pound red potatoes (1 to 2 inches in diameter)
1/2 pound green and wax beans, lightly steamed
Extra virgin olive oil
Salt
4 hard-cooked eggs, shelled and halved lengthwise.
Prepare Romesco (recipe below).  Cover and refrigerate.
Prepare vegetables for salad: heat oven to 450 degrees. Place beets in a small roasting pan with a lid. Place squash in another small roasting pan. Trim firm green leaves from garlic, and slice stalk into 1-inch pieces, and halve or quarter bulb. Place in a third pan, with potatoes. Drizzle all pans with olive oil, season with salt, and toss to coat. Cover pan of beets, and place pans in oven.
Cook all vegetables until they are tender, transferring them to a platter as they are ready. Vegetables are tender when a knife passes easily through center. Squash should take 12 to 15 minutes; potatoes and garlic about 20 minutes. Beets will be tender in 45 minutes to one hour. Allow roasted vegetables to come to room temperature, but do not refrigerate. When beets are cool, peel and cut in two or in quarters.
To assemble salad:  arrange potatoes, squash, beets beans, green garlic, and eggs on platter. Serve romesco on the side for dipping.  Serve with crusty bread and a salad of arugula or another spicy green.
Yield: 4 servings.
ROMESCO SAUCE
Time: 45 minutes
Extra virgin olive oil
3 1/2-inch-thick slices day-old sourdough bread
3 dried ancho chilies (find at grocery store or if you have a Hispanic market, even better)
1 cup blanched almonds, toasted
5 cloves garlic, peeled
3 cups (after juices are drained) canned plum tomatoes
Juice of 1 lemon
1/2 cup vinegar (I used mostly Sherry vinegar with some apple cider vinegar splashed in–you can use red wine vinegar if that is what you have on hand)
2 tablespoons paprika
Salt
Place a medium skillet over medium-low heat, and add 2 tablespoons olive oil. When oil is hot, add bread and fry until golden brown, 1 to 2 minutes a side. Transfer to a plate to cool and dry.
Return skillet to medium heat, and add chilies, pressing them into pan with a spatula so they soften. Flip chilies, and continue cooking until all sides are pliable. Transfer to a plate to cool, then remove stems and seeds (wear gloves or put baggies over your hands while handling the chilies!) Bring a small pan of water to a boil, and add chilies. Simmer until rehydrated, about 30 minutes. Drain and set aside.
In bowl of a food processor, combine almonds, fried bread and garlic. Process into a thick paste. Add chilies, tomatoes, lemon juice, vinegar and paprika. Process, adding 1/2 cup olive oil in a thin stream. Season to taste with salt. Transfer to an airtight container. Refrigerate for up to 1 month. Serve with grilled meat, fish or roasted vegetables.  Yield: 1 1/2 quarts.